Baseball Picks Daily Fantasy
Expert Advice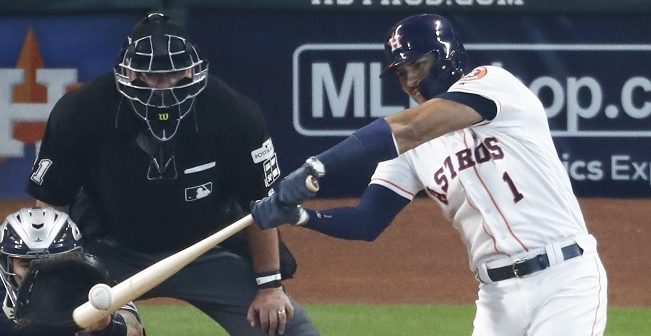 Daily Fantasy MLB Picks for FanDuel and DraftKings - 8/20/18
If you aren't suffering from too bad of a Monday hangover, with the weekend blowing your doors off only to realize the cruel reality of the beginning of a new week, then come on and get excited for a baseball slate with a little something for everyone. We have an ace-level arm, some other value pitchers and a whole host of bats facing off against bums. Monday baby!
Now's your chance to get DFSR PRO, which will give you access to our MLB optimizer and our new player lab! Get started for free by clicking the button below.
First time with MLB? Be sure to read our free MLB Ebooks on building lineups, general strategy and more. We've got you completely covered.
Pitcher

Gerrit Cole FD 10600 DK 13300
Opponent - SEA (Felix Hernandez) Park - SEA
FD - 39.78 DK - 21.23
I say this literally every day the guy takes to the mound, but Cole is still criminally underpriced on FanDuel. That he's not even over $11K for a guy with a 12.34 K/9 rate, 2.96 xFIP (an even better 2.71 ERA), 11 wins and 4.4:1 K:BB ratio. He's just one of the best pitchers going this season and I don't think you need to go crazy overthinking it on FanDuel on a shorter slate. On DraftKings it's a little closer where he is very expensive. I still think he's in play there considering the state of pitching on this slate. He comes in as a solid -165 road favorite against the Mariners, a below-average team against righty pitching even if they do strike out less than league average in the split (20%). Again, there are few quality pitching options going on Monday which does make Cole stand out even more.

Jose Berrios FD 9600 DK 10000
Opponent - CHW (Lucas Giolito) Park - MIN
FD - 36.47 DK - 19.25
If you think Cole is just too expensive on DraftKings, then pivoting down to Berrios for about $3K cheaper is a fine move. The latter doesn't have quite the strikeout upside as Cole, but the matchup helps get things a little closer. The White Sox strike out the most in the league against righties this season (26%) and rank 24th in wOBA against that split. The Twins are a -155 home favorite, but the White Sox do come in at 4.2 implied runs (Mariners 3.5). Berrios brings in a 25% K rate and 3.6:1 K:BB ratio. the 3.85 xFIP is above average and while not an ace, he certainly does strike me as a relatively safe option on this slate of games. I'm on him mostly if you want to save some money for bats, which could end up being the case for Monday.
**Update - Berrios has been pushed to Tuesday with Stephen Gonsalves making his major league debut tonight.**
Chris Archer FD 7900 DK 7800
Opponent - ATL (Kevin Gausman) Park - PIT
FD - 32.63 DK - 17.46
This is a DK SP2 option and a possible very cheap pivot on FanDuel as well. Archer hasn't been all rainbows and sunshine since coming over in the trade from Tampa Bay. He's only averaged 4.76 innings per start with nine earned runs in 14.3 innings. He' still striking out more than a batter an inning since the trade and the last two games has kept the walks relatively in check. One game was in Colorado and another against a tougher Cardinals' team. This matchup against the Braves isn't exactly a cakewalk, but we are buying very cheap on DraftKings on a guy who still does strike out more than a batter an inning and has tremendous upside if he can get rolling downhill. As a slight home favorite (-117) I think I can stomach him in cash games because of the savings on DraftKings.
First Base/Catcher
Joe Mauer FD 2800 DK 4200
Opponent - CHW (Lucas Giolito) Park - MIN
FD - 11.2 DK - 8.58
Get ready to see a lot of Twins again. They've had the great fortune of running a weekend series against the White Sox over into Monday and with it brings the Chicago pitching staff. We'll get to Lucas Giolito in due course, but Cliff's Notes go something like this: he stinks. Mauer doesn't bring much in the way of power or speed to the leadoff spot, but he's still coming cheap for a guy with solid plate appearance expectation and does get on base around 36% of the time. He has a .779 OPS over the last two seasons against righty pitching and is very tough to strike out (13%). The price is starting to creep up considering he's had higher ownership over the last three or so days because of the matchup, but considering the matchup I do think he's still very much a value because of the leadoff position.

Justin Smoak FD 3300 DK 4000
Opponent - BAL (Andrew Cashner) Park - TOR
FD - 12.44 DK - 9.3
The Blue Jays jack around their order all the time these days, so there's no great guarantee Smoak is in a position to hit value, but I'm writing this under the assumption that he's hitting third on Monday against the righty Cashner. Smoak has been something like platoon neutral over the last two seasons, with the slight edge when facing righties. He has a .867 OPS and .366 wOBA in that split over his last 822 plate appearances. He hasn't had anywhere near the power outburst we saw in 2017 (38 home runs to *just* 18 this year) but that doesn't mean we need to just completely write off the guy. We just have to guide some of the power expectation down from that (seemingly) outlier of a season. Andrew Cashner has a very low 16% K rate and walks 9% of batters he faces. The Blue Jays, as a whole, look like good plays on Monday.
Consider Wilmer Flores against the lefty Derek Holland.
At catcher on DraftKings, Evan Gattis would qualify as a strong play if he's in the middle of the lineup. Mostly though, we are looking at going cheap with bottom-of-the-order guys like Jonathan Lucroy, Austin Barnes or Mitch Garver.
Second Base
Devon Travis FD 2700 DK 3400
Opponent - BAL (Andrew Cashner) Park - TOR
FD - 11.49 DK - 8.87
The same Smoak caveat about the Blue Jays' lineup applies here to Travis as well. He's been quasi-locked into the second spot over the last few games (against both lefties and righties in that span) so I think we are looking at the strong possibility of a higher lineup position for Monday. Dude really struggled to start the season, eventually getting sent down to work out the kinks. He's been serviceable over the last month-plus with a 106 wRC+ and seven home runs in his last 170 plate appearances. It won't knock your socks off, but at these prices, he doesn't really need to. He's a borderline punt play hitting second against a very weak arm. Understand, he's much better against lefty pitching, so you are getting him in the worse side of his platoon splits against Cashner, but considering the Blue Jays come in at over five implied runs, I'm on board rostering him at a weaker position.

Brian Dozier FD 3300 DK 4100
Opponent - STL (Austin Gomber) Park - LAD
FD - 12.12 DK - 9.15
Dozier seems locked into the leadoff position for the Dodgers when they face lefty pitching and the price hasn't really caught up with this kind of opportunity. LA doesn't have a tremendous implied run line (4.4) but honestly, that strikes me as low against Gomber who's been much worse than the 2.89 ERA would suggest. He's more like the 4.89 xFIP guy with a below average strikeout rate while walking close more than 4.5 batters per nine. Over his last 307 plate appearances against lefties, Dozier has a .891 OPS and .378 wOBA. He walks more than 13% of the time (great news in this matchup) and is tougher to strike out (19%). I wouldn't be shocked to see the LAD run line climb a little over the course of the day considering Gomber's metrics don't really support the early ERA.
Consider Logan Forsythe against Lucas Giolito
Shortstop

Carlos Correa FD 3600 DK 4300
Opponent - SEA (Felix Hernandez) Park - SEA
FD - 12.68 DK - 9.55
As of this post (written Sunday night) Carlos Correa was the best points per dollar play at shortstop on both sites according to our system. That's saying something considering he isn't exactly cheap, but it also speaks to the nature of the shortstop position on Monday. i.e. Things look awfully weak all around. Felix Hernandez is looking real close to fully washed at this point, with a precipitous drop off in K's (17% this season, by far a career low) and an xFIP climbing towards 5.00. He might just be fully cooked and isn't a guy we need to avoid stacking against when on the mound. Correa isn't repeating his 2017 season (he ran hot last year and has been injured this year) but he's still among the best offensive shortstops in the game. The OPS is right around .800 and over his career, he's pretty close to platoon neutral with an .844 OPS in that split. If there's a position to pay up for today, even if rostering expensive pitchers, it sure looks like shortstop is the place to splurge. There's a steep drop off in talent and matchup after the first two top guys.

Jorge Polanco FD 3200 DK 4200
Opponent - CHW (Lucas Giolito) Park - MIN
FD - 11.03 DK - 8.48
Polanco is coming just a little cheaper on FanDuel is basically the same price as Correa on DraftKings. You might take the savings on FD and Polanco for sure gets the better matchup of the two. But understand that he's a much worse hitter than Correa. That being said, the other contextual factors do make him a play on Monday. He'll almost definitely hit third in the Twins' lineup which I always find remarkable considering he's just not a fantastic bat. But this season, since the PED suspension, he's been okay with a .749 OPS and does get the job done against righties. He has a .338 wOBA and 109 wRC+ over the last couple of seasons in that split. The Giolito factor here is real, with the dude sporting a mind-numbing 5.78 xFIP through 132 innings this season. Few teams outside of the White Sox would give such a bad pitcher so much latitude. But even they might be questioning the method considering dude has the worst WAR (-0.3) in the league among qualified starting pitchers.
Third Base

Miguel Sano FD 3600 DK 4600
Opponent - CHW (Lucas Giolito) Park - MIN
FD - 12.92 DK - 9.61
Sano's early season was obviously an epic disaster, but he got sent down to get his head right and over the short term he seems to at least be turning things back around to center. The OPS is back up into the mid .700s and he's hit four home runs in his last ten games. In this series against the White Sox, Sano has seen very high ownership on both sites and I suspect we get it again on Monday. The biggest problem for the big third baseman is that K rate that's still over 38% on the season. But that's actually much less of a concern against a guy like Giolito who only strikes out batters at a 15% rate (slightly better against righties, but it's only a relative increase). That Sano was so bad to start the year and has been such a chalk play over the last week or so speaks to the improvement in patience from even the average DFS player. He'll still be a popular play on Monday even though the price keeps creeping up.

Mike Moustakas FD 3500 DK 4600
Opponent - CIN (Homer Bailey) Park - MIL
FD - 12.38 DK - 9.4
It's crazy that we've made it this far without mentioning any plays against one, Mr. Homer Bailey, but the Brewers are all coming just a bit expensive on Monday even though the matchup is so choice. Bailey isn't as bad as the 6.33 ERA would suggest, but the 4.82 xFIP means he's merely bad rather than flat-out terrible. Milwaukee actually has the second-highest implied run line on the slate at 5.17 and I do like some of the middle-of-the-order bats. Moose should hit third on Monday and is having another steady-as-you-go season. He's very tough to strike out (16% against righties over the last two seasons). There's a case to be made that he's running a little bad on the power this year with a career-high 43% hard contact rate but only 13% Hr/FB rate despite a similar batted ball profile as last year when he hit 38. That number was likely a little high, but I wouldn't be surprised to see just a little positive power regression over the last two months.
Consider Todd Frazier against Derek Holland
Outfield
Curtis Granderson FD 3200 DK 4300
Opponent - BAL (Andrew Cashner) Park - TOR
FD - 12.21 DK - 9.13
We'll likely see the Grandy-man at the top of the Blue Jays' order on Monday, but that's no guarantee considering they did hit McKinney there on Saturday. Let's assume the Jays revert back to *normal* here and put Granderson in a great spot to succeed against Cashner. The 37-year-old is definitely starting to show his age, but there's still some pop in the bat. He's not going to reach the power numbers of the last few seasons, but he has 11 this year (would be on pace for about 20 in 600 plate appearances) and still walks at a serviceable 12%. The K's are up a little this year, but that's not as big an issue against a guy like Cashner. Toronto has the third-highest opening implied run line of the day at 5.07 if Granderson is setting the table then I really like his mid-tier price point.
Eddie Rosario FD 3600 DK 4800
Opponent - CHW (Lucas Giolito) Park - MIN
FD - 13.33 DK - 10.18


Max Kepler FD 2900 DK 3900
Opponent - CHW (Lucas Giolito) Park - MIN
FD - 10.93 DK - 8.3
Had enough of the Twins yet? Me neither. After focusing on them over the better course of the weekend we should keep the good times rolling here on Monday against one of (if not *the*) worst regular pitcher in baseball. The Twins are in a state of team flux, having traded away a bunch of regular bats at the deadline, but Rosario is still contributing with another solid OPS season (.827) and 22 home runs on the season. Righties have a tough time striking him out (17%) and he's crushed this split over the last two seasons with a .895 OPS and .374 wOBA. that puts him in the top-50 in the league over that time period against righties. He's a little expensive and if we spend up at pitching I don't know if we can stack every Twin, but he's arguably the safest of the bunch.
Meanwhile, Kepler will likely hit fifth in the order against the righty and makes for one of the cheaper Twins' plays on the day. Look, I get that we can't play all of the guys I wrote up from this team on Monday but it's more of a testament to just how great of a matchup they get in Giolito. Kepler is a heavy platoon guy, getting almost all of his plate appearances against righties. But he's a well-above-average hitter in this split with a .335 wOBA and 108 wRC+ in that split over the last couple of seasons.
Strongly consider Kike Hernandez if he's hitting in the middle of the lineup against the lefty Gomber. The former is still coming very cheap for a guy who does very well against southpaw pitching.
I also really like the price on Corey Dickerson if he's hitting leadoff against Gausman.
GRAB A FREE TRIAL OF OUR PROJECTION SYSTEM, AND CHECK OUT DFSR PRO!
FREE EBOOK
SECRETS TO CRUSHING DAILY FANTASY FOOTBALL!
DON'T SET ANOTHER LINEUP BEFORE YOU READ THIS BOOK.