Baseball Picks Daily Fantasy
Expert Advice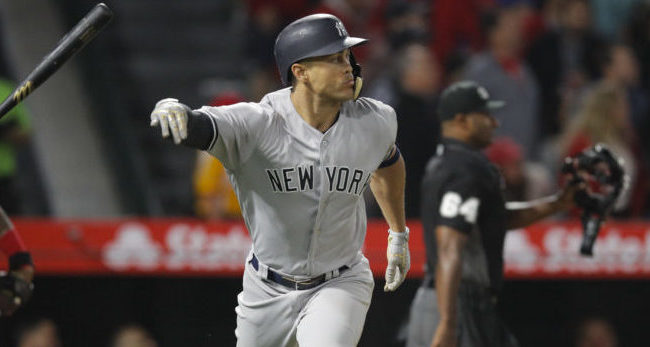 Daily Fantasy MLB Picks for FanDuel and DraftKings - 8/27/18
We have a very small Monday MLB slate that surprisingly has a handful of very solid pitching options. That could make the decisions a little closer than usual considering just how few bats we can realistically target in cash games.
Now's your chance to get DFSR PRO, which will give you access to our MLB optimizer and our new player lab! Get started for free by clicking the button below.
First time with MLB? Be sure to read our free MLB Ebooks on building lineups, general strategy and more. We've got you completely covered.
Pitcher

Gerrit Cole FD 10800 DK 12000
Opponent - OAK (Brett Anderson) Park - HOU
FD - 42.08 DK - 22.78
Cole just keeps on trucking through 2018, mowing down batters at a near-league high clip (12.35/ 9) and the short term hasn't been much different. In his last two games, he has 19 strikeouts in 11 innings and ranks among the league leaders in starting pitcher WAR. As we've said more than a few times this season, the biggest change for Cole is in his overall approach and pitching profile. He's ditched the sinker and is now basically a fastball, slider, curveball guy. The results are, well, impressive. He doesn't get a great matchup on Monday against the A's who rank in the top ten in wOBA against righties this season. But Cole is still underpriced relative to his peripherals and the A's do strike out 22% of the time in this split. He's a solid -171 home favorite, the second-biggest money line of the day. With some other good starting pitchers going on such a short slate, I do think we see lower ownership on Cole.
Masahiro Tanaka FD 10200 DK 9500
Opponent - CHW (Carlos Rodon) Park - NYY
FD - 39.16 DK - 21.32
Speaking of the highest money line of the day, that comes to you thanks to one Mr. Masahiro Tanaka who opens as a -200 home favorite against the White Sox. Chicago, well, stinks. They strike out 26% of the time against righties this season and really struggle to get anything going at the bottom of the order. Tanaka strikes out more than a batter an inning on the season and keeps the walks in check, only allowing two free passes per nine. The park doesn't do him any favors here, with Yankee Stadium playing great for lefty power. Luckily, Chicago isn't deep in that department and considering the price here, especially on DraftKings, you are looking at Tanaka as a cash play. I think I prefer Cole's strikeout upside for the same price on FanDuel but even for the short slate, you are likely looking at going something like double expensive at pitcher on DK.
I think you can seriously consider Jon Gray against the Angels. He's got some of the best peripherals this season with a seriously elite strikeout rate. The Angels, outside of Mike Trout, just aren't all that good of an offense.
First Base/Catcher

Justin Smoak FD 3200 DK 4200
Opponent - BAL (David Hess) Park - BAL
FD - 12.63 DK - 9.44
On such a short slate it's always nice to have a guy like David Hess around to ease up some of the choices on the offensive end. Hess is one of the truly terrible major league pitchers who is allowed to take the mound every five days for a team. We will get to some of the guy's downsides later on in the article, rest assured we'll have time. But suffice to say, he's bad. Smoak isn't having anything like the same power numbers this season, but the 38 last year looked to be an outlier anyway. He still gets on base with an elite 14% walk rate and should be back in the middle of the Blue Jays' lineup on Monday.
You can consider Kendrys Morales right along with Smoak, but the former has gotten very expensive in the short term because it seems like he homers every single day.
Tyler White FD 3000 DK 4400
Opponent - OAK (Brett Anderson) Park - HOU
FD - 11.09 DK - 8.36
It's only 58 plate appearances over the last two seasons, but Tyler White actually ranks third in the league against lefties in that span in wOBA (.472) with only Nolan Arenado and Justin Turner putting in more work in that split. Again, this is something of a sample size issue, but it's hard to deny that he's at least above average in this split. Now know this, Brett Anderson has pitched out of his mind in the short term, allowing only two runs in his last 26 innings pitched. He doesn't project like this generation's next Sandy Koufax, so we will for sure see some regression in the actual ERA. But maybe we do have to make some concessions for improvement from Anderson. That being said, I do think some of the Houston prices, on a short slate, are inviting.
At catcher, I think you can go with one of the Rockies' guys (Tony Wolters or Chris Iannetta) depending on who the Angels announce as the starter. Also, consider the Orioles' catchers depending on who puts on the pads against Gaviglio.
Second Base
Lourdes Gurriel FD 2600 DK 4300
Opponent - BAL (David Hess) Park - BAL
FD - 11.41 DK - 8.8

Devon Travis FD 2400 DK 3500
Opponent - BAL (David Hess) Park - BAL
FD - 11.67 DK - 9.01
Gurriel is back off the DL and is back near the top of the order for the Blue Jays. Toronto has moved their lineup around quite a bit this season (and in the short term as well) but I think we see Gurriel back up in either the leadoff or second spot on Monday. He's had an excellent rookie season with a .822 OPS in 150 plate appearances. There's some run hot in there considering the guy literally never takes a walk (2.6% of the time) and the BABIP will probably come down to Earth some. Mostly I'm encouraged by the spot in the lineup against Hess who strikes out less than six batters per nine and walks about 3.5. Dude is brutal and the Jays will almost definitely be the chalk cash stack on the short slate.
Travis isn't as easy to make a statistical for but would come in as something of a value play if he was hitting second in the order again. Toronto has kept him there pretty consistently even though he's struggled to get on base. But the plate appearance expectation would still win out if he's back in the order again after getting the day off on Sunday.

Jonathan Villar FD 3200 DK 4200
Opponent - TOR (Sam Gaviglio) Park - BAL
FD - 11.14 DK - 8.58
The Orioles are a mess. We know this. But sometimes we can eke out the smallest bit of value from a truly terrible situation and Monday might be one of those times. With so many good pitchers going, Sam Gaviglio actually comes in as one of the weaker arms on the slate (with the understanding that we are waiting on SF and LAA to officially announce their starters). Villar should be in the leadoff spot for the Orioles (or in the second spot). Villar strikes out a lot, but he also provides fantasy upside because of some power (10 home runs) and well-above-average speed (18 stolen bases). Sure, he has 0-4 written all over him, but that's built somewhat into the price on this slate.
Consider Neil Walker even at the bottom of the order against Carlos Rodon
Shortstop

Carlos Correa FD 3800 DK 4500
Opponent - OAK (Brett Anderson) Park - HOU
FD - 12.41 DK - 9.34
For his skill, upside and lineup around him, Correa is still coming way too cheap across the industry. The Astros are starting to get healthy with both Springer and Altuve back in the lineup. That makes things real problematic for opposing pitchers, even ones who've been as good as Brett Anderson has been in the short term. This is still a guy who's only struck out 4.76 batters per nine this season (and that includes the recent run) with an xFIP over 4.00. I just want to be real careful about anointing the guy some kind of ace. Correa has crushed lefty pitching over the last two seasons with a .959 OPS and .407 wOBA in that split. He's been one of the best hitters in that platoon and I think he's simply coming too cheap at a thinner position. The FanDuel price is especially inviting.

Amed Rosario FD 2900 DK 3800
Opponent - CHC (Jon Lester) Park - CHC
FD - 8.18 DK - 6.4
Rosario rates out simply as a price play on Monday because he should be in the leadoff spot again for the Mets against Jon Lester. Rosario isn't anything like a good hitter but has the distinct advantage of hitting at the top of the lineup and coming very cheap. No other determining factor is more correlated to success in fantasy baseball than actual plate appearances and there's no better spot than hitting leadoff. Lester's strikeout stuff has fallen off a cliff this season, dipping down to 7.15 K's per nine with a career-high 4.59 xFIP. He's nothing like the frontline starter we've seen in previous seasons. And while the Mets are a pretty garbage offense, I do think we can slot Rosario into some cash games because his price helps fit some of the more expensive starting pitchers.
Third Base
Todd Frazier FD 2700 DK 4200
Opponent - CHC (Jon Lester) Park - CHC
FD - 9.53 DK - 7.13
Two Mets in one value play article? You know things might be slightly off the rails on this Monday slate of games. Frazier should be in the middle of the Mets' lineup and Frazier has been competent in this split over the last couple of seasons with a mid-.700's OPS and thanks in part to an excellent 12% walk rate. He's been brutal in the split this season but is platoon neutral over the course of his career. Like I said in the Rosario writeup, Lester isn't a pitcher we need to avoid at all anymore considering he's walking more batters than at any other time in his career and striking out dudes around league average for a starter. Frazier is very cheap on FanDuel and isn't priced out of consideration on DraftKings.
Russell Martin FD 2500 DK 3400
Opponent - BAL (David Hess) Park - BAL
FD - 10.53 DK - 7.87
You know how thin a position/ slate is if I'm forced into making a case for a guy who doesn't even play every day but that's the spot this Monday slate has left us in. Martin sat out Sunday, so I have some confidence he's in the lineup on Monday against Hess and is 3B eligible on FanDuel at about the minimums. He's a catcher on DraftKings where he'd be in play if in the 6-7 spot of the Blue Jays' order. Martin has had such a weird season. He walks an elite 16% of the time and has 10 home runs. But the .342 OBP is higher than the .333 SLG, something you don't see every day. We could make a small case that he's running bad on BABIP and if you are in that camp then I do think this is very much a bargain against Hess. We will have to wait for the Blue Jays' lineup to make final decisions, but they are the clear plays on this slate.
Outfield

Giancarlo Stanton FD 4800 DK 5200
Opponent - CHW (Carlos Rodon) Park - NYY
FD - 15.11 DK - 11.22
If there's one hitter to spend up for Monday, I think we can easily make the call on Stanton. He's among the very best hitters in the league at hitting lefty pitching and over the last couple of seasons he's put on a clinic in this split. Over his last 296 plate appearances, he has a 1.159 OPS and .467 wOBA which ranks third among batters with that many plate appearances in the same time frame. Carlos Rodon could be in for some real problems against Stanton. The former has a 7.19 K rate and 3.34 walk rate this season. And don't let the 2.71 ERA fool you, the ERA is around 4.90. He's just been incredibly lucky in BABIP (.209) and LOB (80%). Those numbers really can't sustain the ERA and Stanton is just the guy to punish this kind of pitching profile.

Adam Eaton FD 3000 DK 4600
Opponent - PHI (Zach Eflin) Park - PHI
FD - 11.48 DK - 8.87
I haven't spent too much time on the Nationals for Monday because the matchup against Eflin isn't all that advantageous. The latter has a solid strikeout rate and an xFIP hovering in the low 4's. But Eaton is still something of a value on FanDuel out of the leadoff slot. He's just a contact guy through and through with a lower K rate (17%) and not all that high of a walk rate (8%). His biggest value comes from getting on base (38% of the time) in front of guys like Trea Turner, Bryce Harper, and Juan Soto. There aren't many better spots in the league to hit leadoff and Eaton's FD price doesn't completely reflect that opportunity.
Carlos Gonzalez FD 2900 DK 4600
Opponent - LAA (Undecided) Park - LAA
FD - 10.54 DK - 7.99
They aren't playing in Coors, but we could see a few Rockies guys enter lineup on Monday. Early word has Odrisamer Despaigne taking the mound for the Angels who isn't as bad as the ERA would suggest but is a below average arm when he's the starter. I like Cargo's FD price for a guy who's returned to an OPS over .800 (and yes, I know he plays half his games in Coors). The biggest issue for Gonzalez is the strikeouts, but that's less of an issue against Despaigne who has only struck out 5.5 batters per nine for his career (the bullpen numbers are a bit higher).
I actually think you can consider some of the Phillies' outfield prices depending on where they fall in the lineup against Strasburg. I'm thinking of guys like Nick Williams or Odubel Herrera here.
I also like George Springer against the lefty Anderson.
GRAB A FREE TRIAL OF OUR PROJECTION SYSTEM, AND CHECK OUT DFSR PRO!
FREE EBOOK
SECRETS TO CRUSHING DAILY FANTASY FOOTBALL!
DON'T SET ANOTHER LINEUP BEFORE YOU READ THIS BOOK.