Baseball Picks Daily Fantasy
Expert Advice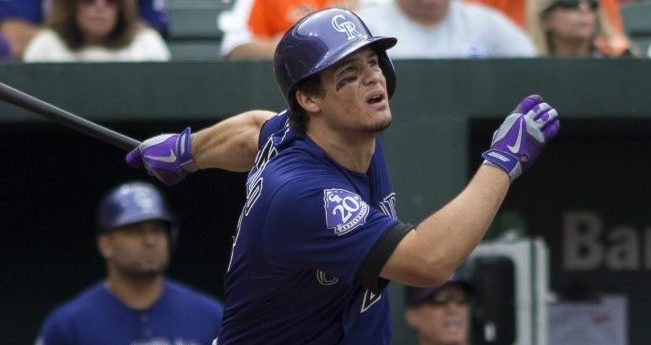 Daily Fantasy MLB Picks for FanDuel and DraftKings - 9/5/18
We have a couple of early games, but for the most part, we're taking a look at the main slate on FanDuel and DraftKings for Wednesday. It sure seems like we'll be spending down for pitching and up for bats. Let's take a look at some of the value plays at every position.
Now's your chance to get DFSR PRO, which will give you access to our MLB optimizer and our new player lab! Get started for free by clicking the button below.
First time with MLB? Be sure to read our free MLB Ebooks on building lineups, general strategy and more. We've got you completely covered.
Pitcher

Nick Pivetta FD 8200 DK 8200
Opponent - MIA (Sandy Alcantara) Park - MIA
FD - 37 DK - 19.5
Pivetta has had some truly disastrous games this season and also a hell of a lot of run bad when it comes to his overall stats. His 3.32 xFIP is 1.3 runs lower than the 4.66 ERA thanks to a .337 BABIP and 70% LOB%. It's a little concerning that we have about 270 major league innings of those *bad luck* numbers, but I do tend to think they will normalize at some point (he want to say convincingly). The peripherals are still excellent seeing as how he as a 28% K rate and 4:1 K:BB ratio this season. He has every opportunity for success on Wednesday against a Miami team ranked third-to-last in wOBA against righties this season and the park does Pivetta a lot of favors in suppressing power to all directions. Pivetta is a -157 road favorite with the Marlins coming in at only 3.3 implied runs (one of the lowest of the evening).

Michael Kopech FD 8000 DK 9000
Opponent - DET (Jordan Zimmermann) Park - CHW
FD - 35.61 DK - 18.31
It's some kind of unlucky to have two of your first three starts in the majors get cut short because of rain delays early in the game. Such is the case with Kopech whose major league debut against the Twins went only two innings and his third game against the Red Sox only three. In between, he turned in a six-inning, four K, one ER start against these very Detroit Tigers. I'm fine firing him up again on Wednesday in a plus start against one of the very worst offenses in baseball. Depending on the day the Tigers rank either last or second-to-last in the league against righty pitching (they swap with the Padres all the time) and Kopech should be able to handle this offense. He's a modest -147 home favorite at open which is really saying something about the Tigers because the White Sox are no great shakes in their own right. I think you can somewhat throw out the major league numbers for Kopech at this point and work off the prospect pedigree he brings to the table. He's not as good as the sub-1 ERA would suggest, but he also stands to strike batters out at a much higher rate going forward.

Tyler Glasnow FD 6700 DK 9500
Opponent - TOR (Aaron Sanchez) Park - TOR
FD - 33.35 DK - 17.47
Since being converted from the bullpen to a starter (and not the BS, Tampa kind of starter that goes two innings. A real starter), Glasnow has pitched well with the lone hiccup in a tough matchup against the Red Sox. He's gone five or more innings in each of his last four starts and has struck out 14 batters in his last 12 innings. Dude is just a good pitcher with the lone issue being the free passes which he issues too often. The Blue Jays are a decent offense, but I am really liking the FanDuel price on Glasnow which gives you the ability to fit just about every bat for a guy who strikes out more than a batter an inning and is a -135 road favorite.
First Base/Catcher

Ian Desmond FD 3400 DK 4500
Opponent - SF (Andrew Suarez) Park - COL
FD - 13.5 DK - 10.36
There's really no one to spend all the way up on at pitching on Wednesday's main slate, so get ready to see a lot of Rockies as plays in this write-up. You just aren't going to have all that hard of a time fitting players from the team with the highest implied run line at open (5.9). Desmond's power numbers came back this season with 20 home runs and he's got the walk rate up to 8%. His biggest issue this season is the Rockies insist on playing him against righties where he's basically below replacement level. But against lefties, he's been excellent with a .367 wOBA and over the last two seasons, he has a .791 OPS in that split. His price stays in check because again, he can't hit righties at all. But this is an excellent spot for Desmond against the lefty Suarez. We are just going to have an issue on just which 4-5 Rockies to play in cash games.
Brandon Belt FD 3300 DK 4700
Opponent - COL (Antonio Senzatela) Park - COL
FD - 11.76 DK - 8.81
Because of the offenses and the run lines, I do prefer the Rockies across the board in this matchup, but there's reason to get on board with Belt. He's reasonably priced on FanDuel and now likely ranks as the Giants' best hitter. He gets on base 35% of the time and has whiffs of power (14 home runs on the season). The Giants' implied run line is lower because, as a team, they have such a weak offense. But Belt should find himself in the three hole in a plus matchup against Senzatela who brings in a weak K rate (6.61 K/9) and will issue free passes. Again, the theme today is going to be stacking Coors all around with some other players thrown in along the margins.
At catcher on DraftKings, obviously, consider Chris Iannetta against the lefty in Coors. You can also look at Mike Zunino against Andrew Cashner even if the former is hitting lower in the order.
Second Base

DJ LeMahieu FD 3500 DK 5000
Opponent - SF (Andrew Suarez) Park - COL
FD - 13.6 DK - 10.62
All Coors, all the time on this slate baby. Let's keep the Rockies coming. Suarez has been an ok pitcher this season, but this Rockies' lineup just annihilates lefties and the Giants' southpaw could be in real trouble here. Over the last two seasons, Lemahieu has a .922 OPS against lefties and is so, so tough to strike out at only 9.7%. He doesn't take a lot of walks either, so there's bound to be some solid contact in his plate appearances on Wednesday. Suarez does generate a lot of groundballs, but he does so by throwing a lot of off-speed stuff which can be a real problem in Coors. There's a reason the Rockies have, by far, the highest implied run line of the day.

Robinson Cano FD 3700 DK 4200
Opponent - BAL (Andrew Cashner) Park - SEA
FD - 12.1 DK - 9.25
Seattle comes in with one of the highest implied run lines on the day mostly because they get to face Andrew Cashner. It's really saying something about a pitcher when the opposing team is coming in at around 5.1 implies runs in Safeco, but that's Cashner for ya. He's horrible with a 5.06 xFIP and 1.5:1 K:BB ratio. He's one of the worst every day arms in the majors. Cano, post-PEDs, isn't an otherworldly hitter, but his OPS is creeping toward .800 and he's still walking 11% of the time. He's a tough strikeout at only 13% and this matchup against Cashner lines up perfectly for his profile. The only issue with Cano is he's more expensive than Lemahieu on FanDuel. I'll take the former over there, but on DraftKings you are getting Cano at something of a discount in this matchup.
Shortstop

Hernan Perez FD 2300 DK 3900
Opponent - CHC (Jose Quintana) Park - MIL
FD - 10.12 DK - 7.9
Perez represents one of the ways to save on bats for Wednesday's main slate. He typically gets the start when lefties are on the mound, hitting fifth on Tuesday when the Brewers faced off against Mike Montgomery. On Wednesday., they'll get Jose Quintana who's been merely an average pitcher this season with a mid-4's xFIP and sub-8 K/9 rate. He's also walking everyone, issuing free passes 10% of the time, a career high. Perez is well above average in this split, with a .812 OPS over his last 225 plate appearances against lefties. He doesn't take a ton of walks but is also tougher to strike out with a 16% K rate. He's coming very cheap for what should be a middle-of-the-order bat in a hitter's park.
Jordy Mercer FD 2200 DK 3400
Opponent - CIN (Homer Bailey) Park - PIT
FD - 8.38 DK - 6.47
He's going to hit near the bottom of the order, but I do think there's actually a fantasy case for the guy at his price point. He has a .725 OPS on the season, which doesn't sound all that overwhelming until you remember he's coming at near the minimums on both sites. He's decent against righties over the last couple of seasons with a .302 wOBA. Getting to face Homer Bailey is the real win even if the park isn't quite the same as dude going in Great American. This is simply a price play at a tougher position and I'm more interested in paying up for bats in other opportunities.
Strongly consider Trevor Story
Third Base

Nolan Arenado FD 4800 DK 5200
Opponent - SF (Andrew Suarez) Park - COL
FD - 17.18 DK - 12.95
Ah, we saved the best for third (base). If there's any, one bat to pay up for on Wednesday it's Arenado and that decision isn't even all that close. What this guy does to lefty pitching should be investigated. Over the last two seasons, his 1.289 OPS is .154 points higher than the next-closest guy which is the same difference between number two and number 20. Sure, the sample size isn't robust and there's some BABIP stuff thrown in there, but man does Arenado ever kill this split. He walks (12%) almost as much as he strikes out (13%) and the .523 wOBA is just absurd. He's expensive for sure, but I still think we see Arenado as the chalk bat on this slate simply because of the park, matchup and track record.

Kyle Seager FD 2800 DK 3400
Opponent - BAL (Andrew Cashner) Park - SEA
FD - 11.24 DK - 8.49
There's definitely value in the Mariners' bats on Wednesday because of the matchup and Seager rates out as a cash game play for this price if you do want to fade Arenado. I'm not necessarily recommending that course of action, but rather setting you up with an alternative if you want to go that route. Seager is seeing his numbers trend in the wrong direction this season with the walks decreasing and the strikeout rate up well over this career averages. The power is still (mostly) there with 20 dingers on the season but he's struggled to produce much else. And yet I still like him in this matchup against Cashner who can make even the most down-on-his-luck hitter look like a world beater.
Outfield
Gregory Polanco FD 3900 DK 5200
Opponent - CIN (Homer Bailey) Park - PIT
FD - 11.68 DK - 8.79

Starling Marte FD 3500 DK 5000
Opponent - CIN (Homer Bailey) Park - PIT
FD - 12.35 DK - 9.62

Corey Dickerson FD 2800 DK 3700
Opponent - CIN (Homer Bailey) Park - PIT
FD - 11.29 DK - 8.64
The Pirates don't get any kind of power boost playing in their home park but they're still in consideration here because of the matchup against Homer Bailey. The latter enters the game with a terrible 15% strikeout rate and 2:1 K:BB ratio. His 4.73 xFIP is lower than the 6.13 ERA, but that isn't saying much. Polanco is putting together the best season of his career with a .834 OPS and career-high 23 home runs. He's drastically improved his walk rate (11.7%) making him a safer cash game play.
Meanwhile, Marte is only two home runs off a career-high and from a fantasy-perspective is putting up career numbers with the 30 stolen bases getting back to the kind of numbers we saw two seasons ago before injuries cropped up. He's well above average against righties with an .801 OPS in that split over the last couple of seasons.
And finally, there's Dickerson who should hit around 6th in the lineup with the righty on the mound. He also has over an .800 OPS in the last couple of seasons against this split with a .337 wOBA. He hasn't been able to equal the power numbers from his last few seasons, but I do think he's coming cheap enough to warrant consideration if you are paying up for bats in other situations.

Ryan Braun FD 3000 DK 4100
Opponent - CHC (Jose Quintana) Park - MIL
FD - 11.7 DK - 8.9
Braun might not be the same guy post-PEDs but that doesn't mean we just need to completely write him off. He should hit cleanup against the lefty Quintana on Wednesday and this is still a dude who gets the job done in the southpaw split. Braun has a .801 OPS against lefties this season despite a paltry .214 BABIP. He walks 10% of the time in that split and only strikes out at a 13% rate. The .255 ISO against lefties is a testament to him still getting the job done here and the run-bad in the BABIP is one of the reasons the price remains depressed. If he's in the middle of the lineup then I think he makes an excellent cash game play.
GRAB A FREE TRIAL OF OUR PROJECTION SYSTEM, AND CHECK OUT DFSR PRO!
image sources
Nolan Arenado: By Keith Allison (Flickr: Nolan Arenado) [CC BY-SA 2.0 (http://creativecommons.org/licenses/by-sa/2.0)], via Wikimedia Commons
FREE EBOOK
SECRETS TO CRUSHING DAILY FANTASY FOOTBALL!
DON'T SET ANOTHER LINEUP BEFORE YOU READ THIS BOOK.