featured Daily Fantasy
Expert Advice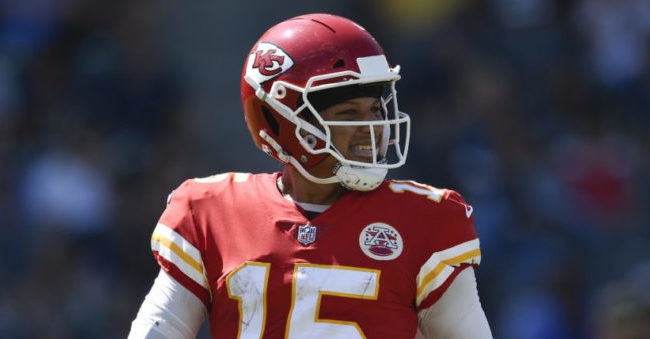 Five (Over)Reactions to Week 1 and a Look Ahead to Week 2 9/9/18
What's the NFL without overreacting to 6% of the season sample size and making snap judgments about everything we *saw* in Week 1? The first Sunday football had a little of everything (including easy cash game victories for our users on both sites). So let's take a look at some overreactions to the week that was. And remember we'll have cash game plays, premium content and podcasts for Week 2 coming soon.
Now's your chance to get DFSR PRO, which will give you access to our NFL optimizer for FanDuel and DraftKings, our MLB Optimizer, and our new Player Lab! Get started for free by clicking the button below.
First time with NFL? Be sure to read our free MLB and NFL Ebooks on building lineups, general strategy and more. We've got you completely covered.
Andrew Luck isn't the old Andrew Luck
Look, on its face, Luck's 39/53 for 319 yards and two touchdowns doesn't look all that bad. From a fantasy perspective, he *got there* on his price even though the Colts lost the game with the Bengals putting up 24 second-half points in a dramatic comeback punctuated by a fumble return touchdown to seal it late. But here's my concern with Luck: while he did put up yards and was accurate (completing 74% of his passes), he clearly didn't want to/ couldn't get the ball downfield. His longest completion was the over the top TD to Ebron (26 yards) and according to NFL's Next Gen passing stats, Luck's Average Intended Yards (the average Air Yards a passer throws on all attempts) was the second-lowest of all quarterbacks in Week 1 (Alex Smith was the lowest, because of course). I wouldn't overreact to this stat after one week except Luck is coming off of a missed season because of an injury to his throwing shoulder and some early reports were that he didn't have his fastball. Was this the reason he wasn't taking downfield shots or was it just the general Cincy coverage? It's going to take some time to flush it out but he had optimal conditions in Week 1 (at home in the dome) and in Week 2 will go on the road to face the Redskins who just held Sam Bradford (not a world beater of course) to 20/34 and 153 yards.
Patrick Mahomes/ Tyreek Hill were awesome, but let's pump the breaks just a little
It was a quality season-opener for the newly-minted KC quarterback, with Mahomes securing a win on the road against a good Charger's team. This is just the kind of win that sets the tone for an entire season even though Andy Reid will find a way to put it off the rails at some point with a weird coaching decision. But how excited for this pairing should we be? Mahomes was anything but efficient, completing only 56% of his passes (15-27) with four of them going for touchdowns. And if we look at those TDs, the number looks more than a little suspect. The first Tyreek TD was a short slant where Hill broke a tackle and let his track meet speed do the rest. The second and fourth TDs were shovel passes from the 1-yard-line on misdirections that really were runs labeled as passes. This game could have looked much, much worse for Mahomes without a couple of breaks. He did run a few times (5/21) but got helped out a lot by how the points were actually tallied. I'm not saying he isn't a play going forward, but I'd be careful about buying on the inevitable price increase heading out on the road in Week 2 to face the Steelers.
Similarly, folks will probably go overboard on Hill as well. He converted seven of his eight targets, turning two into touchdowns, while also taking the opening punt back for one as well. The Chiefs clearly wanted to get him involved early and often. That is a good sign. But he's going to see a salary increase as well and considering the overall usage, this was the most fantasy points you could ever realistically expect from the guy.
James Conner's price will go up for Week 2 and he'll still be too cheap
Le'Veon Bell who? As Bell (and his agent, probably) watched the Steelers in Week 1, hoping against hope the latter would utterly fail in the running game and come crawling back with a new contract in hand, Conner went out and put on a Bell-like performance. Sure, the Steelers had an embarrassing tie against the Browns, but Conner instantly vaulted himself into the *elite usage* category. He saw 37 looks (31 carries, six targets) on his way to 135 yards rushing, 57 receiving and two touchdowns. He was the chalk running back value of the week and it wasn't all that close. So sure, he'll see a price bump going into Week 2. But almost without a doubt, he'll still be a value. Assuming Bell still sits out, Conner will enter the discussion among the elite usage guys in the league. And he almost definitely won't be priced like one. The Steelers had him on the field for basically every offensive snap, including their hurry-up packages late. There are very few other running backs in this kind of situation (maybe five in the league, probably less). And in Week 2 he'll be at home against the Chiefs who allowed 4.3 YPC to Melvin Gordon who also incidentally caught nine passes on 13 targets for 102 receiving yards.
Sorry, everyone, Christian McCaffrey isn't going to be a volume running back
After moving up draft boards during the preseason following some heavy rushing performances, conventional wisdom suggested McCaffrey would open the season as the Panthers' bellcow running back. That didn't materialize in Week 1, and it wasn't even close. The biggest issue here and why it was so damning, was because for all intents and purposes this lined up as a game McCaffrey should have seen the bulk of the carries. The Panthers were winning in the first half and ran the ball 32 times compared to 26 passing attempts. But in their RPO scheme, Cam Newton actually out-rushed McCaffrey 13-10 with C.J. Anderson chipping in seven attempts. McCaffrey also fumbled his first red zone rushing attempt at the five-yard line. It's worth mentioning here that I don't think this is Carolina signaling lack of trust in their second-year running back, but rather their scheme allows for Cam to control more of the rushing game and they simply don't need to hand it off to C-Mac between the tackles all that often. Still, he did lead the team in targets (9) and will be a DK play for the foreseeable future because of the pass-catching.
Adrian Peterson looked like old-AP. But, he's still *Old* AP
The Redskins brought in Peterson to take over their starting RB1 duties in a desperation move akin to when you Walmart hires old people to greet you at the door. It just seems like the right thing to do as a company without clearly understanding why you're doing it. Don't get bullish yet. We went through something similar with Peterson last year on the Cardinals. He had a good game (26/134/2) against the Bucs only to follow it up with a terrible one (11/21/0) the following week. Then he did it again against the 49ers (37/159/) only to go 21/29 and 14/26 the following two weeks. Sure, some of those were matchup issues. But this is also a 33 year old (ancient by NFL standards) in his 11th year with more than 2,500 carries under his belt. It stands to reason that the sheer physical ability can carry him when fresh, but the recovery period is likely longer. Maybe I'm making too much of last years all-or-nothing game log, but there's something to be said for the miles on this dude's legs. The Redskins will face the Colts at home in Week 2 and the latter just allowed a good game to Joe Mixon in Week 1. I'm willing to
Now's your chance to get DFSR PRO, which will give you access to our NFL optimizer for FanDuel and DraftKings, our MLB Optimizer, and our new Player Lab! Get started for free by clicking the button below.
First time with NFL? Be sure to read our free MLB and NFL Ebooks on building lineups, general strategy and more. We've got you completely covered.
image sources
Chiefs Chargers Football: (AP Photo/Kelvin Kuo)
FREE EBOOK
SECRETS TO CRUSHING DAILY FANTASY FOOTBALL!
DON'T SET ANOTHER LINEUP BEFORE YOU READ THIS BOOK.