Baseball Picks Daily Fantasy
Expert Advice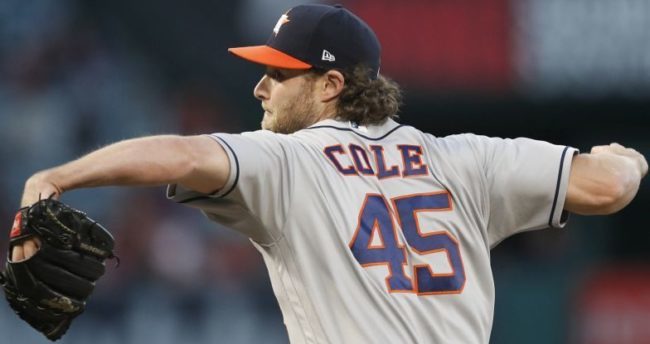 Daily Fantasy MLB Picks for FanDuel and DraftKings - 9/12/18
Wednesday's MLB action brings us a full day of games with both an early and evening slate on FanDuel and DraftKings. There are a lot of quality (ace-level) pitchers taking the mound both early and late making for some interesting decisions with cash games.
Now's your chance to get DFSR PRO, which will give you access to our MLB optimizer and our new player lab! Get started for free by clicking the button below.
First time with MLB? Be sure to read our free MLB Ebooks on building lineups, general strategy and more. We've got you completely covered.
Pitcher
Early

Gerrit Cole FD 10400 DK 12000
Opponent - DET (Daniel Norris) Park - DET
FD - 42.9 DK - 23.14
There are some good pitchers going on the four-game early slate, but two of them (Carlos Carrasco and Blake Snell) are facing each other which does limit each of their respective win expectations. That leaves us with Cole, a big-time -245 road favorite against the hapless Tigers. Detroit enters the games ranked second to last in the league against righty pitching and are the only American League team in the bottom five. I mention this because they actually get to use a DH and still can't outhit the worst NL teams. Cole has put together the best season of his career and it isn't particularly close. He's averaged more than 12 K's per nine, put up a 4.25:1 K:BB ration and the 3.00 xFIP is among the best in the league. The only real concern is the Astros have capped him before 100 pitches in six of his last seven games. That does cut into the upside, but it sure looks like he's the easy cash game pitcher on both sites for the early slate.
Strongly consider James Taillon in that second SP slot on DraftKings. It will be hard to go double-expensive with the arms on this slate and Taillon does look ok as an upper-middle tier option even if the matchup isn't ideal.
There's also a strong case to be made to pivoting onto Carlos Carrasco on DraftKings. Carrasco is coming about $2K cheaper over there and gets a good matchup against the Rays.
Main

Luis Severino FD 10000 DK 9400
Opponent - MIN (Jake Odorizzi) Park - MIN
FD - 38.27 DK - 20.88
We've been on something of a roller coaster lately with Severino. He went through a brutal stretch at the end of July, allowing 18 runs in 14 innings during a three-game stretch. Then, at the end of August, he bounced back with three solid starts in a row, striking out 26 batters in only 17 innings while allowing a total of seven earned runs in those three starts. And then last game he got completely bombed by the A's and didn't even make it through three. He's been tough to get a handle on, to say the least. The matchup on Wednesday lines up well for him, facing basically a AAA Twins team that's put up two or fewer runs in six of their last seven games. They stink and Severino is a -215 road favorite in this one. I want to trust the season-long numbers to tell the story on the young Yankee righty because even with some true disaster games, the guy still has a 3.10 xFIP and 4.2:1 strikeout to walk ratio.

David Price FD 9700 DK 9700
Opponent - TOR (Aaron Sanchez) Park - TOR
FD - 36.16 DK - 19.41
Price has double-digit strikeouts in two of his last five outings with 38 strikeouts in his last 30 innings. The run has his K numbers up over a strikeout per inning on the season and the xFIP creeping down to under four (3.89). He's at home against the Blue Jays at -240 and Toronto has been well below average against lefties this season, ranking 20th in wOBA and striking out 22% of the time against southpaws. At their respective prices, pairing Price and Severino on DraftKings is pretty easy and I think offers the best bang for your buck on strikeout upside relative to salary. I'll take the saving on both of them rather than pivoting to Nola/ Strasburg who are facing each other.

First Base/Catcher
Early


Yuli Gurriel FD 2800 DK 3800
Opponent - DET (Daniel Norris) Park - DET
FD - 9.52 DK - 7.31
The Astros enter Monday with the most implied runs on the early slate of games at 5.4 and should stack righty hitters down the top of the lineup against the lefty Norris. Gurriel isn't much of a power bat (only 10 home runs in 511 plate appearances this season) but his slot in the order (likely cleanup, or at worse, fifth) puts him in an ideal spot to see high leverage plate appearances for a very cheap salary. With Springer/ Altuve/ Bregman hitting in front of him, he should see opportunities with runners on base and Gurriel is very tough to strike out (11%). He's been serviceable against lefties over the last two seasons with a .756 OPS and .326 OBP in that split. Norris does have strikeout ability and does seem to be putting it together as a starter after spending much of the season in the bullpen. But the Astros are a good, patient team that will run (almost definitely) an entire lineup of righty hitters.
At catcher on DraftKings, I think you can consider paying up for Yasmani Grandal.
Main

Matt Olson FD 3600 DK 4800
Opponent - BAL (Andrew Cashner) Park - BAL
FD - 11.04 DK - 8.22
Andrew Cashner still has a starting major league pitching gig, which tells you a lot about the state of the Orioles' pitching staff. This dude has been about as bad as a guy can be and still take the mound every five days. Over 151 innings he has a 5.17 xFIP and 1.5:1 K:BB ratio, walking close to four batters per nine with a ridiculously low 15% K rate. Olson isn't repeating his 2017 power numbers, which is to be expected based on the 2017 Hr/FB ratio, but he still has 25 home runs on the year and a mid .700's OPS. The story here is the matchup with Cashner and the A's are in a great spot to stack across the board.
Strongly consider Mitch Moreland if he's in the fifth spot against Aaron Sanchez.
At catcher on DraftKings, consider Jonathan Lucroy even at the bottom of the lineup against Cashner. Sandy Leon would also make a fine, cheap bat against Aaron Sanchez.
Second Base
Early


Jose Altuve FD 4200 DK 4500
Opponent - DET (Daniel Norris) Park - DET
FD - 14.03 DK - 10.85
You won't be able to completely load up on Astros for the early slate because in order to pay for pitching you'll have to find some savings elsewhere. But Altuve might be the one Astros' bat worth paying all the way up for if trying to decide between them. He's spent some time on the DL this season (Houston's really been bitten by injury in their lineup) but he still has a mid.-.800's OPS and is very tough to strike out (14%). Altuve is actually slightly better against righties over the last two seasons, but it trends almost to platoon neutral at this point. Daniel Norris is coming into this matchup with very impressive K numbers, but Altuve will make it tough on the lefty. The latter strikes out only 12% of the time in this split with a 9% walk rate. He's a bargain on DraftKings and if you go cheap at starting pitcher two over there you can easily fit Altuve in cash lineups.
Main


Ian Kinsler FD 2700 DK 4200
Opponent - TOR (Aaron Sanchez) Park - BOS
FD - 11.32 DK - 8.63
Kinsler clearly is no longer the hitter he was even a few years ago in Detroit, but that doesn't mean he's just a fantasy afterthought. The guy gets to play for the Red Sox after all and does have some appeal at these prices even hitting lower in the order. He'll still swipe a bag (12 stolen bases) and does have 14 home runs on the season. He'll face off against Aaron Sanchez who's biggest issue is getting out lefties (which doesn't really help Kinsler) but does have a 4.95 xFIP thanks in large part to a crazy-high 12% walk rate. This is a good spot for the Red Sox in general and I really don't mind buying some of the bottom-of-the-order guys on the cheaper side of things.
Shortstop
Early


Carlos Correa FD 3600 DK 4200
Opponent - DET (Daniel Norris) Park - DET
FD - 12.98 DK - 9.84
Let me start by saying that, yes, I am more than a little concerned about Correa's performance of late. There's reason to suspect he's playing injured with the hard contact rate taking a dip and the strikeout numbers up over his career average. He hasn't homered in 16 games either. So with all the bad news, why play the guy? Well the recent play has his price down and shortstop is incredibly thin on the early slate of games. Correa still has a .927 OPS over his last 215 plate appearances against lefties and there's a big disparity in his splits this season with a lot of his troubles coming against righties.
Main

Tim Anderson FD 2700 DK 4100
Opponent - KC (Eric Skoglund) Park - KC
FD - 10.97 DK - 8.65
Anderson should hit leadoff on Wednesday against the lefty Skoglund and will likely be the chalk shortstop on at least FanDuel at his price. If you aren't paying all the way up at pitching on DraftKings, then he's the play there as well. He's significantly better in his lefty platoon with a .793 OPS and .335 wOBA over his last 316 plate appearances in that split. He never saw a walk he wanted to take (5% BB rate) but this season has the power (18 home runs) and speed (26 stolen bases) combination we are looking for to shoot big upside. You can consider Jose Rondon right along with him who could hit second in the lineup. He also qualifies as a shortstop on FanDuel.
Third Base
Early


Colin Moran FD 2700 DK 3500
Opponent - STL (Daniel Poncedeleon) Park - STL
FD - 9.02 DK - 6.87
Third base on the early slate is looking pretty damn grim, especially on FanDuel because there's no multi-position eligibility. Moran, even for a 6th-hitter is coming cheap enough that I'd just assume punt the position and move on with my life rather than paying up for someone like Matt Carpenter at a much higher price point and a not-all-that-great matchup against Taillon. Moran has been fine this season with a .731 OPS and .316 wOBA. Those numbers don't wow you in a vacuum of course, but considering he's coming at near-punt prices (and with pitching getting costly on the early slate) I think we can make the concession and get away from the position cheap. Daniel Poncedeleon isn't nearly as good as the mid-2.00's ERA would suggest. The 4.86 xFIP is more than two runs higher and the guy does struggle with command.
Main


Rafael Devers FD 2800 DK 3900
Opponent - TOR (Aaron Sanchez) Park - TOR
FD - 10.08 DK - 7.71
There's a strong case to just pay all the way up for Nolan Arenado on the evening slate considering he's facing a lefty in Coors. I'm a little worried about the matchup considering how good Patrick Corbin has been this season, but there's no denying that Arenado against a lefty in that ballpark is about as good a situation as you'll see in DFS MLB. But you do get something of a value in Devers here with the Red Sox third baseman returning off the DL earlier in the week. He should hit around the 7th slot in the lineup and walks into a game against Aaron Sanchez who gets brutalized by lefty bats. Over his career, the latter has allowed a .330 wOBA and .750 OPS against lefties. Devers is a platoon neutral hitter with moderate power (16 home runs in 432 plate appearances this season). He's buoyed by hitting in the Red Sox lineup with increased plate appearance expectation because of their ability on the offensive end. I really like the DraftKings, sub-$4K price tag and think he probably slots in as a cash game FanDuel play as well.
,
Outfield
Early


Joc Pederson FD 2000 DK 4200
Opponent - CIN (Anthony DeSclafani) Park - CIN
FD - 12.81 DK - 9.54
We'll likely see Pederson in the leadoff spot against DeSclafani on Wednesday with the Dodgers coming in as the highest implied run total team of the early slate. You can set your watch to when I start writing up a guy and that dude hitting a home run while I'm pecking away and sure enough that's the case with Pederson who just hit a solo shot. That outcome aside, he's easily the best points/ $ bat on the early slate coming in at what seems like a mistake minimum price on FanDuel. This is a guy with a .792 OPS on the season thanks to 20 home runs and a solid 10% walk rate. He'll be very highly owned on the early slate for FanDuel because of this ridiculous price and I don't mind the salary on DraftKings either.
It's starting to get expensive, but on the early slate, you may be looking at running some combination of George Springer/ Marwin Gonzalez at their respective price points. Because the Snell/ Carrasco matchup kind of wipes out a whole game from the offensive cash game consideration (Tigers as well against Cole) we are left with very few options for the early.
Main


Ramon Laureano FD 3000 DK 4300
Opponent - BAL (Andrew Cashner) Park - BAL
FD - 10.7 DK - 8.12
Laureano is making the most of his late-season call-up with five home runs in his first 102 major league plate appearances and four stolen bases as well. His .375 BABIP might be a little high, but he ran higher numbers in that stat over the course of his minor league career. He's already showing patience with a 10% walk rate and stands to man the A's leadoff position for the remainder of the season. He gets one of the best matchups on the day facing Cashner and there's a reason the A's come in with one of the highest implied run totals of the evening despite the park doing them no favors in the power department.
Avisail Garcia FD 2500 DK 4300
Opponent - KC (Eric Skoglund) Park - KC
FD - 10.93 DK - 8.39
Even with Jose Abreu back in the fold, Garcia stands to hit high enough in the order to make for a play against the lefty Skoglund. Garcia has been excellent against lefties over the last couple of seasons with a .946 OPS and .399 wOBA in that split. BABIP is helping drive these numbers a bit (.450) and you can expect regression in terms of how well he hits southpaws. But even with that factored in the guy is still in play on both sites. He's incredibly cheap on FanDuel and has flashed some raw power upside this season. He's on pace to eclipse career-best home run numbers this season in many fewer plate appearances than he's seen in the past. Dude strikes out a ton and never walks (kind of the White Sox m.o.) so the floor is low. But that's built into his price.
Consider Adam Jones against Liam Hendricks. I know the Orioles stink, but Jones at least hasn't been completely terrible this season with a mid-.700's OPS and he's always been better against righty pitching.
GRAB A FREE TRIAL OF OUR PROJECTION SYSTEM, AND CHECK OUT DFSR PRO!
FREE EBOOK
SECRETS TO CRUSHING DAILY FANTASY FOOTBALL!
DON'T SET ANOTHER LINEUP BEFORE YOU READ THIS BOOK.