featured Daily Fantasy
Expert Advice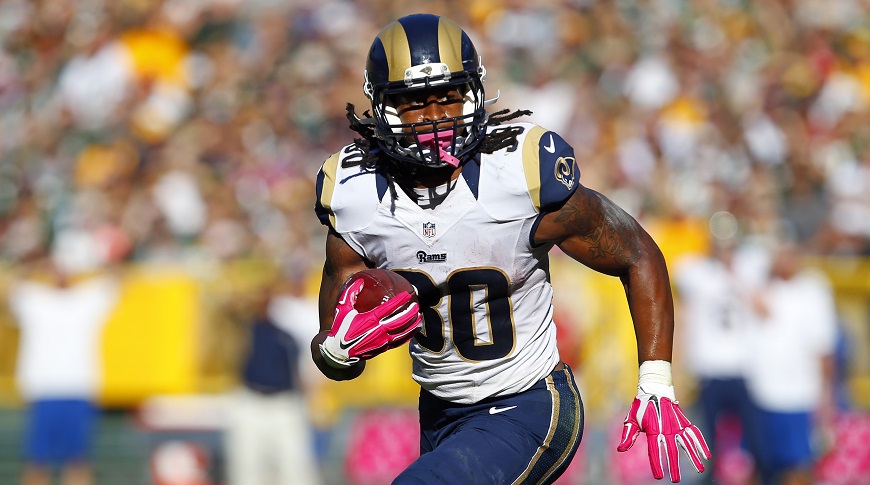 Daily Fantasy NFL Picks for FanDuel and DraftKings Cash Games - Week 2 - 9/16/18
6% of the NFL season is already in the books and I think we learned quite a bit from Week 1. Not to say we should go overboard with every single result, but some teams did show us how they plan on attacking the season. Week 2 offers plenty of value and looks like a situation where we will want to pay up for (at least) two running backs. Let's take a look at some of the cash game considerations for DraftKings and FanDuel.
Now's your chance to get DFSR PRO, which will give you access to our NFL optimizer for FanDuel and DraftKings, our MLB Optimizer, and our new Player Lab! Get started for free by clicking the button below.
First time with NFL? Be sure to read our free MLB and NFL Ebooks on building lineups, general strategy and more. We've got you completely covered.
Quarterback
Alex Smith FD 7100 DK 6000
Opponent IND
Proj Points FD - 19.45 DK - 20.09
Alex Smith came into his first game as a Redskin and basically just did a bunch of Alex Smith things. He completed 70% of his passes (21/30) for 255 yards and two touchdowns against the Cardinals in a game where Washington wasn't challenged even in the slightest. In very Alex Smith-fashion, he ended the week with the fewest (3.3) averaged intended yards of any quarterback on the week, meaning he kept the air attack short and sweet. He was also good for eight rushes, an aspect of his game that helped raise his fantasy floor last season (60/355/1 on the year) and makes him a rather ideal cash game play at these prices. He'll rarely blow it out of the box, but in this middle-of-the-pack pricing it's tough to imagine him just destroying lineups. Washington draws the Colts at home after the latter allowed a 75% completion percentage to Andy Dalton in Week 1. Dalton only attempted 28 passes, but was ultra-efficient against a Colts' defense that put him under almost no pressure (three total hits on the QB). Smith worked the possession game in Week 1, spreading targets without every really needing to get the wide receivers in the mix. He has enough options to pick apart the the Colts' D with the only real issue coming if they want to establish a ground game with Peterson early.
Ben Roethlisberger FD 7600 DK 6900
Opponent KC
Proj Points FD - 20.14 DK - 21
While the hype training is running completely out of control for the quarterback on the other side of this matchup, I'm comfortable playing Big Ben in cash for Week 2. He struggled against the Browns in Week 1, throwing three interceptions and completing only 56% of his passes. Wind and weather were a major factor in that game, something that won't be nearly the problem this week. Big Ben has one of the most potent passing groups in football led by Antonio Brown and will face a Chiefs team ranked 32nd against the pass last season. They allowed Phillip Rivers to throw for 424 yards on a 66% completion rate in Week 1 with the Chargers receivers flat out dropping at least two touchdown passes. It could have looked much worse for Kansas City. The Steelers open with the second-highest implied total on the day at 29 and stacking Big Ben and Conner (who we'll get to in a second) should have a very high floor in cash.
You can also consider a whole host of other quarterbacks who all fall in a very tight price range for Week 2. Drew Brees rates once again as a strong cash play especially if the Saints are going to be more reliant on the pass without Mark Ingram. He makes for a cash game stack with Kamara/ Thomas if you can punt at WR/TE.
I'm also fairly bullish on Deshaun Watson going into Week 2 even though he looked rough against the Patriots. They schemed him very well and I don't think we see the same kind of high-level defense from the Titans this week. He should get Will Fuller back in the mix, some of the rust has to be off now and I'm encouraged that he ran eight times in Week 1. This is very well a buy-low spot for an electric quarterback.
Running Back
James Conner FD 7000 DK 6700
Opponent KC
Proj Points FD - 19.96 DK - 22.46
Assuming Le'Veon Bell doesn't report this week (and there's no real reason to suspect he will) then Conner, in my opinion, is the easiest cash game running back play of the week. He checks every box you can think of in what you want in a *safe* running back play. The Steelers are -5 home favorites against the Chiefs. Kansas City ranked 32nd in DVOA against the run in 2017 and started off 2018 much like where they left off, allowing 4.3 ypc and 168 total yards to Melvin Gordon in Week 1. Conner's first start as a professional saw him get the highest total usage of any running back with 37 looks (31 carries, six targets) while scoring two touchdowns on the ground. He played 77 of the 84 Steelers' offensive snaps, second only to Antonio Brown among position players. The Steelers have their system and it involves one running back playing basically every down. They've done it for years and nothing changed with Conner in Week 1. Sure, the salaries are up from his punt prices but he's still very much a bargain. It appears he's game script independent and has massive GPP upside as well.
Alvin Kamara FD 9000 DK 9500
Opponent CLE
Proj Points FD - 21.81 DK - 24.72
The Saints got down in the first quarter against the Bucs in Week 1 and Tampa never took its foot off the gas. It left New Orleans in catchup mode the entire game. There's good news and bad news here. The good news is we saw the Saints willingness (need) to play Kamara a lot of snaps (52 of 64) and use him in the passing game (12 targets good for 9/112/1). That's all well and good. What we didn't get a sense for is how they'd planned on using him in a game where they got up with a lead. He ended up carrying the ball only eight times for 29 yards (he did score two more on the ground) with Mike GIllislee and Jonathan Williams totaling four carries. This play isn't without its downside. While I think Kamara clearly has an amazing situation here (Saints are -8.5 home favorites) there's some risk the plan is to really spell Kamara as much as possible on running downs. You are paying a premium to play him this week and I will in cash. But I'm much more confident in Conner.
Todd Gurley FD 8900 DK 9200
Opponent ARI
Proj Points FD - 20.12 DK - 21.96
After finishing second in rushing yards (1305) and first in touchdowns (13) while also chipping in 788 receiving yards through the air in 2017, Gurley picked up where he left off in Week 1 against the Raiders. He averaged more than five yards per carry, good for 20/108, and added another 39 yards through the air on five targets. He's among the very elite tier of usage running backs and lines up in a fantastic spot for Week 2. The Rams are -11.5 home favorites (easily the highest of the day and one of the highest you'll probably see all year) against a Cardinals team that just allowed 96 yards on the ground to Adrian Peterson. Gurley is a totally different breed of back at this point in their respective careers. I suppose there's some blowout risk in this one (the Rams had plenty of those last season) but he has such a high floor that it's worth paying up for the usage.
Note: This week is very deep at running back. I could have easily written up two-three additional guys. We'll touch on some of them later in the week with a deeper look at the position.
Wide Receiver
Emmanuel Sanders FD 6800 DK 6200
Opponent OAK
Proj Points FD - 13.74 DK - 16.75

Demaryius Thomas FD 7000 DK 5600
Opponent OAK
Proj Points FD - 13.59 DK - 16.58
Do you think these guys like having Case Keenum around? After a couple of seasons with Trevor Siemian, Brock Osweiler and Paxton Lynch hucking balls every which way but straight, the Broncos now at least have a stable (read: competent) guy under center. Keenum made his Broncos' debut in Week 1, completing 25 of 39 passes for 329 yards and three touchdowns. Both Sanders and Thomas saw double-digit targets with Sanders putting up the real monster game with 10/135/1 on 11 targets. Sanders ran 70% of his routes out of the slot compared to only 14% last year. The difference showed. Out of the slot on Monday night, Cooper Kupp went 5/59/1 on nine targets (a team high) against these Raiders. Sanders will draw much of the same matchup on Sunday.
Meanwhile, Thomas wasn't as efficient but did see double-digit targets (10) converting to a 6/63/1 line. He's more of a downfield option with GPP upside. Between the two, I much prefer Sanders on DraftKings for the full point PPR even though Thomas is a tick cheaper. But both make for solid plays.

Nelson Agholor FD 6100 DK 6100
Opponent TB
Proj Points FD - 13.24 DK - 16.11
With Alshon Jeffery slated to miss another week, Agholor should remain the Eagles' target leader after tying Zach Ertz with 10 looks in Week 1. Agholor didn't do all that much with the opportunity, totaling only 33 yards, but I'm bullish on both the opportunity and an uptick in yards going into Week 2. He'll get a terrible Tampa Bay secondary that got lit up by Drew Brees in Week 1 to the tune of 422 yards on an 82% completion percentage. Foles and company aren't the Saints, but Agholor is coming cheap for a guy who could command double-digit targets in a plus matchup. He's a much better FanDuel value where going cheaper at wide receiver does give you the opportunity to get three workhorse running backs because of the flex position.

Kenny Golladay FD 5700 DK 4800
Opponent SF
Proj Points FD - 11.19 DK - 13.2
Had pricing come out a day later (or the Lions played on Sunday) then Golladay would for sure be more expensive for Week 2. Though the Lions lost in a total rout, there's a lot of reason to be optimistic that this wasn't a fluky game for the second-year wide receiver. For starters, he led the receiving corps in snaps with 67 (Tate - 57, Jones - 62) and was the early featured target recipient from Matthew Stafford. He doesn't draw a fantastic matchup against a solid 49ers secondary though the Lions do try to move their receivers around a lot to find optimal coverages. I'm mostly looking at the price here and the thought that Detroit could be moving Golladay toward more of a WR1 role now even if the matchup is a little tougher than we like to target in cash.
Tight End

Jack Doyle FD 5600 DK 4000
Opponent WAS
Proj Points FD - 11.08 DK - 13.77
We wrote up Doyle as a cash game play for Week 1 and he turned in a very *cash-like* performance with seven catches for 60 yards on 10 targets. The Colts were forced into catch-up mode late in the game where Doyle saw a majority of his action. Luck didn't attempt too many downfield passes and I'm skeptical about the arm strength being all the way back to 100%. But the accuracy was still there and Doyle as a check down option was definitely in play. Eric Ebron did see some snaps at TE as well but those were in two-TE sets. Doyle still was on the field for 94% of the Colts' possessions.

Jared Cook FD 5000 DK 3600
Opponent DEN
Proj Points FD - 9.12 DK - 11.23
Cook led all tight ends in targets in Week 1 with 12. This could be a theme of the season considering Jordy Nelson got next-to-no separation, Amari Cooper was a non-factor and the Derek Carr was forced into making short throw after short throw in the loss to the Rams (the latter's Averaged Completed Air Yards was the second-lowest of any quarterback). The Raiders offense doesn't have a lot of hope to it, but that could just mean an expanded target share for Cook. Denver ranked 31st in defending the tight end last season and Will Dissly put up 3/105/1 in Week 1. Cook rates out as a cash game play with a lower ceiling mostly because the Raiders will struggle all season to get close to the end zone.
Defense
LA Rams FD 4800 DK 3700
Opponent ARI
Proj Points FD - 8.49 DK - 8.49
Los Angeles Chargers FD 4400 DK 3600
Opponent BUF
Proj Points FD - 7.75 DK - 7.75
Washington Redskins FD 3700 DK 2700
Opponent IND
Proj Points FD - 7.05 DK - 7.05
Now's your chance to get DFSR PRO, which will give you access to our NFL optimizer for FanDuel and DraftKings, our MLB Optimizer, and our new Player Lab! Get started for free by clicking the button below.
First time with NFL? Be sure to read our free MLB and NFL Ebooks on building lineups, general strategy and more. We've got you completely covered.
FREE EBOOK
SECRETS TO CRUSHING DAILY FANTASY FOOTBALL!
DON'T SET ANOTHER LINEUP BEFORE YOU READ THIS BOOK.