featured Daily Fantasy
Expert Advice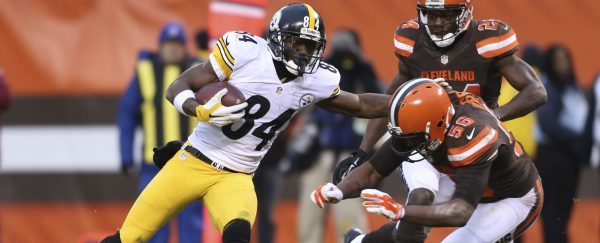 How you should spend your last hour before NFL lineup lock
Five years into professional DFS projections, I have to say that I see casual players making more mistakes in the last hour before lineup lock than during any other time.
And it makes sense, right? You spend your whole reach researching, reading picks articles, weighing match-ups, and build a short list of players you want in your cash game and big tournament lineups. You go to bed Saturday night feeling good, and then you wake up Sunday morning, check Twitter, and all of a sudden you want to throw everything out and start over.
You're not alone! But this article should help you gain a little clarity on the best ways to spend the most valuable hour in DFS.
This is a sneak peek at what you can expect as part of your package with DFSR premium! Go grab a free three day trial of DFSR Pro or DFSR Basic! Your subscription will include access to premium content, our lineup optimizer, our members only chatroom, and more!
What you should consider
Listen, the nature of daily fantasy football is that information WILL come to light on Sunday morning that you didn't have prior to that time.
Following injury situations
This one is funny, because I think most casual DFS players are following injuries for exactly the wrong reasons. Why? Most of the players that are questionable or doubtful for a given week shouldn't really be in consideration for your lineups anyway. Sure, you could play a running back with a thumb injury, or a non-mobile QB with a banged up ankle, but for the most part we have so many great options from week to week that if you need to be following a player's injury status right up until lineup lock you should probably just avoid playing him anyway.
So why should we be monitoring injuries closely? Quite simply, they will open up opportunity for others. For running backs, in particular, a last-second scratch to a feature RB is going to open up a large number of carries for somebody on the team. What's more, the back-up running backs are usually exceedingly cheap. Look at a team like the Steelers - yes, Bell missed last week due to contract disputes, but imagine instead that he was questionable to play and ruled out at 10:00 AM EST. Given the track record of the Steelers for plugging in whoever the back-up is and leaving them out there for a huge number of carries, Conner would rightfully become a chalk play.
This happens at wide receiver as well - when a big name target hog like Antonio Brown or Julio Jones misses a week the trickle-down effect is massive. Teams can't usually change their entire scheme based on one player's injury, so they far more commonly just move people up the list and watch them go.
Your major takeaway? Monitor injury news to figure out who you should plug in if a guy is ruled out. If Michael Thomas is listed as questionable on a Wednesday, do your homework in advance to know who you want to play if he gets ruled on Sunday morning. Like most things in DFS, preparation will win the day.
If you're not sure where to look, Twitter is probably the best place to get up to the minute updates in the last hour, but Rotoworld does a nice job of giving a DFS analysis on the important injuries and how they impact DFS opportunity.

Monitoring the weather
While weather doesn't have quite as dramatic an effect on football performance as it does in baseball, you still absolutely must stay on top of the important weather situations. Weather caused the PIT/CLE line to move by 3.5 points last week, and if you didn't keep an eye on that situation you might have tried to stacked Big Ben with Antonio Brown or Juju when their upside was greatly diminished.
Weather will only become more of a problem as the season goes on, and like injury news, is another way you can try to find safer situations. Running backs tend to be safer in bad weather, where passing games become almost unplayable. You should often have at least a little idea about these weather situations before game day, but be prepared to double check them the hour in advance to see if anything is changing.
Rotowire offers a pretty good summary of weather conditions in various cities from week to week, but Twitter is going to be your friend here once again.
Monitoring Vegas lines and prop bets
This one is a little tricky for the average player to account for, and you're going to hear a lot of conflicting information on how to interpret Vegas line movement. Still, though, you really should consider checking the best betting sites before betting anything. Oddsmakers know the league as well as anyone, and are generally good at identifying areas where DFS participants can seek out players with the most advantageous match-ups.
Last week late line movement had us taking a closer look at the Bengals, and ultimately both Dalton and Mixon wound up being excellent plays.
Vegas line movement can also alert you to other factors that you might not have been aware of. We learned about the weather situation in the CLE/PIT game because we saw the line move first - since Vegas has so much riding on setting accurate lines, they tend to be lightning quick at adjusting things when new information comes to light.
Sometimes lines move on insider information as well. If you're curious about whether or not a key player is going to play (particularly a quarterback), you can often see what Vegas insiders believe just by watching how the line is moving. If Tom Brady were questionable in a given week, and then a line shifted heavily away from the Pats with 30 minutes before kick off, you can often bet that it is because someone somewhere has a strong reason to believe Brady is going to miss the game.
A quick note about prop bets, here. Like most things, Vegas has an awful lot to lose when it comes to setting lines for player-specific performance bets, and they tend to be pretty damned good at doing so. These bets tend to come out very late (maybe 11 AM on Sunday morning), leaving us little time to react to them. For our purposes we tend to use them as a tiebreaker only - our system is quite adept at projecting player performance - and we don't want to get overly spooked because Vegas thinks differently.
But there HAVE been times where we've double-checked ourselves after player props come out. Say there are two quarterbacks we are considering at the same price point, but Vegas has one throwing for 70 more yards than the other. In a case like that, we'll just break our internal tie with Vegas' opinion. Likewise, prop bets can be a good way to alert you to some other factor you might not be considering. Again, say you had missed the CLE/PIT weather situation - if you checked Antonio Brown's player prop you would have seen him at fewer receiving yards than you would have guessed. At that point, you could have figured out what was going on.
At the very least, I always check the player props of my cash game plays against Vegas props to make sure I am not missing something major.
Getting your back-up plans in place
I nodded to this earlier, but especially for the big outstanding news, you absolutely have to plan for how you're going to adjust to it prior to finally receiving the news.
Sometimes this is as simple as saying "okay, if Kamara IS out, I can just plug in DJ at the same prices and move on," but sometimes it's a lot more complicated.
A pro tip here, especially for cash games, is make sure you just have one lineup in that reflects what you'd do if the new information changes how you want to approach the week. That way, if you need to change things quickly later on, you can just export the new lineup and move on. This approach also forces you to have made your plan in advance, rather than making you scramble at the last minute.
Hop in our chat room
If you're reading this article, that will mean you are a DFSR premium user. One (or more) of our DFS pros is in the DFSR chat for an hour (or more) before each main slate. We'll be giving our takes on how the important news affects things, give you feedback if you're trying to pick between two different players, and just generally talking lineup strategies. Hope to see you in there!
What you should absolutely avoid
Okay, this is absolutely the hardest thing for most people to do:
Do not, under any circumstances, subject yourself to information overload.
One of your favorite analysts just posted a last second article talking about how he loves Patrick Mahomes, but he's not in any of your lineups! What do you do!?
In all likelihood, the best answer is, "nothing."
Again, you were probably researching all week to make your lineups - so what could one person say that should make you want to change that? If it's not injury or weather based, chances are good it's just one guy's opinion.
And, as someone who has been in this industry a long time, a lot of people try to get their name out there by being contrarian and going against the grain. Seeing an article like "Why I'm not playing James Conner this week" all of a sudden could have you questioning everything, and most importantly, ignoring the things that you should actually be paying attention to!
A good piece of advice that our very own Doug Norrie once gave me was: pick one content source you trust, and stick to it. Do your research in advance, and keep your mental space available to fine tune your big tournament lineups and to monitor injury and weather news.
Engage all the material you want during the week, but once you feel good about your double-up and 50/50 lineups, stop reading new opinions. It will be better for your mental health, and better for your bankroll as well.
Enjoying reading DFSR Premium articles, and have an idea for something you'd like to know more about? Email us today at doug@dfsr.com or james@dfsr.com! We're always looking for more ideas on big picture ideas to share with you, and want to hear from you today!
FREE EBOOK
SECRETS TO CRUSHING DAILY FANTASY FOOTBALL!
DON'T SET ANOTHER LINEUP BEFORE YOU READ THIS BOOK.