featured Daily Fantasy
Expert Advice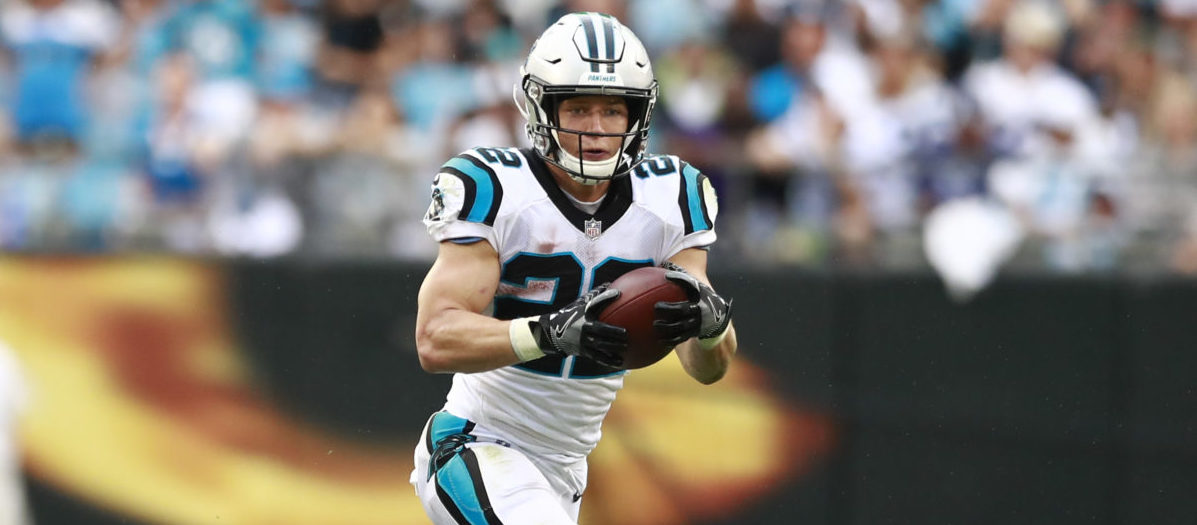 Millionaire Thoughts Plus GPP Plays and Pivots for Week 2 FanDuel and DraftKings
With so much lead-up time to the big event, there's was plenty of chalk abounding in Millionaire Makers on each site for Week 1. And for the most part, the chalk paid. Four of the five highest-owned plays in the Millionaire Makers were:
Alvin Kamara FD 35% DK 34%
James Conner FD 30% DK 26%
Keenan Allen FD 18% DK 22%
Rob Gronkowski FD 22% DK 21%
All had good-to-great games with Kamara and Conner in all winning lineups for both sites. (Gronkowski was in the second-overall DK lineup). It's instructive in some ways because (and we learned this from last season's Milly Makers as well)...
Want to see the rest of this article? Go grab a free three day trial of DFSR Pro or DFSR Basic! Your subscription will include access to premium content, our lineup optimizer, our members only chatroom, and more!
you don't need to be 100% contrarian to win big GPPs. Sometimes the best, and most popular plays are the best ones for a reason.
Running back the chalk
But are there players who *burned* a large percentage of lineups last week that stand to be under-owned this week? For sure. Two stand out in particular with a case to be made for going back to the well.

Christian McCaffrey FD 7400 DK 7000
Opponent ATL
Proj Points FD - 15.18 DK - 17.96
Week 1 ownership - FD 18% DK 23%
McCaffrey didn't realize the preseason rushing potential many were banking on going into Week 1. After looking like he'd carry the feature back work in the Carolina offense, he only saw 10 carries in a slow game against the Cowboys in Week 1. The ownership will assuredly drop (likely rather dramatically) for the second year guy in Week 2, and I think there is a case to buy on the upside here. There were some encouraging signs. He averaged five yards per attempt (10/50) and was in the game in the Panthers' red zone opportunities,  fumbling one attempt and deferring to Cam in an RPO scheme where Newton trotted in for a touchdown.
There was no dropoff in McCaffrey's use in the passing game. He led Carolina with nine targets (6/45) and could very well see an even higher target share with Greg Olsen out indefinitely. The Panthers figure to play the "come from behind" game on the road against the Falcons in Week 2 and our system currently has McCaffrey as the fifth-highest projected running back on DraftKings. He'll for sure be the lowest-owned of the group with massive upside if Carolina upticks his Week 1 usage in the running game even 10-15% or more. It hurts him that C.J. Anderson was efficient in the ground game (10/50) and Cam does siphon off a lot of runs with the option. But that will be built into McCaffrey's ownership. Quick note: while writing this, the Panthers came out and said they are "sticking to" their workload projections for McCaffrey. Read this as gospel or read it as coach-speak, either way, it only helps him as a GPP play. 

Keelan Cole FD 5500 DK 4900
Opponent NE
Proj Points FD - 9.44 DK - 11.23
Week 1 ownership - FD 15% DK 15%
Leonard Fournette is banged up and it stands to reason the Patriots will employ a "Make Blake Bortles beat us" strategy in Week 2. That could very much work in Cole's favor. He was the 6th-highest owned WR in the DraftKings' Milly Maker. Cole had an underwhelming Week 1 with three catches on four targets for 54 yards. But he led all Jaguars' wideouts in snaps with 47 (Donte Moncrief - 43, Dede Westbrook - 31). They've made improvements, but it's worth noting the Patriots ranked 31st in defensive DVOA in 2017. Dede Westbrook saw the most WR targets in Week 1, but admittedly, the Jaguars weren't challenged to throw much in the first game. They led throughout. This is a deeper pull because the Jaguars' QB play is so rough (Bortles had a 55% completion rate in the first game) but I do think we see Week 2 end with Cole as Jacksonville's leader in WR target share.

Fading the chalk
Meanwhile, there are some low-owned Millionaire winners who could see too much of a correction in Week 2.

Patrick Mahomes FD 7500 DK 6100
Opponent PIT
Proj Points FD - 15.12 DK - 16.05
Week 1 Ownership - FD 4.5% DK 3%
Like I said in my recap article I do think we need to pump the breaks on Mahomes just a little bit because well, I didn't see a ton to initially get excited about from the first game. And I get that I'm in the MINORITY here. I know this is picking and choosing plays to make my point, but I do think it's a reasonable exercise. If you remove the two jet-sweep red zone *passes* (to me these qualify more as runs but are scored as passes) then Mahomes' line for Week 1 was 13 for 26, 254 yards and two touchdowns. (Take away the Tyreek Hill slant and run, which he did all the work on and it looks way worse, but I'll stick with just removing the first two TDs). The dude was incredibly inefficient in an era where passing efficiency is basically completely the name of the game. He could end up being the highest owned quarterback in the Millionaire Maker and I'd be completely fine on a fade. The Steeler's defense isn't anything close to amazing, but is it reasonable to expect Mahomes to have a better game than Week 1 considering some of the passing numbers? The Steelers ranked 7th in DVOA against the pass last season and I'm not sure Week 1 was a good proxy for their defense going forward (even though Tyrod basically sucked). Tyreek Hill (FD 12% DK 9.5%) also stands to see a big bump in ownership after his game. He strikes me as something of a fade here. He was as efficient as humanly possible considering Mahomes' other passing stats and though the jet sweep was one of his TDs, I don't see him being used him in the Red Zone beyond that. With this line of thinking, in what still stands to be a high-scoring game, I do like potential GPP pivots of Kareem Hunt and Travis Kelce. Don't get me wrong, I do think the Chiefs can put up points, but I see their outcomes as much more variable than the *safety* in Mahomes I'm seeing espoused in the industry.
And finally, Game Stacks - FTW
The two winners of the millions on FanDuel and DraftKings employed a Tampa Bay-New Orleans game stack:
DraftKings - Fitzpatrick, Kamara, Thomas, Jackson, Evans
FanDuel - Fitzpatrick, Kamara, Thomas, Jackson
With a smattering of other plays around those guys. Game stacks are highly correlated with GPP success. From this point of view, the Pittsburgh Steelers - Kansas City Chiefs game will likely garner the highest ownership around between Conner, Mahomes, Brown, Hill etc all fitting into lineups from a price perspective and having a ton of upside of course. I'll pivot a little and point to game which, in a couple of scenarios could have big-time fantasy appeal:
Carolina Panthers vs. Atlanta Falcons
Targets:

Cam Newton FD 8200 DK 6600
Opponent ATL
Proj Points FD - 17.39 DK - 18


Christian McCaffrey FD 7400 DK 7000
Opponent ATL
Proj Points FD - 15.18 DK - 17.96

Devin Funchess FD 6000 DK 4700
Opponent ATL
Proj Points FD - 11.38 DK - 13.5
I already made plenty of mention of why I think C-Mac is in play for Week 2, but stacking the Panthers *core* group could have massive fantasy appeal here. They get ideal conditions in the dome in Atlanta in what should be at least something of a pace-up matchup compared to what they got against Dallas last week. They aren't a prolific offense, but I do suspect we see their opportunity heavily concentrated around these three guys with Olsen out. Cam's 13/58/1 from Week 1 is an indication about how often they want this guy getting out in the open field, then (from a fantasy scoring perspective) it for sure makes up for his inconsistency in the passing game.

Matt Ryan FD 7100 DK 5700
Opponent CAR
Proj Points FD - 15.78 DK - 16.38

Tevin Coleman - if Freeman sits FD 5900 DK 5300
Opponent CAR
Proj Points FD - 9.67 DK - 10.75


Julio Jones FD 8500 DK 8400
Opponent CAR
Proj Points FD - 17.04 DK - 20.32
One thing is for sure: Matt Ryan's stock will never be lower. It remains to be seen if it ever comes back up, but I doubt it drops more than it did after his abysmal 21-43 performance for 251 yards and an INT in Week 1. The Falcons did everything they could to lose to the Eagles (which they did incidentally) and Ryan looked pretty damn bad. But Vegas is still cautiously optimistic on Atlanta's ability to put up points (25.25 implied total as of this post). Where other teams have similar totals, in the possible absence of Devontae Freeman, their offense would look very concentrated on these three guys.
Matt Ryan's inefficiency, combined with horrendous red zone offense playcalling overshadowed a Week 1 Julio Jones performance where he saw 19 targets and a 10/169 line. Julio will never fly under radars, that much is for certain but combining him with the rest of this game as a GPP play will be fairly contrarian.
And finally, the Freeman news will surely be something we're hanging on heading into Sunday. If he were to sit, Coleman would vault to near the top of the cash and GPP plays on the opportunity alone. Freeman missed two games last season and Coleman filled in for 20 and 19 carries in his stead. He's not the most efficient runner, but would rate as a crazy value if the lead back.
image sources
Cowboys Panthers Football: (AP Photo/Jason E. Miczek)
FREE EBOOK
SECRETS TO CRUSHING DAILY FANTASY FOOTBALL!
DON'T SET ANOTHER LINEUP BEFORE YOU READ THIS BOOK.