Daily Fantasy PGA Picks and Betting Guide for DraftKings & FanDuel – Tour Championship
DFSR is proud to bring you, Chris Durell. He'll be bringing weekly PGA picks, analysis, and breakdowns to help you cash on DraftKings and FanDuel. As every week in DFS PGA changes with the course setup, field of players and weather, Chris will be providing a range of different picks for cash games as well as upside plays for tournaments. If you have any questions to lineup lock you can reach him a variety of ways. Leave your question/comment below in the comments section, find him in the DFSR Chat room or hit him up on Twitter(@Jager_Bombs9). Chris is also providing his DFS PGA Weekly cheatsheet where he provides stats, course history, current form, fantasy points, and much more. Grab your copy today and edge out the competition.

Tour Championship
It has been a very long season but we have finally reached the final tournament of the season. The Playoffs started with 125 players and over the last three events has been narrowed down to the final 30 who will not only be battling for the TOUR Championship but also to become the FedEx Cup Champion and take home the 10 million dollars. Before getting into the course, I will also mention that any player inside the Top 5 of the standings(DeChambeau, Rose, Finau, Johnson, Thomas) that wins the TOUR Championship will also win the FedEx Cup. If neither of those five wins, there are a ton of different scenarios that could result in the FedEx Cup Champion. Check them out HERE.
East Lake Golf Club has hosted the Tour Championship annually since 2004 and alternated with Champions Golf Club going back to 1998. It is a longer Par 70 that reaches over 7,300 yards and has narrow fairways so when breaking down Strokes Gained: Ball Striking, I will be leaning slightly to the Off the Tee metrics over the Approach metrics. Being a Par 70, there are also 12 Par 4's on the course so I will be weighing that very high as well this week. If you are a Fantasy National Golf Club member, be sure to also check out the stats for Par 4's between 450 and 500 yards as five of them fall in this range with one over 500 yards. Other than that, I will be looking at Birdie or Better % as it correlates the highest with fantasy scoring, course history as we have a lot to go off, and most importantly current form. With that said, let's jump into the picks.
The Course
East Lake Golf Club - Atlanta, GA
Par 70 - 7,346 Yards
Greens - Bermuda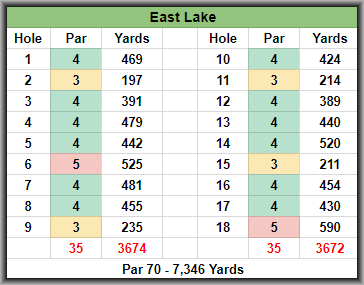 **Click the pic above to link to PGATour.com to check out a hole by hole breakdown of the course**
Hole Composition
Last Five Winners
Xander Schaufele(-12)
Rory McIlroy(-12)
Jordan Spieth(-9)
Billy Horschel(-11)
Henrik Stenson(-13)
Top Stats in the Model
Par 4 Scoring
Strokes Gained: Off the Tee w/ Emphasis on Accuracy
Strokes Gained: Approach(long iron emphasis) 
Birdie or Better %
One little note before jumping into the article. I use multiple sources for my research to help determine key stats starting with Fantasy National Golf Club and their elite set of tools from course history, hole composition, past performance and much, much more. I also combine it with some of the information on Future of Fantasy including correlated courses and most importantly the quotes from players section to help determine what it takes to win here(key stats). When breaking down ownership and trying to come up with popularity, I love the tools over at FanShareSports as they break down every piece of information on articles and social media mentions to provide us with Tag Counts, Sentiment Ratings, Subject Tags, Salary Differential week to week and much more.
Top Tier Targets
Justin Rose
World Golf Ranking (#1)
FedEx Cup Rank(#2)
Vegas Odds (7/1)
Draftkings ($11,400)
FanDuel ($11,200)
Rose is one of the five players that can win the FedEx Cup outright with a win at the Tour Championship as he sits second in points behind DeChambeau. After missing his first cut on Tour all season at the Nothern Trust to open the playoffs, he has finished runner-up in back to back events and jumped from #4 to #1 in the Official World Golf Rankings. No better place to cap off a tremendous season than here at East Lake where he has finished Top 10 in each of his last five trips(three Top 5's) and in that time, he leads all golfers in this field in Strokes Gained: Total, Tee to Green, Approach, and Around the Green. Looking at his stats form coming in, he also leads all golfers in Strokes Gained: Tee to Green and Approach over the last 12 rounds and is 8th in Par 4 Scoring. There are some good players in the lower tiers of pricing due to field size this week making it easy to construct lineups around any golfer making Rose a top target in all formats.
Justin Thomas
World Golf Ranking (#4)
FedEx Cup Rank(#5)
Vegas Odds (11/1)
Draftkings ($10,300)
FanDuel ($11,000)
The defending FedEx Cup champ is #1 in my overall model this week and by quite a bit. He ranks second in all four categories on my sheet starting with the form where he has shot under 70 in 18 of his last 20 rounds and is averaging 98.5 DraftKings points per game over the last five events. He didn't win the Tour Championship last season but did finish runner-up to Xander Schauffele and also finished T6 in 2016 as well. he also crushes the stats model as he ranks 2nd on my sheet in SG: Approach, 4th in SG: Ball Striking, 3rd inPar 4 Scoring, and 2nd in Birdie or Better %. He can be wild off the tee at times which lowers his overall rank on my mixed condition model(via FNGC) but the upside more than makes up for it and then combine that with the discount this week, and he is a graet play in all formats.
Mid Tier Targets
Tony Finau
World Golf Ranking (#15)
FedEx Cup Rank(#3)
Vegas Odds (18/1)
Draftkings ($8,600)
FanDuel ($10,300)

Finau has been cruising through the playoffs with three straight Top 10 finishes(two Top 5's) and has shot under 70 in all 12 rounds. This has put him in a great position to win the FedEx Cup if he could only close the deal and win a tournament. He finished 7th here last year and looking at the mixed condition model I came with on Fantasy National, he has a shot. Over the last 12 rounds(start of playoffs), he ranks 1st in SG: Par 4 Scoring, 7th in SG: Ball Striking, 2nd in Sg: Off the Tee, and 5th in Birdie or Better Gained. With this many good players and all somewhat underpriced in a 30-man field, it is easy to build a lineup with a bunch of mid-tier players who may be high owned individually but leaving $500 or more in salary on the table will make you lineup overall a bit contrarian.
Francesco Molinari
World Golf Ranking (#5)
FedEx Cup Rank(#13)
Vegas Odds (18/1)
Draftkings ($8,200)
FanDuel ($10,300)
Coming in as the 13th rank player in standings, Molinari has a harder route to winning the FedEx Cup but like any player, it starts with winning this weekend. That is something Molinari knows a little bit about as he has three wins since missing the cut at the PLAYERS in May and if you are looking for a ball striker he is one of the best. Not only does he rank 2nd in SG: Ball Striking on my sheet, he also ranks 2nd in SG: Ball Striking over the past 12 rounds. The one area that concerned me on my sheet is that he ranks near the bottom in Par 4 scoring but has trended nicely over the past 12 rounds as he ranks third in this field. He missed the cut at the Northern Trust to open the playoffs, took a week off at the Dell Technologies Championship but returned to place T8 in the BMW Championship. All things considered, he is one of my top PTS/$ plays this week in all formats.

Value Targets
Webb Simpson
World Golf Ranking (#17)
FedEx Cup Rank(#11)
Vegas Odds (28/1)
Draftkings ($7,500)
FanDuel ($10,100)

While we sometimes think of Webb as a low upside kind of play consider he has five career wins including the PLAYERS Championship earlier this season. Even despite a slow start to the playoffs with a T28 and T49, he still sits with an average of 89.2 DraftKings points per tournament over his last five which is sixth-best among all players in the field. He has been to the Tour Championship in three of the last five years and while the last two haven't stood out(T13, T23) he does have a T4 back in 2013 and going back further he also finished T5 in 2012. He is my favorite play in the value price range and will roll him out in all formats.
Paul Casey
World Golf Ranking (#19)
FedEx Cup Rank(#26)
Vegas Odds (40/1)
Draftkings ($6,800)
FanDuel ($9,100)
Casey withdrew from the BMW Championship two weeks ago with a back injury but getting back on the course this week would likely be huge with the Ryder Cup coming up next. I will take the risk in this small field event, especially considering the sub $7K price tag on DraftKings and the fact he has finished Top 5 here at East Lake three years in a row. Unless more news comes out that he is 100% healthy, I wouldn't roster in cash games but for GPP formats, he could be lower owned and makes a terrific risk/reward option.
Tournament Update Thread
**Weather Update**
Chris Durell has been playing Daily Fantasy Sports for five years and fantasy in general for more than a decade. He is an active player in college football, NFL, MLB, NASCAR, NHL and of course PGA. He lives in Saskatchewan, Canada with his wife and two daughters. You can follow him on Twitter at @Jager_Bombs9 for advice, strategy, answers to any PGA questions and how he copes with the winters up north.