Baseball Picks Daily Fantasy
Expert Advice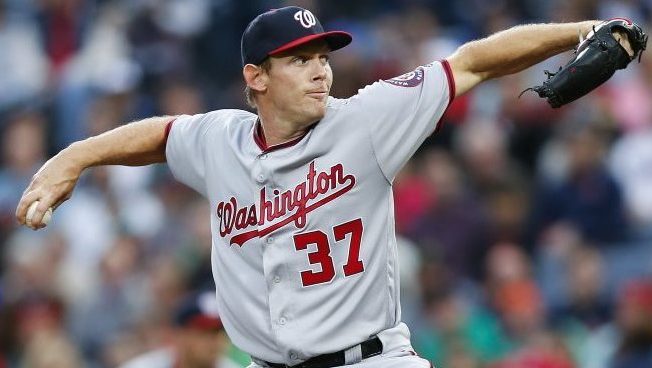 Daily Fantasy MLB Picks for FanDuel and DraftKings - 9/24/18
We are entering the final week of the MLB season (can you believe it?) and while most of the pennant race stories are closed and shut, there's still plenty of DFS value to go around. Let's dive into some of the plays Monday's slate of games.
Now's your chance to get DFSR PRO, which will give you access to our MLB optimizer and our new player lab! Get started for free by clicking the button below.
First time with MLB? Be sure to read our free MLB Ebooks on building lineups, general strategy and more. We've got you completely covered.
Pitcher
Jack Flaherty FD 9000 DK 9100
Opponent - MIL (Undecided) Park - STL
FD - 37.61 DK - 20.56
Flaherty had been rolling through August an into September, striking out 57 batters in 48 innings and allowing only nine earned runs in that span (eight starts) before finally coming somewhat undone last game in Atlanta. He allowed five runs in four and 2/3 innings before getting pulled. He'll look to bounce back on Monday against the Brewers. He's a -135 home favorite and is coming reasonably priced on both sites. The Cardinals are still very much playing meaningful games, 1.5 games up on the Rockies for the final NL Wildcard slot. Flaherty's peripherals have been excellent this season, striking out almost 10.5 batters per nine, though the 3.4 BB/9 rate can catch him at times. The control hasn't been an issue in the short term though. The Brewers are a good offense, but come in with only a 3.7 implied run line on Monday. The high leverage nature of the game combined with Flaherty's stuff has him very much in the cash game mix on Monday.

Stephen Strasburg FD 11200 DK 10700
Opponent - MIA (Sandy Alcantara) Park - WSH
FD - 39.91 DK - 21.81
Strasburg took this Marlins' team to task five days ago with an 11K - 2BB performance over six innings in which he allowed only five hits and two earned runs. He was dominant with just one inning giving him fits and driving the pitch count up. The Nationals haven't been in the playoff mix for quite some time, but it hasn't stopped them from pushing the starters just for the sake of doing it. Strasburg has one of the best matchups on the board for Monday against a Marlins team ranked dead last against righties on the season with a .291 wOBA and 23% K rate. They stink. He's a huge -240 opening home favorite and should be able to command through this borderline AAA lineup with ease. It will cost you on FanDuel, though I do think the DraftKings price is something like a bargain considering his strikeout numbers (10.8 per nine), 3.19 xFIP and matchup.
Cole Hamels FD 8500 DK 8400
Opponent - PIT (Jameson Taillon) Park - CHC
FD - 38.03 DK - 19.74
The Cubs are trying to fend off the Brewers in the race for the NL Central lead with Milwaukee sitting 2.5 games back with a week to play. Hamels (outside of last game) has been excellent since coming to Chicago at the trade deadline. Even with the seven earned runs over six innings last game against Arizona, he's averaging more than six innings per start, a K per inning and less than two earned runs since becoming a Cub. Those are, of course, excellent numbers and he's clearly thriving after getting out of the bandbox in Arlington. The Pirates are playing a lot of young guys at this point in the season and have struck out 22% of the time this year against lefties. Hamels is a -160 opening home favorite and we are just waiting on the Wrigley winds to make sure they aren't gusting out in obscene ways that could bump the run line.
First Base/Catcher
Edwin Encarnacion FD 3700 DK 4600
Opponent - CHW (Dylan Covey) Park - CHW
FD - 14.46 DK - 10.72
Dylan Covey shut down the Indians five days ago and it wouldn't slow me down in the slightest from stacking Cleveland right back again in this matchup. Sure, the former has flashed competency at times this season, but this is still a guy with a 6.65 K/9 and 4.02 BB/9 rate on the season. His xFIP is about a run lower than the 5.33 xFIP, but there's very much a reason the Indians have the second-highest implied run line on the slate. Encarnacion's OPS is down some off his career numbers thanks to a reduced walk rate even though the power (31 home runs) has mostly been there. He's not overly expensive on either site considering he'll be hitting in the middle of the order against one of the weaker arms on the slate.
Mitch Moreland FD 3000 DK 3900
Opponent - BAL (Dylan Bundy) Park - BOS
FD - 12.55 DK - 9.44
The Red Sox switched their order around some on Sunday with JD Martinez out of the lineup, moving Devers into the cleanup spot and slotting Moreland down to sixth. Even if the latter were to hit lower in the order again on Monday, I'd still consider buying at these prices against Bundy. The Red Sox open with the highest implied run line of the slate at 5.88. Moreland is patient, taking walks 11% of the time with a solid .754 OPS and 15 home runs. He won't break it out of the box, but benefits from hitting and around the middle of the Red Sox lineup where padding fantasy stats can happen in bunches because of how great the top of the order is.
At catcher on DraftKings, consider Sandy Leon coming very cheap if he's in the lineup. I also don't mind punting with Matt Wieters.
Second Base

Jose Ramirez FD 4500 DK 5600
Opponent - CHW (Dylan Covey) Park - CHW
FD - 14.73 DK - 11.14
The American League is basically all locked up, over and done with from a regular season perspective so we have to just try and work off the assumption that all these teams will continue putting their best foot forward.
Ramirez followed up a career 2017 season with an even better one in 2018. He's on the short list for the MVP award with a .955 OPS, 38 home runs, 33 stolen bases and a walk rate (15%) significantly higher than his strikeout rate (11%). Dude's been the nuts all season long and now gets to face Dylan Covey in a hitter's park. He's expensive for sure, and you won't be able to play every top-tier bat on this slate, but there are few better guys to spend up on.

Joe Panik FD 2300 DK 3600
Opponent - SD (Bryan Mitchell) Park - SF
FD - 8.94 DK - 6.91
We'll have to find some cheaper hitters on Monday if we're at all interested in rostering some of the more expensive arms plus the potential Red Sox/ Indians' stacks (or Coors if you're so inclined). Bryan Mitchell has been a little piece of horrendous in his time on the Padres this season. He has a 5.77 xFIP through 64 innings, walking more batters (13%) than he strikes out (10%). It's tough to do that and still get tossed out on the mound every five days, but hey these are the Padres. Panik is no great shakes (understatement) but does hit second in the Giants' order and makes a lot of contact. He strikes out less than 8% of the time and should have the opportunity against such a weak arm in Mitchell. This is as much about Panik's price and opportunity as anything else.
Shortstop

Andrelton Simmons FD 2800 DK 4100
Opponent - TEX (Adrian Sampson) Park - LAA
FD - 9.45 DK - 7.36
Simmons in the sixth spot for the Angels is still high enough in the order to consider playing him on this Monday slate. He's coming very cheap on FanDuel and is reasonably priced on DraftKings. He's a contact hitter through and through with a super-low 7% K rate and 5% walk rate. That leaves a lot of PAs with the bat on the ball and he's turned it into a career-high .767 OPS this season. For a guy who doesn't walk, he still gets on base 34% of the time and could end the season with a third straight year of double-digit steals (he has nine this year). All Texas righty Adrian Sampson does is allow contact (11% K%, 4% BB%) so we can safely assume Simmons has the ball in play in every plate appearance in this matchup. We'll take it considering this is the latter's best hard contact rate of his career (36%).

Xander Bogaerts FD 3700 DK 4400
Opponent - BAL (Dylan Bundy) Park - BOS
FD - 12.31 DK - 9.47
I do like a number of shortstops in this price range on Monday but will stick with Bogaerts in the middle of the Red Sox lineup. Xander is having a career year with an .863 OPS and his best power numbers (21 HRs, .225 ISO). A lot of it is thanks to his highest hard contact rate (38%) of his career and he's hitting righties well over the last couple of seasons. Dylan Bundy does have strikeout stuff, but dude also has a tendency to get utterly shelled as well. If Bogaerts is in the cleanup slot on Monday then he makes for a high upside bat especially if you are stacking Red Sox.
Third Base

Rafael Devers FD 2800 DK 4100
Opponent - BAL (Dylan Bundy) Park - BOS
FD - 11.24 DK - 8.6
Devers moved up to the cleanup spot on Sunday, but that was mostly because J.D. Martinez got the day off and the Red Sox are just fiddling around with things leading into the playoffs. I don't expect the move to stick. But I do like the prices we are getting on the Boston third baseman in this matchup against Bundy. Devers has hit righties fine enough over the last couple of seasons with a .755 OPS, likely running a bid bad on BABIP in that split. His 19 home runs this year are a personal best, though he does strike out at a (somewhat high) 24% rate. That could be problematic against Bundy, but here I'm looking for quality bats on teams playing with higher implied run lines. Devers fits the bill and if he's in the 6-7 slot in the order could be one of the more popular plays on FanDuel.

Alex Bregman FD 4300 DK 4500
Opponent - TOR (Marco Estrada) Park - TOR
FD - 12.87 DK - 9.8
Bregman is a very good DraftKings deal at only $4500. While some of his other teammates are priced out of the value zone, he is in the middle tier against Marco Estrada who's putting up some truly dreadful numbers. Dude has a 5.74 xFIP (by far the worst of his career) thanks to a severe drop off in K rate (down to 6.6 per nine) and 2:1 K:BB ratio. He stinks. Meanwhile, Bregman has hit righties well over the last couple of seasons with an. 848 OPS in that split. He walks 11% of the time as opposed to a 14% strikeout rate and has an excellent .363 wOBA. Oh, and did I mention this year has been a revelation for the dude with a .912 OPS and 30 HRs? He's been the best Astro by far.
Outfield

Charlie Blackmon FD 4300 DK 5200
Opponent - PHI (Zach Eflin) Park - COL
FD - 14.88 DK - 11.44

Carlos Gonzalez FD 3300 DK 4300
Opponent - PHI (Zach Eflin) Park - COL
FD - 13.59 DK - 10.3


David Dahl FD 3500 DK 5000
Opponent - PHI (Zach Eflin) Park - COL
FD - 12.82 DK - 9.87
We've barely made mention of the Rockies on this slate despite coming in at a 5.9 implied run line in Coors against Zach Eflin. Such is the case with the Denver price inflation that getting value in on this field is almost always impossible short of some crazy terrible pitching circumstances. That's not exactly the case here with the Rockies facing Zach Eflin and yet I still think we can take a look at the Colorado outfield. It will somewhat depend on where they land with the batting order, though Blackmon is clearly the safest of the bunch. He isn't hitting close to what he did in 2017 (likely very much an outlier season) but dude still has an .850 OPS, walks 9% of the time, has power (27 home runs) and some speed (12 stolen bases). Even at these expensive prices, he might be coming at something of a discount. Cargo and Dahl will very much depend on how the Colorado lineup shakes out. If either are in the top 4-5 spots then we are looking at the possibility of buying at their current price points against a slightly above average arm in Eflin.
Also, note the Phillies' side of this game. They switch their order around a ton so any number of guys could come into play against the lefty Tyler Anderson. Over the last month, they've hit Jose Bautista, Aaron Altherr, Roman Quinn and others at or near the top of the lineup against southpaws. Rhys Hoskins is also in the mix. This is the lineup you'll be waiting on come lineup lock, especially for the OF plays. (Editor's Update: Jon Gray is now the listed starter for the Rockies, not Tyler Anderson)
Kole Calhoun FD 2800 DK 3400
Opponent - TEX (Adrian Sampson) Park - LAA
FD - 11.77 DK - 8.94
He seems firmly entrenched in the Angels' leadoff spot and the price hasn't moved up all that much even with the increased plate appearance expectation. Part of that stems from an abysmal .649 OPS on the season. Sure, dude has 19 home runs and a 10% walk rate so you'd think that OPS number would be higher. But the shift is killing his BABIP (.239) and he still strikes out 25% of the time. So you get what you pay for, but I do like the matchup against the low-K Adrian Sampson.
GRAB A FREE TRIAL OF OUR PROJECTION SYSTEM, AND CHECK OUT DFSR PRO!
FREE EBOOK
SECRETS TO CRUSHING DAILY FANTASY FOOTBALL!
DON'T SET ANOTHER LINEUP BEFORE YOU READ THIS BOOK.