featured Daily Fantasy
Expert Advice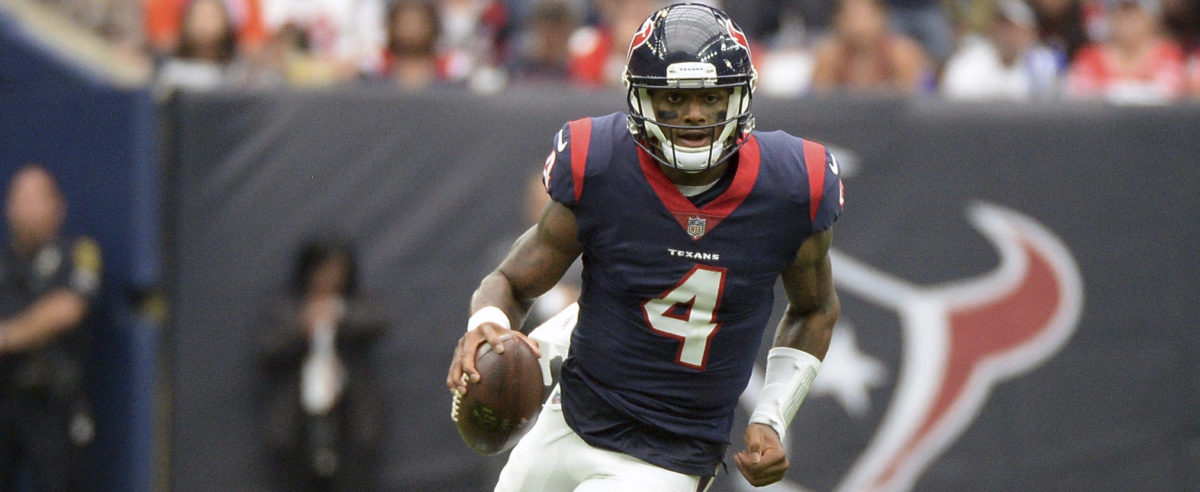 Daily Fantasy NFL Picks for FanDuel and DraftKings Cash Games - Week 4 - 9/30/18
Holy moly, Week 3 was nuts. The Vikings get stomped by the Bills at home. The 49ers lost Jimmy Garoppolo for the season. Baker Mayfield steps in as the Browns' savior (pending). The Chiefs kept their foot on the offense gas, and so much more. This time around we get our first week of byes (Redskins, Panthers) and some intriguing matchups on the main slate. Let's get to the picks!
Now's your chance to get DFSR PRO, which will give you access to our NFL optimizer for FanDuel and DraftKings, our MLB Optimizer, and our new Player Lab! Get started for free by clicking the button below.
First time with NFL? Be sure to read our free MLB and NFL Ebooks on building lineups, general strategy and more. We've got you completely covered.
Quarterback
Deshaun Watson FD 7600 DK 6300
Opponent IND
Proj Points FD - 22.67 DK - 24.11
From a fantasy perspective, Watson got there in Week 3 by picking up some garbage time points on his way to a 385 yard, two touchdown performance against the Giants. The Texans were horrible in the red zone, fumbling, throwing an interception and settling for field goals until they were in panic mode late in the game. I was bullish on Watson as a cash game play last week and am again this time around against the Colts. Indy's been middle of the road against the pass this season from both a total yards and yards-per-attempt standpoint. They don't give up a ton in the way of pace but considering Watson's multiple ways to tack on fantasy points, I do think he has a higher floor in this matchup. From a running perspective, there appear no after effects of the ACL injury with Watson racking up the third-most QB rushing yards in the league through three weeks. He also stands to benefit going forward with both Hopkins and Fuller on the field together. In a thin-spread game (Indy -1) with optimal conditions in the dome, it's not out of the realm to have Watson as the highest-scoring QB on the main slate (no Mahomes, Big Ben, etc).

Mitch Trubisky FD 6800 DK 5200
Opponent TB
Proj Points FD - 20.88 DK - 21.91
One way to roll on DraftKings as we get into the season is targeting cheaper quarterbacks with high floors. That's the case I see with Trubisky who turned in DK weeks of 16 and 15 points before getting stymied in Week 3 against the Cardinals. He was efficient enough 24/35 (69%) but lacked the yards through both the air (224) and the ground (8). That's fine, it kept his price in check and he'll now face a Tampa Bay team ranking in the top-third of opponent's plays per game, the third most yards per pass attempt and most total passing yards allowed. Opposing quarterbacks (Brees, Foles, Roethlisberger) have put up big-time games against this pass defense. The Bears open as -3 home favorites with a 47 o/u. Because of his mobility and opponent, Trubisky offers a high floor at a bottom tier salary, allowing you to spend big at other positions.
Drew Brees FD 8700 DK 6600
Opponent NYG
Proj Points FD - 21.19 DK - 21.96
I have Brees third on this list mostly because of the price. He's coming as the most expensive quarterback on the main slate, and for good reason. He's averaging 43 pass attempts per game to start the season with DraftKings' scoring weeks of 35, 18 and 44. It's the Saints' commitment to the pass without Mark Ingram that gives Brees a high floor for a non-mobile quarterback (last week's two rushing TDs aside). He's attempted the fourth-most passes in the league thus far with a ridiculous 81% completion rate. The Saints have had optimal conditions with three straight games in domes. And Brees has noticeable home/ road splits when getting out of the Superdome. But I still see this as a spot for him to put up points especially if the Giants can hang. The Giants haven't faced much in the way of quarterback play so far in Bortles, Dak and Watson (better for sure than the previous two). This will be their toughest test yet and Brees could pick apart of weaker pass defense.
Running Back
Alvin Kamara FD 9100 DK 9600
Opponent NYG
Proj Points FD - 22.97 DK - 27.16
Much to my chagrin, Kamara saw heavy usage in Week 3. He, for sure, capitalized on extra overtime minutes but nevertheless turned in a 16 carry/ 20 target outing for 190 total yards. He was actually unlucky to not score any touchdowns with one called back because of a hold and the OT touchdown overturned on replay. This is the Saints' last week without Mark Ingram and it stands to reason we see Kamara get outsized touches again. He leads the league in Red Zone passing targets (12, only one TD through the air).  I was one of the skeptics going into last week about just how safe we could consider his carries in the run game, but that appeared those fears turned out to be unfounded in Week 3. The Saints are -3.5 road favorites against the Giants and coming off a chalk week we could see Kamara as once again the highest-owned player on the main slate. This strikes me as a main slate to pay top dollar for running back and Kamara leads the way.

Ezekiel Elliott FD 8200 DK 7700
Opponent DET
Proj Points FD - 20.18 DK - 22.47
Elliott hasn't seen quite the work on the ground as previous years. He's averaging 16 carries per game through the first three weeks after seasons of 21.5 and 24.2 per game respectively. But he's making up for it in large part through the air, averaging six targets (2, 4, 8 to start the season), leaving his overall usage at an average of 22 looks per game. He's hampered by the Dallas offense in general which has only amassed 41 total points through three weeks. Things should get moderately easier against the Lions who allowed 48 and 30 points to the Jets and 49ers before (surprisingly) handling the Patriots in Week 3. They allowed 169 rushing yards to the Jets and 190 to the 49ers. Even after stymying the Pats, Detroit has still allowed the most total rushing yards in the league. The Cowboys are slight home favorites and Elliott is a heavy-volume, script independent back. He makes for a high floor cash play.
Giovani Bernard FD 6400 DK 6300
Opponent ATL
Proj Points FD - 15.37 DK - 17.87
We spent at least a half an hour talking about whether we could trust Giovani Bernard for cash games last week, and we weren't alone. Gio wound up with an ownership percentage north of 30%, with owners hoping that he could pair his already acceptable target share with the majority of Mixon's vacated carries. Their hopes were well founded, as Bernard's carries doubled (up to 12) and he even added 2 more targets (bringing his total to 9). 21 touches is a fantastic amount of opportunity for a cheap running back like this, and you could argue that the game script went against him. The Bengals went away from the run in the second half after falling down a touchdown, and Bernard's usage suffered as a result. The great thing about Bernard's game was that he was the only running back to get a carry, and this game does have the highest total on the main slate. The Falcons are 5.5 point favorites, but Bernard's usage in the passing game should raise his floor even if they are behind.
Wide Receiver

Jarvis Landry FD 7000 DK 7400
Opponent OAK
Proj Points FD - 15.2 DK - 19.38
Last Thursday, Baker Mayfield came in with 1:23 left in the first half, taking over for the injured Tyrod Taylor (who'd been legit terrible before the injury). From that point on (basically a half of football), Mayfield targeted Jarvis Landry nine times for a 7/91 line. The pair were not only efficient but able to average 13 yards per attempt. We may see no bigger mover in price week-over-week than Landry after Week 4. He was already the fifth-most targeted WR in football through three weeks and easily the least efficient with Taylor hucking balls all over the place. His efficiency can't really go anywhere but up. He draws a plus matchup against a very weak Oakland secondary who've allowed 8.7 yards per attempt this season (third-worst). Dollar-for-dollar, I think Landry represents about as good a deal as you'll see from an upper-middle tier WR.
Quincy Enunwa FD 6100 DK 4300
Opponent JAX
Proj Points FD - 11.4 DK - 13.8
To start the season, Enunwa has established himself as Sam Darnold's primary receiver with 10, 11, and 8 targets through three weeks. He's seen 31% of the Jets target share in that time. Considering Jalen Ramsey rarely ventures into the slot (10% of the time) and the Jaguars' worst-rated CB in DJ Hayden spends most of his time there, this looks very much like it could be a solid volume day for Enunwa. The latter runs 70% of his routes out of the slot, a position many teams are putting their best receivers in to get mismatches in coverage. Because of the matchup, I do think Enunwa is coming very cheap for his potential volume even in what will likely be a slower-paced game. He makes for an excellent DraftKings play because of the PPR scoring.

Golden Tate FD 6800 DK 6600
Opponent DAL
Proj Points FD - 14.39 DK - 18.17
Through 3 weeks, Tate is the sixth-most targeted WR in football with 36 (15, 13, 8) and should see plenty of opportunity against the Cowboys. Detroit is +3 road dogs against a Cowboys' team that allowed a 4/77/1 line to Tyler Lockett out of the slot last week. Tate runs a majority of his routes from the inside and it stands to reason he sees an uptick in conversion rate over the course of the season. In 2017, he converted 75% of his targets. This season? 56%. For a guy known as a possession receiver over the course of his career, this number really can't go anywhere but up. The one downside to Tate's target share is that it really isn't coming in the red zone where he sits fourth on the Lions in looks. But he's coming reasonably-priced on both sites, with the FanDuel price looking particularly like a bargain.
Strongly consider Michael Thomas. He's very expensive, the conversion rate of 95% simply can't sustain. That being said, continuing to pair him and Kamara gives you the lion's share of usage for a potent offense.
Tight End
Zach Ertz FD 7000 DK 6200
Opponent TEN
Proj Points FD - 14.64 DK - 17.9
It always feels a little weird to pay up for tight end, but with how volatile the position can be it might make sense for your cash games. Right now our system has Ertz in the 5th overall FanDuel lineup, and if more cheap value springs forth I'd imagine he could move up to the number one slot. It isn't hard to see why - with 33 targets, he has 7 more than the next most targeted tight end, and has just gotten his #1 quarterback back. It's still a little early in the season to make any big declarations about opposing defenses (it's so schedule dependent), but Tennessee was a bottom 5 defense against the pass last season, and he should be in a good position to put up a high floor for you today.

Eric Ebron FD 5500 DK 3600
Opponent HOU
Proj Points FD - 12.27 DK - 14.83
So this one is entirely Jack Doyle dependent, but I actually think a lot of people are going to be sleeping on Ebron even if Doyle is out. The Lions fill-in TE1 was 40%+ owned for cash games, and was universally disappointing, catching just 5 balls for 33 yards. What he did do, though, was lead all tight ends with 11 targets. He also dropped two touchdowns and had plenty of red zone targets. If Doyle sits again, we're all over this guy.
Also considered: Jared Cook, if Doyle doesn't sit again. I can't say I feel great about this one though.
Defense
Green Bay Pakcers FD 4300 DK 3500
Opponent BUF
Proj Points FD - 8.13 DK - 8.13
Philadelphia Eagles FD 4300 DK 3600
Opponent TEN
Proj Points FD - 7.46 DK - 7.46
Los Angeles Chargers FD 4400 DK 3900
Opponent SF
Proj Points FD - 7.44 DK - 7.44
Now's your chance to get DFSR PRO, which will give you access to our NFL optimizer for FanDuel and DraftKings, our MLB Optimizer, and our new Player Lab! Get started for free by clicking the button below.
First time with NFL? Be sure to read our free MLB and NFL Ebooks on building lineups, general strategy and more. We've got you completely covered.
image sources
Titans Texans Football: (AP Photo/George Bridges)
FREE EBOOK
SECRETS TO CRUSHING DAILY FANTASY FOOTBALL!
DON'T SET ANOTHER LINEUP BEFORE YOU READ THIS BOOK.