Baseball Picks Daily Fantasy
Expert Advice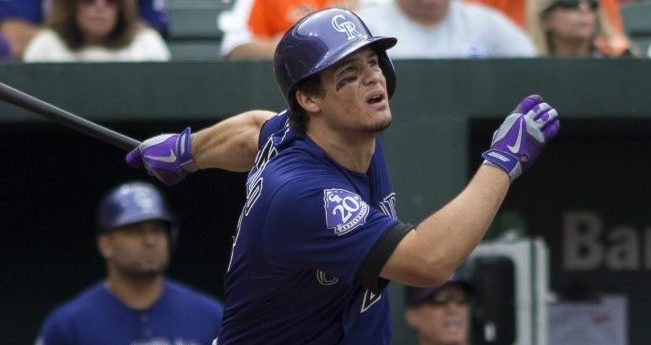 Daily Fantasy MLB Picks for FanDuel and DraftKings - 9/28/18
Now's your chance to get DFSR PRO, which will give you access to our MLB optimizer and our new player lab! Get started for free by clicking the button below.
First time with MLB? Be sure to read our free MLB Ebooks on building lineups, general strategy and more. We've got you completely covered.
Pitcher

Justin Verlander FD 12200 DK 13400
Opponent - BAL (Yefry Ramirez) Park - BAL
FD - 47.31 DK - 26.26
Welcome to Friday baseball! We have a day before football kicks off and we're entering the final stretch of the regular season. If you have a team in the race, this is one of the most exciting times of the season. If you're a fantasy only fan, not so much. No matter your personal outlook, everyone wants to get action on the last few slates of the season. We have a hefty 13-game slate on our hands with plenty of pitching options. We'll lead it off with Justin Verlander, who will get his last start before taking the mound in game 1 of the ALDS. Steady as could be, Verlander has gone 6+ innings in 5 of the last 6 games and has struck out double digits in 4 of his last 5. It doesn't make much sense, but Verlander is as good of a pitcher as he ever has been. Oh ya, he gets to face off with the worst team in baseball. The Baltimore Orioles rank 26th against righties with a .296 wOBA and strikeout at a 23.6% (top-10) clip. The Astros are the biggest favorites on the slate and Verlander is the safest cash game play. It's just a matter of affording him.

Hyun-Jin Ryu FD 9700 DK 11100
Opponent - SF (Madison Bumgarner) Park - SF
FD - 34.44 DK - 18.09
If you're not wanting to pay the premium for Justin Verlander, Corbin and Ryu are both excellent options. We slightly prefer Ryu. This game matters a ton and he sees a great match-up in a phenomenal pitching ballpark. On the season, the Giants are even worse than the aforementioned Orioles. Sitting 29th, they've put together a .296 wOBA backed up by a pitiful 24% strikeout rate. AT&T Park is one of the best in baseball for limiting runs and that's especially important for Ryu, who's often ruined by the long ball. On the contrary, he's striking out more batters (10+ per 9) than before and has maintained the .290 wOBA allowed. The Giants offense is pitiful and the Dodgers need a solid performance out of Ryu. He's safe in all formats.

Tyler Glasnow FD 6800 DK 8700
Opponent - TOR (Thomas Pannone) Park - TB
FD - 34.69 DK - 17.97
If you're looking to pay down, you do have a super solid option in Tyler Glasnow. Glasnow, after having a bunch of solid starts in a row, has stayed relatively cheap. The upside has been displayed and Glasnow is a known top 10 MLB prospect. He's facing the Blue Jays again, and he is coming off a start against them where he went 6 innings for 6 strikeouts. The Jays are a lot worse against righties with their current personnel than their season line would have you believe. Glasnow has been solid against both sides of the plate, giving up a .301 combined wOBA, all the while striking out 10.75 batters per 9 innings. He's way too cheap for the expected production and on a slate with so many bats to pay up for, he's worth more than just a look.
First Base/Catcher
Ryan Zimmerman FD 3400 DK 4700
Opponent - COL (Kyle Freeland) Park - COL
FD - 11.99 DK - 9.06
Moving on to the bats, first base is always a loaded position. We have a Coors Field game on this slate, so you'll have to pay full attention to everyone from both sides of the plate. At first, Ryan Zimmerman is nothing short of elite at the depressed price tag. He hasn't been swinging the bat well recently, but a .475 wOBA against lefties on the season is more than enough. He'll face Kyle Freeland, who is actually a pretty good lefty. He just struggles in Coors Field, like every pitcher should. He's given up a 4.36 xFIP to right-handers and allowed more than 1 HR/9 as well. Zimmerman is a solid option in all formats at his fair price.
Derek Dietrich FD 2600 DK 3800
Opponent - NYM (Corey Oswalt) Park - NYM
FD - 7.67 DK - 5.84
If you're willing to pay down at first, Derek Dietrich is in a great spot. Having the best season of his career, Dietrich has sported a .336 combined wOBA with 16 homers. He mashes righties and is a very safe play at his price. The Marlins will face off with Corey Oswalt, who has been pitiful against both sides of the plate (4.68 xFIP). The Marlins are never a team you want all that much exposure to, but against a pitcher like Oswalt, I love a flier or two to hit a homer.
Second Base

Yoan Moncada FD 2700 DK 3900
Opponent - MIN (Chase De Jong) Park - MIN
FD - 9.8 DK - 7.36
IF Moncada ends up in the leadoff spot, he's a phenomenal option at such a low price tag. I would certainly expect him to be there with him swinging the bat so well recently. Moncada gives you a combo of power and speed that you just can't find in most second basemen. Against righties, Moncada has sported a .323 wOBA and 17 total home runs. On the other side of things, Chase De Jong will take the mound. He is a decent minor league prospect, but he's struggled in the minors and has been absolutely awful in the majors. Moncada has unlimited upside at a very friendly price tag and this position isn't one with much opportunity cost. Along with the next guy we touch on, I'll have close to 100% of Moncada if he's in the leadoff spot.

Gleyber Torres FD 3300 DK 4000
Opponent - BOS (Brian Johnson) Park - BOS
FD - 9.96 DK - 7.61
We have another Yanks-Sox series on our hands and a few solid match-ups as the series progresses. With that being said, we'll see the Red Sox turn to the bullpen early with a spot start from Brian Johnson. He went 1.1 innings last outing before the bullpen jumped in for the rest of the game. As a lefty, he's struggled against right-handers with the longball. Gleyber Torres has mutilated lefties as a rookie, sporting a .374 wOBA. The power is always there and his price has just fallen too low. He's an elite play in all formats at a position that isn't too clear.
Shortstop

Jean Segura FD 3500 DK 4400
Opponent - TEX (Martin Perez) Park - SEA
FD - 10.51 DK - 8.24
Segura is a guy that I love to lean on against lefties. He's smoked them this season with a .344 wOBA and a lot more power than he has against righties. Tonight, the Rangers face off with Martin Perez. If you've been playing DFS MLB for a long time, you know to target Martin Perez against right-handed bats. He's allowed a .347 wOBA over the last couple years and has an immense home run issue. Vegas has the Mariners scoring over 4 runs and you have to think Segura gets involved. Against Martin Perez, I'm always willing to stack, so don't hesitate to pair Segura with the likes of Cruz, Haniger, Healy, and Cano. They'll be extremely low owned and could hit 2 to 3 early homers to no surprise. Segura alone is a great option in all formats and a guy I'll lock into my cash games.
Elvis Andrus FD 2900 DK 3400
Opponent - SEA (Wade LeBlanc) Park - SEA
FD - 8.93 DK - 6.9
Shortstop is a position that always gives you a lot of options, but they are rarely optimal. Tonight, there are a few studs in decent spots to pay up for. With that being said, we're going to spend that money elsewhere and look at Elvis Andrus at SS. He has been reasonable all season against lefties, sporting a .326 wOBA with peripherals that suggest he could be a bit better. His price is cheap and he's coming off a rest night. The Rangers face off with Wade LeBlanc, who's given up a 4.57 xFIP to righties. LeBlanc has been better than most thought, but is still trending downwards and has the ability to get blown up every time out. Andrus should be batting toward the top of the order, and with them expected to put up 4+ runs, it's not a bad idea to hop on Andrus in cash games and hope for solid production at a low price. If you need upside, there are tons of pricey SS with more than enough of it. Segura is my favorite, but he's still in the second tier.
Third Base

Nolan Arenado FD 4600 DK 5000
Opponent - WSH (Joe Ross) Park - COL
FD - 15.96 DK - 12.03


Anthony Rendon FD 4800 DK 5900
Opponent - COL (Kyle Freeland) Park - COL
FD - 12.25 DK - 9.23
There's no wrong answer here at the high-end of third base. In Coors Field, both Anthony Rendon and Nolan Arenado are in close to perfect match-ups. Let's focus on Rendon first, as we've already looked at Zimmerman earlier. Against lefties, Rendon has sported a .385 wOBA and is one of the top hitters in baseball against them. Now entering Coors Field, he's tough to ignore. However, Nolan Arenado is sitting there just a few hundred cheaper. He doesn't get to face a lefty, but he's been elite against righties too. Especially when that righty is Joe Ross, who's been bad in 2018 with a 4.50+ xFIP. Both of these teams will do damage in Coors Field and it'll just depend on who can get more opportunity with runners on base. I slightly lean Rendon, but it couldn't be closer.

Eduardo Escobar FD 3100 DK 4200
Opponent - SD (Eric Lauer) Park - SD
FD - 10.28 DK - 7.88
Eduardo Escobar flies under the radar, but he's a damn good utility man that's gives the Diamondbacks a huge boost. He not only has 23 home runs, but is getting on base with great consistency recently. Even with his power numbers at an all-time high, Escobar hasn't faltered in his strikeouts or swing-and-miss rate. That's a sign of him getting better as a hitter and not just changing the level of his swing. His price is still low and you'll get him for half the ownership of the elite fellas. The Diamondbacks are facing southpaw Eric Lauer and his 4.89 xFIP. Eduardo Escobar, a switch-hitter, has walloped lefties to the tune of a .334 wOBA. He will always have the platoon advantage and his price is just too low to pass on. I'll have my fair share of exposure to Arenado and Rendon, but Escobar is cheap and there are other spots to spend money and be different.
Outfield

Giancarlo Stanton FD 4400 DK 4700
Opponent - BOS (Brian Johnson) Park - BOS
FD - 15.11 DK - 11.22
With the Sox trotting out a lefty, you don't want to ignore Stanton. Sure, it's a bullpen game and we'll eventually see righties, but it's not like Stanton can't demolish them either. When seeing the lefty, there may not be a better hitter in baseball (.435 wOBA, 57% hard contact). Brian Johnson struggles against righties and though it only may end up being 1 at-bat, Stanton is a heavy favorite to either drive the ball or get walked. The Sox bullpen is decent and this game is a huge one for the wild card. The Yankees are all in and Stanton is swinging the ball as well as he has all season long. He's going to cost you an arm and leg, but there are ways to pay down on this slate and Stanton has 2 HR upside on any given night.
Curtis Granderson FD 3400 DK 4100
Opponent - DET (Jordan Zimmermann) Park - MIL
FD - 12.42 DK - 9.29
We haven't touched on the Minnesota Twins yet, but we have to against Jordan Zimmerman. Zimmerman has allowed a .335 wOBA against both sides of the plate and hasn't shown any signs of improvement. He's only getting older and his pitches are only getting slower. The Twins are always an efficient offense and Granderson should be leading them off. He's smashed righties to the tune of a .346 wOBA and has aged gracefully. His price is fair and I don't think the ownership is very high with so many other options on the board. Granderson is a guy I'll have a lot of interest in if hitting leadoff.
Steven Souza Jr. FD 2000 DK 3200
Opponent - SD (Eric Lauer) Park - SD
FD - 9.76 DK - 7.39
If you're looking to save in the outfield, Steven Souza will be in the heart of the order against a lefty. The Diamondbacks need to win and Souza will be in the top 6 of the batting order. We've already touched on Eric Lauer, who's a weak lefty that's given up a 4.89 xFIP. He's dirt cheap on both sites and has legitimate home run upside. The Diamondbacks aren't a team I want to stack, but I do want a few 1-offs in cash games and tournaments. Good luck tonight and feel free to comment down below with any questions! Thank you!
GRAB A FREE TRIAL OF OUR PROJECTION SYSTEM, AND CHECK OUT DFSR PRO!
image sources
Nolan Arenado: By Keith Allison (Flickr: Nolan Arenado) [CC BY-SA 2.0 (http://creativecommons.org/licenses/by-sa/2.0)], via Wikimedia Commons
FREE EBOOK
SECRETS TO CRUSHING DAILY FANTASY FOOTBALL!
DON'T SET ANOTHER LINEUP BEFORE YOU READ THIS BOOK.