featured Daily Fantasy
Expert Advice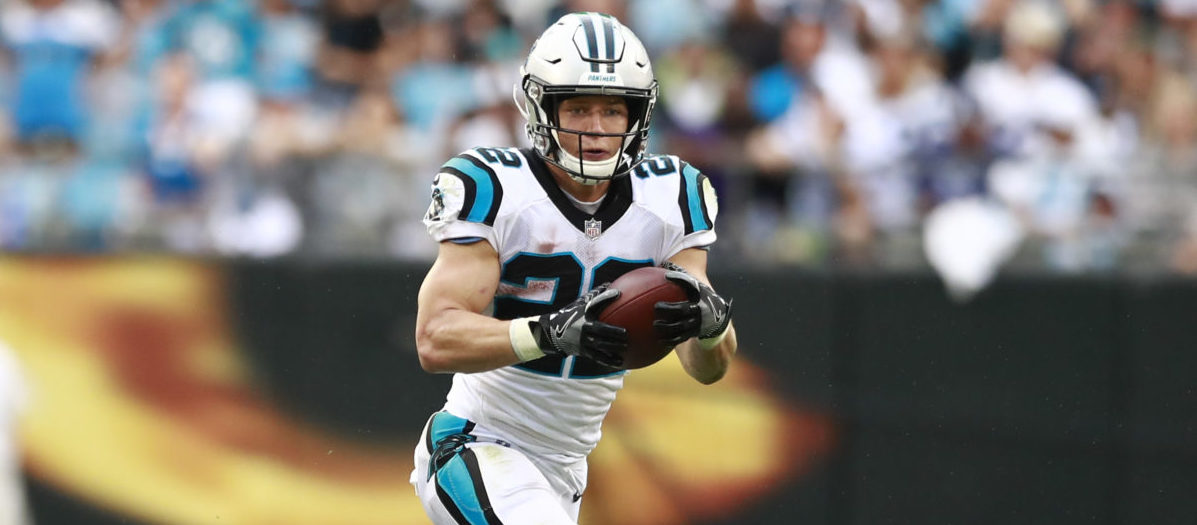 Daily Fantasy Football Cash Game Picks for FanDuel and DraftKings Week 5 - 10/3/18
Can you believe the regular season is 25% over for most of the teams? It seems like it's gone by in a flash of touchdowns and high-scoring games. Let's take a look at what we can expect for cash games in Week 5.
Now's your chance to get DFSR PRO, which will give you access to our NFL optimizer for FanDuel and DraftKings, our MLB Optimizer, and our NFL Player Lab! Get started for free by clicking the button below.
First time with NFL? Be sure to read our free MLB and NFL Ebooks on building lineups, general strategy and more. We've got you completely covered.
Quarterback

Cam Newton FD 8400 DK 6400
Opponent NYG
Proj Points FD - 22.64 DK - 23.28
After an early Week 3 bye, the Panthers return in Week 4 with a cupcake-ish match-up against a 1-3 Giants team with a -22 point differential. Cam comes into this games as the third-best points-per-game fantasy quarterback on the season thanks in large part to what he's done on the ground. He's second overall in quarterback rushing yards (despite playing one less game than basically anyone else). He's averaging a 9/45/1 rushing line per game and has been the primary option in the red zone. He's also improved on his overall passing efficiency, completing 67% of his passes with five touchdowns through the air through three games. The air stats won't overwhelm you, but he's such a consistent fantasy option because of the running attack. We'll get to McCaffrey shortly, but pairing them in this matchup should provide a high cash floor. The only thing that hurts the Panthers here is the Giants' slower pace; they allow the third fewest opponent plays per game this season. But Carolina comes in as a home favorite with a 25.5 implied total and an offense heavily concentrated around the QB/RB pairing.

Andy Dalton FD 7500 DK 5900
Opponent MIA
Proj Points FD - 22.42 DK - 22.37
Don't look now, but the 3-1 Bengals have scored the fourth-most points in the NFL this season and a big part of the reason is Dalton. He's tied for second in the league with 11 touchdown passes and, for the first time in quite a while, is working with a fully healthy and competent receiving corps. The combination of AJ Green and Tyler Boyd have a combined 69 targets for 46/646/7. Gone are the days where teams could sit on Green while essentially ignoring the other WRs (and the running game). The Bengals also have impressive wins against the Ravens and Falcons (on the road). This week they come in as -6 favorites at home against a Dolphins' team that just got waxed by the Patriots. Cincy enters with 28 implied points (5th most on the main slate) and much like the Cam reasoning, I think pairing Dalton/ Bernard in cash games will make a lot of sense assuming the latter is healthy (and Mixon remains out).
Ben Roethlisberger FD 8400 DK 6900
Opponent ATL
Proj Points FD - 24.4 DK - 23.99
In a sign of the times, Atlanta and Pittsburgh will square off in a game opening at a 57 over/under (only the fifth time we've seen an o/u over 56 since 2014). The Steelers are -3 home favorites in what Vegas has projected as a no-defense shootout. Through four games Big Ben has 186 passing attempts, 1,414 yards, and eight touchdowns. If anything, he should probably have a couple more trips to paydirt through the air considering the sheer number of attempts. He leads the league in passing yards, has two legit WR1 types at his disposal and faces an Atlanta team allowing the fifth-most total yards in the league this season. They've given up 31 or more points in each of the last three games. We might be buying at the top end of his salary graph, but there's no doubt the Steelers are committed to the pass this season.
Running Back
Todd Gurley FD 9100 DK 9400
Opponent SEA
Proj Points FD - 22.94 DK - 24.25
There's a rather short list of *elite* usage running backs in the NFL. And when you factor in their teams (like whether they're good or not) the list gets considerably shorter. Gurley comes in as the second-most targeted running back (rushing attempts + passing targets) behind only Alvin Kamara, who will undoubtedly see a decrease in looks with Mark Ingram back. Gurley is averaging 19.75 carries and five targets per game, good for the third-most total yards (532) in the league and the most touchdowns (6). The Rams are -7 road favorites against the Seahawks who've allowed 4.8 yards per game on the ground. It stands to reason the Rams control this game early with Gurley in all aspects of the game. He's expensive (rightfully so), though it's increasingly difficult to find this kind of *safety* at running back these days. The FanDuel price is a little easier to stomach while on DraftKings you might get stretched a little thin jamming him into lineups.

Christian McCaffrey FD 8100 DK 8000
Opponent NYG
Proj Points FD - 20.47 DK - 23.38
After a preseason full of hype about his workload, McCaffrey failed to realize some of that expectation through the first two weeks. He carried the ball *only* 18 times even though he was averaging 4.8 yards per carry. That all went by the wayside in Week 3. He carried the rock 28 times for 184 yards in the win against Cincinnati. Now he's had two weeks off and will face a Giants' team who've been gashed on the ground for 4.8 yards per carry. They've played some decent backs in the first few weeks for sure, but haven't shown much in the way of stopping anyone. McCaffrey brings in a lot of implied safety considering he's seeing the majority of Panther running back touches and is already well-featured in the passing game. He's fifth in RB targets despite a whole game less than anyone else on the board. He could end the season in the top five of running back usage. The only stat eluding the guy is the touchdown. He hasn't scored at all in the first three games. Because of how Carolina uses Cam in the red zone, it's unlikely CMC ever sees crazy touchdown equity, but not finding the endzone after 66 touches and some red zone usage does strike me as run bad. I do think we are still buying low on the guy.
TJ Yeldon FD 6500 DK 5600
Opponent KC
Proj Points FD - 12.93 DK - 14.92
Leonard Fournette will once again have to sit out because of the hamstring issues, leaving an opportunity in the Jaguars' backfield. Yeldon isn't our typical cash game RB simply because the Jags are underdogs going into the game. But I do think there's a chance for him to be in play because of how they've used him this season. Last week, after Fournette went down, he touched the ball 21 times for 100 total yards and two touchdowns. More importantly, in a game where they played from behind against the Titans, he still touched it 14 times with seven targets. The usage in the passing game does raise his floor some if the Jags were to fall behind early here. To be fair, this isn't my favorite cash game play, but the RB position is incredibly top-heavy and you simply can't play all the most expensive names. The Kansas City defense has been pretty bad this season and teams have put up yards against them. If Yeldon sees the majority of the RB snaps, he isn't likely to kill you because of how they use him.
A heads up here: There is some chance the Bengals' backfield has some value again this week if Joe Mixon is out again. If Giovanni Bernard is fine after the shoulder injury then he would be a very clear cash play again. If both Mixon AND Bernard sit, Mark Walton. This is definitely a situation to monitor.
Wide Receiver

Adam Thielen FD 8300 DK 7700
Opponent PHI
Proj Points FD - 18.26 DK - 22.16
This season, Thielen is first in targets (58), second in yards (473) and leads the Vikings in red zone looks (5 - 36% of the Minny RZ targets in 2018). He's been gifted some positive passing game scripts (down big to the Bills, in a shootout with the Rams, etc) but this is also following a breakout 2017 in which he finished top ten in targets and yards as well. Plus, the Eagles' pass defense hasn't looked all that sharp. Marcus Mariota hung 344 yards through the air in Week 4.
The Vikings work to get Thielen lined up in the slot as much as possible (54% of the time this season) and are also getting him down the field with a 9.1 averaged targeted air yards. He's responsible for 41% of the team's targeted air yards. He's operating as both a possession guy and a weapon down the field. He hasn't had less than 12 targets in a game this season and makes for one of the safest receivers in the game.
Antonio Brown FD 9000 DK 9100
Opponent ATL
Proj Points FD - 21.48 DK - 24.94


Juju Smith-Schuster FD 8000 DK 7500
Opponent ATL
Proj Points FD - 17.85 DK - 20.5
So you can't play expensive players at every position, but if you do decide to go expensive at WR, you can certainly consider this pair of Steelers. We talked about it on Tuesday's podcast, but this season has featured more target concentration than any season that we can remember. The Steelers' dynamic duo are second and third in the entire NFL in terms of targets, and both are averaging more than 12 on the season so far. Roethlisberger has shown a tendency to play favorites in the past, and honestly, these insane paces almost seem sustainable at this point. Like I said, this game has the highest total on the day by a mile, and taking two 12+ target-a-game guys in the game with the highest total can hardly be a bad thing. The only issue I see here is their prices. RB is so bad this week that it's going to be tough to pay up at RB and WR, meaning these guys might be relegated to big tournament lineups only. If more cheap RB value opens up throughout the week, though, these guys should move right up your cash game list.

Geronimo Allison FD 5700 DK 5100
Opponent DET
Proj Points FD - 12.34 DK - 14.91
With Cobb saying that he "wasn't even close" to playing week 4, it's highly likely he'll miss week 5 as well. While Davante Adams was the chief beneficiary in terms of targets, Allison wasn't far behind - netting 11 targets in a game that was about as bad a game script as possible for the passing game. Green Bay's offense didn't need to anything since the Bills never scored a point, but their top 2 receivers still garnered 25 total targets. The fly in the ointment here is Allison's potential concussion. If he doesn't pass the concussion protocol he obviously won't play here. If he misses, though, that just opens up more opportunity for someone even cheaper. At this point that looks like Marquez Valdes-Scantling and Jimmy Graham. Be sure to monitor Allison's status throughout the week, and get ready to play him if he's a go and play his back-up if he isn't.
Corey Davis FD 6400 DK 6400
Opponent BUF
Proj Points FD - 13.4 DK - 15.92
Mariota returned to his full form in week 4, and so did Corey Davis' opportunity. Davis tied for the league lead with 15 targets in week 4 and had the fourth most receiving yards. Mariota also missed him on a deep ball that could have pushed Davis' yardage total past 200. He's now a single target shy of being in the "10 targets a game" club as well. This week he'll go up against the Bills, who just showed us that they couldn't stop the Packers' passing attack in spite of knowing exactly where Rodgers would be throwing it. Davis is another big week away from seeing a 10%+ price increase, and this might be the last week you can consider him a value play.
Tight End

Jared Cook FD 5900 DK 4800
Opponent LAC
Proj Points FD - 10.83 DK - 13.23
Through four weeks, Cook is third overall in tight end targets coming off a week where he saw 13 looks against the Browns. The nature of tight end this season is going to mean a lot of volatility on a week-to-week basis. The lockdown target guys like Zach Ertz and Travis Kelce are very expensive ($7500 and $7700 on FanDuel respectively) and the lower end options can be nonexistent on any given week. That leaves us with a few guys in the middle tier who you can *live* with. Cook is one of those guys. The price is up based on the early season performance and target share, but it stands to stay in this range considering how much the Raiders are throwing the ball.
Jimmy Graham FD 6100 DK 4700
Opponent DET
Proj Points FD - 12.33 DK - 14.84
If the Packers are without Geronimo Allison (concussion) and Randall Cobb this week, they could find themselves very short on pass-catching options. Graham isn't a dynamic route runner at this point in his career but he's seen a fairly consistent target share so far this season (6,7,8 last three weeks) with three red zone looks. I'm leaning more toward the DraftKings' price. Again, Graham gets a lot more attractive as a play if Allison and Cobb are out.
Consider David Njoku on DraftKings
Defense
Tennessee Titans FD 3900 DK 4000
Opponent Bills
Proj Points FD - 8.01 DK - 8.01
San Francisco 49ers FD 3800 DK 3000
Opponent Cardinals
Proj Points FD - 7.31 DK - 7.31
Now's your chance to get DFSR PRO, which will give you access to our NFL optimizer for FanDuel and DraftKings, our MLB Optimizer, and our new Player Lab! Get started for free by clicking the button below.
First time with NFL? Be sure to read our free MLB and NFL Ebooks on building lineups, general strategy and more. We've got you completely covered.
image sources
Cowboys Panthers Football: (AP Photo/Jason E. Miczek)
FREE EBOOK
SECRETS TO CRUSHING DAILY FANTASY FOOTBALL!
DON'T SET ANOTHER LINEUP BEFORE YOU READ THIS BOOK.