featured Daily Fantasy
Expert Advice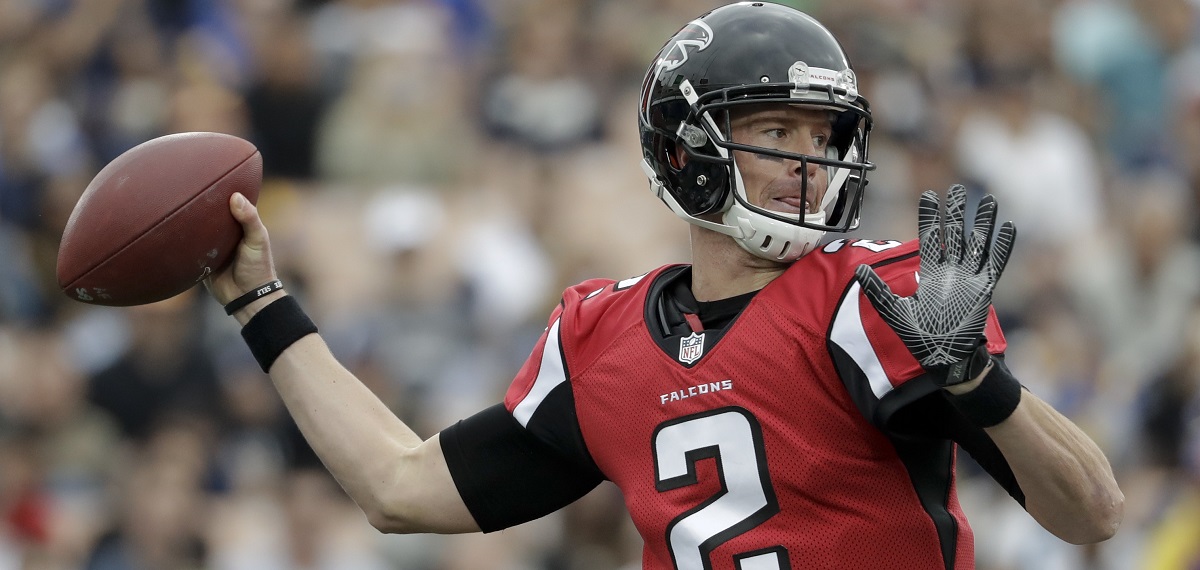 Daily Fantasy Football Cash Game Picks for FanDuel and DraftKings Week 6
You had to wait until week 6, but with Doug off this week, you're finally getting a set of James football picks!
Will I turn out to be a Foles-like fill-in, or will it be more like Josh Rosen! Either way, it should be delicious, so read on and find out!
Now's your chance to get DFSR PRO, which will give you access to our NFL optimizer for FanDuel and DraftKings, our MLB Optimizer, and our NFL Player Lab! Get started for free by clicking the button below.
First time with NFL? Be sure to read our free MLB and NFL Ebooks on building lineups, general strategy and more. We've got you completely covered.
Quarterback

Matt Ryan FD 8300 DK 6800
Opponent TB
Proj Points FD - 23.76 DK - 24.16
No sport plays tricks on my statistical mind quite like football. You see, football has been back long enough that it seems like we should be looking at a pretty good sample size of games to work with, right? I mean, these teams have played more than a quarter of their games! That's like 50 baseball games, or 25 basketball games!
Except, it just isn't. Ultimately, the sample size Gods don't care how long the football season is - 4 or 5 games just isn't many games of something. So you're probably thinking - "This guy went to all this length to tell me we shouldn't trust Matt Ryan's hot start?"
Actually, no. I'm here to tell you the opposite. While a four or five game sample won't mean much when it comes to certain metrics, say, receiving yards per game for a wide receiver, it IS enough to tell us a lot about a player's DFS viability. If you're a long-term reader of our site, you'll know that the major thing we consider when it comes to DFS value is simply opportunity - determining how often a player will get to contribute and how good his opponent is will tell you a whole lot about whether you should consider him or not.
In the case of Ryan, all signs are pointing in a positive direction. For most of Ryan's career, he topped 600 attempts per season, but in the last two years he averaged just 532 (or about 33 attempts per game). For whatever reason, the Falcons went away from the Ryan/Julio combo and decided to lean on their two-headed running attack. With Freeman hurt to start the season, Ryan came out with guns blazing, and importantly, those guns stayed blazing with Freeman's return last week. So far, Ryan has averaged 36.6 attempts per game, and that 10%+ increase in attempts should mean big things for his value going forward. It doesn't hurt that he's nearly returned to 2016's lofty completion rate. Flirting with a 70% completion percentage means he should keep the trust of his coaching staff, and be in a position to pass more as the Falcons get down close.
The other side of this opportunity is the match-up. Tampa Bay was the third-worst passing defense in 2017, allowing 12.2 yards per attempt to opposing QBs. This year, they're allowing historical levels of efficiency through the air, giving up a staggering 14.6 yards per attempt. It's understandable, then, that this game's 58 point total is 5 points ahead of the next highest game on the main slate. With Tampa Bay looking to pass more this season, this one rates to be a fast-paced game with lots of scoring, and Ryan looks like a banner play in any format.
Deshaun Watson FD 8100 DK 6400
Opponent BUF
Proj Points FD - 22.96 DK - 23.64
Don't worry, I won't give you a thousand words on Watson as well. But this seems like a pretty damned good play, right? In spite of a brutal week 1, Watson has actually improved by nearly every metric on his breakout rookie season. He's passing for nearly 80 more yards per game than he did last season, he's upped his completion percentage from 61.8 to 65.1, and is even rushing for 2 extra yards per game. The 40 yards a game he's giving you on the ground boost his cash game floor considerably, and he's topped 310 passing yards in 4 straight games as well. And, frankly, he's probably running bad with just 9 touchdowns through 5 games given how reliant the Texans' offense is on him. The only thing keeping him out of the top spot are the enigmatic Bills. This is a defense where we'd really like a larger sample size. One week they are looking utterly helpless against the Ravens' mediocre offense, and a couple weeks later they are curb stomping the electric Vikings' offense. They've allowed the fewest passing yards this season, but they've also played in more weird games than any team going today - the bizarre 13-12 victory over the Titans last week included. Either way, Watson plays such a huge role in all facets of the game for Houston that you have to figure that he'll be heavily involved regardless of the game script, and I think he makes for a solid play regardless of which Bills team shows up.

Andy Dalton FD 7500 DK 6300
Opponent PIT
Proj Points FD - 20.58 DK - 20.34
You're probably just going to go with one of the above two guys, particularly on DraftKings where Watson is nearly the same price as Dalton. But I wanted to highlight Dalton because he represents a current class of QBs that exist in the NFL that aren't talked about enough - the game script guys. In spite of a somewhat mediocre running game, the trend in Cinci is clear: when the Bengals are up, they are going to grind down the clock and play conservatively. Dalton threw the ball just 28 and 30 times against the Colts and Dolphins in the Bengals 10+ point wins, and in their other big win against the Ravens, he only topped 40 passes because of how incredibly fast the Ravens' possessions were (Flacco had 55 attempts in that game). In the two games where the Bengals played catch-up, Dalton topped 40+ passes and 330 yards. The Bengals are currently favored by 3.5 in this game, and given that the Steelers have demonstrated a commitment to the passing game when they are behind in the same way that the Ravens have, it seems like Dalton should have a lot of opportunity whether they are leading or trailing. The Steelers have also given up the 4th-most passing yards this season thanks to both their subpar secondary and their own high-flying offense. This game has the 2nd highest over-under on the main slate, and it might just make sense to pay down and try and snag Dalton on what rates to be one of his better match-ups.
Also considered: Cam Newton - I still think the upside package is through the roof, and in spite of two 29 point fantasy games this season, we still haven't seen the passing and running games come together in the same week. I'll stick with the above guys for cash, but you'd be crazy not to dream on the upside of a Cam/McCaffrey stack.
Running Back
Todd Gurley FD 9500 DK 10000
Opponent DEN
Proj Points FD - 23.05 DK - 24.55
You know how sometimes you'd be sitting in class, and the teacher asks a question so obvious that everyone feels embarrassed to raise their hand and answer it? That's how I feel recommending Todd Gurley. But FanDuel hasn't figured out a way to price Gurley appropriately yet, so here we are. It's pretty nuts - you could argue that Gurley could have had even more upside than the 27+ fantasy points per game he's averaged the last two weeks, but his yards per carry have been down. He leads the NFL in carries, touchdowns, and total touches. He's the definitive goal line back, and catches the ball out of the backfield as well. This Denver defense, meanwhile, has been the very worst against the run this year, allowing opposing backs 5.6 yards per carry. And it's not like they've faced a tough schedule - they've allowed those horrendous totals to the Jets, Chiefs, Ravens, Raiders, and Seahawks. In a season where safe backs are few and far between, Gurley is in a tier of his own on this slate.
TJ Yeldon FD 7100 DK 6400
Opponent DAL
Proj Points FD - 16.3 DK - 18.59
With Fournette expected to miss another week (and Corey Grant on the IR) you'll probably see another week where Yeldon flirts with being a chalk play. The Jags were down 20 going into the second half last week, and Yeldon still managed 122 combined yards and a touchdown. The 8 receptions don't hurt, either. The big things we learned about Yeldon last week were A) that he truly has no competition in the backfield at the moment and B) the Jags can use him in any game script. They're slight favorites against Dallas, and the Cowboys are another team that's been terrible against the run this year. They've allowed the 2nd highest yards per carry, and faced the Texans, Lions, Panthers, Giants, and Seahawks. Yeldon seems like a solid high floor option at a bad position.

Joe Mixon FD 7500 DK 7500
Opponent PIT
Proj Points FD - 17.19 DK - 18.02
Do I really want to be paying midrange prices for Joe Mixon? Is there really no cheap running back that I can turn to elsewhere? With Gio out again this week, you probably want to give it a go. Mixon's touched the ball a minimum of 22 times in the three games he's played this season, and was the only running back to get a carry against the Dolphins last week (despite Marvin Lewis's plan to *limit* him). In a high total game that rates to have a lot of total possessions, the only way Mixon doesn't get his here is if the Steelers somehow run away with things. Given that the Bengals are -2.5 point favorites, that seems unlikely. And even then, Mixon is their only reliable goal-line option. This one won't feel sexy, but it's definitely one you should look at if you're looking for a high floor flex play.
A quick note on Ezekiel Elliot: The opportunity is Gurley-esque, but as we've seen, that won't always matter on an offense this bad. The Jags/Cowboys games has one of the lowest totals on the week, and I'd be nervous to run him in cash here on FanDuel. On DraftKings, where you get the full PPR, you can bet on him having huge ownership this week.
An interesting DraftKings play: Nyheim Hines. He's just $5,100 at the moment, and he's proven that he will be a reliable presence in the passing game. With 16 catches for 108 yards and two touchdowns in the last two weeks, he's basically paying his price on his receiving totals alone - and if his 15 carries last week are any indicator of Indy's future plans, you could be looking at a 20% increase in price on him after his first breakout week.
Wide Receiver

Adam Thielen FD 8600 DK 8500
Opponent ARI
Proj Points FD - 19.54 DK - 23.09

Antonio Brown FD 9100 DK 8700
Opponent CIN
Proj Points FD - 19.87 DK - 23.92
This is honestly one of the biggest questions of the entire week. In one corner you've got rising star Adam Thielen - he's tied for the league lead in targets, leads the league in receptions, and is 2nd in overall receiving yards. In the other, you have Antonio Brown - he is also tied for the league lead in receptions, has two more touchdowns than Thielen, and a long track record as the very best receiver in the NFL. So where do we turn? First things first - our projection system loves both of these guys, but is currently saying you can only play one so you can afford Gurley and a reasonable QB (on FanDuel). With a gun to its digital head, it's going Thielen. The Vikes' #1 receiver is cheaper than Brown, and has converted the same number of targets into 12 more receptions and 216 more yards. Our system thinks Brown has the considerably better match-up, but that Thielen's baseline is just so strong right now that it might not matter. Given Minnesota's utter lack of trust in the running game, I tend to agree. Just let it be known that I reserve the right to change my opinion of this as the week progresses.

Deandre Hopkins FD 9000 DK 7700
Opponent BUF
Proj Points FD - 18.74 DK - 21.75
I want to highlight Hopkins quickly here as a DraftKings only play. I don't think you need to bother on FanDuel given the excellent Thielen and Brown spots, but on DK, where Hopkins is the full $1,000 cheaper, you have to consider him. Hopkins has the 4th most targets this season, but he leads the entire NFL in receiving yards. Like Brown, he also has a long track record of being highly targeted in the passing game, so I don't think we have sample size issues to worry about here. Fuller's return hasn't hurt Hopkins at all - the Texans' WR1 out-targeted him 13 to 3 last week. Getting this level of target volume on a PPR site at $7,700 is a borderline joke, and Hopkins might be the highest owned WR on DK this week.

Tyler Boyd FD 6300 DK 6000
Opponent PIT
Proj Points FD - 14.73 DK - 17.05
The age-old football question: how strongly should I react to a single week's worth of data? A monster week against Atlanta pushed Boyd's cash game ownership near 50% last week, so will a bad week send him back into big tournament only status? I say no. At a conservative 9 projected targets this week, our system is putting him into 100% of cash game lineups. I already talked about the Steelers' D in the Dalton write-up, and that logic, of course, applies to Boyd as well. You can't spend up everywhere, and given that we have Boyd as being projected for a full 2 more fantasy points than the next highest guy in his price tier (John Brown, if you were wondering), I love Boyd as cash game filler this week.
Michael Crabtree FD 6200 DK 4700
Opponent TEN
Proj Points FD - 12.01 DK - 14.84
At $4,700, Crabtree is another spicy DraftKings play this week. He's averaging 10 targets a game in his last 4 contests, and is coming off of a season-high 12 targets against the Browns. His lowest target game of the season came in the Ravens' absurd week 1 dismantling of the Bills, and Crabtree even had 6 targets in that game. Joe Flacco has the 2nd highest passing attempts of any QB this season, and Crabtree is his most target receiver. And he's $4,700! I personally believe that Crabtree is also running bad in terms of total yards and touchdowns, and think his price can really only climb on both sites at the moment.
While we're here, let's also nod briefly to John Brown. He's also seeing incredible target share with the Ravens, and it sure seems like he's slid into the Torrey Smith/Steve Smith downfield role. He's also barely doing anything with those targets. He's the 15th most targeted receiver in the NFL, but he is tied for the 37th most receptions. His 43% conversion rate is the very worst among qualified receivers in the NFL, and is 5% worse than the 2nd worst receiver (Marvin Jones Jr., in case you were wondering). The price is still enticing, but he can't be a cash game play.
Another cash game guy: Chester Rogers has been targeted 11 times in back to back weeks, and he's basically free on both sites. Totally playable cash game punt option, if you're asking me.
Tight End

Eric Ebron FD 6500 DK 5400
Opponent NYJ
Proj Points FD - 10.53 DK - 13.37
One of the hardest decisions in DFS - how do we evaluate players who were insanely great values at cheap prices, performed well, and are now more expensive? We were thrilled to play Ebron even after his lousy game against Philly, and were rewarded handsomely the past two weeks. But has the price just gone up too much at this point? Luck has passed more than any QB in the entire NFL, and he's also notoriously not throwing the deep ball. That's meant a lot of short passes to Ebron. Listen - if you think 10+ targets a game are legit, then you can still run this guy at an increased price point. He's a great red zone target and has shown an ability to move the chains as well. Just make sure Jack Doyle is definitively out, and know that he's still got 40 yard, no-touchdown games in him as well. Zach Ertz, he ain't.
David Njoku FD 5500 DK 3800
Opponent LAC
Proj Points FD - 10.48 DK - 12.88
Doug gave you Njoku as a DraftKings play last week, and it worked out very well. Njoku was targeted 11 times, and turned that into 6 catches for 69 yards. In a week where the 2nd place lineup in the FanDuel million had Nick Vannett's 3/43 line staining it, you couldn't have been too disappointed if you ran Njoku anywhere. I mean, Vance McDonald had 75% cash game ownership on FanDuel last week. After 7 and 11 target weeks, Njoku's stock is on the rise at the league's worst position, and I'll guess that he'll be the highest owned TE on DraftKings next week on the back of his opportunity alone. He's in the running on FanDuel as well, even as his price creeps up toward the mid-range for tight ends.
Zach Ertz FD 7500 DK 6800
Opponent NYG
Proj Points FD - 16.09 DK - 20.02
On last week's game-by-game breakdown podcast, I asked the question, "Is tight end REALLY where you want to spend up this week, regardless of how consistent Ertz has been?" The answer was, "yes!" Tight end in 2018 is arguably the worst position I've ever seen in any sport, and Ertz tops the position by every available metric except touchdowns. With 58 targets this early in the season, you could make a great case that his stock is set to rise from its already high levels. There's only one problem - he plays on Thursday. I rarely even talk about Thursday plays, but Ertz might be reason enough to play the Thursday slate on his own.
Keep an eye on Austin Sefarian-Jenkins. If he misses another week, Niles Paul is another bargain-basement punt option. He had 7 catches last week, including 5 after ASJ went down.
Defense
So let's talk defenses on a high level for a second. After a week in which we saw the bad Titans' defense see 75% cash game ownership against the Bills, it's worth checking in on whether the industry is leaning toward punt defenses in good match-ups, or good defenses with good match-ups. Put differently - are we supposed to be paying up for the presumed "safety" of better defenses? It hasn't really worked out that way, so far.
Early returns from our system have it favoring cheap defenses on both sites. On FanDuel, we're looking at the Washington Redskins against the Carolina Panthers and the Cleveland Browns against the Chargers. Neither defense is particularly exciting to me, but there's some allure to grabbing the Redskins against the turnover-prone Cam Newton.
On DraftKings, it has the Dallas Cowboys against the Jags, which frankly seems fine to me. The Cowboys are cheap, and neither I nor Vegas really trusts Bortles at the moment.
But one still has to ask: Can we really not take teams like the Vikings against the Cardinals or the Texans against the Bills? These games have low totals, and these reasonable defenses are heavily favored.
The eyeball test would desperately prefer the better teams, but DFS fantasy doesn't always work that way. The Browns are averaging the 6th most fantasy points of any defense on this slate. Not that we want to count past fantasy points as an indicator of future fantasy success for defenses, but it is worth pointing out that a lot of what you're paying when you pay up for "good defenses" in good spots is the good feeling you have when you click on their name. At the end of the day, the position is erratic enough that it's often correct to just take the cheap teams with fine match-ups and call it a day.
Now's your chance to get DFSR PRO, which will give you access to our NFL optimizer for FanDuel and DraftKings, our MLB Optimizer, and our new Player Lab! Get started for free by clicking the button below.
First time with NFL? Be sure to read our free MLB and NFL Ebooks on building lineups, general strategy and more. We've got you completely covered.
FREE EBOOK
SECRETS TO CRUSHING DAILY FANTASY FOOTBALL!
DON'T SET ANOTHER LINEUP BEFORE YOU READ THIS BOOK.