Basketball Picks Daily Fantasy
Expert Advice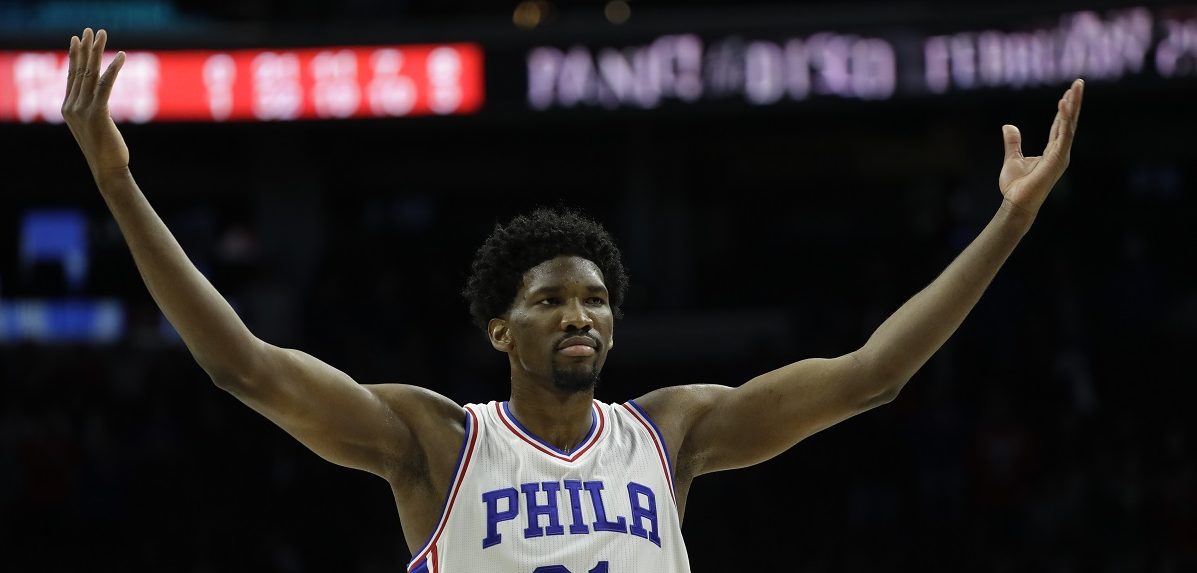 Daily Fantasy NBA Basketball Picks for FanDuel and DraftKings - 10/18/18
After drinking through a fire hose of a slate on Wednesday, we get to chill with a tiny little three game Thursday slate. It's far from relaxing, though. With a lot of slow teams, good defenses, and big stars changing teams - Thursday is going to be an awfully tough early season situation. Let's see what we can figure out, shall we?
Head on over a for your chance to get DFSR PRO, which will give you access to our NBA FanDuel and DraftKings optimizer, our NFL Optimizer, and our new player lab! Get started for free by clicking the button below.
First time with NBA or NFL? Be sure to read our free NBA and NFL Ebooks on building lineups, general strategy and more. We've got you completely covered.
Point Guard

Goran Dragic FD - $6200 DK - $6000
Opponent - WAS
Proj Pts FD - 31.3 DK - 32.4
Point guard is pretty darn rough today, and you could do a lot worse than playing the same guy who just paid 6x points per dollar on this price last night. Washington is a worse match-up than Orlando by basically any metric, but on a short slate beggars are going to have a tough time being choosers. It's not that there aren't good players at the position, it's just that you have a lot of tough defenses and teams that play slowly. When Wade is off the court this team just flat out lacks ball handlers outside of Dragic and Tyler Johnson, and I think the floor here is a totally livable outcome.
Kris Dunn FD - $7000 DK - $6600
Opponent - PHI
Proj Pts FD - 34.18 DK - 33.9
Kris Dunn was positively electric in the preseason, shooting 62/50/100 and winning high praise from his coaching staff. Normally we don't want to put too much weight on preseason numbers, but when a player is in a position to play anywhere from 28 to 35 minutes a game, leaving a good taste in the coaching staff's collective mouth going into the season can only be a good thing. Dunn will draw some combination of Fultz and McConnell here, which shouldn't scare us away from running him. You don't like that the Bulls are 10 point dogs, but on the other hand, falling behind often means good things for hot-handed guards.
A quick note on Ben Simmons. First of all, I get it. He's one of the most exciting players in the NBA, and he just dropped 64 fantasy points in their opener. But there are a few red flags for me. The Sixers are favored by 10 points, and you have to think that there's some chance that they will rest their young studs if things get out of hand. Second of all, he's awfully expensive in a mediocre match-up. I reserve my right to play him if it works out money-wise, but as of right now I'm probably looking elsewhere.
Shooting Guard

Justin Holiday FD - $4500 DK - $4300
Opponent - PHI
Proj Pts FD - 23.31 DK - 23.76


Zach LaVine FD - $6800 DK - $6400
Opponent - PHI
Proj Pts FD - 34.36 DK - 35.43
Shooting guard is pretty shallow tonight, but I like both of the Bulls options here. Philly was pretty stout on defense last year, but they did play the 4th fastest PACE in the league, and they allowed roughly league average fantasy point projection to opposing wings. LaVine says he's feeling fully healthy at the moment, and we've seen what he can do on a full run of minutes. As for Holiday, his stock goes even higher if Valentine winds up missing. In similar spots last year he played about 32 minutes per game, which should be more than enough to pay off these prices. It's mostly just a price and opportunity mismatch.

C.J. McCollum FD - $7200 DK - $7100
Opponent - LAL
Proj Pts FD - 34.55 DK - 35.63
Part of me wonders if you're going to see a huge ownership out of McCollum tonight. He's honestly not my favorite play at the position, particularly because we don't know exactly how the Lakers are going to look defensively with LeBron on the team now. Last season the Lake-show played a top 5 pace with a middle of the pack defensive efficiency, but almost anything can change when you bring in a transcendent player like LeBron. Still, McCollum is fairly priced in a pace-up match-up, which is often enough when you're on a three game slate.
Rodney McGruder FD - $3500 DK - $3900
Opponent - WAS
Proj Pts FD - 20.95 DK - 20.78
McGruder wasn't incredible on opening night, but if the Heat are still playing short-handed it's going to be tough to pass up on him. He played 32 minutes and got 9 shots in the air, which is plenty on a minimum salary. There's not really much else to analyze there. There's some chance Dwyane Wade will miss on the second half of this back to back season opener, and if he does McGruder's role should be even more secure.
Small Forward

LeBron James FD - $11700 DK - $10800
Opponent - POR
Proj Pts FD - 51.35 DK - 52.31
It's going to be hard to walk away from LeBron's first game in a Laker uniform, particularly at (again) such a weak position. Portland plays slowly, and played pretty good defense last year with basically the same personnel, but I don't think it matters. James worked the Blazers like a speed bag last season, dropping 35/14/6 on them in one game, and 24/6/8 in another (a blowout where he played reduced minutes). Here's a thing to remember about the NBA and DvP (defense vs. position) data - star players can sometimes step past that. If you don't have one of the 5 guys in the league that can match LeBron's speed and size, you're pretty much screwed. And that's where Portland is right now. No combination of Moe Harkless and Evan Turner (lol) are going to stop him, and while Aminu could give it the college try, I don't see it happening. Looking forward to LeBron's first game in the purple and gold.
Otto Porter FD - $6400 DK - $5600
Opponent - MIA
Proj Pts FD - 30.14 DK - 29.72

Robert Covington FD - $6700 DK - $4700
Opponent - CHI
Proj Pts FD - 30.97 DK - 30.77
I list these guys together because they are priced similarly on FanDuel, but on DraftKings where Covington is $900 cheaper, you'll probably just play him. That being said, it's a pretty interesting calling between them tonight. Porter was your basic high floor play on this price last season - averaging 30.4 fantasy points and rarely deviating off of that number much unless Beal or Wall was out. With a fully healthy starting cast heading into the season, you can probably expect more of the same. It's an unexciting play given that he'll be going up against the league's 4th slowest team from last year, but it's somewhat safe to assume he won't kill you. Covington, on the other hand, is more of a mystery to me. I wasn't totally sure about the minutes this season, but after seeing him stay out there for 34 minutes while the Sixers were getting pretty much blown out, I am a lot more confident. Covington tends to contribute enough across the board that he is not overly reliant on scoring to get his value, but man does it look like shots are going to be tough to come by in that Sixers offense. Still, the $4,700 price tag on DraftKings is almost too cheap for his boards/blocks/steals, and he looks like a very strong option there.
I'm not ruling out trying Derrick Jones again. He fouled out, but how many minutes could he have gotten had he not been in foul trouble? With Miami shorthanded once again, he might be a great way to get away from a pretty unexciting position cheaply.
Power Forward

Bobby Portis FD - $5700 DK - $5700
Opponent - PHI
Proj Pts FD - 33.16 DK - 33.78
With Markkanen shelved to start the season and Mirotic still gone, it looks for all the world like this job will be Portis' to lose. When things have clicked for him, Portis looks like an easy $7,000 player, scoring and rebounding in bunches while chipping in a healthy diet of defensive stats as well. You don't generally love to play big men on teams that are such big underdogs, but you'll grin and bear it when it comes to a value play of these proportions. He's the perfect middle of the road play to enable you to spend up elsewhere, and to not have to play some of these other losers that are popping up at power forward these days.
Al-Farouq Aminu FD - $5600 DK - $4900
Opponent - LAL
Proj Pts FD - 25.99 DK - 26.13
Aminu's minutes came and went last season, but he averaged 34.5 in the Blazers' Cleveland games on account of him being the only human on the team with a chance to chase LeBron around. I suspect we'll see more of the same in this Lakers game. While we can't be certain that the Lakers will continue to play fast and loose with LeBron manning the ship, we can probably be reasonably certain that they are a better match-up than a lot of the stiff defenses on this slate, and I like grabbing Aminu in the midrange here for the same reasons I liked grabbing Portis.
A few other power forward notes
Wendell Carter Jr. has a bright future ahead of him, and gaining the starting position this early in the season is certainly a vote of confidence from his coaching staff. He's potentially very cheap if things start clicking and he plays 30+ minutes - but going up against Joel Embiid in his first NBA game? Gulp. This is not a play for the faint of heart.
After him, it's just more guesswork. Look at these options:
Brandon Ingram at all time high prices with LeBron in town now.
Kyle Kuzma isn't starting.
Dario Saric played 22 minutes in a game where Philly was playing catch-up, and his skills would have been useful.
Kelly Olynyk played 15 minutes off the bench, even with Derrick Jones fouling out.
And that leaves Markieff Morris. He doesn't look like a terrible play, but again the Heat play so slowly.
I think this will be a position that shows heavy chalk, and it will be one people pure punt away from on FanDuel where they can drop their lowest score.
Center

Joel Embiid FD - $10800 DK - $9700
Opponent - CHI
Proj Pts FD - 55.37 DK - 57.66
One of the huge questions for DFS this season is: How many minutes will the Sixers play Joel Embiid? The Sixers' star averaged 31 minutes a game last season before dialing it up into the high 30s in the playoffs, but Philly has always been so conservative with Embiid's minutes that it was hard to know what the plan was going into the season. Well, he played 37 minutes in the opener in a game script that went against him in every possible way, and it sure looks like the Sixers are out for blood this year. Portis and Carter Jr. are fine players, but neither frankly has the size or defensive discipline to consider scaring us off of Embiid here. Unless we get some kind of bad news on the minutes being restricted this is going to be a tough one to pass on.

Hassan Whiteside FD - $7500 DK - $7000
Opponent - WAS
Proj Pts FD - 36.97 DK - 37.43
The price on Whiteside is still wrong, and while it remains this way, we'll probably keep going back to the well. I'm a little concerned about him on the second half of a back to back, but this early in the season one wonders if the Heat will be overly cautious. Whiteside turned in a vintage Whiteside performance against Orlando, grabbing 18 boards en route to a 42 fantasy point performance. Dwight Howard is no slouch on the glass himself, but I just have to give the nod to the younger and more energetic Whiteside. He looks like a great cash game play to me.
GRAB A FREE TRIAL OF OUR PROJECTION SYSTEM, AND CHECK OUT DFSR PRO!
FREE EBOOK
SECRETS TO CRUSHING DAILY FANTASY FOOTBALL!
DON'T SET ANOTHER LINEUP BEFORE YOU READ THIS BOOK.