Basketball Lineups Daily Fantasy
Expert Advice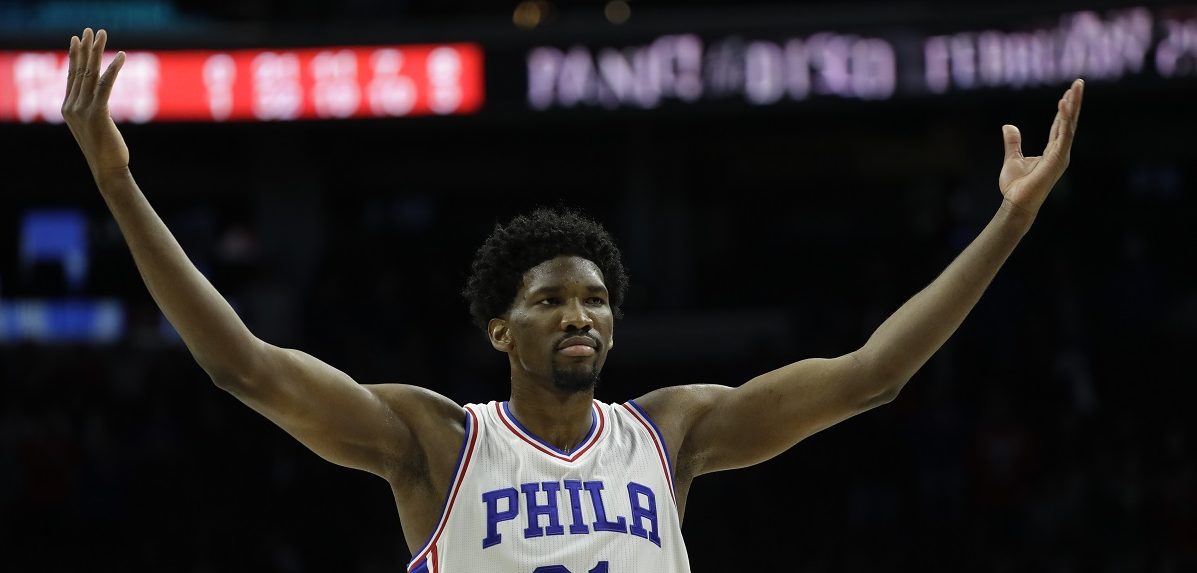 Daily Fantasy NBA Basketball Picks for FanDuel and DraftKings - 10/23/18
We've got a tiny, three-game Tuesday slate of NBA action but plenty of ways to break it down fantasy-wise. There are superstars aplenty going here and it's going to be tough deciding how to spend up for salary.
Head on over a for your chance to get DFSR PRO, which will give you access to our NBA FanDuel and DraftKings optimizer, our NFL Optimizer, and our new player lab! Get started for free by clicking the button below.
First time with NBA or NFL? Be sure to read our free NBA and NFL Ebooks on building lineups, general strategy and more. We've got you completely covered.
Point Guard
T.J. McConnell FD - $4000 DK - $3800
Opponent - DET
Proj Pts FD - 25.43 DK - 25.01
Ben Simmons left Saturday night's game with back tightness, didn't return and then didn't practice on Monday. These are all the signs of a guy who won't suit up for Tuesday's game. I could be wrong there for sure, but I can't imagine the Sixers press Simmons this early in the season. So get ready to see a lot of Philly guys in this writeup. It stands to reason McConnell would get the start at point guard, with the Sixers runnings a more traditional offense. McDonnell picked up a lot of that PG run on Saturday (Simmons left 8 minutes in) and went for 25 minutes with 8 points, 4 assists, 4 rebounds and a steal. I think he'd push up towards 30 minutes in this matchup if starting. He'd be an easy play at these prices and would likely ring in as one of the chalk plays of the slate. Landry Shamet could also really benefit here as well if he takes over more of the backup PG duties.

Elfrid Payton FD - $7000 DK - $6400
Opponent - LAC
Proj Pts FD - 35.59 DK - 35.65
The entire Pelicans' team got burned off their minutes last game in an unreal 149-129 drubbing of the Kings. You read those scores correctly and no, this wasn't the All-Star game or some exhibition. The scoring in the NBA is simply out of control early in the season.  Tonight, I'm looking for a big game out of Payton who triple-doubled in his first game in New Orleans. He was on his way there against Sacramento (11/6/6 through 24 minutes) and that could be something of a theme for the guy this season. He's still coming way, way too cheap for what he can provide fantasy-wise especially if the Pelicans' are going to give him major minutes at the one.

Jamal Murray FD - $6400 DK - $6000
Opponent - SAC
Proj Pts FD - 31.42 DK - 32.6
He was massive chalk on Sunday (80% play in FanDuel cash games) and massively awful all the way through. He couldn't make a shot, got into foul trouble, got hurt, came back in, got into more foul trouble and was essentially non-existent. Considering how many folks he *burned* you will see the ownership much lower even though the situation really hasn't changed all that much. The Nuggets are still without Will Barton (for a few weeks at least) and will need Murray to hit shots and play some more minutes in the backcourt. The Kings are playing the third fastest pace in the league so far this season, leaving Murray with plenty of possession opportunities. I'm looking for a bounce-back game from the Nuggets' point guard.
Shooting Guard
Markelle Fultz FD - $5900 DK - $4900
Opponent - DET
Proj Pts FD - 32.72 DK - 32.44
This is, of course, assuming Ben Simmons is out on Tuesday. And it's also assuming that he's given more of the ball-handling duties for the Sixers. It's a bit discouraging that even with Simmons only playing 8 minutes on Saturday that Fultz totaled just 23 in a close game. The latter is still finding the usage (11 shots) but his only real run was in a blowout. If he isn't finding crunch time minutes then his upside is likely capped. But I do think he sees more usage with Simmons off the court and Fultz has found ways to contribute across the stat line. In 23 minutes last game he still put up eight points, seven assists, and four rebounds. His game translates to fantasy upside, but again we are only worried about the minutes. Strongly consider J.J. Redick as an upside play.

Jrue Holiday FD - $7800 DK - $7400
Opponent - LAC
Proj Pts FD - 40.64 DK - 40.61
Much like Payton (and the rest of the Pelicans), Holiday's minutes got burned off last game in the blowout. Like Elfrid, Jrue was well on his way to a monster game before the blowout capped him at 27 minutes. He had 15 points, 10 assists and six rebounds following a lackluster fantasy performance against the Rockets in the first game. The biggest reason to trust the Pelicans is that we are likely to see major minutes out of their core rotation in close games. They have a seven-man unit that could compete in the West (playoffs-wise, not championship-wise) and will need to run them hardcore all season. The Clippers are playing at a slower pace relative to league average this season and with their core personnel aren't likely to see a big uptick, but on a short slate, it's tough to fade the Pels at their price points.
Strongly consider Gary Harris who was very popular and very good on Sunday against the Warriors. He's likely a chalk play again on Monday though I see him as a better DK play than FD.
Small Forward

E'Twaun Moore FD - $4800 DK - $4200
Opponent - LAC
Proj Pts FD - 24.85 DK - 25.33
He represents one of the few ways we have to *punt* on this short slate of games. Moore might seem like a forgotten man on a Pelicans' team sort of stacked with fantasy-producers, but this guy is still getting up double-digit shots over the first two games of the year with 30.6 and 22 FanDuel points respectively. What I'm mostly looking at with Moore is a chance for moderate savings on a slate that has very few options in the lower price tier.
Robert Covington FD - $6100 DK - $5500
Opponent - DET
Proj Pts FD - 30.22 DK - 30.16
Nikola Mirotic is now a small forward on FanDuel (for reasons unknown) and I think over there were are deciding between him and RoCo. I'll take the latter at a discount. The Sixers lost some of their wing depth in the offseason and it appears the plan, in close games, is to play Covington all the minutes. He really needs to knock down threes (39% this season, career 36%) and pile on the defensive stats to really hit value. But I do think his price is down on the season because of the blowouts the Sixers played in their first two games. He's an easy DraftKings' play at $5500 and comes into the FanDuel fold because the position is very thin on this two-game slate.
Consider the aforementioned Nikola Mirotic but I think he's getting a little expensive and has run white hot on shooting over the first two games. Also consider Justin Jackson as a punt play.
Power Forward

Paul Millsap FD - $7100 DK - $6200
Opponent - SAC
Proj Pts FD - 34.06 DK - 33.7
If the plan is to play him only around 30 minutes a game, then these prices don't really look all that much like bargains. But I'm still bullish on Millsap's minutes moving forward with this team and think his versatility is going to lead to opportunity. He'll get the chance Tuesday in a pace-up matchup against the Kings that has basically all of Denver in play in cash games. For what it's worth, Millsap does have two double-doubles under his belt in the first three games with the tilt against the Warriors leaving owners out in the fantasy cold. But this is a guy who can easily pay these prices in this matchup and I'm banking on the shot and rebounding volume being there against the Kings who are playing the game like a track meet.

Dario Saric FD - $5900 DK - $6100
Opponent - DET
Proj Pts FD - 27.51 DK - 29.1
Saric is another Sixer we've seen weird minutes from to start the season because of some early blowouts. But I do think, along with Covington, the plan is to play him significantly in close games. Assuming Simmons is out, Saric sees a rebounding uptick though a slight usage downgrade. I'm not all that concerned about the latter. The biggest issue he could face in this game is foul trouble if having to front Blake Griffin early. But with the Sixers short on big men in their rotations, I do think we see upper 30's minutes out of Saric if the game stays close. And he's been bombing threes this season, averaging six attempts per game but running bad at only 27%. If there's regression coming there (and history says there is) then we are buying low on his scoring upside.
Obviously, consider Nikola Jokic and Anthony Davis. The former is still a pretty good deal on DraftKings, though I'm not exactly sure why FanDuel moved him to the power forward position. With super tight pricing to start the year, Davis is a tough sell to fit into lineups on a short slate even though he's in the best possible matchup and a fantasy god.
Center

Joel Embiid FD - $10700 DK - $10400
Opponent - DET
Proj Pts FD - 54.29 DK - 56.61
With Simmons off the court, Embiid sees something around 3% usage and 4% rebounding bumps to his overall line. He's expensive for sure on a night where there are a lot of big-ticket dudes and not many ways to save. That much isn't lost on me. But Philly hasn't been all that conservative with his minutes early on and there's something to theory that they are prepping his body for more minutes per game come the playoffs (where he looked gassed last year after a season of managed rest). There are few other per minute fantasy beasts like Embiid and even with a tougher matchup (on the defensive end) against Drummond, I like the big man's chances on these prices.

Willie Cauley-Stein FD - $7400 DK - $5900
Opponent - DEN
Proj Pts FD - 34 DK - 33.3
He's coming so very cheap on DraftKings and yes, I know he's played 26 and 22 minutes in his last two games. That's the part of the dare we are working with when we get a sub-6K price for him. Foul trouble did him in again OKC when he picked up his third foul with four minutes to go in the first half. He wasn't able to fully recover minutes' wise but he still finished with a 13 point, seven rebound line that would have him pushing to value with even around mid-20's minutes. I'm willing to take the risk here knowing that Jokic is a problem down in the block. It's just too cheap a price.
GRAB A FREE TRIAL OF OUR PROJECTION SYSTEM, AND CHECK OUT DFSR PRO!
FREE EBOOK
SECRETS TO CRUSHING DAILY FANTASY FOOTBALL!
DON'T SET ANOTHER LINEUP BEFORE YOU READ THIS BOOK.