Basketball Lineups Daily Fantasy
Expert Advice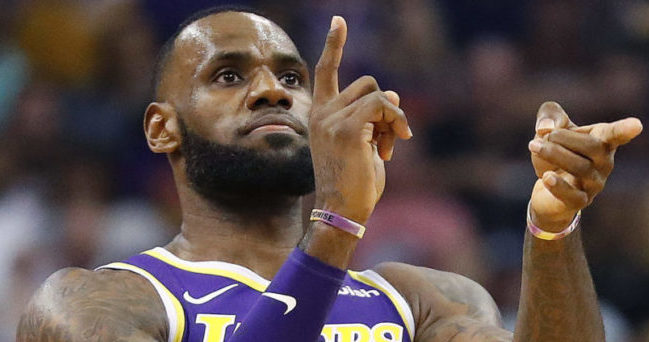 Daily Fantasy NBA Basketball Picks for FanDuel and DraftKings - 10/25/18
We've got a four-game NBA slate going down on Thursday with some primetime matchups and star-studded games. Lebron, Westbrook, Jokic, Blake, Dame and others highlight an interesting set of games for FanDuel and DraftKings.
Head on over a for your chance to get DFSR PRO, which will give you access to our NBA FanDuel and DraftKings optimizer, our NFL Optimizer, and our new player lab! Get started for free by clicking the button below.
First time with NBA or NFL? Be sure to read our free NBA and NFL Ebooks on building lineups, general strategy and more. We've got you completely covered.
Point Guard

Kyrie Irving FD - $7700 DK - $7300
Opponent - OKC
Proj Pts FD - 37.53 DK - 39.01
Kyrie is still coming much too cheap on both sites, but especially DraftKings. The lower pricing is thanks to some early-season run bad in the shooting department. He's only hit 18% of his threes this season (39% for his career) even though he's attempting 5.5 treys per game. There's still room for growth on his scoring when the deep ball starts going down. He'll draw a tougher matchup against Westbrook in this game, but the Thunder are still somewhat compromised on D without Roberson and the Westbrook/ Schroder combo doesn't really seem all that imposing. Kyrie is leading the team in shot attempts, three-point attempts, and assists. He's an elite player not priced like one because the scoring hasn't totally materialized early in the season. We are buying low in this matchup on a short slate.

D.J. Augustin FD - $4500 DK - $4700
Opponent - POR
Proj Pts FD - 21.46 DK - 22.52
I'm not a guy who likes to ever trust the Magic and what their "plan" is when putting together rotations. But Augustin has played 30 minutes or more in the last two games (after a blowout in Charlotte) so I'm starting to come around Orlando possibly focusing in on the starters getting their run (famous last words and all). He's posted a 10/10 and 9/9 line in the last two games which gets the job done at these prices and that's really the story for this slate. With the pricing getting tighter and tighter as the season goes on, outside of the random fill-in punt (harder and harder to come by), we need to take these lower tier guys and project out quality minutes.

Damian Lillard FD - $9800 DK - $8700
Opponent - ORL
Proj Pts FD - 46.28 DK - 48.23
Like Kyrie, Lillard is a slightly better DraftKings play on this short slate. He'll get a cake matchup against the DJ Augustin-led Magic backcourt. Dame is jacking a lot of threes (7.7 per game) but only knocking them down at a 30% rate (37% career average). He's still putting up Lillard-like usage numbers and is averaging 29 points per game despite the three not totally falling. The assist numbers are there as well with seven dimes per game. I think we can roster him safely on DK as an upper middle tier value (the best kind on DraftKings) and when the three starts falling more (extra points in their scoring) we are looking at big upside.
Shooting Guard

C.J. McCollum FD - $6700 DK - $6100
Opponent - ORL
Proj Pts FD - 35.02 DK - 36.05
McCollum is a guy we can see price fluctuations on (more than normal) because he's so scoring dependent that some short-term issues can majorly affect the fantasy output. That seems to be the case early on this season. Through the first three games, he had minor foul trouble in the first, a blowout in the second and a horrific 5-25 shooting game in the third. There's some context on why his price is dropping and why we can expect a turnaround (possibly) in the short term. This is a guy who averaged a 21/4/3 line last season and is running behind those stats because of the aforementioned issues. I'm buying low on CJ in a good matchup against the Magic.

Reggie Bullock FD - $4700 DK - $4500
Opponent - CLE
Proj Pts FD - 24.09 DK - 24.81
Over the last couple of seasons, the Pistons have struggled to find consistent wing play thanks to personnel, scheme, coaching and a bunch of other issues. But with new coach Dwayne Casey's seal of approval, Bullock might just see himself locked into quality minutes for the foreseeable future. He played 30 and 36 regulation minutes over the last two games with 16.5 points per game despite shooting only 27% from three (40% career). He's still getting up double-digit shots per game and should be locked into the run which makes him an excellent value on both sites. He won't add too much across the box score, so he doesn't have an incredibly high floor. But on this slate, we are probably going to want to go stars and scrubs. He helps fit that need to some degree.
Consider Rodney Hood
Small Forward

LeBron James FD - $12000 DK - $10700
Opponent - DEN
Proj Pts FD - 57.41 DK - 58.67
Small forward on FanDuel is real rough and I don't think you can really fade Lebron on this short slate. He got *mostly* the night off on Wednesday, only having to run 29  minutes on his way to a 19 point, 10 assist., 7 rebound line. It was what we've come to expect from the dude who will put up fantasy lines regardless of the personnel around him. Again, the reason we are playing him here on Thursday is that there's little else in the way of safety at this position. You can either completely punt it away (few options, if any) or roster up on Lebron. It's easier knowing he got the game off yesterday (sitting in the fourth because of the blowout), and the Nuggets don't have much in the way of being able to defend the guy.  I suspect because of the name and positional scarcity that he's the highest-owned player on the slate. It's for good reason.
Let's talk about the rest of the small forwards.
On FanDuel, after Lebron, things get very dicey at small forward. Let's walk through some of the options and talk about the positives and negatives. Paul George is clearly the best talent among the rest of the group but is very expensive because of the first two games without Russell Westbrook and the latter is back now. It's also not a great matchup with the Celtics.
Lance Stephenson is cheap and can put up fantasy numbers quickly. The problem, of course, is that he's coming off the bench and the minutes are anything but secure. He's a little safer without Ingram around so you might just need to plug your nose and punt away SF because of the lack of options. Stephenson might just fit a need there.
I wouldn't mind Stanley Johnson except he randomly just got benched last game against Philly (unless I'm missing something) and barely played.
And finally, the minutes are there for Cedi Osman in close games and he's had some impactful fantasy performances without Lebron around. But he isn't exactly cheap and the Cavs stink.
Power Forward

Kevin Love FD - $8800 DK - $8500
Opponent - DET
Proj Pts FD - 45.13 DK - 48.39
The Cavs looked bad against the Nets on Wednesday night because, well, the Cavs are bad and are going to look that way all season long. But a good sign was that even in the blowout to Brooklyn, the starters came back in during the fourth quarter. If this is the plan (getting waxed - dudes still play) then we can see their minutes as rather safe in the short term. And that's just where we want to be with Kevin Love who is clearly their go-to guy. He didn't post a fantastic line against the Nets, but he still has double-double potential every night and is averaging a 21 point, 14 rebound line to start the season without Lebron around. Additionally, Wednesday's game was the first he didn't put up 18 shots or more. The goal, of course, is to get him looks in this offense because Cleveland really doesn't have many other ways to actually score. Don't be discouraged with the game against the Nets, I do think that's something of an outlier.
Jerami Grant FD - $4600 DK - $3800
Opponent - BOS
Proj Pts FD - 23.14 DK - 22.48
Sure, he's still coming off the bench for the Thunder but that's starting to mean less and less as the season goes on. Patterson is the starter in name only and the Thunder seem to really want to play Grant whenever the getting is good. He's played 28 or more minutes in each of the Thunders' first three games (including crunch time with Russ back in the mix) and has run so, so bad from the field that I have to believe we are buying ultra-low on the PF. He's shot 5-23 on the season, which is far below his career averages. It sure seems like the OKC plan is to play the dude no matter what the situation and if that's the case then these prices are way too low.
Strongly consider Aaron Gordon who is the one guy playing major, consistent minutes for the Magic.
Center

Andre Drummond FD - $9500 DK - $9000
Opponent - CLE
Proj Pts FD - 48.33 DK - 49.09
Drummond was ejected on Tuesday night for a couple of techs and a lot of displeasure, so you forgive the *subpar* 14/16 line. He's had some weirdness about his stat lines so far this season which has led to a price decrease across the board for the Pistons' big man. He started the season at $10,200 on FanDuel and is now down 7% because of some basic context issues. He should be able to take the Cleveland interior defense to task in this game and is coming in at a very advantageous price because of the first few games worth of stats. He's a major value on both sites if the full run is there and I wouldn't be shocked to see a major price correction relatively soon once he strings a few good games together.
Tristan Thompson FD - $4700 DK - $4800
Opponent - DET
Proj Pts FD - 23.04 DK - 23.21
The Cavs are pretty much in the tank already this season and there's a certain amount of security to that mindset. On Wednesday, this team got blown out by the Nets (the Nets!) and still managed enough minutes out of the starters to come close to value because they brought the core group back in later in the game. That's the key for a guy like Thompson who has fantasy upside (especially with rebounds) when he can hit the boards. He ran terrible with shooting on Wednesday, going 1-10 from the field. There's some issue with getting into foul trouble when fronting Drummond, but the risk is drilled into his price.
Consider Javale McGee
GRAB A FREE TRIAL OF OUR PROJECTION SYSTEM, AND CHECK OUT DFSR PRO!
FREE EBOOK
SECRETS TO CRUSHING DAILY FANTASY FOOTBALL!
DON'T SET ANOTHER LINEUP BEFORE YOU READ THIS BOOK.