Basketball Picks Daily Fantasy
Expert Advice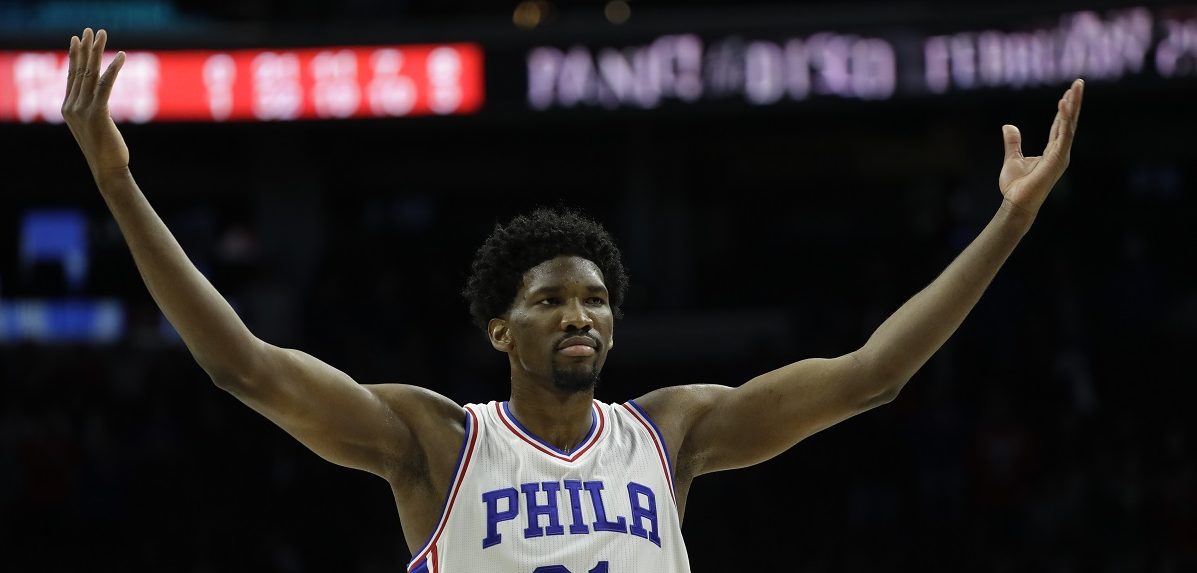 Daily Fantasy NBA Basketball Picks for FanDuel and DraftKings - 11/1/18
Happy Thursday! It's a nicely sized six game Thursday slate, so we will avoid some of the usual 3-4 game Thursday headaches. Or will we? A few of these positions still felt very hard, and I haven't calculated lineups yet, but I'm kind of nervous to get started. We've got some large spreads, some questionable superstars, and some players that look poised to rebound. Let's get to it.
Now's your chance to get DFSR PRO, which will give you access to our NBA optimizer and our new player lab! Get started for free by clicking the button below.
First time with NBA? Be sure to read our free NBA Ebooks on building lineups, general strategy and more. We've got you completely covered.
Point guard

Damian Lillard FD - $9600 DK - $9900
Opponent - NO
Proj Pts FD - 45.72 DK - 47.49
Let's kick things off with Lillard. I have to say, I didn't think I'd wind up ever wanting to play Lillard north of $9,000, but his game has looked so good this season that I'm ready to bite the bullet. Dame has been getting into the lane with breathtaking efficiency, scoring 8.6 points per game in the lane with a 61% field goal percentage. His overall field goal percentage is above 50% as compared to his 43.3% lifetime average, he's added a free-throw per game, and he's 5th in the league in terms of time of possession per game. I think he's a great play against the Pelicans' poo-poo platter of back-up point guards. New Orleans is just generally bad at defense this season, playing the 2nd fastest pace with a bottom 10 defensive efficiency. Given the general lack of good pay-up options, I like Lillard for all formats.

Trae Young FD - $6900 DK - $7300
Opponent - SAC
Proj Pts FD - 34.87 DK - 37.46
The Hawks have played exactly one game this season that didn't end in a blowout, so forecasting their minutes is sort of anybody's guess. Still, the Hawks have seemed pretty committed to getting Young 30+ minutes even in these absurd game scripts, and for once Atlanta is playing in a game with a tight 2 point spread. This game has the highest total on the slate thanks to it featuring two top six PACE teams, and in the one game where Young played his full run of minutes he dropped 35 points and 11 assists. I still think we see 10% price growth out of Young once the minutes normalize, and on a slate with this few PG options I'm happy to be a buyer.
Also considered: Frank Jackson, and no, I'm not kidding. On FanDuel he makes the perfect throwaway point guard given that the minutes can show up and he's still cheap.
A note on Westbrook and Kemba: I just don't trust it. Walker's shot and FG% doesn't look totally sustainable to me, and Westbrook hasn't been unleashed for his full run of minutes yet. Keep an eye on any news regarding him seeing increased minutes though, as that would vault him into consideration.
Shooting Guard

C.J. McCollum FD - $6900 DK - $6600
Opponent - NO
Proj Pts FD - 34.48 DK - 35.48
One of the easiest plays on the slate for me. He gets the same match-up as Lillard in terms of pace and defensive efficiency, and draws the absent-minded Holiday on defense. McCollum is about 15% cheaper than he was last year with the exact same teammates, and for what? He's playing 4 fewer minutes a game thanks to some weird foul trouble and blowouts, but you can believe he'll be back up to 36 minutes a game again soon. The FD and DK algorithms look utterly confused when it comes to analyzing sample sizes like this, and I am very confident that the plan is for him to play more minutes. His season long 41% field goal percentage can also be chalked up to his one 5/25 performance. He's consistently been in the 44%+ range, and when that comes to McCollum will be right back to being a $7,500 player. Easy value play.
Kent Bazemore FD - $6400 DK - $6000
Opponent - SAC
Proj Pts FD - 32.74 DK - 32.75
I can already hear the poor people in our members only chatroom when they see Baze in the lineup, but hear me out. Bazemore's shots have been inconsistent, but he's been better by basically every metric within his control. His FG% has gone up in spite of a big drop in his 3PT%. After years hovering around 80% FG% he's down to 65.2%. He's rebounding the ball better, and accumulating more defensive stats. He's shooting more than he ever has in the past. And... it hasn't happened every game. Still, given how crazy the Hawks' start to the year has been I don't expect any different. In a game that rates to be close, I think we see a very solid performance.
A good throwaway option: What about Avery Bradley? The minutes are there, and we know he can put up stats in bunches when his shot is falling or he's playing well on D. I don't know if you want to rely on the production, but if you've got other punts on FanDuel he might be worth the risk.
Small forward

Giannis Antetokounmpo FD - $11500 DK - $11100
Opponent - BOS
Proj Pts FD - 56.84 DK - 58.04
It's his first game back from the concussion protocol, but I'm actually not especially worried. The pricing algorithms can't seem to figure out how to price Giannis properly given his stretch of weird minutes. It's quite clear that the Bucks plan to play him 37 minutes or more per game, and returning from concussions tends to be pretty straightforward once a player is fully healthy. Giannis is a true talent 12.5k player, and this is just a straight up price and opportunity mismatch. You don't love the match-up, but the undefeated Bucks should be able to hang with the Celtics just fine. Giannis seems like the obvious pay-up option to me.
Robert Covington FD - $6500 DK - $5400
Opponent - LAC
Proj Pts FD - 32.77 DK - 32.39
Covington is another player who is almost assuredly cheaper than he will be as the season progresses, particularly on DraftKings. RoCo has been playing 36+ minutes in close games, and while he's clearly not the main feature of this offense with Embiid and Simmons healthy, he does enough around the edges that he can still get there handily on these prices. Covington has been playing his classic max effort defense, pouring in 17 defensive stats in his last three games while locking down the opposing team's best offensive player. While the Clippers don't necessarily have anyone that warrants a lock down defender, I'm sure the Sixers will deploy Covington on Gallo and give him plenty of run. I think he's a great play on all sites in all formats.
Sam Dekker FD - $4500 DK - $4600
Opponent - DEN
Proj Pts FD - 20.66 DK - 20.68
Dekker should continue to start with Love sidelined indefinitely, and he went off on these prices against Atlanta. I don't think I'd play him on DraftKings where the price is rising, but if you can keep deploying him as a throwaway guy on FanDuel I love pairing him alongside some other cheap options. The only reason you care about the match-up here is the spread - Denver being 6 point favorites means we shouldn't lose Dekker's minutes to a blowout, and they've been text-book league average on the defensive end generally.
Power forward
Jerami Grant FD - $4900 DK - $4200
Opponent - CHA
Proj Pts FD - 29.45 DK - 28.53
It's one of those days at power froward, my friends. Playing Grant always feels like playing a back-up, but in case you missed it, he's actually been filling in just fine as a starter. He hasn't been going off on these prices, but I actually think he's been running bad in terms of fantasy point production per minute. He was scoring just as many fantasy points in 27 minutes off the bench as he has been in 30+ as a starter, and that just doesn't look sustainable to me. The pricing algorithms haven't picked up on it yet, but I would be surprised to see his fantasy points per game not settle in healthily above 25 in close games. Given that this game has the slate's tightest spread, we should see 33+ minutes out of Grant and plenty of production on this price.

Dario Saric FD - $5200 DK - $4900
Opponent - LAC
Proj Pts FD - 30.77 DK - 32.43
Power forward is just a full on beating today. I am not the biggest fan of Saric either given the early slump, but I actually think he's a big candidate for a bounce-back. The biggest reason is the field goal percentage. He's shooting from similar spots on the floor this year, but his FG% has fallen by 10%. He's shooting 23% from three after averaging 36% before this season, which is just blatant run bad. Once the shot comes around he'll be a $6,000 player, so this just looks like another case of price and opportunity mismatch.
Center

Joel Embiid FD - $10900 DK - $10300
Opponent - LAC
Proj Pts FD - 51.53 DK - 54.42
Given the amount of relatively cheap options on this slate, you might be able to grab both Giannis and Embiid. If you can, I advise you to do so. You really get the perfect storm, here. Center is garbage, and Embiid is in a great spot against a Clippers team that would really prefer to go small with some combination of Harris/Harrell/Scott. I don't think the aging Gortat is up to the task, and Boban simply doesn't have the athleticism. When he's played real minutes this season Embiid has dropped 51, 52, 69, and 65 fantasy points. In a game with just a 4.5 point spread I'm looking for at least 56 FanDuel points from Philly's star here.
Alex Len FD - $5300 DK - $4900
Opponent - SAC
Proj Pts FD - 29.38 DK - 30.46
Given that Embiid will likely be overwhelming chalk for cash games, I'd like to present some alternative cheap options for big tourneys. I still believe that Len might be the most underpriced player relative to his end-of-season salary. Like I mentioned with Young, Len's minutes have been jerked around like crazy based on ATL's ridiculous game scripts. Len also carries the game to game risk of foul trouble, which is of course less than ideal. Still, I think the long term plan is to run Len for 30+ minutes for game, and in the one game he did that this season he paid 9x on these prices. It's an ideal match-up with the Kings. They play fast and bad, yes, but they also feature a center in WCS that should demand Atlanta's best defensive center. Len looks like a great pivot here.
Some other interesting options: Do you believe in Brook Lopez at cheap prices and 30+ minutes? How about Willie Cauley-Stein in what looks to be a close game? There are actually a lot of interesting centers for big tournaments, even if most of them will give you the shivers in cash games.
GRAB A FREE TRIAL OF OUR PROJECTION SYSTEM, AND CHECK OUT DFSR PRO!
FREE EBOOK
SECRETS TO CRUSHING DAILY FANTASY FOOTBALL!
DON'T SET ANOTHER LINEUP BEFORE YOU READ THIS BOOK.