Nascar picks Daily Fantasy
Expert Advice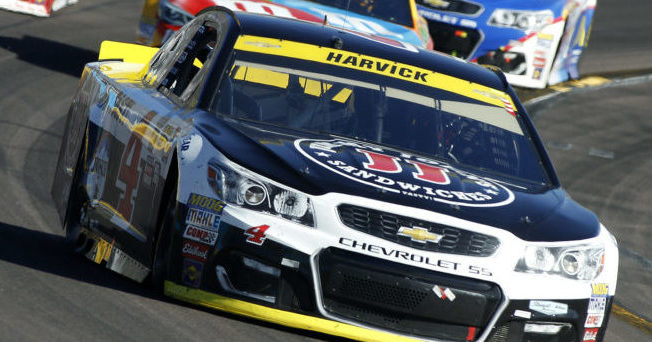 Daily Fantasy NASCAR Race Preview & Picks for DraftKings - AAA Texas 500
DFSR is proud to bring you Chris Durell. He'll be bringing weekly NASCAR picks, analysis, a FREE cheatsheet and weekly video to help you cash on DraftKings.
Now's your chance to get DFSR PRO, which will give you access to our MLB optimizer and our new player lab! Get started for free by clicking the button below.
First time with MLB? Be sure to read our free MLB Ebooks on building lineups, general strategy and more. We've got you completely covered.
AAA Texas 500
Texas Motor Speedway - Fort Worth, Texas
Track - 1.5 Mile Intermediate

The Round of 8 started with some exciting short track racing as Joey Logano moved Martin Truex Jr. on the final lap of the race to take the checkered flag and receive a one-way ticket to Homestead for the final.
The win locks Logano into the final four and puts the "Big 3" in Kyle Busch, Martin Truex Jr, and Kevin Harvick in favorable spots above the cutline. On the outside looking in is Kurt Busch(-25), Chase Elliott(-31), Clint Bowyer(-42), and Aric Almirola(-50).
The second race of the ROund of 8 takes the Monster Energy Cup Series to Texas Motor Speedway for the AAA Texas 500 on Sunday afternoon. It is the 11th mile and half intermediate track race of the season but keep in mind that this is only the fourth race here at Texas with the new configuration. Following the 2016 season, not only was new drainage added to the track, but the ownership group also dropped the banking in turns 1 and 2 from 24 degrees to 20 degrees and widened the track from 60 to 80 feet.
For fantasy, there are 334 laps in this race so dominator points are once again at the forefront when constructing the core of our lineups. Don't discount place differential, however, as there are some big names starting outside the Top 10 this week including Martin Truex Jr.(13th), Chase Elliott(16th), and Kyle Larson(22nd). With that in mind, let's take a look at some trends and then get into the picks.
Last Six Winners at Texas
Kyle Busch(started 8th)
Kevin Harvick(started 3rd)
Jimmie Johnson(started 24th)
Carl Edwards(started 9th)
Kyle Busch(started 15th)
Jimmie Johnson(started 8th)
Top 5 Current Track History at Texas

Joey Logano and Kevin Harvick have just one win between them over the last five races here at Texas but have been very consistent as the only two drivers with a Top 5 in each of those races. Both have also led over 200 laps each in that time and have averaged over 60 DraftKings and 70 FanDuel points per race. Chase Elliott is on the outside looking in when looking at the playoff standings but the good news is that he has been very consistent here at Texas with four Top 10's and no finish worse than 11th here in the last five races. Bubba Wallace has just one race her under his belt in a Cup car but it was one of his best races of the season as he started 15th and came home 8th, only his second Top 10 of the season(Daytona 500 the other). Kyle Busch won the race he in the spring and also the spring race back in 2016 but also has two finishes of 15th or worse in the last five races putting him in fifth when looking at average finishes.
Top 5 Career Track History at Texas

Like most tracks the series visits, Jimmie Johnson leads in career win and Texas is no different as he has seven victories here, the most recent in the spring last year. Kyle Busch is second on the career win list with three and he is also second in this field to JJ with 864 laps led. His teammate, Denny Hamlin, is the only other driver in this race who has won here multiple times and the wins both came back in 2010 where he swept the races here. Four other drivers in this race have a win here but Kevin Harvick has been the most consistent with nine Top 10's and an 11.1 career average finish. For Joey Logano, he has finished 7th or better here in five straight and nine of his last 11 trips to Texas.
Top 5 Current Track Type History(Intermediate)

The intermediate tracks have been dominated by Kevin Harvick and Kyle Busch for the most of the 2018 season as both have tallied three wins and over 500 laps led each. Busch has the consistency edge as he has also finished each of those 10 races inside the Top 10. Brad Keselowski is the only other driver this season to win multiple races on the track type and they came back to back at Darlington and Las Vegas. Martin Truex Jr. won the race at Kentucky while leading 174 laps and has finished inside the Top 5 in eight of the 10 races. Kyle Larson has not won this season but has been very consistent on the mile and a half tracks with nine Top 10's in the 10 races with three straight Top 5's at Kansas, Las Vegas, and Darlington.
Top 5 Current Form (Last Six Races)

After going through the playoffs with consistency, Joey Logano pulled out the win last week at Martinsville locking him into the final four and keeping him in the lead by a lot with a 6.4 average finish through the playoffs. Over the last six races, Denny Hamlin and Chase Elliott have both been consistent with three Top 10's apiece with an identical 8.3 average finish. Looking at all seven races in the playoffs, Aric Almirola has been the second most consistent with a win, three Top 10's and a 9.3 average finish. Right behind him is Martin Truex Jr. who has been one turn away from a win twice in the playoffs and has a 9.4 average finish.
Post Qualifying Targets
Kevin Harvick/Kyle Busch
These two drivers have not only dominated the mile and a half tracks this season with three wins apiece but they have also combined for three wins in the last five races here at Texas. This week Harvick starts near the front of the pack(3rd) and will have a nice shot at leading a ton of laps as he just finished with the fastest 10-lap average in second practice. For Busch, he provides a little place differential value starting 10th and was second to Harvick in 10-lap averages in second practice. My gut tells me these two drivers will be battling each other at the end of this race making both of them core drivers this week. What I will most likely do is build a lineup with Busch on DK/Harvick on FD and then duplicate that lineup with the other driver.
Aric Almirola
The Stewart-Haas cards look fast again this week with three starting inside the Top 5 and all of them starting inside the Top 6. The cheapest of the four and my top target of the group is Aric Almirola who I mentioned above as being the second most consistent driver throughout the seven playoff races with a 9.3 average finish. He was involved in a crash here in the Spring race but looks like he will be in a position to rebound this time around starting 4th and was fastest in the second practice with the 6th fastest 10-lap average.
Chris Buescher
ONe driver who stands out in the punt range is Chris Buescher. While I would have liked to see him qualify a little worse than 21st, he has finished 15th, 22nd, 21st, and 21st in his last four races here and was 14th in the second practice with the 16th fastest 10-lap average. At these prices, he is a terrific target in all formats to help build lineups with Harvick and Busch.
Below you will find a copy of my DFS NASCAR cheathsheet which includes Track History, Current Form, DraftKings points averages, Track Type History, Practice/Qualifying Ranks and much more.

Chris Durell has been playing Daily Fantasy Sports for four years and fantasy in general for more than a decade. He is an active player in NFL, MLB, NHL, PGA, and of course NASCAR. He lives in Saskatchewan, Canada with his wife and two daughters. You can follow him on Twitter at @jager_bombs9 for advice, strategy, answers to any NASCAR questions or how he copes with the winters up north.
FREE EBOOK
SECRETS TO CRUSHING DAILY FANTASY FOOTBALL!
DON'T SET ANOTHER LINEUP BEFORE YOU READ THIS BOOK.