Basketball Picks Daily Fantasy
Expert Advice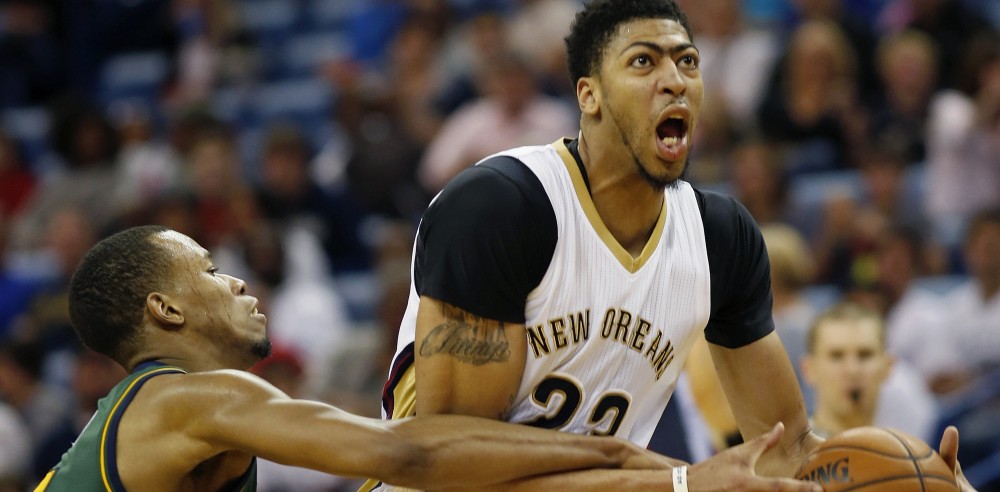 Daily Fantasy NBA Basketball Picks for FanDuel and DraftKings - 12/3/18
NFL Sunday is in the books and Monday NBA action is there to pick up the pieces. There are superstars galore going on this slate and we have some interesting matchups to break down.
Now's your chance to get DFSR PRO, which will give you access to our NBA optimizer and our new player lab! Get started for free by clicking the button below.
First time with NBA? Be sure to read our free NBA Ebooks on building lineups, general strategy and more. We've got you completely covered.
Point Guard

Stephen Curry FD - $9700 DK - $9500
Opponent - ATL
Proj Pts FD - 51.1 DK - 54.11
Curry returned from an 11-game injury absence on Saturday and really didn't look any worse for wear against the Pistons (even though the Warriors lost). Steph went 10-21 from the field and 3-9 from three on his way to 27 points. The key here was that Curry was back to max minutes in his first game back and we can expect continued volume scoring from a guy who was well on his way to the top of the MVP discussion before going down with the injury. On Monday, he'll draw Trae Young's "defense" and an Atlanta team running a league-high pace this season. There's blowout risk with the Warriors 10.5 road favorites, but I think we are buying Steph at something like a discount coming back from the injury.

Russell Westbrook FD - $11400 DK - $11200
Opponent - DET
Proj Pts FD - 56.95 DK - 59.94
Westbrook's been on his triple-double hunt since returning from injury. Over those last six games, he's recorded three triple-doubles and missed one last game by a lone rebound. He's piling on the stats like few others in the game and isn't totally priced out of consideration in this matchup. The Pistons don't have the much in the way of perimeter defense and don't have the one-on-one defenders needed to slow down a guy like Westbrook. They've allowed worse than league average scoring to opposing point guards this season. It's going to be tricky deciding among some of the more expensive options on Monday especially if a plethora of cheap value doesn't emerge. But Westbrook, Curry, Kawhi and Davis are all in the conversation among the upper price tier.
Tim Frazier FD - $5200 DK - $4700
Opponent - LAC
Proj Pts FD - 25.34 DK - 25.8
Frazier got the surprise start on Wednesday, and the Pelicans look like they're going to stick with that move in the short term. He's started the last three games, playing 37, 24 and 38 minutes with an average of eight points, 10 assists and four rebounds. That's enough to push up against value even with the price hikes across the industry and he should continue as a solid cash game play in this matchup against the Clippers. Los Angeles runs enough small guard sets that Frazier won't get frozen out on the defensive end (unlike the game against the Heat) and should once again see minutes in the mid 30's at least. He's a slightly better deal on DraftKings, but understand that he's not ever going to have much usage in this offense while running with the starters.
Shooting Guard
Avery Bradley FD - $4100 DK - $4400
Opponent - NO
Proj Pts FD - 19.76 DK - 19.87
Shooting guard is a real problem on FanDuel and, if early signs are any indication, we are just looking to make it out of this thing alive. Bradley represents a way to get out of the position on the cheap without incurring too much risk. He's played 32 or more minutes in four of his last five games and put up double-digit shots in three of those games. He needs to knock down threes, where most his value is derived because there's not much else to speak of from a fantasy perspective. But the price point won't kill you and he works as a way to offset some salary to afford some of the superstars on this slate.
Allen Crabbe FD - $4300 DK - $3700
Opponent - CLE
Proj Pts FD - 20.62 DK - 21.6
This pains me on a lot of levels to write this guy up after the guy I just wrote up. But I'm trying to illustrate the issue at the shooting guard position for Monday. The player ppol is very thin and I think you want to get out of things as cheap as possible. With Joe Harris out last game, Crabbe saw 33 minutes and should be in line for similar run with Harris already ruled out for Monday. Like Bradley, Crabbe is almost completely three-point dependent and last game chucked up 10 shots (five from beyond the arc) and ended with 14 points and two assists. That barely gets the job done even at these punt prices but that's the issue we're having at the position on Monday.
Consider Bradley Beal who the Wizards continue to run out there for nut-so minutes in anything like a close game. It's borderline malpractice for his health but makes him a higher floor play against the Pelicans.
There's something to consider in the Jordan Clarkson and Alec Burks backcourt off the bench for the Cavs. But it's off the bench and it's for the Cavs.
Small Forward

Kawhi Leonard FD - $10400 DK - $9700
Opponent - DEN
Proj Pts FD - 53.13 DK - 53.24
Kawhi's putting up some high-volume shooting games, taking 20 or more shots in three of his last four games. He's scored 29 or more points in three of those last four and double-doubled in three of his last five (missing double-doubles in all five by 1 and 2 rebounds respectively). Dude is just crushing it in the short term and getting more confident with his three-point shot, taking 27 threes in his last four games. The price is simply too low on DraftKings where he makes for an easy cash play even in a tougher matchup against the Nuggets. It's a little closer on FanDuel, but the position isn't all that deep.
Cedi Osman FD - $5000 DK - $4700
Opponent - BKN
Proj Pts FD - 24.06 DK - 24.91
The key piece of Osman's value as a cash game play is the Cavs' intent on playing him major minutes. He's played 34 or more in each of the last three games, averaging 11 points and six assists in that stretch. Those aren't overwhelming numbers, but he's also only shot 31% from the field and 21% from three in that stretch. Those numbers are well below his career averages, and while he's never going to be a prolific scorer, we can expect some positive regression in his shooting efficiency. The run bad from the field has served to keep the price in check and he draws a good matchup against the Nets on Monday. With the high minutes' floor, I'm fine running him out there in cash games. Rodney Hood is right there with Osman in terms of minutes. The former played 42 against the Raptors on Saturday but dude needs every single second of run to hit value. He doesn't do all that much except score and that can be somewhat problematic from a cash game perspective.
I think Kevin Durant is a little overpriced from his torrid streak when Curry was on the bench. With the latter back, Durant takes a usage hit even though the price hasn't come down at all.
Nikola Mirotic is moderately interesting though the minutes haven't been there in bunches for him in the short term.
Power Forward

Anthony Davis FD - $12700 DK - $11500
Opponent - LAC
Proj Pts FD - 62.41 DK - 61.29
It's going to be tough deciding among the big money plays on this slate. On the one hand, I like the matchups for Westbrook and Curry much more, but the positional scarcity (especially on FanDuel) does come out with me favoring Davis some. The Clippers are an above-average defense, but Davis should be able to take advantage of their lack of traditional bigs on defense. Brow's been up to his usual in the short term, averaging 33 points, 15 rebounds, five assists and three blocks over his last four games. It comes with (and because of) heavy minutes in close games. Expect more of the same from the Pelicans' superstar and you could see him as something of a chalk play on FanDuel even at these crazy prices.
Noah Vonleh FD - $5500 DK - $5300
Opponent - WAS
Proj Pts FD - 29.65 DK - 31.03
After two rough games because of foul trouble/ blowouts, Vonleh returned to a 35 minute game on Saturday in an overtime upset of the Bucks. Vonleh was perfect from the field (6-6, 3-3 from three) on his way to 15 points and six assists. This is about the basement level production for him on 35 minutes. He'll get a much more advantageous matchup against the Wizards on Monday who are running super small lineups in the short term since losing Dwight Howard. Vonleh's price hasn't moved much in the short term because of the minutes' concerns (which are always going to be there when playing for the Knicks).
Consider Serge Ibaka who matches up well with this Nuggets' frontcourt. The same can be said for Pascal Siakam but he's coming just a little more expensive.
Center
Enes Kanter FD - $7400 DK - $6600
Opponent - WAS
Proj Pts FD - 41.25 DK - 43.7
He was marginalized against the Bucks on Saturday mostly because he's not versatile enough on the defensive end to handle a team that will run a guy like Giannis out there for long stretches at the five. He'll encounter nothing like that issue on Monday against the Wizards. If anything, he should feast against a team with Thomas Bryant as their starting center and a whole host of issues defending the post. Kanter, when given the requisite minutes, is about a big an upside play as there is in the NBA and is only two games removed from four straight double-doubles. I love the DraftKings price and see him close to something like a lock there in cash games. On FanDuel, it's a bit closer but he strikes me as having a high floor in this matchup.
Tristan Thompson FD - $6700 DK - $6500
Opponent - BKN
Proj Pts FD - 33.74 DK - 35.17
Centers against the Nets. Centers against the Nets. Centers against the Nets. Do I need to keep saying it? This has been one of those almost auto-lock situations all season and Thompson stands to benefit from the matchup on Monday. The Nets have allowed roughly 18% more scoring and 22% more rebounding to the position this season and that's even with playing it very conservative with DVP numbers. Thompson has been playing major minutes in the short term, averaging more than 36 over his last five games. In that span, he's averaging 13 points and 13 rebounds. Sure, the Cavs stink but the Nets are no great shakes and Thompson should be in line for more run on major minutes in the best matchup you can get in DFS at this point.
GRAB A FREE TRIAL OF OUR PROJECTION SYSTEM, AND CHECK OUT DFSR PRO!
FREE EBOOK
SECRETS TO CRUSHING DAILY FANTASY FOOTBALL!
DON'T SET ANOTHER LINEUP BEFORE YOU READ THIS BOOK.