Basketball Picks Daily Fantasy
Expert Advice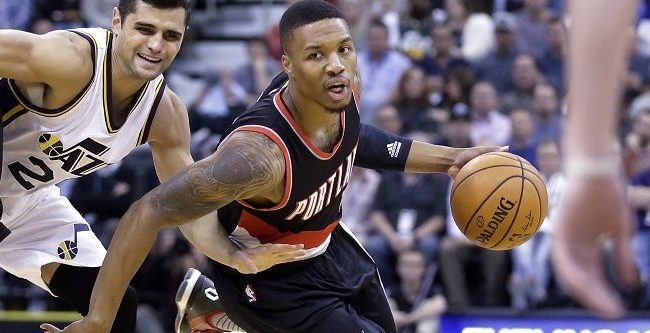 Daily Fantasy NBA Basketball Picks for FanDuel and DraftKings - 12/4/18
On paper, this isn't the most enthralling slate of NBA action. We have some of the league's worst teams (Chicago, Phoenix) with some possible plodding games (Jazz - Spurs for example). But that doesn't mean we can't find some DFS value here. Let's break down some of the considerations for a five-game slate on FanDuel and DraftKings.
Now's your chance to get DFSR PRO, which will give you access to our NBA optimizer and our new player lab! Get started for free by clicking the button below.
First time with NBA? Be sure to read our free NBA Ebooks on building lineups, general strategy and more. We've got you completely covered.
Point Guard

Damian Lillard FD - $9900 DK - $9800
Opponent - DAL
Proj Pts FD - 45.23 DK - 47
It's crazy how eerily similar Dame's numbers are this season compared to his previous two. He just does, literally, the same thing every single season. It's outstanding. He's maintained such a high level of play, averaging 27 points, six assists, and five rebounds while running major minutes in the short term. He's played 40 or more in three of their last four games. Dallas doesn't offer a fantastic DFS matchup considering they are a top-third defensive team and don't play at all that fast a pace. But there are few ways to really spend up on this smaller Tuesday slate of games, meaning we might need to make some concessions in the upper pricing tier. Lillard is the most expensive player on FanDuel and it will be very easy to fit him into lineups just chasing the raw points.
Elie Okobo FD - $4700 DK - $4400
Opponent - SAC
Proj Pts FD - 25.92 DK - 26.76
The Suns are without Devin Booker and TJ Warren, leaving them without their two leading scorers and dudes who were combining for close to 33 shots. Phoenix is headed deep into the tank early in the season and for the short term it should open up plenty of usage and minutes for their auxiliary players. Of course, they are also heavy favorites to just get completely blown out every single night as well. Okobo will likely draw the start at point guard and should be in line for heavy minutes. He's already played 32, 29 and 30 over the last three off the bench, averaging 10 points, three rebounds and two assists. The prices are still well cheap enough to play him in the lower tier under the assumption that he could be in line for at least mid-30's minutes in this game.
Darren Collison and Cory Joseph could be in line for big minutes once again if the game stays close in Chicago. I'm not in love with either at their respective price points, but do draw a great matchup here against the Bulls.
Shooting Guard

Buddy Hield FD - $6000 DK - $6000
Opponent - PHO
Proj Pts FD - 32.18 DK - 33.69


Bogdan Bogdanovic FD - $6600 DK - $5800
Opponent - PHO
Proj Pts FD - 30.95 DK - 32.33
The Kings draw the best matchup of the night against a Suns' team that's basically out in the cold when it comes to actually NBA talent left on their roster. They are looking particularly thin in the backcourt and could really struggle to handle the Kings' scorers. The Suns were already playing the second-worst defense in the league and it's set to only get worse from here. Hield's really starting to put it together in his third season. He's shooting 41% from three, and turning into more of an all-around scorer, putting up 18 points per game while also getting on the boards with six rebounds per. The price is up some, but I'm fine running him in cash considering the matchup.
Meanwhile, Bogdanovic is coming off the bench still, but the Kings seem intent on getting him to around 30 minutes per night. He's leading the second unit scoring charge with 12.5 shot attempts per game (a dramatic year-over-year increase) and getting up almost six three-point attempts per game. I'm a little less enamored with his price compared to Hield, but do like the idea of pairing them together in cash games on FanDuel.
There's also a case to play Iman Shumpert coming very cheap on both sites.

C.J. McCollum FD - $7100 DK - $7100
Opponent - DAL
Proj Pts FD - 34.16 DK - 35.27
At this point, we basically know what to expect from McCollum. He's going to push high-30's minutes in close games and needs to score at a high volume in order to hit fantasy value. He derives 72.7% of his fantasy scoring from putting the ball in the basket. That's the third highest ratio among players who've scored more than 500 fantasy points so far this year behind only J.J. Redick and Klay Thompson. It means when the shot is falling, we are in good shape. But if it isn't, then heads up. But that kind of fantasy profile is also what keeps McCollum's price relatively in check and I think pairing him with Dame will make a lot of sense in cash games on Tuesday.
Small Forward

Tyreke Evans FD - $5300 DK - $5200
Opponent - CHI
Proj Pts FD - 28.25 DK - 28.44

Bojan Bogdanovic FD - $5200 DK - $5600
Opponent - CHI
Proj Pts FD - 27.06 DK - 28.35
We've got something of a theme going with pairing teammates at various positions. On such a short slate, there's a lot to like still about the Pacers even though they've seen moderate price upticks without Victor Oladipo on the court. With Dipo out for the foreseeable future, we should continue to see rather steady rotations out of the core group of guys left. They'd played so many blowouts that it was tough to figure what they'd do in close games, but we got it last time out against the Kings. Evans played 29 minutes, took the second-most shots on the team (12) and finished with 12 points, four rebounds and two assists. In the Indy scheme, it doesn't look like he's going to pile on fantasy points with the starters, but I do think there's still a bit of room for upside in a close game here.
Meanwhile, Bogdanovic led the team in shots (19) and finished with 27 points. He's very scoring dependent in order to hit fantasy value and you really need the three-ball falling. But he also has about as safe minutes on the Pacers as you'll find. I suspect he's a popular play on both sites because of the high floor on playing time. But you are really going to need the shot to fall.

Mikal Bridges FD - $4300 DK - $3800
Opponent - SAC
Proj Pts FD - 24.6 DK - 24.16
Bridges is another candidate to more minutes and usage with Booker and Warren off the court. He played 31 minutes in the blowout loss to the Lakers and should see similar run against the Kings. Bridges put up eight shots and will continue to start at the wing for the Suns. He's more of a punt play at these prices with you banking on just increased volume all around because of the Phoenix injury issues. He's not a dynamic fantasy scorer, but it's hard to imagine him killing you at these prices.
Consider Harrison Barnes against the Blazers.
Power Forward

Josh Jackson FD - $5600 DK - $5300
Opponent - SAC
Proj Pts FD - 30.19 DK - 30.16
And the focus on the Suns continues. When Booker went down last game, Jackson ended up leading the team in shot attempts (13, tied with Ariza) and finished with 13 points, six rebounds, three assists, and some blocks and steals. Jackson sees a rather significant usage bump with Booker and Warren off the court (roughly 8% if we are being conservative) and his minutes are overwhelming secure now that the Suns are without two of their wings/ ball handlers. More of the offense will run through Jackson, bad for the Suns' prospects as a team but great for fantasy upside. Even with the price increases, I think he's a popular cash game play on Tuesday.

Aaron Gordon FD - $7400 DK - $6900
Opponent - MIA
Proj Pts FD - 33.31 DK - 33.56
Oof, look I really don't relish the task of writing him up for this slate, but it's more about the lack of options at the position than anything else. You have Bagley possibly not playing, LaMarcus Aldridge in a terrible matchup against the Jazz, Thaddeus Young with minutes' concerns, and really the list only get worse from there. Gordon has ceded scoring to Vuce this season but is still averaging 16 points and seven rebounds. He isn't getting to the line as much and the offense isn't running through him like in the past. But in terms of raw points at a weak position I suppose we could do worse. It's not exactly a rousing endorsement, but again, this position is terrible.
If Marvin Bagley plays, I think he'd make for a FanDuel play at a very weak position. They've played him enough off of the bench to put him into the cash game options because of the opponent. He's currently questionable with a back issue that kept him out last game.
Center

Nikola Vucevic FD - $9700 DK - $9000
Opponent - MIA
Proj Pts FD - 43.55 DK - 45.21
As I mentioned with Damian Lillard, there just really aren't many ways to spend up on a slate with plenty of cheaper and middle tier value. That means likely just paying up for the second-highest overall projection on the slate as well. There won't be much issue making the salaries work. Vuce is having a career year, putting up personal bests in points (21 per game), rebounds (11.3) and even assists (3.8). He's getting to the line a bit more, but also just getting better looks overall and has increased his FG% to 55% (48% last season) while taking more shots per minute. Miami's been about league average against centers this season and while Whiteside can offer some resistance, it's not enough to just pay up for Vuce here and call it a day in cash games.

Myles Turner FD - $7100 DK - $6100
Opponent - CHI
Proj Pts FD - 35.97 DK - 33.8
Turner is more of a tournament play considering some of the inconsistency in his fantasy production game-to-game, but he does have a lot of upside when it all comes together. He's double-doubled in two of his last three games and the Bulls have been remarkably bad against centers this season. They are allowing roughly 7% more scoring and 10% more rebounding than league average to the position. Turner should see around 30 minutes in a close game and won't face much on the defensive end from the Bulls' frontcourt.
If Bagley is out again, we could see more minutes out of
GRAB A FREE TRIAL OF OUR PROJECTION SYSTEM, AND CHECK OUT DFSR PRO!
FREE EBOOK
SECRETS TO CRUSHING DAILY FANTASY FOOTBALL!
DON'T SET ANOTHER LINEUP BEFORE YOU READ THIS BOOK.