featured Daily Fantasy
Expert Advice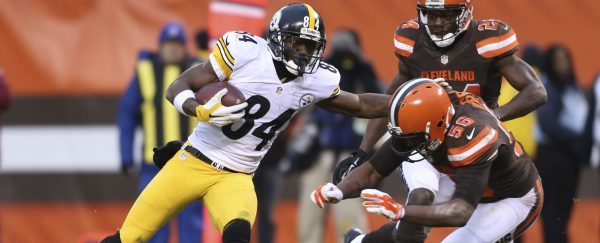 Daily Fantasy Football Cash Game Picks for FanDuel and DraftKings Week 14
Welcome to week 14! This week it's not a question of if we can find any cheap plays, it's which ones to prioritize. We have a full stable of guys with more opportunity than usual thanks to injuries to big names like Melvin Gordon, James Conner, Emmanuel Sanders, and Desean Jackson - but what do we actually buy with our savings? Let's get to it.
Now's your chance to get DFSR PRO, which will give you access to our NFL optimizer for FanDuel and DraftKings, our MLB Optimizer, and our NFL Player Lab! Get started for free by clicking the button below.
First time with NFL? Be sure to read our free MLB and NFL Ebooks on building lineups, general strategy and more. We've got you completely covered.
Quarterback
Ben Roethlisberger FD 8600 DK 6800
Opponent OAK
Proj Points FD - 24.38 DK - 24.2
There are a lot of good quarterbacks in great match-ups this week, and it's going to be tough to pick between them. Last week we recommended paying up for Patrick Mahomes in this match-up, and it paid off handsomely. This week? Our system is leaning toward Big Ben. The Raiders have redefined what it means to be a bad passing defense this season. The 8.7 yards per attempt they've allowed is dead last in the NFL, and to put that number into context, Tom Brady has never had a single season where he was that effective through the air. Peyton Manning only had one. No quarterback in history has averaged throwing for that many yards per attempt for their career. You get the picture: the Raiders are bad against the pass. The Steelers, meanwhile, have been moving more in the direction of the pass. They've played a lot of weird game scripts recently, but on the season Roethlisberger still has a median passing attempts of 45.5. With Conner struggling on the ground, it's hard to imagine Ben not going off here once again. I'm happy to play him in all formats.

Jameis Winston FD 7700 DK 6200
Opponent NO
Proj Points FD - 20.83 DK - 21.25
2/3 of all cash game players played Winston on FanDuel last week, and they weren't disappointed. Winston put up a very efficient 20/30 for 249 yards and 2 touchdowns last week, and chipped in 48 yards on the ground as well. He had 18 fantasy points at half time, and there was room for a lot more there. This week he'll be in arguably a better match-up against New Orleans. He didn't get the start in the Bucs first game against the Saints, but Ryan Fitzpatrick dropped 417 yards and 4 touchdowns on them in just 28 attempts. The price on Winston has barely moved, and the Saints are just .3 yards per attempt better than Oakland this season. You'll see huge cash game ownership on Jameis once again here in a game with by far the highest total on the slate.

Carson Wentz FD 7300 DK 5400
Opponent DAL
Proj Points FD - 20.48 DK - 21.3
So to get this out of the way - you're probably not playing Wentz on FanDuel given the other options. But on DraftKings? He's awfully cheap. He had a terrible two game stretch against the Saints and Giants, but unless you think something has fundamentally changed about him you had to love the bounceback game against the Redskins on Monday Night. He was efficient, and looked to be very much on the same page as Tate and Ertz. Dallas is a league average match-up on paper, but Ertz carved them up for 360 yards and two touchdowns in their last meeting. And again, it's a price thing. Wentz easily has the chance to outscore Jameis here, but with significant savings on top. I'm not sure you'll need the savings this week, but if you do, Wentz is a guy you can consider.
Also considered: Aaron Rodgers? He's no longer priced like a top tier quarterback, but he probably still has the talent of one, right? With McCarthy finally out of the picture, many speculate that we could see Rodgers unleashed to his full potential. It's hard to trust in the first week of a new scheme, but the upside against a lousy Falcons defense is significant. I'll be watching this one.
Running Back

Ezekiel Elliott FD 8800 DK 8600
Opponent PHI
Proj Points FD - 22.01 DK - 24.28
After another big workload game in Week 13 (23 carries, 6 targets), Elliott is now the league-leader in usage per game with 25.67 carries + targets, a full touch per game more than Todd Gurley. He and Gurley are basically sitting in their own elite volume running back tier and the latter isn't on the main slate of games. That leaves Elliott as a clear cash game play against Philadelphia. Dallas is -4 home favorites against an Eagles' team ranked 20th in DVOA against the rush. Elliott's price doesn't leave much to hem and/or haw about seeing as how you are getting him below $9K on both sites. Considering how the Cowboys now use him actively in the passing game, he makes for a high-floor, game script independent cash game running back.
Spencer Ware FD 6400 DK 5200
Opponent BAL
Proj Points FD - 16.27 DK - 17.23
Filling in for the recently-released Kareem Hunt, Ware was overwhelming chalk in Week 13 (87% on DraftKings, 91% on FanDuel in cash games) and underperformed on lofty expectations. In 49 offensive snaps (69% of the plays) he carried the ball 14 times and saw one target in the passing game. Considering the matchup against a terrible Raiders' team, this wasn't exactly what many expected. And things don't get easier in Week 14 against the Ravens who own a top-5 defense this season. But it sure seems like the plan in KC is to give Ware the majority of the running back touches. That being said, proceed with some caution here considering Damien Williams did touch the ball seven times and was moderately effective.
Jeffery Wilson FD 5600 DK 3800
Opponent DEN
Proj Points FD - 13.05 DK - 14.55
Wilson made his first appearance in an NFL game in Week 12, rushing the ball seven times for 33 yards. So figure yourself if you never really heard of the guy going into Week 13 when he finished the game with a
team-highs in carries (15) and targets (9). He ended up with 134 total yards from scrimmage in a breakout performance against the Broncos. It came out that Matt Breida was hurt in pregame warmups, leading to Wilson's outsized usage and the former has already been ruled out for Week 14. It stands to reason Wilson once again sees a majority of the running back snaps even if Alfred Morris comes back into the fold. The most encouraging sign for Wilson is, of course, the work in the passing game considering the 49ers open this game as four-point home underdogs. He's an easy DraftKings cash game play with the receiving potential and a fine enough FanDuel play with the price firmly in the lower tier.
Austin Ekeler FD 6700 DK 6200
Opponent CIN
Proj Points FD - 17.51 DK - 18.77
Had Ekeler been on the main slate of games, he also would have likely been a popular cash game play getting the start for Melvin Gordon. Like Ware, Ekeler saw a majority of the snaps (49-14 over Justin Jackson), but also like Ware was incredibly inefficient. Ekeler turned his 13 carries and eight targets into only 43 total yards while Jackson put up 82 total yards on only nine touches. The latter's efficiency could spell more of a timeshare for Ekeler which would be a problem at these price points. But again, like Ware, I do believe the plan is to play Ekeler a similar amount of snaps. Cincinnati is among the worst defenses in the league, ranking 28th overall and against the run. The Chargers are massive -14 home favorites and could run downhill against a completely compromised Bengals' team. I'm going back to the well on Ekeler unless we get definitive news that the team's plan is to RBBC.
Finally, consider rostering either Jaylen Samuels or Stevan Ridley who'll spell James Conner. Though they'll enter the game splitting carries (Samuels named official starter) it could happen that one just ends up with lions share.
Wide Receiver
Antonio Brown FD 8800 DK 9000
Opponent OAK
Proj Points FD - 18.78 DK - 21.9
While you were off chasing the latest shiny object at wide receiver, Brown was just chugging along and doing his thing. He's now a single target behind Thielen for the league lead, and while there have been conversion issues at times, those haven't been present in the last two weeks. He's caught 19 of the last 26 balls thrown his way, and if you watched the Denver game you'll know that the picks that were "targeted" toward him were certainly not his fault. Brown draws the best match-up in the league for an opposing wide receiver one, and a year ago you'd have had to pay $700 more for him in this spot. It can't hurt that Conner is out of the picture as well. He's a premier pay-up option this week, especially with cheap options at running back.

Keenan Allen FD 7900 DK 7400
Opponent CIN
Proj Points FD - 17.36 DK - 20.06
So, 19 targets? What did I just watch? Well, I watched the Steelers try to cover Allen out of the slot with a linebacker to disastrous results. While I can't imagine that the plan is to give Allen the ball 19 times a game in a normal game script, we now have a nice little 5 game run for Allen. In the four games before this breakout week he had garnered 38 targets, so it's not like this came out of nowhere. It seems like Melvin Gordon's absence has shifted a decent amount of the short yardage toward Allen, and we still haven't seen the prices account for it. He'll be covered by Darqueze Dennard this week, who has been in the conversation as the lowest ranked slot CB by Pro Football Focus all season. Given that we know the Chargers are happy to abuse a great match-up, they could very well do so again here.

Chris Godwin FD 5600 DK 4900
Opponent NO
Proj Points FD - 11.63 DK - 13.31
Godwin was a chalk play on the heels of Desean Jackson being ruled out, and he'll likely be in the same spot this week if Jackson were to miss again. Right now Jackson is listed as questionable, so you'll need to monitor the situation closely. Given that he wasn't catching balls at Wednesday's practice, and there are murmurs of him being shut down, it's looking like a fair bet. If Godwin starts again he might be a must play against a bad New Orleans passing defense. Hell, you might be able to consider him even if Jackson plays, though he'd be a lot more speculative at that point. Still, cheap wide receivers are a big commodity right now and Godwin has to be concerned the cream of that particular crop.
Courtland Sutton FD 5600 DK 4500
Opponent SF
Proj Points FD - 15.64 DK - 18.45
With Emmanuel Sanders shut down, Denver is left without many available targets. Scratch that - they are left without any available targets. Case Keenum attempted just 21 passes last week, and 7 of them went Sutton's way. 6 of them went to Sanders. 3 went to running backs. The Broncos are officially out of plans for the passing game. Sutton is still very cheap, and was arguably a value if Sanders were to play. The Broncos got up early last week and never really had to do much through the air. Vegas likes Denver as 4 point favorites here, and while it sounds like they'll have plenty of opportunity to run, I would guess they'll have to lean on the pass just a little more. I really like how lineups start to look if you can pair Sutton and Godwin this week.

Kenny Golladay FD 7200 DK 6400
Opponent ARI
Proj Points FD - 15.18 DK - 18.21


Bruce Ellington FD 4900 DK 3800
Opponent ARI
Proj Points FD - 8.32 DK - 10.53
Another rough week for Golladay, and another one where he was outperformed by Bruce Ellington. So what's to like? Well, the Lions were in back to back games where they really couldn't get anything going offensively. The Bears robust defense shut them down, and the Rams' solid defensive line was in the backfield too much to give Stafford much time to do anything. It's been a common theme for the Lions and their terrible offensive line. In games where they are over-matched Stafford tends to favor the short pass, and in games where he has a little more time he tries more aggressive throws. This week they'll go up against the Cardinals, who surprisingly are tied for third in the league in terms of sacks. Past performance doesn't always mean future results, but I think picking one of Golladay or Ellington based on how you think this game will go for big tournaments could be an interesting strategy.
I'm not giving up on Tyreek Hill, even after a very bad week. He was a couple of close plays away from going for 120 yards and two touchdowns, and Kelce was just so open that the Chiefs didn't need to use him. We just saw the Ravens shut down Julio Jones, so Hill isn't a slam dunk against them, but I wouldn't be surprised if he still showed up in our cash game lineups at a reduced price.
Tight End
I can't believe I'm about to say this, but I actually don't completely and utterly hate tight end this week. At this point in the season, we've essentially established an upper/elite tier of players at the position and with so much potential value at running back and wide receiver, it could make sense to pay up at tight end.

Travis Kelce FD 8000 DK 6700
Opponent BAL
Proj Points FD - 15.65 DK - 18.42
Over the last three weeks, Kelce leads all tight ends in targets (28) despite only playing two games (bye in Week 12). You read that correctly, he's a whole game behind most of the rest of the group and still had four more total targets than the next closest guy (Jordan Reed). In those two games, he totaled a whopping 22/295/3 line. With the Chiefs once again without Sammy Watkins, expect maintained target share for Kelce along with a very high fantasy floor. You have to pay for it, but on DraftKings Kelce finds himself in the same price range as wide outs like Amari Cooper. I'm not sure it gets there on FanDuel, but it might just be a week to pay up over on DK.

Eric Ebron FD 6400 DK 5700
Opponent HOU
Proj Points FD - 13.67 DK - 16.71
With Jack Doyle out for Week 13 (and for the rest of the season), Ebron totaled 16 targets and a 10/81 line for the Colts in their surprise loss to the Jaguars. Ebron ranks fourth overall in tight end targets this season despite splitting time (and often ceding many, many snaps) with Jack Doyle on the field. Ebron played 76% of the Colts' offensive snaps in Week 13 and should once again be among the tight end target leaders in Week 14. It's a great matchup with Houston, who ranks 29th in DVOA against the position this season. The target share, matchup and mid-tier pricing still put Ebron in play here.

George Kittle FD 6600 DK 5500
Opponent DEN
Proj Points FD - 13.86 DK - 16.7
Over the last three weeks, with Nick Mullens under center Kittle has seen targets of 10, 9 and 13. He's only turned that into 201 yards with no touchdowns. The 49ers don't have a robust offense, so we can't assume the lack of touchdowns are Kittle running bad, but his target share is third best at the position over that time span. If anything, the lack of touchdowns is at least keeping his price in check. He draws a worse matchup than Ebron with Denver ranking 12th in DVOA against the tight end position. It's clear Kittle has become Mullens' preferred outlet and possession receiver and should, once again, push toward double digits in this matchup if San Francisco is playing from behind.
This week in defense
This week is shaping up to be a tricky one as far as picking defenses is concerned. On FanDuel, I have to say I'm partial to grabbing either the Buffalo Bills against the Jets or the New England Patriots against the Dolphins. It doesn't look like you're really getting a whole lot by going down the mediocre defenses in bad match-ups, and with so many great ways to pay down this week at both running back AND wide receiver I think you can probably afford to treat yourself a little bit. The Jets have the lowest implied total of the week, and Miami is in the bottom 5 - so both of these look like excellent spots.
On DraftKings, I love the Pittsburgh Steelers against the Raiders. The price looks right to me, and the Raiders can be very turnover prone.
Our system also is considering going back to the well with the Green Bay Packers. The Falcons have a surprisingly low implied total of 20.75, given that they have scored the 13th most points of any team in the NFL this season. I guess it's a weather thing? It's supposed to be cold in Green Bay this weekend, but I don't see any wind or precipitation concerns. Still, if you buy that line for the Falcons, Green Bay looks like a solid inexpensive option.
Now's your chance to get DFSR PRO, which will give you access to our NFL optimizer for FanDuel and DraftKings, our NBA Optimizer, and our new Player Lab! Get started for free by clicking the button below.
First time with NFL? Be sure to read our free MLB and NFL Ebooks on building lineups, general strategy and more. We've got you completely covered.
FREE EBOOK
SECRETS TO CRUSHING DAILY FANTASY FOOTBALL!
DON'T SET ANOTHER LINEUP BEFORE YOU READ THIS BOOK.