Basketball Picks Daily Fantasy
Expert Advice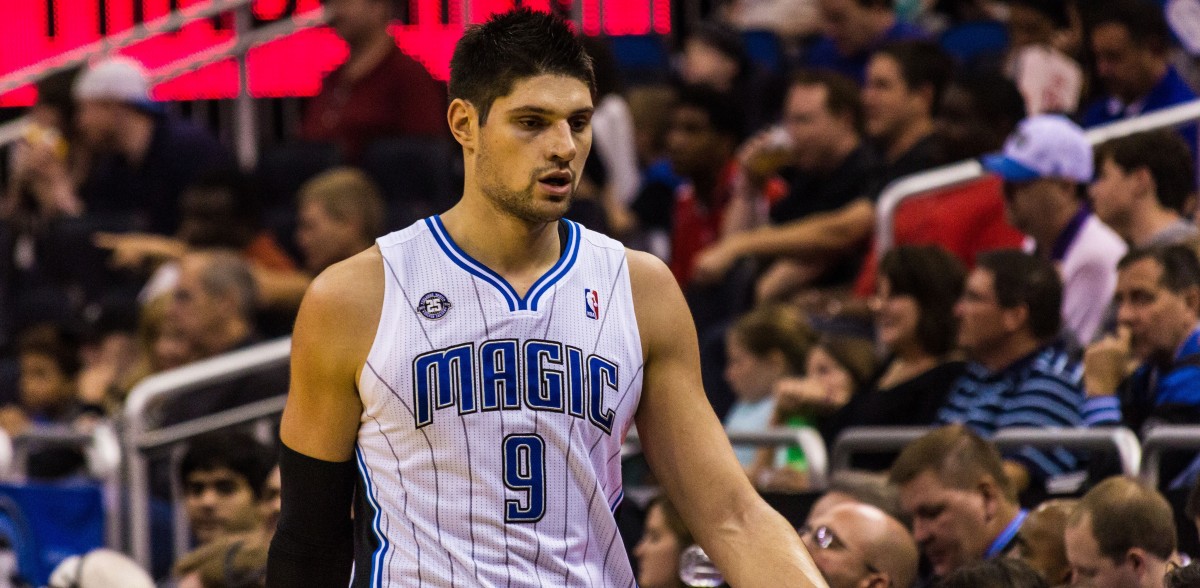 Daily Fantasy NBA Basketball Picks for FanDuel and DraftKings - 12/13/18
Another tiny four game Thursday slate, but another one where we're actually blessed with some DFS relevant plays. As always, for smaller slates we have the luxury of looking at things on a game by game basis, so let's get to it.
Now's your chance to get DFSR PRO, which will give you access to our NBA optimizer and our new player lab! Get started for free by clicking the button below.
First time with NBA? Be sure to read our free NBA Ebooks on building lineups, general strategy and more. We've got you completely covered.
Los Angeles Lakers at the Houston Rockets
The Rockets are favored by 5.5 in a game with a 222.5 total
We start with a game with a reasonable total and a medium spread - not a bad place to begin on a small slate if you've seen what we've been saddled with in the last week or two.
The big piece of news for this game, such as it is, is that James Ennis has already been ruled out for the next week or two. Ennis doesn't necessarily open up a world of opportunity, but redistributing 25 minutes a game is still meaningful. The Rockets have some DFS relevant options that could see extra minutes as well.
Gerald Green FD - $3500 DK - $3700
Opponent - LAL
Proj Pts FD - 23 DK - 24.26

P.J. Tucker FD - $4400 DK - $3800
Opponent - LAL
Proj Pts FD - 23.53 DK - 23.49
Two guys with two very different player profiles. PJ Tucker is fairly likely to inherit a few extra minutes, but he's just the last guy in the pecking order almost regardless of who the Rockets are running out there. Still, he's cheap and could play high 30s minutes. Green is sort of the opposite. He's a high volume player that could be in line for 25+ minutes off the bench, effectively being the top option in the second unit. He's also seriously cheap, and it's hard to imagine people not dreaming on the upside on FanDuel where you can just drop him if it doesn't work out.
Eric Gordon FD - $5100 DK - $4800
Opponent - LAL
Proj Pts FD - 25.18 DK - 26.48
Eric Gordon has been starting, but it hasn't always mattered, even on these reduced prices. Still, he's just cheap and you might have to grin and bear it. Just know that our system doesn't see him as an auto-lock or anything.
Let's peek at the Lakers.
The Lakeshow actually bring a full compliment of great DFS value today. Lonzo Ball has come into his own in the last week. The plan is for him to play 37+ minutes in close games, and in those games he's paid 5x points per dollar on these prices. LeBron James looks like the premier big money option as compared to James Harden. He's also playing 37+ minutes recently, and he's scored 66, 61, and 58 fantasy points in the last three games where that was the case. He'll probably draw PJ Tucker here, and Houston has played the third slowest pace in the NBA, but on a slate that has good value options and precious few payoffs LeBron is likely the guy.
Our lineup optimizer also thinks Josh Hart is an excellent high floor option at shooting guard, assuming he plays 34-35 minutes again. Kyle Kuzma is getting expensive but a tolerable option at power forward as well.
The Los Angeles Clippers at the San Antonio Spurs
The Spurs are favored by -2 points in a game with a 224 total.
Another tight spread and reasonable total, though not as many players I can get too excited about. There are a few value options though.

Bryn Forbes FD - $3500 DK - $4300
Opponent - LAC
Proj Pts FD - 19.75 DK - 20.81
Forbes is what we like to call an "irresponsible minimum" guy. He's playing 31-32 minutes a game, and has paid 7x and 12x in his last two games. On a short slate like this you just play the guy and you don't ask questions, particularly on FanDuel.
Rudy Gay FD - $6400 DK - $6200
Opponent - LAC
Proj Pts FD - 33.67 DK - 33.9
This one might feel a little riskier if you look at the game log, but they've played an incredibly bizarre set of games recently. They've been on both sides of insane blowouts, losing by 39 to Minnesota, and beating Phoenix by 25. In close games, though? Gay seems on track for 35 minutes. He's scored 45 and 47 in the last two games he topped 30 minutes, and I love him here against a weak Clippers perimeter defense.
I'm also content grabbing DeMar DeRozan given the amount of great value options today.
I'm not seeing much value on the Clippers side right now. Shai and Harrell are playable, but not exciting.
Chicago Bulls at the Orlando Magic
The Magic are favored by 4.5 in a game with a 209.5 total.
Two teams with legitimately no idea what is going on on a night to night basis. But it's a small slate, so we ought to at least try to find a diamond in the rough somewhere.
Also of note - this game is in Mexico City, which has an incredibly high altitude. Orlando also shouldn't get any home court "bump" here.

Nikola Vucevic FD - $8800 DK - $8900
Opponent - CHI
Proj Pts FD - 48.1 DK - 49.65
A premier center option at an otherwise rough position today. Vuc's price has come down slightly thanks to the Magic getting blown out in back to back games, but the plan seems to be to run Vuc for 35+ minutes in reasonably close games. Both of these teams are threats to get blown out in any given game, but hey! They are playing each other. Much has been made about Brooklyn's awful front court defense this season, but Chicago now trails them by just two fantasy points allowed per game this season. He's an easy cash game call for me.
Evan Fournier's likely return means we won't likely be considering the rest of the Magicians here.
Our system sees a lot of value on the Chicago side on DraftKings, with all of the starters except Lauri Markkanen showing up as 5x+ points per dollar plays. The plan still seems to be to play Justin Holiday 35+ minutes, and he had been pouring in a steady 5x-7x points per dollar before a brutal blowout in Boston. I think he gets back on track here, and he's an easy cash game inclusion.
Right now Kris Dunn is scheduled to play off the bench, and only played 20 minutes in his first game back. The long term plan is to get him back into the starting lineup, but it will still be Ryan Arcidiacono in the short term. I'm not sure if you want to read the team leaves and guess when RA goes back to low 20s minutes.
The Dallas Mavericks at the Phoenix Suns
The Mavericks are favored by 7 in a game with a 225 total.
So the big question here surrounds Trevor Ariza. Kokoskov claimed that Ariza sat on Tuesday because it was the second half of a back to back, but given that Ariza doesn't normally sit on back to backs, it looked a little suspicious. There are reportedly 10+ teams interested in trading for Ariza, and with the Suns playing for lottery balls, they don't have a strong incentive to run him out there.
If he sits, we should see a return to value for TJ Warren. Troy Daniels was also playing 31 minutes a game when Warren was hurt, and it's conceivable that he could grab some of the Ariza minutes as well. Daniels also left Tuesday's game and didn't return, so you'll need to keep an eye on his status as well.

De'Anthony Melton FD - $6000 DK - $4900
Opponent - DAL
Proj Pts FD - 31.59 DK - 31.6


Josh Jackson FD - $5500 DK - $5200
Opponent - DAL
Proj Pts FD - 29.56 DK - 29.58
Two very solid cash game options. Phoenix won't usually be "just" 7 points underdogs, and you can probably pencil them in for their full run of minutes. Both have been steady sources of 5x points per dollar when Phoenix manages to keep games close, and should be solid in a league average match-up with the Mavericks.
On the Dallas side, Luka Doncic is coming off a night where he was a 48% start on a huge slate in a worse match-up. He rates to be chalk once again. Wesley Matthews left Wednesday's game, and you'll want to monitor his status as game time approaches. Jalen Brunson is a reasonable punt play, though he's very dependent on running hot from the field from deep.
Harrison Barnes is a reasonable cash game option at a fine price point in a great match-up. He shouldn't kill you, and SF is kind of a nightmare.

DeAndre Jordan FD - $7200 DK - $7000
Opponent - PHO
Proj Pts FD - 38.29 DK - 39.57
Is Jordan finally too cheap? I'm guessing a lot of people will think so. Phoenix and Deandre Ayton aren't quite on Chicago/Brooklyn levels of terrible defense against centers, but they have been the third most generous team to opposing fives this season. The hardest decision of the night has to be deciding between DJ and Vuc.
In other news, Dirk is set to make his debut for the Mavs tonight. It's not totally clear how much that matters for DFS purposes. You'd expect a minutes cap for sure, and I don't know that he's eating into the minutes of anyone who is actually DFS relevant.
GRAB A FREE TRIAL OF OUR PROJECTION SYSTEM, AND CHECK OUT DFSR PRO!
image sources
Nikola_Vucevic_Dec_2013: By Mike (Flickr: (2013-12-21) Kings at Magic 30) [CC BY-SA 2.0 (http://creativecommons.org/licenses/by-sa/2.0)], via Wikimedia Commons
FREE EBOOK
SECRETS TO CRUSHING DAILY FANTASY FOOTBALL!
DON'T SET ANOTHER LINEUP BEFORE YOU READ THIS BOOK.