Basketball Picks Daily Fantasy
Expert Advice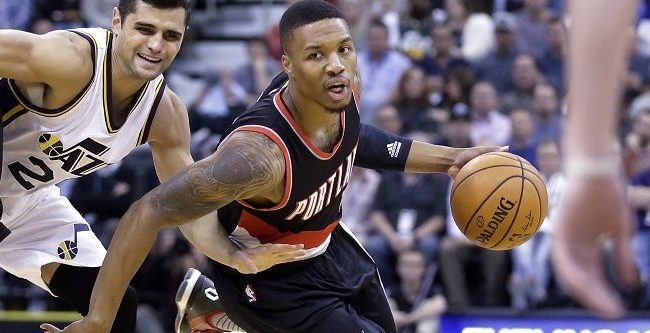 Daily Fantasy NBA Basketball Picks for FanDuel and DraftKings - New Year's Day Edition!
Happy New Year's Day, my friends! While you were out partying and being a normal person, we were here fine tuning our projections for a rather weird looking Tuesday slate of basketball. Like I've been doing recently, I'm going to break this one down on a game by game basis because so many of the plays are dependent on news that we're waiting for as the day goes along.
Now's your chance to get DFSR PRO, which will give you access to our NBA optimizer and our new player lab! Get started for free by clicking the button below.
First time with NBA? Be sure to read our free NBA Ebooks on building lineups, general strategy and more. We've got you completely covered.
Utah Jazz at the Toronto Raptors

The Raptors are favored by 3 in a game with a 212.5 total.
Alright, we'll get started with the most boring game on the slate. Ricky Rubio is likely returning for Utah, which stops any of the potential Dante Exum hype. Toronto and Utah are both fun-sponges when it comes to trying to run players into them from a DFS perspective, and early returns from our lineup optimizer suggest that this is a game we can largely ignore. Still, it's a short slate, and there is some value to be had.
Derrick Favors FD - $6000 DK - $5100
Opponent - TOR
Proj Pts FD - 30.1 DK - 29.03
Favors was a chalk option against the Knicks, and went off for 34 fantasy points in just 24 minutes. But this is the big question with Favors: what is the appropriate number of minutes to project him for? The Jazz have been in 17+ point blowouts in four of their last five games, and in the one game where it stayed close Favors played 27.5 minutes. Vegas sees this one as far from a blowout, and Favors could be needed to answer the double threat of athleticism in Ibaka and Siakam. I still don't trust it on FD at these prices, but could see running him on DraftKings.
Our system also thinks you can run out Donovan Mitchell or Rudy Gobert in a pinch, but they are far from classic value plays. Right now Gobert is showing up in our DraftKings lineups, though, thanks to a lack of great center plays.

Fred Vanvleet FD - $5500 DK - $5500
Opponent - UTA
Proj Pts FD - 31.61 DK - 32.21
With Lowry already ruled out, I'll be going back to the Fred VanVleet well. I know the production is a little lacking when you look at his game log, but a lot of that comes from a terrible run from the field, where FVV has shot just 6 of 24 in his last two games. We know that the Raptors prefer to use him as their primary ball handler, and we know that he can play 38 minutes when the game stays close. I love him against a banged up Ricky Rubio, who should have trouble keeping pace here.

Pascal Siakam FD - $6600 DK - $6100
Opponent - UTA
Proj Pts FD - 34.16 DK - 33.39
I'm not quite as confident in running Siakam today, just because there's always a chance to get stifled when you go up against Utah's front court. Still, Siakam is just a flat out value on these prices on his current opportunity, and Utah is not quite as fierce a match-up as they've been in the past. Like VanVleet, Siakam's price is down after a run of wild games, and the Raptors will absolutely need his size against the Favors/Gobert duo. I'm projecting him for 36 minutes here, which should make paying these prices somewhat trivial.
Detroit Pistons at the Milwaukee Bucks

The Bucks are favored by 10.5 in a game with a 218 total.
Okay, we're just easing into this thing. For starters, our system basically hates the Bucks today, and that's before even considering the likely blowout here. Right now they are the best team in the East, but all that has meant from a DFS perspective is that they haven't felt the same urgency to run guys like Giannis and Middleton into the ground as much as they have in the past. Giannis has topped 35 minutes in one of his last 7 games, and you just can't pay $12,400 for that level of opportunity on FanDuel. Given that there's some additional blowout risk here it just seems crazy to run him out there.

Brook Lopez FD - $5400 DK - $5300
Opponent - DET
Proj Pts FD - 29.03 DK - 28.58
I guess? Lopez seems fairly well locked into a 28 minute rotation, and you have to think that the Bucks will want his size out there against Drummond. He was pretty awful offensively in the Bucks' last meeting with the Pistons, but chipped in 6 defensive stats, and managed 30 fantasy points. With 24-30 fantasy points in each of his last four, Lopez looks like a relatively high floor option at a potentially dicey position.
On the Pistons side? WOOF! Our system literally sees them as terrible plays from top to bottom. The last time they met, only Stanley Johnson and Reggie Bullock paid value on their current prices, and if those are names you'd like to see in your cash game contests, be my guest.
New York Knicks at the Denver Nuggets

The Nuggets are favored by 14 in a game with a 217.5 total.
Okay, we're ramping up a little bit here. There are some juicy story-lines here. Emmanuel Mudiay went out of his way to call out the "revenge game" factor when asked if he'd play in this one, and even though he's listed as questionable he claims he'll be out there to show his former team what they are missing out on. Still, though, this game has a 14 point spread! It's New Year's Day (you know these guys were partying) AND it's in Denver, where the thin air already destroys the will of opposing defenses. Can we really trust either side of this one?
Luke Kornet FD - $3800 DK - $4600
Opponent - DEN
Proj Pts FD - 19.14 DK - 19.97
The Knicks have been getting their butts handed to them recently, but it hasn't stopped one Luke Kornet from becoming everyone's favorite value play. 16 point loss to the Bucks? Give him 34 minutes. 32 point loss to the Jazz? He'll settle for 29. Kornet has been in big tournament winning lineups in back to back games, and his price hasn't moved at all on FanDuel. Assuming he gets the start again, I'll just go ahead and play him everywhere.
On the Denver side, things are just as uncertain. Paul Millsap played just 14 minutes in his mildly anticipated return, and he didn't gum up the works of guys like Nikola Jokic or Juancho Hernangomez at all. Still, Millsap's presence is a ticking time bomb when it comes to projecting Denver's minutes. He might return to mid 20s minutes without any big announcement, and when he does he'll be dipping directly into these other guys' pockets.
Listen, if this game stays close you're going to have value on both sides of the ball. It will mean some Knick went into hero-mode, and it will mean fairly priced guys like Torrey Craig, Jokic, and Hernangomez get to play their full run of minutes. If you trust Jamal Murray for 39-40 minutes (like he has played in his last two), he could be a great play as well. For me, though, I'll try and avoid fairly priced players in a game Vegas is screaming will wind up as a blowout.
Portland Trailblazers at the Sacramento Kings

The Trail Blazers are favored by 1.5 in a game with a 230 total.
Alright, we've finally gotten to the game with the highest total and the tightest spread. Value town, right? Let's see here.

C.J. McCollum FD - $6100 DK - $6600
Opponent - SAC
Proj Pts FD - 32.76 DK - 33.61


Damian Lillard FD - $9200 DK - $8700
Opponent - SAC
Proj Pts FD - 46.3 DK - 48.1
If we start in the back-court, things look pretty good. Both of these guys have solid projections, and with blowouts in 3 of their last 6 we're seeing some modest price value as well. Moe Harkless' return could quietly help them, as he's less demanding of the ball than fill-in Evan Turner. Sacramento is much improved this season, but it hasn't made them a bad DFS match-up. They're playing the 2nd fastest pace in the league and pairing that with the league's 7th worst defensive efficiency, and have made many a DFS dream come true. De'Aaron Fox has surrendered the 4th most fantasy points per game to opposing point guards this year, and while Hield's defense has improved, he's still a liability. Both of these guys are solid options in any format.
I could also see playing Al-Farouq Aminu in cash games, but only because PF is garbage again.
On the Sacramento side, these guys are just getting expensive unfortunately. De'Aaron Fox has a great match-up with Lillard, who has allowed the third most fantasy points to opposing point guards this year, but at $9,100 he's really expensive for his season average production of 38 fantasy points per game. He is gaining confidence out there, and he's shooting more often, but even if you hit the high end of his projection it kind of feels like you're just breaking even.
Iman Shumpert FD - $3700 DK - $4300
Opponent - POR
Proj Pts FD - 20.98 DK - 21.12


Buddy Hield FD - $6900 DK - $6800
Opponent - POR
Proj Pts FD - 33.77 DK - 35.68
If you're drawing value on the Sacramento side, it might have to come from their shooting guards. Shumpert is just a price and opportunity mismatch, and he should see heavy playing time against the Trail Blazers' dynamic backcourt duo. He's an easy cash game play. Hield is more in the "playable" category, as the price is still up there and he's been in a bit of a slump recently. Still, a lot of his poor game log can be attributed to a 13/43 stretch from the field, and once the shooting comes back online we should see his price move back up a little bit.
Philadelphia 76ers at the Los Angeles Clippers

There is no line on this game because Joel Embiid's status is in doubt.
This entire game revolves around Joel Embiid's status. Right now he is questionable, and if he sits taking his shots and minutes off the table makes Philly one big value train. You'll definitely play Amir Johnson, and the upticks to Ben Simmons and Jimmy Butler should find them in cash game lineups as well.
Some people will be concerned that the 76ers got blown out by the Trail Blazers, but I'm not sweating it. A projected line if Embiid misses is currently -3 toward the Clippers, and that's nothing to worry about. If Embiid's status is still in doubt around lineup lock we might be cautious with Johnson, but I could still see taking the risk on Simmons and Butler.
On the Clippers side, oy. They aren't a team that brings a lot to the table as it is, and a terrible match-up with Philly takes them off the table for cash game purposes. If you simply had to pick one, I'd tepidly suggest Tobias Harris, but I wouldn't be excited about it.
GRAB A FREE TRIAL OF OUR PROJECTION SYSTEM, AND CHECK OUT DFSR PRO!
FREE EBOOK
SECRETS TO CRUSHING DAILY FANTASY FOOTBALL!
DON'T SET ANOTHER LINEUP BEFORE YOU READ THIS BOOK.