Basketball Picks Daily Fantasy
Expert Advice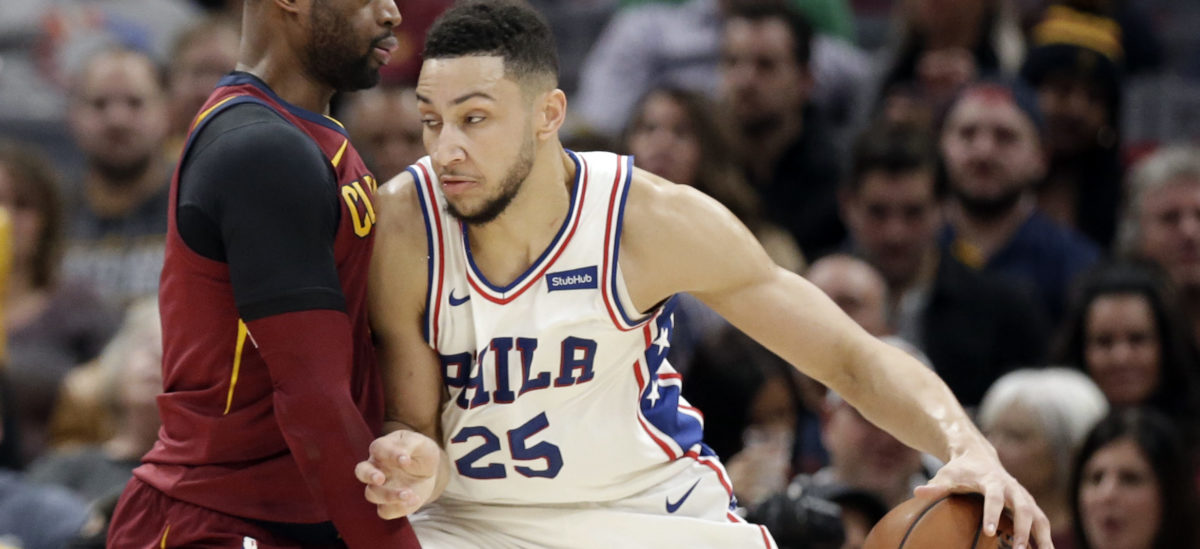 Daily Fantasy NBA Basketball Picks for FanDuel and DraftKings - 1/13/18
Now's your chance to get DFSR PRO, which will give you access to our NBA optimizer and our new player lab! Get started for free by clicking the button below.
First time with NBA? Be sure to read our free NBA Ebooks on building lineups, general strategy and more. We've got you completely covered.
Point guard

Ben Simmons FD - $9500 DK - $9100
Opponent - NY
Proj Pts FD - 51.04 DK - 52.26
We'll kick things off with the red hot Ben Simmons, who is fresh off of a heavy 23/10/15 triple double against the Hawks. The context here is of course that Embiid missed the Hawks game, but if he does it will be hard to talk anyone off of the Sixers' explosive play maker. He played 43 minutes, and it was obvious that the 76ers couldn't find any reason to take him off the court. We regress our on-court off-court data based on sample size, and even still Simmons is getting a 2%-4% bump in every fantasy category. Simmons was 80%+ owned against Atlanta, and you'll see similar numbers if Embiid misses again. Heck, Simmons might even be playable here if Embiid plays.

Eric Bledsoe FD - $6800 DK - $8600
Opponent - ATL
Proj Pts FD - 36.2 DK - 36.52
Bledsoe went absolutely off against the Wizards, putting up 18/8/9 in just 28 minutes. He was questionable going into that game with an ankle issue, but it didn't seem to affect his on-court performance. Now it's worth pointing out that Giannis missed that game and that he will likely be playing here, but if you're running Bledsoe out there you're doing so because he's just under-priced. There is some blowout risk here to be sure - Milwaukee is favored by 10.5 points - but Atlanta is also the fourth most generous team to opposing point guards from a fantasy perspective. The price is out of bounds on DraftKings, but on FanDuel he still looks like quite a value.

Lonzo Ball FD - $7100 DK - $6400
Opponent - CLE
Proj Pts FD - 37.37 DK - 37.59
Speaking of under-priced point guards in crazy good match-ups, I'd like to present Lonzo Ball to you. There's no doubt that Ball has been in something of a dry spell recently, but a match-up with the league's very worst point guard defense should be the cure for what ails him. Ball is still chipping in across the board, and the combination of 6+ assists and a couple of steals per game is a good jumping off point for having a high floor. His minutes have been erratic thanks to weird game scripts, but our system thinks this game is closer than the 9.5 spread that Vegas has on this one.
Shooting Guard

James Harden FD - $12800 DK - $12700
Opponent - ORL
Proj Pts FD - 64.27 DK - 67.18
The unstoppable force. Harden utterly embarrassed the Cavs, and showed why we probably don't need to worry about blowouts too much where he is concerned. He dropped 43/10/12/2/2 in 29 minutes - or 2.79 fantasy points per minute - en route to a 28 point victory. Vegas has the Rockets as just 5.5 point favorites here, so we shouldn't even be overly concerned about the blowout to begin with. I can't remember anyone putting up performances like this on such a consistent basis, and until someone else dethrones him he simply has to be the highest floor (and probably highest ceiling) big name superstar in daily fantasy basketball.
Torrey Craig FD - $4200 DK - $4500
Opponent - POR
Proj Pts FD - 24.96 DK - 25.01
This is contingent upon Gay Harris continuing to sit, but Craig is just a premier punt play right now. He's played 30 and 38 minutes in his last two games (I'm writing this before Saturday's Phoenix game), and put up 29.8 and 35.2 fantasy points respectively. He's shown that he can score double digit points consistently, and he flashed incredible 16 rebound upside against Miami. It's only a so-so match-up with Portland, but this is just your classic price and opportunity mismatch. You simply don't get punts with floors like this very often.

Jimmy Butler FD - $8200 DK - $7300
Opponent - NY
Proj Pts FD - 49.71 DK - 48.59


J.J. Redick FD - $5600 DK - $5300
Opponent - NY
Proj Pts FD - 32.89 DK - 34.93
So we actually have more than just Embiid's status to wonder on for Sunday's contest with the Knicks, as Jimmy Butler is currently listed as questionable with bruised ribs. Those same bruised ribs didn't stop him from playing 40 minutes and almost touching 50 fantasy points against the Hawks, so if he does play, I wouldn't think twice about firing him off. Redick, meanwhile, returned from a two game absence to play 35 minutes of his own, and return a reasonable 5x points per dollar on his fair price tag. He would get a huge bump if Butler were to miss, but is playable regardless if you find yourself in a position to need to get away from this position cheaply.
Small forward

Kawhi Leonard FD - $9800 DK - $9400
Opponent - WAS
Proj Pts FD - 47.76 DK - 47.69
I've been less high on Kawhi than most this season, but small forward is looking pretty rough today. We know two things about how the Raptors are willing to deploy Leonard right now. The first is that he is the first guy to get some rest in blowouts. The second is that they will happily leave him out there for 35-38 minutes in close games where they need his defense. Vegas has the Raptors at 6.5 point favorites right now, and Leonard seems like the perfect answer for Bradley Beal's hot hand. Kawhi dropped 47 fantasy points in just 30 minutes against the Wiz in November, and if he plays his full run it's hard to imagine him not being a solid high floor pay-off option here.

Brandon Ingram FD - $6900 DK - $6300
Opponent - CLE
Proj Pts FD - 38.48 DK - 38.72
Listen, I've got a little Ingram fatigue myself right now. He hasn't exactly lit the world on fire in the way that many thought after LeBron went down, and the price has remained relatively constant. He was shooting 16-20 shots per game, and has shot just 10-11 shots per game in his last two. Some of that is thanks to Kyle Kuzma throwing the Lakers on his back the last couple of games, but after Kuzma's 4/18 performance against the Jazz I'm anticipating a more balanced approach going forward. The Cavs have been incredibly soft against most positions this season, but they have been especially bad against opposing small forwards, allowing the third most fantasy points per game to opposing threes this year. Whatever we've seen recently, I'm still happy to play Ingram here.
Deandre Bembry FD - $5300 DK - $6200
Opponent - MIL
Proj Pts FD - 30.61 DK - 30.1
I can't recommend Bembry in good conscience for cash games, but there's a lot to dream on here if this game manages to stay close. Bembry played 40 minutes as a starter against the 76ers, and it's obvious that he's plan A at small forward for the Hawks in close games. The issue is that the Hawks are so bad that they rarely ever play in close games. If you're trying to construct a big tournament lineup, though, grabbing Bembry and a couple of other choice Hawks (like Dedmon, Young, or Huerter) and a couple of Bucks going the other way could be a winning recipe. Or the Bucks could be up by 25 points at half time. But isn't that the fun of playing DFS?
Also considered: Giannis, but there are probably better pay-up options given the potential that he plays fewer minutes here. There is both blowout risk and injury risk - probably a little bit too much risk in total to run him out for cash games.
Power forward

Kyle Kuzma FD - $7300 DK - $6900
Opponent - CLE
Proj Pts FD - 35.93 DK - 37.42
One of the easier plays on the entire slate. Kuzma should have 75% ownership on the late slate given his incredible usage recently. He shot 24 times against the Pistons and 18 times against the Jazz, and while he wasn't a great DFS value against the latter you're talking about two pretty tough match-ups. The Cavs present no such problem thanks to their definitively dead last defensive efficiency. I think this is the cheapest we see Kuzma for a while, and I'll buy as much as I can afford.
Kevin Knox FD - $4900 DK - $5200
Opponent - PHI
Proj Pts FD - 26.5 DK - 27.81
Call me crazy, but I still believe that the plan is to play Kevin Knox 35+ minutes per game. The Knicks have now gotten blown out in three straight games, and while that's not a reason to play Knox, it does explain his recent minutes uncertainty. With both Embiid and Butler potentially missing this one the Knicks should have a chance to at least hang, and Kanter's questionable tag leaves the Knicks without a lot of big men tools. Honestly, power forward is just really rough on the early slate, with Washington, Philly, and Milwaukee not fielding the position from a fantasy perspective and Atlanta, Toronto, and the Hawks serving us up over-priced options.

Maximilian Kleber FD - $4000 DK - $4000
Opponent - GS
Proj Pts FD - 22.8 DK - 22.04
We were nearly alone on Mad Max island recently, but it hasn't been to our detriment. With Dennis Smith Jr. sidelined Kleber has drawn the start and played 30+ minutes in each of his last two games, and averaged 28 fantasy points per game in the process. For you math majors that's an average of 7x points per dollar - a big tournament winning pace. Golden State isn't a phenomenal match-up, but Vegas sees the Dubs as just 6 point favorites here and I don't think we can run away based on the fear of a blowout. Like I mentioned earlier, power forward is just especially brutal today, and Kleber is the perfect way to set the position and forget it.
Center
Tristan Thompson FD - $6100 DK - $6100
Opponent - LAL
Proj Pts FD - 30.02 DK - 31.32
So this might seem like a leap of faith if you look at Thompson's recent game logs, but like a loot of these teams playing today, it's been a few since the Cavs have played in normal game. In the last 4 games that the Cavs have played in that were decided by 11 points or less Thompson played no less than 34 minutes, and has come close to 40 in others. Vegas sees the Lakers as heavy favorites, yes, but even if they win by the 9.5 points they are projected by Thompson should still play 30+ minutes. I like Thompson as a sneaky high floor play with huge upside if the Cavs can manage to hang.

Brook Lopez FD - $5800 DK - $6800
Opponent - ATL
Proj Pts FD - 29.11 DK - 28.42
BroLo is not a super exciting play, but does everyone really need to be exciting? Sometimes you just want the homely "bring this one home to mom" types, and Lopez certainly qualifies there. Lopez has been a veritable block machine recently, totally 12 in his last 3 games, and is chipping in his usual solid post scoring as well. His last game against the Hawks didn't go too well from a fantasy perspective, but that's just because the Bucks won by 30+ and wound up resting their starters. Lopez has paid 5x+ points per dollar in 7 of the last 8 games where the Bucks played in a semi-normal game script, and while that's not a lock in a mismatch like this, your center options are limited enough that I think you can take a chance on him.
If Embiid is out again, Mike Muscala is probably a must play for the same reasons that we wrote up the other Philly guys.
GRAB A FREE TRIAL OF OUR PROJECTION SYSTEM, AND CHECK OUT DFSR PRO!
FREE EBOOK
SECRETS TO CRUSHING DAILY FANTASY FOOTBALL!
DON'T SET ANOTHER LINEUP BEFORE YOU READ THIS BOOK.