featured Daily Fantasy
Expert Advice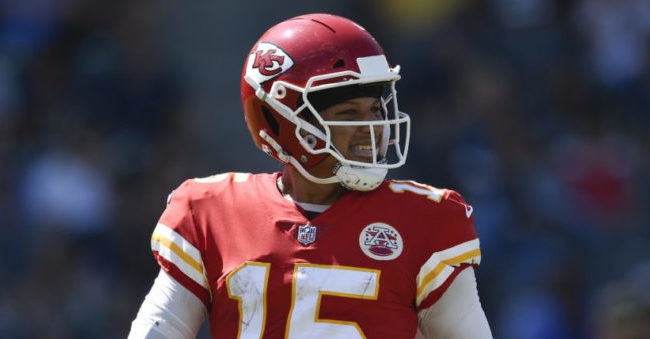 Daily Fantasy Football Picks for FanDuel and DraftKings Plus Prop Bets - Conference Championship
This is shaping up to be an almost historic weak of offense for the Conference Championship. We have two games with 56 over/unders on the road to the Super Bowl. There are almost too many great plays. Let's take a look at some of the DFS targets as well as some potential prop bets.
New England Patriots (+3) vs. Kansas Chiefs (-3)

Patrick Mahomes FD 9000 DK 6600
Opponent NE
Proj Points FD - 25.37 DK - 26.95
Once again he's the highest projected fantasy quarterback and it isn't particularly close. Mahomes didn't let the stage of his first ever playoff games affect him in the Divisional Round against the Colts. He completed 27-41 passes (66%) and threw for 278 yards. The Chiefs had the game completely under control early (up 24-7 at half) and didn't need to press Mahomes much. He did scramble for a touchdown which helped save some of his day considering he didn't throw for any touchdowns. Too long, rushing TDs early put the game almost out of reach. Figuring the Patriots will be able to hang a little more on Sunday will have Mahomes in play as the cash game quarterback even at his elevated price points.
Prop Bets
Patrick Mahomes Over 308.5 Passing Yards
Patrick Mahomes Over 13.5 Rushing Yards
Damien Williams FD 7200 DK 6400
Opponent NE
Proj Points FD - 17.26 DK - 19.58
Spencer Ware ended up inactive for the Divisional Round, putting the RB1 duties once again squarely on Damien Williams' shoulders. I suspected Williams would have gotten all the run even if Ware had been active, but that ended up not being a concern. Things should remain that way this week against the Patriots. Williams played 65 snaps on Sunday and finished with 25/129/1 on the ground and another 5/25 through the air on six targets. This is elite usage and, at this point, he's almost a game script independent running back. If they get out to a lead he should rack up the carries, but he's so active in the passing game that he's getting snaps regardless.
Prop bets
Damien Williams Rushing Yards Over 64.5
Damien Williams Receiving Yards Over 31.5
Sammy Watkins FD 5600 DK 4000
Opponent NE
Proj Points FD - 11.14 DK - 13.04
Watkins represents about as close to a *value* receiver as you'll find on this two-game slate. He saw eight targets last week after finally returning from the injury that kept him out about a month. Watkins looked no worse for wear and finished with six catches for 62 yards. The main thing to like here are the near-punt prices you're getting on the Chief's third receiving option.

Travis Kelce FD 7400 DK 7100
Opponent NE
Proj Points FD - 16.24 DK - 19.82
Kelce is great though he isn't exactly a bargain or value on this slate. The main issue is there are almost no other TE options worth playing in cash. Rob Gronkowski looks like a shell, while the Saints and Rams barely throw to the position. That leaves us having to just stomach it and pay all the way up for Kelce. But of course, we are still getting the second-most targeted (150) tight end in football this season.
James White FD 7700 DK 5400
Opponent KC
Proj Points FD - 12.72 DK - 17.24
White just seems like about as easy a DraftKings' play as you'll see on the board this week. He saw a team-high 17 (17!) targets against the Chargers last week and that was a game the Patriots had easily in hand early. He led the team in RB snaps (38) and if this game turns into anything like a shootout that number could actually increase against the Chiefs. I don't think this kind of target share is realistically replicable, but 9-10 targets is a perfectly reasonable amount in what could be a pace-up matchup against a KC team that's struggled with opposing running backs this season (21st in DVOA defending pass-catching RBs). In the half-point PPR on FanDuel, I don't think White is as clear a play, but on DraftKings he's a lock in cash games.
Prop Bets
James White Over 5.5 Receptions
James White Over 47.5 Receiving Yards

Julian Edelman FD 7900 DK 6600
Opponent KC
Proj Points FD - 15.76 DK - 20.24
Speaking of volume targets, the Patriots clearly had a plan against the Chargers and that was to force feed the ball to White and Edelman. The two combined for 68% of the target share. Edelman finished with 13 targets and a 9/151 line. Edelman should draw a tougher cover in Kendall Fuller out of the slot, but Brady has shown time and time again that when the going gets tough, Edelman is the preferred safety valve. I don't expect that to change this Sunday.
Los Angeles Rams (+3.5) vs. New Orleans Saints (-3.5)
Alvin Kamara FD 8100 DK 6500
Opponent LAR
Proj Points FD - 21.56 DK - 23.66
Along with Mahomes and Damien Williams, Kamara is the other cash game lock in our projection system for this week. He out-snapped Ingram 53-31 last week and finished with 16/71 on the ground and converted all four of his passing targets for a 4/35 line. In their previous meeting this season, Kamara tallied 116 total yards on 24 touches (19 carries, 5 targets) and three touchdowns. In a shootout, he could see an even wider spread on the snap count. No reason to fade him in cash on either site and fitting him and Mahomes isn't even all that cost-prohibitive.
Prop Bets
Alvin Kamara Over 62.5 Rushing Yards (+125)
Alvin Kamara Over 4.5 Receptions

Michael Thomas FD 8800 DK 8200
Opponent LAR
Proj Points FD - 20.36 DK - 24.21
Ultimately, I think lineup construction could come down to something like Travis Kelce or Michael Thomas. Not to say this is a completely binary decision, but considering the nature of the running back situation, and how pricing is lining up deciding between those two guys is a question folks will have. The case for Thomas is easy in that he's the best overall receiver with the likely highest target share of the week. So he's got that going for him. But the Kelce piece has more to do with positional scarcity in that if you don't play the latter you are essentially throwing TE completely. With Thomas, you can pivot to a pass-catcher who should at least see some looks. Again, Thomas is clearly the top WR1 on this slate and it isn't all that close. It's just a matter of whether you can pay top dollar.

Robert Woods FD 7100 DK 5700
Opponent NO
Proj Points FD - 15.48 DK - 18.45
Woods once again led the team in targets in the Divisional round in a game the Rams weren't pressed to have to pass. They only attempted 28 passing attempts and Woods ended with six catches for 69 yards on eight targets. Woods lines up in the slot and will likely avoid Marshon Lattimore shadow coverage (likely reserved for Brandin Cooks). It stands to reason the Rams will need to throw much more this weekend and getting Woods towards double-digit targets is totally in play.

Jared Goff FD 8000 DK 5400
Opponent NO
Proj Points FD - 19.52 DK - 20.41
Look, I could make a case for all four quarterbacks here, such is the nature of this week's slate of games. But I'll take Goff as the cheapest of the bunch as a pivot off Mahomes in cash. He hasn't been all that effective in the short term, though he hasn't been pressed to throw the ball a ton either. The Rams have won games handily. That likely won't be the case this week and a high-volume passing day in the dome's conditions have Goff as solid play for the price.
Other Prop Bets
Brandin Cooks Under 73.5 Receiving Yards
Drew Brees Under 2 Passing TDs (+130)
image sources
Chiefs Chargers Football: (AP Photo/Kelvin Kuo)
FREE EBOOK
SECRETS TO CRUSHING DAILY FANTASY FOOTBALL!
DON'T SET ANOTHER LINEUP BEFORE YOU READ THIS BOOK.