Basketball Picks Daily Fantasy
Expert Advice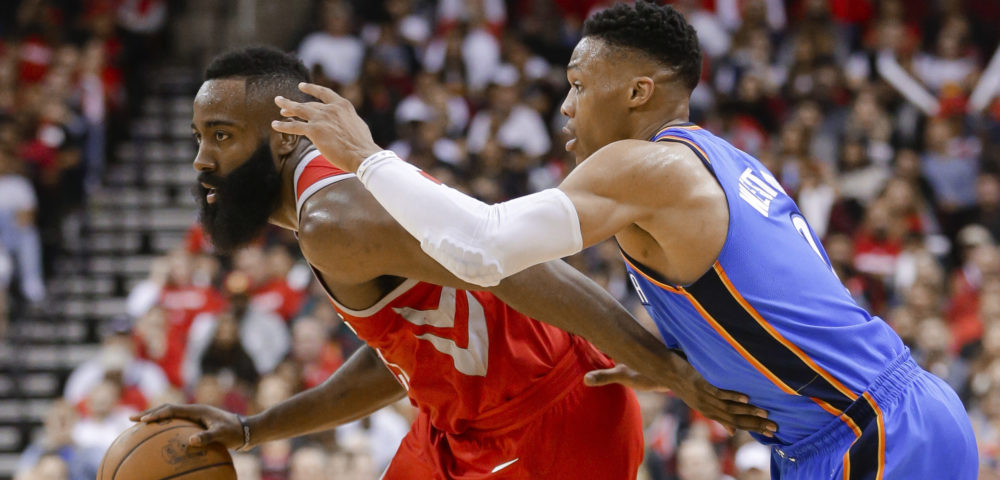 Daily Fantasy NBA Basketball Picks for FanDuel and DraftKings - Wednesday 1/23/18
We've got a heck of a Wednesday slate of NBA action headed our way. Can James Harden keep up this ridiculous pace? Is there still value in the Pelicans without Anthony Davis? Can we roster five centers? There's a lot to break down on a big night of hoops action.
Now's your chance to get DFSR PRO, which will give you access to our NBA optimizer and our new player lab! Get started for free by clicking the button below.
First time with NBA? Be sure to read our free NBA Ebooks on building lineups, general strategy and more. We've got you completely covered.
Point Guard

Kyle Lowry FD - $7500 DK - $7200
Opponent - IND
Proj Pts FD - 38.91 DK - 39.61


Fred Vanvleet FD - $4600 DK - $4600
Opponent - IND
Proj Pts FD - 25.94 DK - 26.31
Kawhi Leonard will sit out again on Wednesday, leaving VanVleet in the starting lineup for the Raptors. They are coming off a nice win over the Kings on Tuesday, with FVV as a big reason. The second-year guard finished with 19 points, seven rebounds and seven assists in only 32 minutes. He shot 50% from three (3-6) and was efficient with his usage considering he only took 10 shots total. The key is that he'll once again be in the starting lineup and the price didn't move much at all game-over-game.
Lowry is also still something of a bargain coming off a 34-minute night on Tuesday. He scored 19 points as well and dished nine assists. With Kawhi off the court this season, Lowry sees about an 8% usage bump and 3% uptick in assists as well. I'm not overly worried about the minutes on the back-to-back considering it's an Eastern Conference matchup against the Pacers.

Elfrid Payton FD - $5700 DK - $6100
Opponent - DET
Proj Pts FD - 31.74 DK - 32.33
I know that after their first game without Davis the Elfrid performance left a lot to be desired. But I'm encouraged by the minutes (32) and did spend enough time on the ball that the game against the Grizzlies represents something like the floor of his fantasy expectation. The Pelicans are gifted another good matchup against the Pistons on Wednesday. I still think we are buying on the low side for Payton and I see him as a value point guard on this slate. If anything, in a close game we should see a slight increase on the minutes and the Pistons don't have anything in the way of perimeter /guard defense.
Shooting Guard

James Harden FD - $13500 DK - $13400
Opponent - NY
Proj Pts FD - 73.14 DK - 77.86
After a *disappointing* game against the Sixers on Sunday in which he put up 37 points, six rebounds and three assists in just 32 minutes, Harden will look to *bounce back* against the Knicks on Wednesday. The Rockets were blown out by the Sixers, leading to Harden's reduced minutes but there's no real threat of that happening in this matchup. Harden remains on his historic run, averaging 44 points, eight rebounds and eight assists per game over his last ten and won't face anything in the way of resistance from a Knicks' team ranked second-to-last in defensive efficiency this season. Also, consider Austin Rivers and Eric Gordon who'll both remain in the starting lineup.

Jrue Holiday FD - $9500 DK - $8600
Opponent - DET
Proj Pts FD - 47.63 DK - 47.9
With Anthony Davis out, the Pelicans are in "all hands on deck" mode for the foreseeable future. They are going to need every minute from Holiday and he played 39 even in the 15-point win over Memphis on Monday. He took 16 shots, finishing with 21 points while being active on the glass (11 rebounds). It stands to reason we'll see another big run of minutes for Holiday against a Detroit squad starting Reggie Jackson and Bruce Brown around the perimeter. This is another smash spot for Jrue, though he is getting a little expensive on FanDuel. It's an easier sell on DraftKings where he remains sub-$9K.
Consider Zach LaVine as a GPP upside play against the Hawks.
Small Forward
Nikola Mirotic FD - $6700 DK - $7000
Opponent - DET
Proj Pts FD - 35.58 DK - 36.58
Small forward, especially on FanDuel is looking rather weak. Mirotic is still coming off the bench even without Anthony Davis in the lineup, but the former still played 32 minutes and took the second-most shots on the team (15) against the Grizzlies. Mirotic sees about a 5% usage bump with Davis off the court this season and they need his versatility and definitely the three-point ball as well. We are close to writing up a Pelican at every position for this slate because, of course, their best player is hurt and there is a lot of fantasy production to redistribute. Mirotic is one of the biggest *winners* in that equation.
Rudy Gay FD - $5500 DK - $5700
Opponent - PHI
Proj Pts FD - 31.29 DK - 31.43
Because small is such a thin position I think you can consider Rudy Gay against the Sixers on Wednesday. With Davis Bertans already ruled out, it stands to reason Gay pushes towards 30 minutes in this matchup. He's played 34 and 29 in the last two games, averaging 20 points and six rebounds. Even sharing the court with DeRozan and Aldridge, Gay is able to find shots, getting up around 12 attempts per game, mostly from the midrange. On a big slate, this isn't necessarily an exciting play but it comes mostly out of the fact that the position on FanDuel doesn't have a ton of viable options.
If Jimmy Butler sits out again on Wednesday, then Corey Brewer and Wilson Chandler would both make for solid punt plays on FanDuel. In fact, there'd be a strong case for just rostering both as long as Brewer drew the start again. He was in there against the Rockets, but that might have only been to defend James Harden. We'd have to wait for more definitive lineup news prior to lock.
Power Forward

Lauri Markkanen FD - $6900 DK - $6600
Opponent - ATL
Proj Pts FD - 36.42 DK - 36.78
I'm typically hard pressed to roster Bulls because A: they stink and B: are basically actively trying to lose on a nightly basis. But this is a tank-off kind of game against the Hawks who play the fastest pace in the league (107) and the 2h-ranked defensive efficiency. Markkanen should see 32-34 minutes in this one and he sees plenty of usage in the offense. He's averaging about 16 shots per game in the short term and can turn in volume three-pointer nights with double-digit attempts in two of his last three games. There's double-double potential because of the pace of the game and he shouldn't face much in the way of defense from this Hawks' squad.

Kenneth Faried FD - $5000 DK - $4400
Opponent - NY
Proj Pts FD - 26.67 DK - 26.48
Faried made his Rockets' debut on Monday and promptly played 23 minutes off the bench. Houston is desperate for any big man minutes at all now that they've lost Clint Capela and are having to roll out the corpse of Nene. I think we continue to see increased minutes for Faried in this lineup and he's long proven to be a fantasy point per minute contributor when he finds the court. He had 13 points and six rebounds in that limited run on Monday. He could find himself in the starting lineup on Wednesday. He makes for an excellent play on both sites, but especially on DraftKings where the price is still in the punt-play range.
You can still strongly consider Blake Griffin if Andre Drummond is out of the lineup again. The matchup against the Pelicans is a favorable one, especially on the defensive end.
Center
Zaza Pachulia FD - $4200 DK - $4200
Opponent - NO
Proj Pts FD - 30.36 DK - 29.7

Aron Baynes FD - $3700 DK - $3500
Opponent - CLE
Proj Pts FD - 22.52 DK - 22.78


Jahlil Okafor FD - $5500 DK - $4600
Opponent - DET
Proj Pts FD - 28.28 DK - 27.99

Enes Kanter FD - $6200 DK - $5000
Opponent - HOU
Proj Pts FD - 31.2 DK - 33.38
I'm piling all of these guys together in something of a cop-out, but whatever they are all in the same category for this Wednesday slate. Namely, they are all filling in as starter's (potentially) and all coming so very cheap for possibly huge minutes. It's actually going to be a bit tough figuring out the path on FanDuel especially where we can only roster one. In many ways, the slate will hinge on which of the cheap centers pay off and who you end up choosing to roster. on DraftKings, it's likely you end up rostering two (or maybe three because of the PF/C eligibility) of them. Baynes will likely draw the start for Al Horford and is coming near the minimum on both sites in a matchup against the terrible Cavs.
Okafor is coming off a huge minutes game when he drew the start for Anthony Davis. The Pelicans have made him the spot starter in the past, but he's never played minutes like that before. I'm a little wary that they do it again, but it's tough to ignore what he did on Monday.
On the other side of the ball, Zaza could still be in the starting lineup if Andre Drummond is once again ruled out. He'd likely matchup up ok if the Pelicans once again went bigger with their lineup.
And finally, with Luke Kornet out, Enes Kanter will draw the start for the Knicks. We know what he can do on a points per minute basis and are really only usually sweating out the run. New York does have Mitchell Robinson back from injury so Kanter isn't the sole center option for the team. But even 25-ish minutes against this Houston team that's severely compromised on the defensive end without Capela could mean a big game for Kanter.
GRAB A FREE TRIAL OF OUR PROJECTION SYSTEM, AND CHECK OUT DFSR PRO!
FREE EBOOK
SECRETS TO CRUSHING DAILY FANTASY FOOTBALL!
DON'T SET ANOTHER LINEUP BEFORE YOU READ THIS BOOK.