Basketball Picks Daily Fantasy
Expert Advice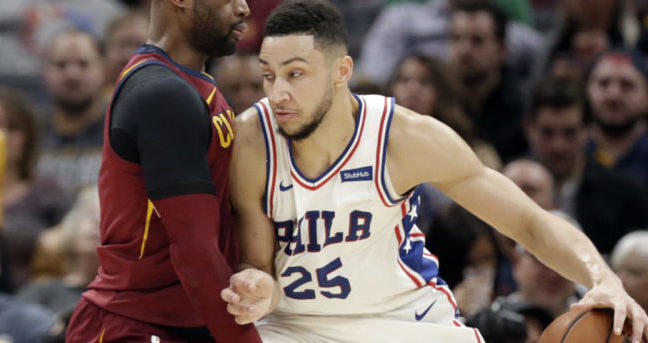 FanDuel NBA Picks and DraftKings NBA Picks - 1/26/19
Head on over a for your chance to get DFSR PRO, which will give you access to our NBA FanDuel and DraftKings optimizer, our NFL Optimizer, and our new player lab! Get started for free by clicking the button below.
First time with NBA or NFL? Be sure to read our free NBA and NFL Ebooks on building lineups, general strategy and more. We've got you completely covered.
Point Guard

Ben Simmons FD - $10100 DK - $9600
Opponent - DEN
Proj Pts FD - 55.09 DK - 56.47

T.J. McConnell FD - $4300 DK - $4000
Opponent - DEN
Proj Pts FD - 24.11 DK - 23.24
Welcome to NBA Saturday! We have a solid five game slate on our hands with only four games on a few sites. We have plenty of injury news to go through and a ton of options at each position. The Sixers are the base of that all. Joel Embiid has already been ruled out and Jimmy Butler is doubtful. That should leave an absolute ton of usage behind for the rest of this Sixers lineup. Ben Simmons will have the ball in his hands every single possession and will fill up the stat sheet with ease. The Denver Nuggets are a poor defensive team and while they are average against opposing point guards, they'll likely be without their starter Jamal Murray (questionable). Simmons is going to dominate all night long and is the top point guard play on the slate. I would even argue he's a top play on an entire slate. If you're looking for savings, T.J. McConnell is an interesting option, particularly for big tournaments. This game will stay close and I'll have a ton of exposure.

Kyrie Irving FD - $10500 DK - $9300
Opponent - GS
Proj Pts FD - 43.59 DK - 44.4
The price is definitely high at this point, but he's the only way the Celtics really stay in this game. People are looking at this like a potential Championship match-up, so all of the stars should be going all out for a big game. It's also an island game for both teams, meaning neither are in a back to back. Irving sat out last game, but looks like a full go for this one. He's been playing his best basketball of the season and is a near guarantee for 50+ fantasy points if the game is remotely close. He's taken a firm hold as the leader of this Celtics team and it looks like they're fully ready to go on their second half run preparing for the playoffs. Curry is obviously the weakest defender on this Warriors squad and will likely heed to Iggy or Thompson down the stretch to cover Irving. Either way, the only problem with this play is the price. He is a bit overpriced and it's hard to take him over Simmons in cash games. With that said, the upside is impossible to ignore and I'll make sure to have him in the majority of lineups.

Cory Joseph FD - $4900 DK - $4100
Opponent - MEM
Proj Pts FD - 22.17 DK - 22.01
Another key injury to look at on this slate is that of Victor Oladipo. He's out for the season and the Pacers will ask a few guys to step up - mostly Cory Joseph and Tyreke Evans. Joseph is already getting a bunch of minutes, so the loss of Oladipo should easily drive him over 30. He's always a quality player when on the floor and this match-up against Memphis isn't as bad as you might think. They're good against point guards, but that's all Mike Conley. He will be on Collison, leaving the weaker defenders for Cory Joseph. There are a lot of value options on this slate, but Cory Joseph is as good as any for his price. I won't be afraid to deploy Joseph in all formats.
Also considered: Elfrid Payton. He went off for 44.6 fantasy points in a tough match-up with OKC, and importantly, put together 12 assists. The Pelicans are turning over every available stone to try and find offensive production right now, and Payton is still very cheap.
Shooting Guard

Jrue Holiday FD - $9600 DK - $12600
Opponent - SA
Proj Pts FD - 47.1 DK - 47.45
Jrue Holiday was already a phenomenal play with just Anthony Davis out. Now that Julius Randle is possibly out as well, we could see an encore of his last performance. He put up 50 fantasy points in just the second half and could easily reach 60+ if it's his offense again. The Spurs are no longer a tough match-up on the wing and especially so with DeMar DeRozan out. Holiday will enforce his will and is the only way the Pelicans will be able to stay with San Antonio. His price has definitely risen, but the usage is insane right now and he could easily pay off his salary as long as the game stays close.
Marco Belinelli FD - $4500 DK - $5600
Opponent - NO
Proj Pts FD - 23.77 DK - 24.83
With Derozan already ruled out, Marco Belinelli should be one of the night's most popular value plays. Even if he's coming off the bench you, we shouldn't be too worried. He played 33 minutes when DeRozan missed against Minnesota, and we all know Belinelli has no problem shooting the ball a ton of times. He has already shot 11+ times in 5 of the last 7 and could easily get closer to 20 attempts tonight. LaMarcus Aldridge is also questionable, so the shots will really be up for grabs if he's also out. Either way, Belinelli is an elite option in all formats and deserves to be one of the most popular value plays on the night. The Pelicans give up a lot of room on the perimeter and are a mess in general with everyone injured. Belinelli is someone you can plug in and move on.
Small Forward
Rudy Gay FD - $5800 DK - $9600
Opponent - NO
Proj Pts FD - 32.49 DK - 32.61
With DeRozan and potentially LaMarcus Aldridge out, Rudy Gay is another San Antonio Spurs option that will draw a ton of interest and deservedly so. He's already putting up 30 fantasy points with a full starting lineup and the sky is the limit with all these shots available. You can be sure he'll play 32+ minutes and shoot at least 15 times. His price is too low on both sites and he's one of the safest plays on the night. The Pelicans are a porous defense in general, and have their own injury issues to contend with as well. Gay will have no issue penetrating into the paint. He'll be locked into my cash games and tournaments across the board at under $6k on FanDuel.

Tyreke Evans FD - $5100 DK - $5200
Opponent - MEM
Proj Pts FD - 30.24 DK - 30.81
Tyreke Evans is in a pretty similar position as Rudy Gay and will also be extremely high owned. With Victor Oladipo out for the season, quite a few people will be asked to step up. Everyone from Joseph to Bogdanovic to Turner will get a few extra shots, but Evans will see the biggest bump. He's going to see 30 minutes on the floor and is over a fantasy point per minute on the season. The match-up with Memphis isn't great, but this is just a price and opportunity mismatch. The Grizz are also on the back end of a back to back and will be pretty tired after playing a fast Kings team. Evans is cheap and a lock for value in all formats.

Kevin Durant FD - $9400 DK - $9200
Opponent - BOS
Proj Pts FD - 47.23 DK - 48.49
If you have the funds to pay up at small forward, Kevin Durant is a solid option. He's priced down on both sites and a discounted Durant is someone I've always been interested in. It's because he hasn't been very explosive as of late, but has still been over 50 fantasy points on a nightly basis. The upside for 70 is always there and the Celtics are a team that could bring it out of him. They aren't bad at defense at all, but Durant is the type of guy that rise to the occasion against good opposition. The Celtics should keep it close and Durant will play 35 minutes of involved basketball. He's too cheap on both sites and a great option in all formats if you can afford him.
Power Forward

LaMarcus Aldridge FD - $8400 DK - $11000
Opponent - NO
Proj Pts FD - 43.5 DK - 42.86
LaMarcus Aldridge is currently questionable, so make sure you pay attention to news as the day progresses. If Aldridge plays, he's going to see a ton of shots. Demar Derozan has already been ruled out and we know the Spurs will lean on LMA with no issue. His price is down across the industry and he's honestly a lock for value if fully healthy. The Pelicans are extremely weak down low and could be even weaker if Randle is also out. Aldridge is going to brutalize the likes of Okafor and Diallo and could easily put up 50+ fantasy points. If Aldridge is out, look towards whoever gets the start. Somebody like Dante Cunningham or Poeltl could be good plays.
Cheick Diallo FD - $3700 DK - $3000
Opponent - SA
Proj Pts FD - 26.25 DK - 25.4
Diallo saw a ton of minutes in the second half last game and could be in line for close to 30 minutes if Randle is out again. He's always been productive when on the floor and this Spurs interior is nothing to be afraid of. The Pelicans are going to need the size of Diallo against the Spurs and Aldridge doesn't have a problem giving up some points and rebounds on the defensive side. Diallo is dirt cheap on both sites and gives you a bare minimum option that actually has upside. This is a game I'm very interested in targeting and Diallo won't hurt you if Randle is out).
Al-Farouq Aminu FD - $5100 DK - $4500
Opponent - ATL
Proj Pts FD - 27.26 DK - 27.17
You can ignore the weird outlier of 15 minutes from Aminu last game, as he had an x-ray on his finger early in the game and didn't return until later. He's been close to a fantasy point per minute player recently and this match-up against the Hawks fits his game perfectly. They promote running the floor and give up as many peripherals as any team in the league. If Randle and LMA are both out, power forward could be extremely thin and Aminu won't hurt you in any format.
Center
Mike Muscala FD - $3500 DK - $4200
Opponent - DEN
Proj Pts FD - 21.76 DK - 22.3
With Joel Embiid already ruled out, Mike Muscala is a very obvious play. Embiid last sat against the Hawks a few weeks ago, where Muscala played 26 minutes and put up 25 fantasy points. I see that as his floor tonight against a Nuggets team that will require a ton of size. Muscala is no pushover and can put up a fantasy point per minute in this match-up. He'll match-up against Jokic and will be able to get open shots on the perimeter and some easy rebounds. He's way too cheap on both sites and almost impossible to ignore with so much goodness to spend on the slate.

Jahlil Okafor FD - $6000 DK - $7200
Opponent - SA
Proj Pts FD - 30.64 DK - 30.2
There are a few good options at center, and you could certainly pay up for Jokic if you have the funds. He could easily destroy a 76ers squad that will be without their big man in Joel Embiid. With that said, there is a better argument for Jahlil Okafor. He's locked into 25+ minutes and has been extremely productive lately. His price hasn't gotten too high on either site and Okafor will have no problem hitting value whether Randle plays or not. Okafor is a phenomenal option in all formats, though I do prefer Muscala.
GRAB A FREE TRIAL OF OUR PROJECTION SYSTEM, AND CHECK OUT DFSR PRO!
FREE EBOOK
SECRETS TO CRUSHING DAILY FANTASY FOOTBALL!
DON'T SET ANOTHER LINEUP BEFORE YOU READ THIS BOOK.