Basketball Picks Daily Fantasy
Expert Advice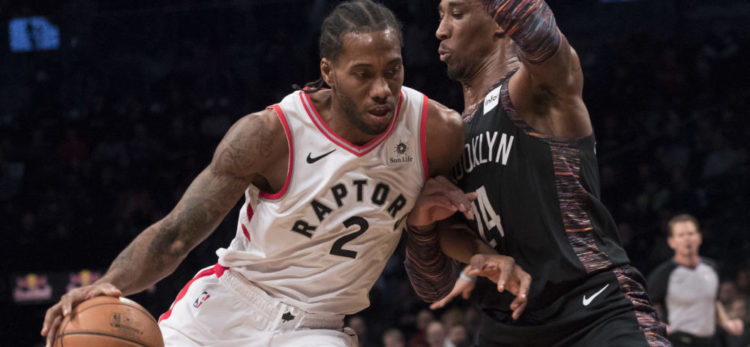 FanDuel NBA Picks and DraftKings NBA Picks - 2/7/19
Welcome to NBA Thursday night! We have six games on the slate, but there is a ton of injury news on top of superstars to pay up for.
Head on over a for your chance to get DFSR PRO, which will give you access to our NBA FanDuel and DraftKings optimizer, our NFL Optimizer, and our new player lab! Get started for free by clicking the button below.
First time with NBA or NFL? Be sure to read our free NBA and NFL Ebooks on building lineups, general strategy and more. We've got you completely covered.
Point Guard

Russell Westbrook FD - $12000 DK - $11300
Opponent - MEM
Proj Pts FD - 58.38 DK - 60.8
We'll kick things off with the guy who leads this article the most, Russell Westbrook. Westbrook and Paul George have taken the league by storm this year and it seems like the first time Westbrook truly has chemistry with a teammate. He's once again averaging a triple-double this year and is essentially match-up proof at this point. They'll face off with the mess that is the Grizzlies tonight and we'll just have to hope they can keep it relatively close. The price of Westbrook is extremely high, but he's playing 35 minutes a night and has the ball in his hands every single possession. The Grizzlies played a lot faster two nights ago without Gasol and I think they'll do the same again tonight vs. a Thunder team that loves running. It's hard to look at any stats with the Grizzlies in such mayhem, but we know Westbrook is going to take advantage of every weakness and this Grizzlies defense has a ton of them. There are a few solid options to spend up on and Westbrook is one of the top three. On the other hand, this could very well be a blowout and there is a huge opportunity cost at point guard.
Rajon Rondo FD - $6100 DK - $6500
Opponent - BOS
Proj Pts FD - 31.3 DK - 32.29
I'm going to stay away from everyone not named LeBron James until the Lakers make a trade, but let's make an exception here. We all know Rajon Rondo is one spiteful man and he's always going to turn it up against the Celtics in Boston. He's also a lock to see the minutes with Lonzo Ball still out of the lineup. As long as we don't see another huge blowout, 30+ minutes is a lock and he could get close to 40 if the game stays close throughout. He's been paying 5x points per dollar with regularity when he gets his full run. Kyrie Irving is nothing to be afraid of on the defensive end and I'm sure he'll be focused on the other side of the ball with Rondo not much of a scoring threat. His price is still very fair on both sites and Rondo makes for a very safe play in both cash games and tournaments.

Kyrie Irving FD - $10400 DK - $9500
Opponent - LAL
Proj Pts FD - 47.18 DK - 48.14
Kyrie is pretty expensive at this point, but he's going off every single time he's touching the floor. The Celtics have shown the willingness to play him big minutes throughout his sore hip and he hasn't had any issues with production. The Lakers are in absolute shambles right now, but I think Rondo and LeBron will do their best to keep it close and force the Celtics starters to play full minutes. I just can't buy into a blowout where LeBron James is visiting TD Garden. Irving is going to show off in front of LBJ and 50 fantasy points should be a reasonable expectation against a team that's playing the 5th fastest pace this season.. He's gotten to 70 recently and has as high of a ceiling as anyone. You simply can't stop him off the dribble when his shot is falling.
Listen to "Thursday NBA DFS plays and Betting Angles for FanDuel and DraftKings 2/7/19" on Spreaker.
Shooting Guard

Andrew Wiggins FD - $6000 DK - $5900
Opponent - ORL
Proj Pts FD - 29.93 DK - 30.43
Shooting guard isn't a spot that you can really love tonight. Lou Will, Derozan, and McCollum deserve attention at the top, but are a bit pricey and not in the best match-ups. If you're willing to pay down a bit, Andrew Wiggins is a great option at around $6k. The Grizzlies are facing off with the Magic, who are a middle of the road defensive team that doesn't have great perimeter defense. Wiggins is shooting the ball a bit more lately and has actually shown a bit of consistency. His season average of 29.6 FanDuel fantasy points per game suggests he should be able to pay these prices in league average match-ups, even if he's been hilariously great in terrible match-ups like Utah and OKC and pretty meh otherwise recently. He's the clear second option to Towns and this game is expected to remain close and be relatively high-scoring. Let's move on to some even cheaper options.

Justin Holiday FD - $5500 DK - $5200
Opponent - OKC
Proj Pts FD - 26.69 DK - 26.55
Justin Holiday has bounced around the NBA a bit, but I always felt like he was a little underrated. Over the last three games, Holiday has picked up 30+ minutes in each and has been over 20 fantasy points in all three. He got up to 40 last game and had the ball in his hands a lot of the time. His price is still well under $6k on both sites and you're only needing 20-25 fantasy points in cash games. The upside is obviously there against a Thunder team that likes to run and will have their best defender on Conley. Holiday is going to see 30+ minutes and I love him at a position without any opportunity cost
Terrence Ross FD - $5500 DK - $5100
Opponent - MIN
Proj Pts FD - 23.59 DK - 24.08


Evan Fournier FD - $6000 DK - $5500
Opponent - MIN
Proj Pts FD - 27.74 DK - 28.91
In cash games, Evan Fournier is the move here. He's been well over 30 minutes in every game recently and is the primary shot taker behind Vucevic. The Timberwolves are far from intimidating on defense, ranking 25th against opposing shooting guards. As for Ross, he may only play 25 minutes, but he could pick up 40 fantasy points in that time. He could also play 35 minutes and would be a lock to hit value. This is a game I love targeting and could even see stacking it up with 3 or 4 players. Let's move on to a position with some real studs.
Small Forward

Kawhi Leonard FD - $10100 DK - $9400
Opponent - ATL
Proj Pts FD - 50.3 DK - 49.65
First things first, small forward isn't very deep. On the high-end, we have Paul George, LeBron James, and Kawhi Leonard to choose from. All three are in play and will take up a lot of ownership at the position. Of the three, our lineup optimizer is leaning toward Kawhi Leonard. He has the friendliest match-up and price of the three with just as much upside. The Hawks rank 29th in basketball against opposing small forwards and play faster than anyone in the entire league (106 PACE). The Raptors are going to score a bit more than usual and Leonard should be at the forefront of it all. His price is friendly and he'll be locked into every cash game and tournament of mine. He hasn't been over 50 fantasy points in the last few, but I predict that changes with ease tonight. There is blowout risk here, of course, and if you want a safer option you might want to look at the next guy.

LeBron James FD - $10300 DK - $10400
Opponent - BOS
Proj Pts FD - 54.33 DK - 55.97
Maybe LeBron and the Lakers just lie down and die until they make a trade, but I think LeBron has a bit more dignity than that. Naturally so when facing his career-long foe Celtics and Kyrie Irving. I don't trust any of the other non-Rondo Lakers tonight, but LeBron may just take everything into his own hands and go crazy. I do think LeBron is a bit more risky than usual, but his upside is also insane if he just ignores his team and goes for 50. The Celtics offer some reasonable defensive options in guys like Marcus Morris or Jayson Tatum, but I doubt LeBron feels like getting embarrassed two games in a row. He's still good enough to beat a team by himself and I'll make sure I have exposure in at least 50% of my lineups.
Also considered for big tournaments: Jake Layman.
There's an argument to be made that this is chasing points, but that's only if you expect anywhere near 40. You only need 20-25 in cash games and he's the only guy at SF you can be comfortable with in the price range. The Blazers obviously love him and he's been effective when on the floor. This game is going to stay close until the final buzzer and Layman should get 30 minutes. The Spurs are no longer a pack of defensive stalwarts and can be taken advantage of in the corner and on the boards. Don't be afraid to roster a relatively safe Jake Layman that shouldn't be more than 25% owned.
Power Forward

LaMarcus Aldridge FD - $8500 DK - $7800
Opponent - POR
Proj Pts FD - 38.11 DK - 39.19
Aldridge sat out last night for rest purposes, so he's rested and ready to take on his former team tonight in the great city of Portland. No matter how long it's been, you know LMA is going to have a little extra on his mind when playing the Blazers. It's a place he wanted to win a championship in and actually had a real shot in his last couple years. He's still beloved by the city and has gone off against them in years prior. He struggled at the start of this season, but I'm going to ignore that as we know things are weird during the first week of the season. LMA is going to shoot the ball 15+ times tonight and could easily be stretched to 35 minutes with the rest of the team playing big minutes last night. The Spurs sat last night and Popovich was clearly targeting making this one competitive. Aldridge isn't even very expensive on either site and is a very safe bet to sit between 40 and 60 fantasy points. Power forward isn't pretty and Aldridge is extremely safe and affordable.

Serge Ibaka FD - $6700 DK - $6300
Opponent - ATL
Proj Pts FD - 37.19 DK - 36.42


Pascal Siakam FD - $6500 DK - $6200
Opponent - ATL
Proj Pts FD - 34.89 DK - 34.27
If you're not looking to pay up at power forward, both of these guys are phenomenal mid-range options. We all know just how bad the Hawks are and against opposing power forwards, they rank dead last. Both Ibaka and Siakam have been effective when on the floor and neither are too expensive. In fact, both are affordable and deserve to be played in both cash games and tournaments. Ibaka has been a bit safer recently, topping 32 fantasy points in four straight games. If the game happens to stay close, both have the upside for 50 and are some of the safer options on the slate. John Collins is a great offensive player, but struggles mightily on defense and with rebounding. I personally like Siakam for big tourneys, and Ibaka for cash games.
Ivan Rabb FD - $6300 DK - $5100
Opponent - OKC
Proj Pts FD - 30.8 DK - 33
Both sites have already adjusted his price, so we aren't getting a lock at minimum price or anything like that. However, he's still not as expensive as he should be. He ended up playing 33 minutes with Gasol out of the lineup last game and put up 42 fantasy points. He now sees an interesting match-up with a Thunder squad that likes to run the floor. Rabb has always been effective when on the floor and could turn into a key piece for this Grizzlies team. He can score FP's in a lot of different ways and can stuff the stat sheet. Rabb has a ton of upside and deserves attention in both cash and tourneys.
Center

Steven Adams FD - $7000 DK - $6200
Opponent - MEM
Proj Pts FD - 33.71 DK - 32.82
Steven Adams will face off with a Grizzlies squad that is going to be without their best player in Marc Gasol. Joakim Noah is also questionable, so it could get very ugly. If Noah is also out, Adams is going to dominate all night long and could easily end up picking up 15 rebounds. The Grizzlies are playing faster without Gasol and have plenty of young guns that are going to miss a ton of shots. Adams is also going to dominate on the PnR with Westbrook, so I love matching them up in a tournament. Adams is still fairly priced in both formats and will be my highest owned at the position.

Karl-Anthony Towns FD - $11100 DK - $9900
Opponent - ORL
Proj Pts FD - 49.4 DK - 50.88
If you have the funds to pay up, Karl-Anthony Towns is more than in play at a tough position. He's a bit inconsistent, but that's only against tough defenders and slow-paced teams. Against a center that doesn't play any defense, like Nikola Vucevic, he's going to dominate. The Magic actually rank middle of the road against centers, but that's more about the pace they play at. He puts up 60 fantasy points when given the opportunity and has as much upside as anyone on the slate. Vucevic is also in play, and he's also a bit cheaper, but I'm taking the side of Towns who has a much larger ceiling.
Good luck out there tonight!
GRAB A FREE TRIAL OF OUR PROJECTION SYSTEM, AND CHECK OUT DFSR PRO!
FREE EBOOK
SECRETS TO CRUSHING DAILY FANTASY FOOTBALL!
DON'T SET ANOTHER LINEUP BEFORE YOU READ THIS BOOK.