Basketball Picks Daily Fantasy
Expert Advice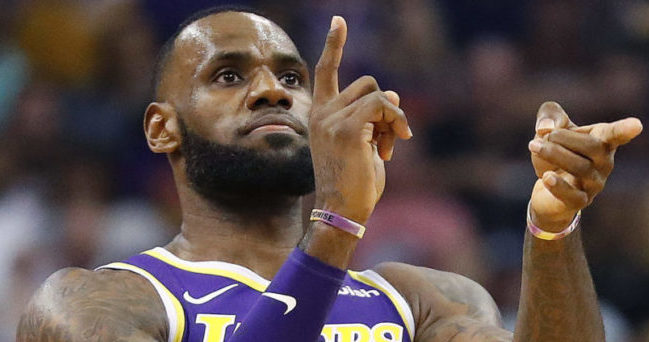 FanDuel NBA Picks and DraftKings NBA Picks - 2/10/19
Happy Sunday, dear friends! We're deep in the heart of February, we're past the trade deadline, and we have nothing but basketball (and hockey, I guess?) from here til baseball season. Today we have a couple of slate across a nice day of Sunday hoops, and instead of trying to offer up a few picks at each position we'll go ahead and break things down game by game.
Head on over a for your chance to get DFSR PRO, which will give you access to our NBA FanDuel and DraftKings optimizer, our NFL Optimizer, and our new player lab! Get started for free by clicking the button below.
First time with NBA or NFL? Be sure to read our free NBA and NFL Ebooks on building lineups, general strategy and more. We've got you completely covered.
Portland Trail Blazers at the Dallas Mavericks
Portland is favored by in a game with a total.
This slate starts with a whimper, unfortunately. The new arrivals in Dallas have muddied some already cloudy waters, and Portland and Dallas both are below average match-ups for opposing daily fantasy players. The departure of Dennis Smith Jr. opened up some minutes and opportunity, but most of those were filled by already expensive (for their production) players like Tim Hardaway Jr. and Trey Burke. If there's one exception, it might be Dallas' best young player.

Luka Doncic FD - $9800 DK - $9200
Opponent - POR
Proj Pts FD - 46.29 DK - 48.11
Luka appears to be the heir apparent to DSJ's time of possession, and has two triple-doubles in his last five games. He also presents a mismatch for McCollum and Lillard, and it's certainly not out of the question to imagine him paying value here. And yet, our system still isn't over the moon. The Milwaukee game was somewhat harrowing for people that want to play Mavs in cash games because the Mavs really weren't down by all that much when they decided to pull their starters. The Mavs are four teams and four games out of the playoffs right now, and you have to think that they are just aiming to rebuild around Luka and Porzingis. I think Luka is playable here, but certainly not exciting.
I'm also willing to play Dorian Finney-Smith if I have to. I like that he played 33 minutes two games ago, and while he can disappear on you at times it's going to be slim pickins on this early slate.
Things don't get a whole lot rosier on the Portland side. The arrival of Rodney Hood has made modestly interesting plays like Jake Layman a lot less so. Lillard and McCollum are overpriced in neutral match-ups, and just gross in tougher ones like this. The floor shouldn't be outrageously bad if you just need to fill out your lineup, but again beggars can't always be choosers on short slates.
Los Angeles Lakers at the Philadelphia 76ers
Philly is favored 7 by in a game with a 234 total.
This game has a line on it, but as of now there is still some pretty significant outstanding news that we're waiting for. Embiid is listed as questionable, and obviously if he is out it opens up a ton of opportunity for the rest of the big names in Philly.
If he does play, I still think we could see some value on the Philly side. The Lakers are an improved defense with LeBron, so you can't just use their straight DvP stats given all the time he's missed this year. The Lakers still play a top 3 pace, and on a tiny little slate you're not going to be able to ignore the Sixers against them.

J.J. Redick FD - $5400 DK - $5200
Opponent - LAL
Proj Pts FD - 26.13 DK - 27.85
If there is one guy who seems to benefit from all the length and talent around him, it appears to be JJ Redick. He shredded the Nuggets for 34 points from the field on 11-15 shooting and 6-7 from three. The athletes around him just create so much space that Redick looks like he's going to be having a field day out there. The Lakers are sloppy around the perimeter as well, and Redick just looks like a phenomenal value here.
Outside of Redick, I see the rest of the Philly guys in a somewhat similar light. Jimmy Butler, Joel Embiid, Ben Simmons, and Tobias Harris are all a little bit too expensive given how many mouths you have to feed here now, but again, the Lakers are a phenomenal match-up. I really liked what I saw from Harris in his debut in particular, and I'd be surprised if he won't be a $7k player on the back of his rebounds and defensive contributions.
Now let's have a look at the Lakers.

LeBron James FD - $10800 DK - $10800
Opponent - PHI
Proj Pts FD - 55.65 DK - 57.01
Our system seem LeBron as the premium payoff option against the Sixers here. It's funny because the Sixers now feature 3 guys who could conceivably chase LeBron around in Harris, Butler, and Simmons, but LeBron is likely just too cheap for what he's doing right now. LeBron dropped a 28/12/12 triple double against Boston, and I imagine he'll feel like he has similar statements to make against America's new darling.
JaVale McGee FD - $5500 DK - $4700
Opponent - PHI
Proj Pts FD - 33.79 DK - 31.67
With Zubac out of town McGee got the start and registered 30 minutes against Boston. And he looked pretty good, too! 17 and 8 with a block on 7-11 shooting is exactly the type of production the Lakers need from their bigs. He doesn't demand the ball, the can clean up the glass, and his defense should be serviceable against the Celtics' underwhelming opposing big men. What we really have here is a price and opportunity mismatch. If McGee is really the reliable starter going forward, he'll be a $6,000 player in short order. The potential fly in the ointment here is Muscala. He is making his debut here, and could eat into McGee's minutes.
The rest of the Lakers are subject to similar uncertainty, but I'm not going to fret it too much just yet. I actually believe that Kyle Kuzma will be a 33+ minute player going forward, simply because the Lakers appear to need to volume shooting. I also like Brandon Ingram and Rajon Rondo here.
Phoenix Suns at the Sacramento Kings
This game has no total as of this writing.
Hey, here's a little barn burner for us. Right now Devin Booker is listed as "likely to play," which unfortunately kills some of the value on the Suns side here. I imagine some people will take a shot on Booker himself, but he's looking a little rich for my blood. We're actually seeing a little bit of a crowded situation between Bridges, Jackson, and the rest of the Suns wings right now, but I could see an argument for playing any of them or none of them. The main Sun I'm excited about here stands a little taller than those fellows.

Deandre Ayton FD - $7600 DK - $6900
Opponent - SAC
Proj Pts FD - 37.8 DK - 39.04
Ayton is living up to every part of his #1 overall pick billing, and is really coming into his own recently. He single handedly kept the Suns in the Golden State game, putting up 23 points and 12 boards with four defensive stats to boot. Sacramento has allowed the 7th most fantasy points to opposing centers this season on account of their top 3 pace, and Ayton should be able to get his easily.

Harrison Barnes FD - $5500 DK - $5100
Opponent - PHO
Proj Pts FD - 32.3 DK - 33.77
Shifting over to Sac-town, we get a lot of playable options. I'll start with their newest arrival, Harrison Barnes. While Barnes didn't light up the stat sheet in his Kings debut, he did play a team high 37 minutes. He didn't exactly pop off offensively, shooting just 3 of 9 from the field. We've been down this road with Barnes in the past, but it's clear that Sacramento is hoping for him to step into a leadership role, and I think he's just under-priced for these minutes. It also doesn't hurt that the Kings are playing Phoenix, who have been soft to opposing small forwards all season.

Buddy Hield FD - $6600 DK - $6600
Opponent - PHO
Proj Pts FD - 32.88 DK - 35.04
Classic rock-solid value play. Hield's playing a 34 minute rotation even when the Kings are getting blown out, and he's shooting 16-20 shots with great regularity. Hield averages paying these prices as it is, and he'd be a highly owned player on a full slate here, much less a half-day slate like this. Just play him in cash and don't think too much about it.
Our system is actually seeing a pile of options against the Suns here. Willie Cauley-Stein makes for an interesting upside GPP play, as the Suns have been the very best match-up for opposing centers this season.
Orlando Magic at the Atlanta Hawks
Orlando is favored 1.5 by in a game with a 224 total.
Our first game on the FanDuel main slate, and it's an odd bird. We normally have to sweat it out pretty hard when we think about playing guys from either one of these teams, but the Southeast Conference's bottom two teams are a match made in Heaven when they're up against one another. Writing FanDuel NBA picks can be a pain in the ass on two game slates, but it's looking a little easier early on. The only possible consideration here is that both of these teams are on the second half of their back to back, but you can't just throw them out in a two game slate.

Aaron Gordon FD - $7100 DK - $6700
Opponent - ATL
Proj Pts FD - 36.13 DK - 36.66


Nikola Vucevic FD - $9600 DK - $9500
Opponent - ATL
Proj Pts FD - 48.25 DK - 49.33
Again, can sometimes worry about these two guys, but not in a game with a 1.5 point spread. I didn't like playing Gordon when he was cresting near $8,000, but right now he's just $7,100 and $6,700 on FD and DK. He's also settling back up into his old minutes, steadily playing 35-37 minutes in every close game the Magic have had since he returned from his two game absence. Gordon is a true talent $7,500 player, and the combination of a slight discount on his price and a great match-up make him a must play at an awful position. As for Vuc, he just doesn't have a lot of competition at center on this slate. I'd be concerned about both sides of the Whiteside/Cousins pairing on the basis of their volatility, and I'm not touching these Hawks guys. You have to play someone, and he's a solid play either way.
I can't say I'm in love with the other Magic players, but you can play DJ Augustin and Evan Fournier on a short slate for sure.

Taurean Prince FD - $5300 DK - $4900
Opponent - ORL
Proj Pts FD - 26.87 DK - 28.14
Prince sure looks like a 32-36 minute player right now, at least in close games. We've seen him maintain mid $6,000 prices in the past, and he's only held down now by the Hawks inability to play close games. The Hawks are in need of offensive playmakers right now, and he's one of their best options.
Our system doesn't love a lot of these other Hawks guys, though. I'm not a believer in John Collins, and the rest of Hawks guys are looking underwhelming as well.
Miami Heat at the Golden State Warriors
Golden State is favored 14.5 by in a game with a 222 total.
A two game slate, and one of the games has a 14.5 point spread. Did I say I like how this slate looked? I may have already been proven wrong. For the sake of your own sanity you probably just have to assume that this one stays somewhat close. I don't think you can just avoid half of the games on the slate, and there should still be some more reliable options that you can pinpoint here.

Dion Waiters FD - $4400 DK - $4200
Opponent - GS
Proj Pts FD - 23.51 DK - 24.79


Justise Winslow FD - $6000 DK - $5500
Opponent - GS
Proj Pts FD - 30.04 DK - 30.74

Josh Richardson FD - $6700 DK - $6100
Opponent - GS
Proj Pts FD - 31.84 DK - 32.69
My favorite three plays on the Heat and it's not even close. The departure of Tyler Johnson frees up not just the 28-30 minutes he was playing, but the second unit usage as well. Winslow was heavily owned in the Sacramento game and paid his price in spite of losing a few minutes. He'll be taking turns running the point again, and should be able to do something against the Dubs here. Waiters looks somewhat underpriced here. Richardson should be the safest guy in this mix just because of how much the Heat rely upon him. He hasn't played less than 33 minutes in a game since January 21st, and some of those include some lopsided affairs. I don't know if any Heat can be considered safe here, but if you think they are going to be trailing they'll be relying upon their wings even more than they already do.
On the Warriors side, you may not love what I have to say here. I'm going to tell you anyway.

Stephen Curry FD - $9200 DK - $9300
Opponent - MIA
Proj Pts FD - 44.13 DK - 46.96
We have a lack of good point guard options on this slate, and Curry's price is still down recently. He's 8 for 25 from three in his last three games, which naturally will be coming up in the very near future. Curry is central to most Golden State blowouts, and he's among the only Warriors who isn't pushing recent highs in prices. Miami isn't a great match-up for anyone, but the Heat are going to have their hands full with all of these offensive options, and I think Curry finally breaks out here.
After Curry, I could see myself playing a lot of Draymond Green here. He's cheap, and again, our options at power forward are never looking especially exciting. After Aaron Gordon we're looking at an overpriced Collins and a Heat team that doesn't field the position for fantasy purposes. Green is the 5th option in this offensive right now, but he's as cheap as he's been all season.
If salary is an issue you can play Demarcus Cousins, Kevin Durant or Klay Thompson - none of these guys are reasons to show up and play the slate though.
So there we have it. I can't say it's an mind-blowing slate, but on these small bad slates, there are a lot of mistakes that can be made. Looking forward to seeing y'all in the chat and making some money tonight.
GRAB A FREE TRIAL OF OUR PROJECTION SYSTEM, AND CHECK OUT DFSR PRO!
FREE EBOOK
SECRETS TO CRUSHING DAILY FANTASY FOOTBALL!
DON'T SET ANOTHER LINEUP BEFORE YOU READ THIS BOOK.