Basketball Picks Daily Fantasy
Expert Advice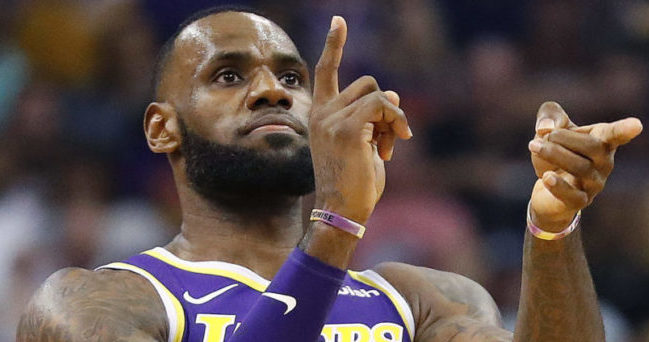 FanDuel NBA Picks and DraftKings NBA Picks - Tuesday 2/12/19
We are almost at the All-Star break, but there's still some NBA action to go around this week. Tuesday's features five games with the Lakers trying to tread playoff water, Anthony Davis still (for some reason) playing for the Pelicans and the Warriors hosting the Jazz.
Head on over a for your chance to get DFSR PRO, which will give you access to our NBA FanDuel and DraftKings optimizer, our NFL Optimizer, and our new player lab! Get started for free by clicking the button below.
First time with NBA or NFL? Be sure to read our free NBA and NFL Ebooks on building lineups, general strategy and more. We've got you completely covered.
Point Guard
Rajon Rondo FD - $6200 DK - $5900
Opponent - ATL
Proj Pts FD - 25.93 DK - 26.63
Against the Sixers on Sunday, Coach Luke Walton went off script and benched Rondo in favor of running Reggie Bullock at the two and playing a hybrid approach at the point guard. It didn't work out. I do think we see a return to Rondo at the point in this game against the Hawks. The Philly game presented very real mismatch issues which won't come into play against the Hawks. We need to wait on starting lineup confirmation, but if Rondo is in there then he's an easy lock for cash games on both sites. He's only a game removed from a 17 point, 10 assist, seven rebound line (including the game-winning buzzer beater) against the Celtics. Rondo can be hit or miss, but I'd be less worried about the fantasy output in a matchup against the ultra-fast Hawks.

Ben Simmons FD - $8800 DK - $7800
Opponent - BOS
Proj Pts FD - 43.27 DK - 43.42
On DraftKings, the price continues to drop with the new-look Sixers now spreading their fantasy production even thinner around the core group of guys. Adding a player like Tobias Harris at the deadline will do that. Simmons has had a few underwhelming games in a row, capped by a dreadful eight point, seven assist game in the blowout against the Lakers. But I'm still encouraged his minutes will carry him most of the way there on this DraftKings' price and he still has double-double potential if he's playing 37+.
Consider Ricky Rubio against the Warriors.
Shooting Guard

Jaylen Brown FD - $5200 DK - $5100
Opponent - PHI
Proj Pts FD - 26.92 DK - 27.26


Marcus Smart FD - $5400 DK - $4900
Opponent - PHI
Proj Pts FD - 26.15 DK - 26.22
With Kyrie Irving out of the lineup on Tuesday, both Brown and Smart should see increased minutes and usage in the offense. Brown is likely to come off the bench, but he's had a lot of success when Kyrie is out of the mix, Brown sees roughly a 6% increase in usage and 12% bump in assists. Because he's seen more opportunity of late, Brown's price isn't exactly cheap but this is a tougher slate when it comes to sniffing out value so it stands to reason we could run him out there in cash games even with some moderate uncertainty around his minutes.
Meanwhile, Smart will still be in the starting lineup and gets about an 8% bump in usage and 7% uptick in assists when Irving isn't playing. He's never going to be much of a volume shooter on this team so what you're hoping for out of Smart is a lot of minutes and the opportunity to pile on all of the other stats. His defensive makeup should mean plenty of minutes against this loaded Sixers' team and that's the part I'm buying the most on with Smart.
Delon Wright FD - $4500 DK - $3500
Opponent - SA
Proj Pts FD - 20.41 DK - 19.99
Wright is a little too expensive on FanDuel, but he makes for a very solid DraftKings' pick near the minimums. The Grizzlies bought out Shelvin Mack and Wright is not the backup point guard to Mike Conley. Last game, Delon played 23 minutes and finished with a modest fantasy line. But I think the run should be solid moving forward with Memphis very short on actual ball handlers behind Conley and Wright does have the ability to get to the hole and create his own shot. Again, a DraftKings' play only.
Small Forward

LeBron James FD - $11200 DK - $10500
Opponent - ATL
Proj Pts FD - 56.31 DK - 57.32


Brandon Ingram FD - $6200 DK - $5500
Opponent - ATL
Proj Pts FD - 32.26 DK - 32.71
On this shorter slate, I'm not seeing a lot of reasons to fade the Lakers. They are getting the Hawks who rank 28th in the league in defensive efficiency and run, easily, the fastest pace. It's a dream matchup for sure and expect to see Lebron as one of the highest-owned players on the slate. Even with terms like "load management" being thrown around, this is a guy the Lakers are willing to extend up to 38 minutes in close games and he's averaged essentially a triple-double since coming back with 22 points, 11 rebounds and just a hair under 10 assists per game. The price isn't overwhelming even on this smaller slate of games and it won't be all that tough to roster the best player going.
Meawhile, Ingram is still working to find his way in this offense with Lebron is around. It isn't ideal playing them together because the team really lacks spacing in that format. But the Lakers are kind of stuck in that regard. I think we are getting Ingram cheap enough on this slate to take the chance. He's basically been able to score with Lebron around but there aren't a lot of periphery stats to rack up and that's eating into his fantasy floor. The price is cheap enough that I'm not all that worried about it, but I don't think Ingram has tremendous upside.

Gordon Hayward FD - $5300 DK - $4700
Opponent - PHI
Proj Pts FD - 27.86 DK - 28.16
Hayward is often one of the biggest beneficiaries of Kyrie Irving sitting because the usage really opens up in the offense. Though Hayward is coming off the bench, he sees a 5% bump in usage with Irving off the court this season. In fact, three games ago (the last time Kyrie sat) Hayward put up one of his best games of the season with 18 points, six rebounds and five assists. His length will help him stay on the court in this Sixers' matchup and I think he pushes 30 minutes easy as long as the game stays close. The DraftKings price is a very easy call.
Power Forward

John Collins FD - $7700 DK - $7600
Opponent - LAL
Proj Pts FD - 40.18 DK - 42.79
Collins has taken a couple
From a fantasy perspective, Collins has had a rough couple of games, specifically in terms of his rebounding. He has only nine total boards in his last 60 minutes. That's a sharp reduction from the nearly double-digit per game rebounds he's put up over the course of the season. I expect the number to bounce back and this is a good spot to do so against the Lakers. L.A. plays a top-four pace this season and opponents can enjoy higher volume on periphery stats because of the uptick in possessions. I like Collins getting full run in this game and the price has dropped just a bit over the last week.

Aaron Gordon FD - $7100 DK - $6400
Opponent - NO
Proj Pts FD - 34.53 DK - 35.33
Even though Anthony Davis is back *in the mix*, the Pelicans have been a good fantasy matchup for most of this season. They play a bottom-five defensive efficiency and are running one of the faster paces in the league. Gordon makes a for a good, not great, option on FanDuel but we need to strongly consider him because the position is often so weak across the board. He needs to score to hit value, and a lot of that depends on the three ball. He's taking 4.5 three attempts per game, knocking them down at about 34%. Those, combined with a slight bump in rebounding potential against the Pelicans gives him a good enough floor to consider in cash games.
Consider Draymond Green
Center
JaVale McGee FD - $6300 DK - $4800
Opponent - ATL
Proj Pts FD - 33.98 DK - 31.36
The Lakers traded away Ivica Zubac at the deadline and that's led to more steady minutes for JaVale in the short term. Over the last two games, he's averaged 28 minutes, 19 points, 10 rebounds and a block per game. For DraftKings, that's more than enough to hit value and he won't be played off the court by the Atlanta big men situation. Center is looking rather weak on Tuesday and it looks like McGee in the midrange is going to be the easier call of the night.

Joakim Noah FD - $3700 DK - $4000
Opponent - SA
Proj Pts FD - 23.67 DK - 23.5
Again, I don't really love recommending bench players. And I especially don't like recommending bench players on bad teams. But with Marc Gasol and Jamychal Green shipped out at the trade deadline, Noah did come in off the bench and played 30 minutes for the Grizzlies. He finished with an awesome 19 point, 14 rebound line. His per minute scoring and rebounding numbers this season are impressive when extrapolated out to more significant run, and that could be the case going forward with only Ivan Rabb and Jaren Jackson Jr. ahead of him on the depth chart. As a FanDuel pick, I think he might be worth the risk on this slate.
Strongly consider Nikola Vucevic if you want to pay up at the position.
GRAB A FREE TRIAL OF OUR PROJECTION SYSTEM, AND CHECK OUT DFSR PRO!
FREE EBOOK
SECRETS TO CRUSHING DAILY FANTASY FOOTBALL!
DON'T SET ANOTHER LINEUP BEFORE YOU READ THIS BOOK.