Basketball Picks Daily Fantasy
Expert Advice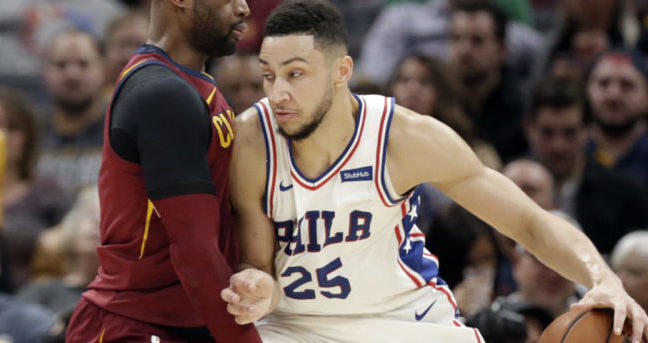 FanDuel NBA Picks and DraftKings NBA Picks - Thursday 2/21/19
And just like that, we're back from the All-Star break. It was a nice mini-week off but it's good to be back in the basketball fold. We've got six games on the slate with the big news coming early when the Sixers ruled out Joel Embiid for the next week or so. Let's take a look at some of the FanDuel and DraftKings value picks.
Head on over a for your chance to get DFSR PRO, which will give you access to our NBA FanDuel and DraftKings optimizer, our NFL Optimizer, and our new player lab! Get started for free by clicking the button below.
First time with NBA or NFL? Be sure to read our free NBA and NFL Ebooks on building lineups, general strategy and more. We've got you completely covered.
Point Guard

Ben Simmons FD - $8700 DK - $7900
Opponent - MIA
Proj Pts FD - 49.25 DK - 49.35
With the news that Joel Embiid will miss at least a week with knee soreness meaning we are getting the rest of the Sixers at relative discounts coming out of the All-Star Break. Simmons should see an immediate minutes upgrade with the Sixers now playing short a man and he gets about a 4% usage rate this season when Embiid is off the court. Dude has had some up and down fantasy performances with Philly getting even deeper talent-wise after the Tobias Harris trade. But it's only brought the prices down across the board and I suspect we see this team as heavy chalk on the Thursday slate.

Stephen Curry FD - $9500 DK - $9000
Opponent - SAC
Proj Pts FD - 45.71 DK - 48.52
The Warriors come into Thursday's game as their customary double-digit favorites against the Kings. At this point, the standard is for Curry to play about 36 minutes in close games. His shooting has *tailed off* over the short term, knocking down only 37% of his threes in the last six games. This is after shooting 46% from beyond the arc during the month of January. It was unlikely for him to sustain that kind of accuracy, but he should settle back into around the 44% range he's shot over his career. The dip in threes has also meant the pricing coming down a little and we are getting him at a discount on this slate.

Collin Sexton FD - $5500 DK - $4900
Opponent - PHO
Proj Pts FD - 27.23 DK - 28.89
Sexton, from a DFS perspective, is kind of the perfect guy for the Cavaliers. He doesn't really increase their chances of winning and therefore he can stay on the court for longer stretches. Over the last five games, he's averaging 36 minutes per game in regulation and a 23 point, four rebound, four assist line. He's also getting up almost 20 shots per game and six threes per (where he's shooting 43% in the short term). Sexton also draws a fantastic matchup in the Suns who play the second-worst defense in the league (Cleveland s the worst) and run an above-average pace. Even with Kevin Love coming back into the mix, I'm still fine playing Sexton at these prices.
Listen to "Thursday NBA DFS plays and Betting Angles for FanDuel and DraftKings 2/21/19" on Spreaker.
Shooting Guard

Jimmy Butler FD - $8200 DK - $7200
Opponent - MIA
Proj Pts FD - 43.63 DK - 42.68
Butler probably has the most to gain with Embiid off the court for Philadelphia. Since coming over from the Timberwolves, Butler had seen his usage rates crater when sharing the court with Embiid. The former has an 18% usage rate with Embiid on the court, but that number jumps up to about 30% when Embiid is off the court. Butler also gets about an 8% bump in his rebounding rate as well. Like Simmons, I think Butler is another very popular play on Thursday even in a slower matchup against the Heat.

James Harden FD - $12600 DK - $11600
Opponent - LAL
Proj Pts FD - 62.16 DK - 64.7
The Lakers are running the third-fastest pace in the league this season and this figures to be among the highest-scoring games of the evening. With Chris Paul back, Harden has seen the assist numbers dip some, but the insane usage is still there for sure. Over the last nine games (Paul played in eight of them) Harden is averaging 27 shot attempts plus nine free throw attempts per game. These numbers remain nuts. Again, the assists and rebounds are down off their peaks but that's necessitated a price dip as well. I love him in this matchup and think there are ways to even pair him and Giannis in cash games on this slate.

Devin Booker FD - $8200 DK - $7700
Opponent - CLE
Proj Pts FD - 40.45 DK - 42.48
Speaking of the worst defense in the league, the Suns get to face in the Cavs in what could be a travesty of real basketball watching but also simultaneously have a lot of DFS value. Booker struggled in his last game before the All-Star Break, shooting only 2-10 from the field (a season-low usage in games that didn't involve an injury). And it's worth noting that he's struggled to find consistency from behind the arc, knocking down threes at only a 32% clip (down from 38% last season). Injuries and some run bad could be to blame here, and this is a smash spot for Booker. As I mentioned, the Cavs are a wreck on defense and he'll start the game with a Brandon Knight/ Collin Sexton defensive pairing. I love the DraftKings price on Booker and expect him to have significant ownership on that site.

Buddy Hield FD - $6300 DK - $6400
Opponent - GS
Proj Pts FD - 32.37 DK - 34.73
Somewhat quietly (to the casual fan) Hield is putting up an excellent season for the Kings. He's shooting 45% from three, and leading the team in minutes (31.5), points (20.5) and shots (16) per game while also rebounding quite well (5.1 per). In his third season, he's clearly taking a leap and is one of the few Kings' guys I'll trust on a night-to-night basis for DFS purposes. The potential blowout has me a little concerned here because he'll get his run buzzed off if the game is out of hand in the fourth quarter. But this is going to be a fast game between the third and tenth highest pace teams in the league. I think the volume shooting pays the day here for Hield.
Small Forward

Giannis Antetokounmpo FD - $12400 DK - $10800
Opponent - BOS
Proj Pts FD - 60.45 DK - 62
There are plenty of spend-up options for Thursday's slate and I easily could have written up Lebron James in this spot for $700 cheaper on FanDuel (only $200 cheaper on DK). The biggest question on Giannis this season isn't how amazing he's been (dude is on the shortest list for MVP candidates) but rather if he can get there from a fantasy perspective because of the minutes. The Bucks just blow the doors off almost everyone that Giannis is often left with minutes well under what he needs to pay these prices. That shouldn't be the case in a leverage Eastern Conference matchup against the Celtics. In just over 33 minutes per game this season, Giannis is averaging a ridiculous 27 points, 13 rebounds and six assists (plus some blocks and steals). It's why when we bump him to 35-36 minutes he's going to ring in at a value play on these prices (especially on DraftKings). The Celtics aren't a great matchup from a defensive efficiency standpoint, but that's fine for me in this respect because I think we about 10% more minutes than usual on the Greek Freak.

J.J. Redick FD - $5500 DK - $5300
Opponent - MIA
Proj Pts FD - 27.85 DK - 29.88
Redick is just another Sixer who sees a usage bump when Embiid is off the court. Considering the Philly big man led the team with a 34% usage, this isn't a shock that the rest of the team would stand to benefit in a big way in his absence. Redick played 33 or more minutes in three of the last four games and averaged seven three-point attempts per in that run. He's completely reliant on scoring to hit fantasy value. Among players with more than 500 FanDuel points this season, Redick's 71% points/fantasy points ratio is by far the highest. He needs to knock down threes, and a lot of them. But at his mid-tier pricing and expected increase in attempts makes him palatable on FanDuel where the position is rather weak.
Consider Justise Winslow if Goran Dragic remains out on Thursday.
Power Forward

Kyle Kuzma FD - $6600 DK - $5900
Opponent - HOU
Proj Pts FD - 32.58 DK - 34
With Lebron James back in the mix for the Lakers over the last five games, Kuzma suffered much on the usage end, taking more than 20 shots per game (15.6 FGA per game average on the season) and putting up two 30+ point games in that stretch. Kozma's effective field goal percent (eFG) goes up with Lebron on the court this season from 52% to 56% (per NBAwowy) as does his True Shooting percentage (54% to 58%). He just gets better looks (especially from three) with Lebron around and expect that to continue going forward. And unlike some of the other Lakers, I'm not as worried about Kozma's minutes. This is a good spot for him in what should be a closer game against the Rockets.
P.J. Tucker FD - $4500 DK - $3900
Opponent - LAL
Proj Pts FD - 22.72 DK - 22.06
With Tucker, you are basically hoping for two things: he plays a lot of minutes and is able to piece together enough fantasy relevance to not sink you. I suppose that's the case for every player but Tucker's minutes are such that you almost have to consider him at these prices. But when you play on a team with Harden (and Chris Paul) the other stats can be tough to come by. I think the minutes will be there in this matchup because Tucker will be called upon to guard Lebron for long stretches and that raises the floor on the Rockets' power forward. At that point you are are hoping the rebounds are there (eight per game over the last five) and the defensive stats get there as well. He just isn't going to score and you really can't count on that part of his game. Again, it's why the price is so cheap and at a bad position I'm fine getting out of it with a quasi-punt play.
Consider Draymond Green.
Josh Jackson is also an interesting play with T.J. Warren still out for the Suns.
Center

Jusuf Nurkic FD - $8100 DK - $7400
Opponent - BKN
Proj Pts FD - 42.07 DK - 42.48
It's no secret that the Nets have struggled all season long to defend opposing centers. That's what you get when Jarrett Allen is the starting C and no one with any more size comes in off the bench in his stead. They've allowed 11% more scoring and 10% more rebounding than league average to the position. And with this game projecting to stay close (POR -1) I suspect we see a full run of minutes for Nurkic who should be in positive mismatches all game long. The fantasy production fluctuated some over the last two weeks, but this is a guy averaging 15 points and 10 rebounds a game and now draws basically the best matchup you can get in DFS. The DraftKings' price is a no-brainer and I think he'll see heavier ownership as a FanDuel as well.
Boban Marjanovic FD - $3800 DK - $3500
Opponent - MIA
Proj Pts FD - 21.58 DK - 21.55
With Embiid out, I suspect Boban gets the start for the Sixers at center. He's been seeing (somewhat) consistent minutes (for him) since coming over in the trade with Tobias Harris. Coming near the minimums on both sites, if Boban were to draw the start, we could see him as the highest-owned play on both sites. Last game, in just 14 minutes Boban was very Boban-y with 10 points, eight rebounds and three assists. We know at this point that few other players pile on fantasy stats per minute in quite the same way.
GRAB A FREE TRIAL OF OUR PROJECTION SYSTEM, AND CHECK OUT DFSR PRO!
FREE EBOOK
SECRETS TO CRUSHING DAILY FANTASY FOOTBALL!
DON'T SET ANOTHER LINEUP BEFORE YOU READ THIS BOOK.