Baseball Picks Daily Fantasy
Expert Advice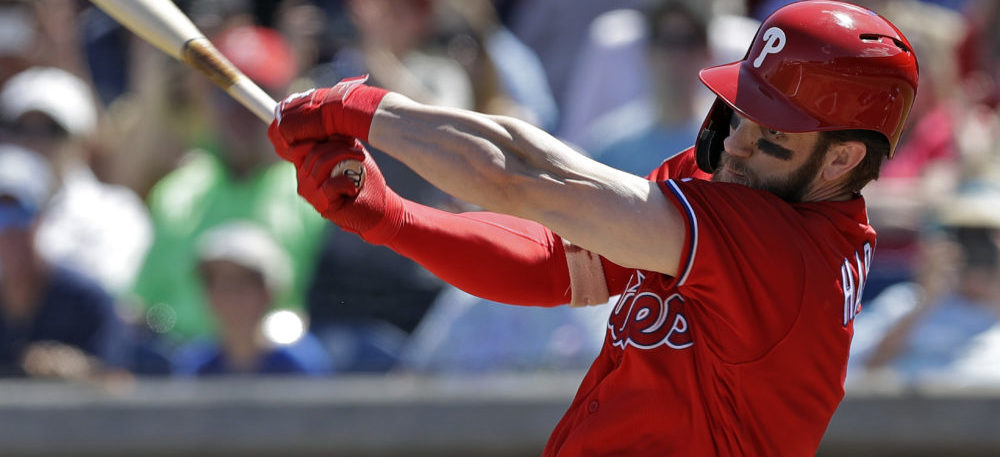 MLB Betting Preview - Can we bet on the big ticket Phillies?
This is DFSR's MLB preseason series in which we'll highlight some season-long win/loss prop bets on a number of different teams. Look for these coming out over the course of the next few weeks, with 6-8 teams highlighted as potentially strong bets on projected win totals going into the season. We've already covered the Reds and how their new additions could lead to a strong season. And then there's the Diamondbacks who could be in line for a really rough season.
Head on over a for your chance to get DFSR PRO, which will give you access to our NBA FanDuel and DraftKings optimizer, our MLB Optimizer, and our Player Lab! Get started for free by clicking the button below.
First time with NBA or NFL? Be sure to read our free NBA and NFL Ebooks on building lineups, general strategy and more. We've got you completely covered.
Philadelphia Phillies
2018 Record: 80-82
2018 Pythagorean Record: 76-86
2019 Over/Under Wins: 89.5
Key Additions
Bryce Harper
Jean Segura
JT Realmuto
Andrew McCutchen
Key Losses
Nobody good.
Projected Lineup
Jean Segura
Andrew McCutchen
Bryce Harper
Rhys Hoskins
JT Realmuto
Maikel Franco
Cesar Hernandez
Odubel Herrera
Projected Starting Rotation
Aaron Nola
Jake Arrieta
Nick Pivetta
Zach Eflin
Vincent Velasquez
The Phillies are an interesting team to project for the 2019 season for one obvious reason: the acquisition of Bryce Harper. Adding one of the league's iconic young talents for the foreseeable future to an historic contract is always going to be worth talking about, but figuring out how we should bet the Phillies in terms of wins and losses isn't as simple as it might appear.
Let's start with our baseline – the 2018 Phillies. The Phightins finished with a respectable 80-82 record, but their Pythagorean suggests that they were lucky to land just two games under .500. If you're not familiar with how Pythagorean records work, the general idea is that Pythagorean records are calculated by using a team's run differential to determine what their record "should" have been had they had roughly average luck. Given that the Phillies allowed 53 more runs than they allowed last year, they were actually pretty lucky to finish just two games under .500. Pythagorean records aren't perfect, of course. They assume that teams have no control over when they allow runs, which isn't exactly the case. On a basic level teams that are down by a lot of runs might bring in a rather crappy mop-up man (who in turn will give up more runs) while the same team will bring in their excellent relievers in closer games. Teams will vary in terms of the quality of their mop up men and high-leverage relievers (and how many close games they play vs. blow-outs, etc), and this can make it so Pythagorean record doesn't paint a perfectly clear picture. Still, for our purposes we're going to assume that the Phillies were worse than a true talent 80 win team.
So we're starting with a team that the public is generally higher on than the smart money will be. The public tends to care about wins and losses a lot more than underlying peripherals, and that tends to give a slight boost to a team's projected win total for the following year.
For the sake of our betting purposes we'll start with the Phillies being a 76 win team last year.
Now we want to account for their various losses and acquisitions. We'll start with the big one, because why not? Bryce Harper hasn't turned into the guy that many thought would compete with Mike Trout for the "best player in all of baseball" distinction, but he's still a very good baseball player, and a demonstrable upgrade over Nick Williams in right field. If you average Steamer and ZiPS projections for the pair this season, Harper is seen as roughly a 4 win upgrade.
But Harper isn't the only guy the Phillies acquired this off season. Perhaps just as notable for their chances of winning this year was the addition of Jean Segura from Seattle. Segura is a fine player in his own right, and exactly the type of player that the public underrates. He was worth 3.8 WAR last season, but a lot of that was based on his excellent defense. ZiPS and Steamer project him as a 2.7 win player this year. More importantly, however, is who Segura will be replacing. Scott Kingery was one of the very worst regulars in all of baseball last season, netting -.1 WAR over 484 plate appearances.
Speaking of additions to scare positions, the Phillies also added the perennially underrated JT Realmuto to handle backstop duties. The ex-Marlin demonstrated the value of positional scarcity all on his own last year, as his rather unassuming .825 OPS was worth 4.8 wins above replacement in a year where catcher was a full on dumpster fire. He'll replace the trio of Wilson Ramos, Jorge Alfaro, and Andrew Knapp – who weren't necessarily terrible, but also weren't worth nearly the same number of WAR as Realmuto. Realmuto should be a roughly 2 win upgrade over the prior trio.
You can also likely count on an uptick in production from the left field spot, where the Phillies will get a full season from Andrew McCutchen, who essentially replaces Jose Bautista's production. Hoskins will move to first base (where his bat plays), and McCutchen will take over in left as a defensive upgrade.
You'll also get some incremental changes elsewhere. Carlos Santana was nothing to write home about, and another year of development should help Maikel Franco and Rhys Hoskins. Odubel Herrera took a step back last year, but both Steamer and ZiPS project him to bounce back to the 2.3 WAR range after last year's .9 WAR debacle.
In short, the prominent season long projectors see the Phillies getting better production at every single position this season – which isn't exactly an easy thing to accomplish during your off season.
We're projecting improvements to the performances of most the Phillies young pitching staff as well. Zach Eflin, Nick Pivetta, and Vince Velasquez should all be worth more WAR this year (assuming they keep their spots), though you could see some regression to Aaron Nola's performance after 2018's lights-out campaign. Jake Arrieta should be roughly the same.
So where does this leave us? Well, by my calculations the Phillies have added roughly 11-12 wins to their 2019 projection - no small task! Unfortunately, the books are calling for them to add 13.5 wins to their baseline from last season, and in spite of all of their off-season moves, that appears to be a bridge too far. One could make an argument that the Phillies could add talent later in the year, but given that they've already made several moves in the last two seasons< I view them as being a little asset-poor to acquire the type of player that would provide a huge upgrade next year - most notably to the starting rotation. While it's somewhat close, I'm going to recommend grabbing the Phillies under this year.
Recommended bet: Phillies under 89.5 wins.
Looking for more content like this? Check out Doug's article and decide if you are as bullish as he is on the "new look" Cincinnati Reds.
FREE EBOOK
SECRETS TO CRUSHING DAILY FANTASY FOOTBALL!
DON'T SET ANOTHER LINEUP BEFORE YOU READ THIS BOOK.