Basketball Picks Daily Fantasy
Expert Advice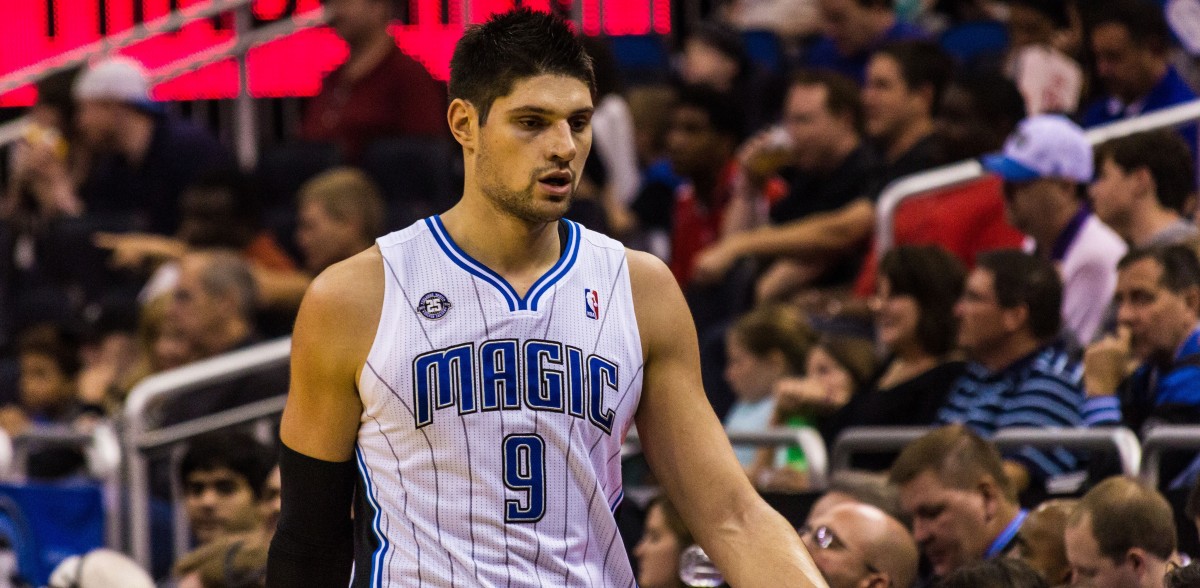 FanDuel NBA Picks and DraftKings NBA picks for 2/13/18
Now's your chance to get DFSR PRO, which will give you access to our NBA optimizer and our new player lab! Get started for free by clicking the button below.
First time with NBA? Be sure to read our free NBA Ebooks on building lineups, general strategy and more. We've got you completely covered.
Point guard
Tyus Jones FD - $4900 DK - $4700
Opponent - HOU
Proj Pts FD - 25.86 DK - 25.01
With Teague already ruled out for the Wolves, we should be in line for another Tyus show. Jones has only played 26 and 28 minutes in the last two games, but those low totals were largely a result of some crazy game scripts. With Harden and Paul both questionable, I like the Timberwolves' odds to keep this one relatively close, and if they do I have Tyus penciled in for an easy 32+ minutes. He's far too cheap for what he can produce as a starter, and we're only getting these cheap prices because of the game scripts of the last two contests.

D.J. Augustin FD - $4900 DK - $5100
Opponent - ATL
Proj Pts FD - 27.05 DK - 28.34
Augustin found himself as some unlikely chalk against the Cavs, and promptly popped off for 40+ fantasy points on FanDuel. DJ is on lock for 30-32 minutes in close contests right now, and seems to have gained the confidence of his coaches and teammates. He's shooting 12+ times per game over his last three contests as compared to his season average of 8, and he's dealt 7 assists per game in that stretch as compared to his season average of 5. His time of possession has sneakily crept up, and in one of the league's best match-ups against the hapless Hawks we're happy to play Augustin in any format.
Early slate thoughts: It all comes down to Dennis Smith Jr.'s status, really. If he sits again you could plan both Mudiay and Allen against the Lakers. You've also got the potential for another Jeremy Lin start if Lowry sits again. You've also got regular solid options like Kemba Walker. It'll be a recurring theme, but the early slate is just rife with good punts.
Shooting Guard
Eric Gordon FD - $5700 DK - $5300
Opponent - MIN
Proj Pts FD - 29.05 DK - 30.81
Gordon will be starting over Danuel House on Sunday, and while that doesn't always guarantee him fantasy success (since he'll be playing alongside at least Chris Paul), there is more you can like here. Harden is currently listed as questionable, and if he winds up sitting then Gordon should immediately become the chalk shooting guard option at a rough position. If Harden plays, things get a little bit closer. Still, Gordon fits a clear role in this offense (even if it is waiting in the corner) regardless and it's hard to imagine Harden going from questionable to playing 40 minutes. I think Gordon is a solid high floor option regardless.

Zach LaVine FD - $8300 DK - $8000
Opponent - SAC
Proj Pts FD - 37.97 DK - 39.31

Buddy Hield FD - $6700 DK - $7000
Opponent - CHI
Proj Pts FD - 35.14 DK - 37.17
The shooting guard position on the main slate is actually pretty rough, here. Our system isn't especially enamored with either LaVine or Hield, but both of them at least have the benefit of playing against one another. Chicago ranks in the bottom 4 in the league in terms of allowing fantasy points to opposing shooting guards thanks to LaVine's offense-first mindset, and Hield isn't exactly known for his defensive prowess either. LaVine jumped right back into the fray, playing 38 minutes and acquiring 45 fantasy points against the Clippers. Hield has been more up and down, but is still a totally reasonable option if you're gun shy on Gordon.
Early slate thoughts: Wade is questionable, and the Lakers and Knicks also have a lot of backcourt injury stuff going on between Hart, Smith, and even LeBron. Keep an eye on news there as there should be piles of value.
Small Forward

Harrison Barnes FD - $5500 DK - $5900
Opponent - CHI
Proj Pts FD - 26.96 DK - 28.05
Did I say shooting guard was rough? Because small forward is no picnic. Still, Barnes has snapped back into his old high-floor form without much of a price increase. He's paid 5x-7x points per dollar on these prices in 7 of his last 8 games, and he's been rebounding the ball excellently. Chicago is generally terrible on defense, and their DvP stats against opposing small forwards is no exception, as they rank in the bottom 10 in the league there. At a really rough position I'm happy to just take Barnes and worry more about who I am going to slide into the SF2 slot on FanDuel.

Joe Harris FD - $4700 DK - $4900
Opponent - LAC
Proj Pts FD - 22.35 DK - 23.68
It really does get pretty ugly at small forward on the late slate. I'll briefly give you the case for Harris, which largely relies on the fact that he's in line for 30-32 minute rotations in games that stay reasonably close. Part of this selection is also just a nod to how bad the position is elsewhere. Here are my tiers for the rest of them.
Reasonable: Taurean Prince.
Too expensive for their production: Otto Porter, Jonathan Isaac, and Danilo Gallinari
Don't field the position for fantasy purposes: Minnesota, Houston.
See? It's tough sledding
. Early slate thoughts: You've got Giannis as the obvious pay up option with all of the punts, and I like both of the Miami guys (Winslow and Richardson) in a must-win game against Charlotte, particularly with D-Wade out of the mix.
Power Forward

Aaron Gordon FD - $7300 DK - $7200
Opponent - ATL
Proj Pts FD - 36.13 DK - 36.69
It always feels like a little bit of a cop out when you start complaining about every single position, but yeah, this main slate isn't much of a looker. Still, I do like Aaron Gordon quite a bit here. He's been pretty consistent on these prices recently, averaging a hair over 5x points per dollar in spite of some weird game scripts mixed in there. Vegas predicts that this game will be reasonable close (the Magic are 7.5 point favorites), and Atlanta has allowed a top 5 fantasy total to opposing power forwards this season. I think Gordon is the clear best play at this position today.
The rest:
After Gordon it's looking pretty damned grim. I'll break it down for you, team by team style.
ATL vs. ORL: Collins is playing full minutes now, but he's super expensive.
CHI vs. SAC: Lauri Markkanen is in the same boat as Collins, and Sacramento just spreads their minutes out too much. HOU vs. MIN: PJ Tucker hasn't been shooting whatsoever, and Taj's minutes have been all over the place in the recent blowouts. Still, Taj might be the best option there.
BKN vs. LAC: The Clips spread minutes out too much, and so does the Nets. Ed Davis could be a popular punt again, though.
See what I'm saying? Crazy bad slate for PF.
Early slate thoughts:
With Ibaka out again, Pascal Siakam remains an excellent play. It also looks like we might be able trust Kelly Olynyk's minutes as well.
Center

Nikola Vucevic FD - $10000 DK - $9200
Opponent - ATL
Proj Pts FD - 49.75 DK - 50.66
After a few tough spots, it's nice to have one openly great position. Vuc put up 19 and 12 against the Hawks in just 28 minutes in their last meeting, and if this one stays closer he should be in a position to pay an easy 5x points per dollar. Atlanta has been awful against opposing centers for years, and even thought Dedmon is a modest improvement over their past options I still think Vuc eats here.

Clint Capela FD - $7800 DK - $7600
Opponent - MIN
Proj Pts FD - 41.39 DK - 42.01
Capela is a solid consolation prize if you need to pay down for some reason, and makes a nice big tournament pivot from Vucevic if it breaks that way. You're getting a discount on Capela's peak prices, but I'm not sure that decrease is really warranted. He's topped 11 rebounds in four straight games, and his fantasy point totals have only been depressed by some bad variance in his shots per game. I have no reason to believe he's going to be a 9 shots per game guy instead of an 11 shots per game guy, and I think he has plenty of floor to offer in a game with a 6 point spread. Early slate thoughts: DeAndre Jordan is coming off a 30 minute game, and he has a great match-up with the Lakers.
GRAB A FREE TRIAL OF OUR PROJECTION SYSTEM, AND CHECK OUT DFSR PRO!
image sources
Nikola_Vucevic_Dec_2013: By Mike (Flickr: (2013-12-21) Kings at Magic 30) [CC BY-SA 2.0 (http://creativecommons.org/licenses/by-sa/2.0)], via Wikimedia Commons
FREE EBOOK
SECRETS TO CRUSHING DAILY FANTASY FOOTBALL!
DON'T SET ANOTHER LINEUP BEFORE YOU READ THIS BOOK.