Basketball Picks Daily Fantasy
Expert Advice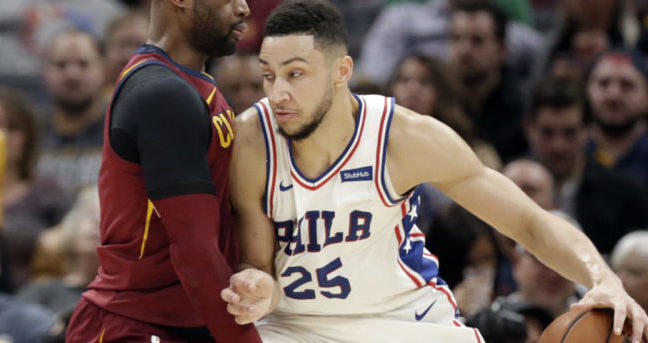 FanDuel NBA Picks and DraftKings NBA picks for 3/28/19
Welcome to Thursday night NBA! I know, baseball has arrived and the masses are focused elsewhere. The NBA is still running, though, and the sites haven't lessened their contests. Why not play both? Here's a link to our MLB picks, if you want to read those as well!
Now's your chance to get DFSR PRO, which will give you access to our NBA optimizer and our new player lab! Get started for free by clicking the button below.START YOUR FREE TRIAL NOW!
First time with NBA? Be sure to read our free NBA Ebooks on building lineups, general strategy and more. We've got you completely covered.
Point guard

Ben Simmons FD - $9800 DK - $8300
Opponent - BKN
Proj Pts FD - 48.74 DK - 48.02
We'll kick things off in Philadelphia with
Ben Simmons
. He missed last game due to an illness vs the Magic, but it seemed more precautionary than anything. He participated in practice and is a full go tonight against the Nets. He's been playing some of his best basketball of the season as of late and now gets a match-up against the Nets, who rank 16th in the league against point guards. There isn't any other PG like Simmons, however, who's going to dominate this interior and put up close to a triple double. His price is high at first glance, but he comes in cheaper than most other stars and has a similar floor/ceiling in this match-up. Vegas hasn't dropped a line on this game just yet, but I'm willing to be the total will come in pretty close to 230. Simmons is a cash game stud and I'll have him locked into each of my lineups.

Fred Vanvleet FD - $5400 DK - $4800
Opponent - NY
Proj Pts FD - 28.52 DK - 29.18
With Kawhi Leonard already announced out, his usual minutes and shots are up for grabs. We know the drill, however, so there's no playing in the dark here. VanVleet is going to be in the starting lineup and will see well over 30 minutes. He's always a valuable asset when on the floor and will very rarely disappoint you. He doesn't have the highest upside, but he's consistent and this match-up is stellar. The Knicks rank 26th in basketball against opposing shooting guards and have only been on the decline. The Raptors should take care of the Knicks with ease and Van Vleet will play his part. He's pretty cheap on both sites and makes for a solid play across the board.

Shai Gilgeous-Alexander FD - $5300 DK - $5500
Opponent - MIL
Proj Pts FD - 30.07 DK - 29.64
SGA has put up double-digit points in nine of his last ten games. He's finally asserting himself more on the offensive side and it's led to a lot more consistency on the fantasy end. We know the Bucks are a solid defensive team, but PG is one of their weaker spots and SGA's length should at least cause some discomfort on defense. Vegas also has the game at a 232 total, so points will be scored. Gilgeous-Alexander is fairly priced on both sites and a solid option in both formats. If you're not a fan of Simmons or want to pay up elsewhere, pairing these two cheaper point guards is pretty safe and inexpensive.
Shooting Guard

Danny Green FD - $3900 DK - $4600
Opponent - NY
Proj Pts FD - 24.19 DK - 24.55
Going back to the absence of Kawhi Leonard, Danny Green will slide over to the 3 next to VanVleet. He should get back to his 30-35 minutes we've been used to and his price is now so low. Close to minimum price across the board, you're only needing 20 or 25 to exceed value. The Knicks are a putrid defensive team and have give up the 6th highest opposing 3 point %. Green is by no means an upside play, but he did put up 36 and 28 FP the last two games he played over 25 minutes. He shoots when on the floor and becomes a big part of stretching the defense with Leonard off the floor. He makes sense in every format at this price.

Dion Waiters FD - $4200 DK - $4700
Opponent - DAL
Proj Pts FD - 23.86 DK - 25.15
The Heat have finally been giving Waiters his consistent minutes he's asked for and now we can count on 26-32 on a nightly basis. We now see a match-up against the Mavs, who rank 21st against opposing shooting guards. We know Waiters is going to shoot the ball as many times as he can and it gives him ginormous upside. I'll always feel safer with him as a tournament play, but he's a great one at that for the price and expected ownership.

Buddy Hield FD - $7400 DK - $7100
Opponent - NO
Proj Pts FD - 35.09 DK - 36.98
If you're looking to spend some money at shooting guard, the optimizer wants us to go with Buddy Hield. You can obviously go with James Harden, D'Angelo Russell, or Doncic, but they are all very expensive and not in the greatest match-ups. Buddy Hield has been playing the best basketball of his career and has been over 35 fantasy points in five of his last eight contests. If you've watched any Kings games, he is their go to option when they need a score. Yes, Fox and Bagley get a lot done, but Hield is leaned on as their leader and he's only going to get better as a player. Vegas hasn't released a line yet for this game, but I can guarantee it's going to sit around a monstrous 230. The Pelicans are atrocious against guards, ranking 25th in the league in FP allowed. Hield isn't overly expensive on either FD or DK and has enough room to hit a 45-50 point ceiling. On this slate, where it seems like stars and scrubs, you may want to mix it up and get a middle-priced guy at low ownership.
Small Forward

DeMarre Carroll FD - $4700 DK - $4700
Opponent - PHI
Proj Pts FD - 26.05 DK - 27.37
Carroll has played 33+ minutes in 3 of his last 4 games and has been very involved in the offense. It seems like if he's missing his shot, he will scrape value. If he's hot or even average, he's going to exceed it. The match-up with Philly wouldn't be good if Butler was on him, but he won't be. He'll be occupied plenty by D'Angelo Russell, leaving Redick to cover Carroll. He's the teams worst defender and Carroll will do his best to take advantage. Carroll can rebound pretty well and I think he gets close to a double-double if the game stays close until the end. Carroll is still super cheap on both sites and you really can't deny him in cash games or tournaments. If he gets the minutes we expect, he's close to a guarantee to reach value.
Derrick Jones FD - $3800 DK - $3900
Opponent - DAL
Proj Pts FD - 21.39 DK - 20.39
Josh Richardson FD - $6500 DK - $6400
Opponent - DAL
Proj Pts FD - 31.99 DK - 32.71
Josh Richardson is questionable for this one, so let's keep an eye on the news as lock gets closer. Winslow is as well, so there's a lot to pay attention to. If Richardson plays, he is going to get his usual 35+ minutes. The Heat are a conservative franchise and will not play Richardson if he's hurt. If he ends up missing the game and Winslow doesn't return either, Derrick Jones Jr. is going to become one of the more popular value plays on the slate. He would jump over 30 minutes and would also have the opportunity to pick up a bunch of usage with Richardson gone. He has been a lot more comfortable on offense than ever before and is actually getting to a fantasy point per minute rate recently. The match-up against the Mavericks isn't anything to be excited about, but it's more about the usage and minutes. Keep an eye on news as it gets closer to 7 and be sure to react to this situation. You may be able to find a low-owned gem.
Power Forward

Pascal Siakam FD - $7500 DK - $7500
Opponent - NY
Proj Pts FD - 39.27 DK - 39.22

Serge Ibaka FD - $5200 DK - $5300
Opponent - NY
Proj Pts FD - 25.08 DK - 24.68
With Leonard out, both of these guys are in play. Siakam has obviously asserted himself as the primary big man, but Ibaka still has his moments of dominance and he's got upside. Siakam is the safer of the two, locked in over 34 minutes and guaranteed to shoot the ball a ton. He has as high of upside as a lot of the superstars and he's scary to fade against a weak Knicks interior that can be mashed on. He's affordable and can give you a huge edge in tournaments if he hits. As for Ibaka, he's been limited since returning. He's still been playing well, but just hasn't been given the opportunity. If we assume he goes back to his usual 30 minutes with Leonard out, he's going to demolish value. I think there's obviously a risk, so he may be better off in a tournament. I love targeting the Raptors without Leonard and this match-up with the Knicks will offer a lot of FP.

Paul Millsap FD - $6800 DK - $6600
Opponent - HOU
Proj Pts FD - 35.87 DK - 35.1
This is a big game in the West and you have to assume the Nuggets will continue giving Paul Millsap a lot of minutes. He's giving them a playoff boost for sure, looking a lot like his former self. Or maybe that's still who he is and he just can't do it for 82 games and doesn't have to? It's starting to look like that's the case and we'll continue seeing a lot of 40-55 fantasy point games. He's a reliable scorer and can stuff the stat sheet while distributing and defending. The Rockets play fast and Clint Capela will be enamored with Jokic all night long. It'll leave P.J. Tucker on Millsap, which is a mismatch. Tucker is tough as nails, but not at all a match for Millsap. His price is still way too low on both sites and you can play him in both formats.
Center

Joel Embiid FD - $11400 DK - $10400
Opponent - BKN
Proj Pts FD - 57.7 DK - 59.82
We have skipped over James Harden and Giannis Antetokounmpo, so we have to spend this money somewhere. Hello Joel Embiid. Vegas still hasn't dropped a line for this game yet, but it's going to be very high-scoring and I think the Nets battle them from tip to buzzer. Embiid is a walking double-double and is establishing himself as the best center in this league. When 20/10/2 is very disappointing, that says a ton. He's going to get back over 60 fantasy points tonight and dominate this weak Nets interior. Jarrett Allen is a fun youngster, but he's not a match for Joel Embiid in the paint. Or on the perimeter for that matter. The Sixers entire offense runs through Embiid and he's touching the ball on about half of all possessions. His price is certainly high on both sites, but he's a great pay-up optin on a slate with plenty of cheap plays to support it.

Andre Drummond FD - $10200 DK - $8600
Opponent - ORL
Proj Pts FD - 49.87 DK - 50.19
If you don't want to spend all the way up, Andre Drummond is facing Nikola Vucevic. Vuc is a monster on offense, but the Magic have been middle of the road against centers since the All-Star break. Vucevic also struggles with physical big men, which is exactly who Andre Drummond is. Drummond has been constantly putting up 50+ fantasy points on the regular and has been very match-up dependent. He's going to battle with Vucevic all night long and I think he comes away with 50+ fantasy points. He's far cheaper on DraftKings and I could see myself going there in cash games.

DeAndre Jordan FD - $6400 DK - $5800
Opponent - TOR
Proj Pts FD - 31.99 DK - 33.65

Mitchell Robinson FD - $5700 DK - $4400
Opponent - TOR
Proj Pts FD - 25.93 DK - 23.16
I think Robinson stays low-owned because of his recent minutes, but he has been one of the most productive young players we've seen in a long time in terms of fantasy points per minute. The Knicks also face off with the Raptors tonight, so they will need to have some size out there. DeAndre Jordan will do his best and could play as many as 35 minutes of productive basketball. He's extremely safe in cash games and way too cheap on DK. Robinson may only get 20 minutes and barely reach value, but he could also play 30 minutes and put up 50 fantasy points. Center is going to be a very important position to nail. Good luck tonight and feel free to comment down below with any questions! Thanks!
GRAB A FREE TRIAL OF OUR PROJECTION SYSTEM, AND CHECK OUT DFSR PRO!
FREE EBOOK
SECRETS TO CRUSHING DAILY FANTASY FOOTBALL!
DON'T SET ANOTHER LINEUP BEFORE YOU READ THIS BOOK.