Baseball Picks Daily Fantasy
Expert Advice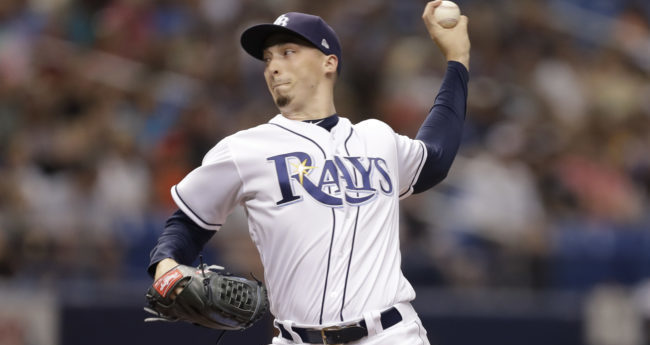 DraftKings and FanDuel MLB Picks - Tuesday 4/2/19
MLB's early season hasn't left us short of stories.
Christian Yelich
can't stop hitting home runs. The Yankees are already all injured.
David Hess
gets pulled 80 or so pitches into a no-hitter against the Blue Jays. It's all happening in baseball. And Tuesday gives us a whole host of aces, some weaker arms and everything else in between. Let's take a look at the cash game plays for
FanDuel
and
DraftKings
.
Now's your chance to get DFSR PRO, which will give you access to our MLB and NBA optimizers and our new player lab! Get started for free by clicking the button below.
Pitchers
Blake Snell FD 10200 DK 9500
Opponent -
COL (Kyle Freeland)
Park -
TB
FD
- 39.9
DK
- 22.04
Snell had the unenviable task of opening his season against
Justin Verlander
on the opposite side as well as the Astros bats on offense. He struggled in six innings, allowing five earned runs and striking out only three. The matchup here against the Rockies is much more forgiving. While they have Arenado and Story in the middle of the lineup, getting them outside of Coors Field is a boost considering Tropicana is about as forgiving a park as there is in the majors. Snell is coming much cheaper than the other *aces* on Tuesday, and is coming off a season in which he struck out 11 batters per nine and finished with a 3.16 xFIP (that did trail the 1.89 ERA). I like buying the peripherals a bit cheaper than the other stud arms who are running into some tougher matchups themselves. He's a full $2K cheaper than Scherzer and Verlander on
DraftKings
and more than $1K cheaper on
FanDuel
.

Hyun-Jin Ryu FD 8700 DK 9300
Opponent -
SF (Madison Bumgarner)
Park -
LAD
FD
- 34.8
DK
- 18.53
Rye was pulled after just 82 pitches on Opening Day, but dude was still dominant. He pitched six full innings and allowed only one earned run while striking out eight D-Backs. The Dodgers are going to handle their starters with kid gloves again this season, much like they did last year and we are going to have to account for that especially in terms of safety and upside. Luckily, some of that is built into Ryu's price and considering his peripherals and matchup he's coming rather cheap on both sites. The Giants are a total and complete mess of a lineup, starting some has-beens and never-will-bes and down the order. Rye had a 6:1 K:BB ratio last season with a 3.11 xFIP. He's a -174 home favorite on Tuesday and if you think he gets to 90 pitches then I think rostering him has a high enough floor in cash.

Marcus Stroman FD 7400 DK 8300
Opponent -
BAL (Andrew Cashner)
Park -
TOR
FD - 33.09 DK - 16.57 Stroman's end result looked solid enough on Opening Day, striking out seven batters through seven innings against the Tigers. He did walk four (not all that encouraging) and got lucky with some of the balls put in play. But overall, it was a good start to the season. He's likely never going to be a big K guy considering the track record, but this is still a good spot against an Orioles' team that's barely fielding a major league roster. Stroman is a -200 home favorite, giving him some of the best win odds on the day and makes for a
FanDuel
GPP pivot or a
DraftKings
starting pitcher two.
Team Cash Stacks
Houston Astros
Park - TEXOpposing Pitcher - TEX (Shelby Miller)Vegas Implied Run Total - 5.34
Potential Players to Stack
George Springer
(FD $4300 DK $4800)
Michael Brantley
(FD $3700 DK $4500)
Jose Altuve
(FD $4300 DK $5200)
Carlos Correa
(FD $3000 DK $4600)
The Astros come in with the highest expected run line of the day and it makes a lot of sense. They play in the best hitter's park going on this slate (Globe Life) and face a pitcher in
Shelby Miller
who's got plenty of blowup potential. He's walked more than four batters per nine over his last 150 IP (over the last three years which have been injury-riddled). While he can keep the ball on the ground, the free passes have been a real problem for Miller and he's far removed from his Cardinals' prospect days.
The Astros feature a string of righties at the top of the lineup and they are, almost to a man, on the worse side of their platoon in this matchup. But they are far from pushovers in this split.
Jose Altuve
had an .863 OPS in against righties last season with a .374 wOBA. Similarly,
Alex Bregman
raked in this platoon with a .908 OPS and 14% walk rate with a 153 wRC+. We don't need to worry about him being overmatched against the righty.
And finally,
Michael Brantley
should be a lefty bat in the middle of the order to break up the righties and he had a .380 wOBA rate in 2018 while only striking out 9% of the time. His ability to make
contact
should serve him well against the wild Miller.
All in all, we could see the Astros as popular plays again on Tuesday considering the park and matchup.
Toronto Blue Jays
Park - TOROpposing Pitcher - BAL (Andrew Cashner)Vegas Implied Run Total - 5.07
Potential Players to Stack
Billy McKinney
(FD $2500 DK $3800)
Randal Grichuk
(FD $2700 DK $4400)
Justin Smoak
(FD $3600 DK $4200)
Look, I'm fully aware that like X-straight days of Toronto Blue Jays as a stack option is going to get me some hatred in the comments section. I'm a big boy, bring it on. Such is the nature of baseball in which teams can, well, stink for periods of time that will drive you nuts in less-than-ideal ways. That's where we are with the Blue Jays. They've faced a spate of bad arms in a hitter's park and underperformed each time. I'm fully aware of this. I'm also aware that they get another total bum on Tuesday in
Andrew Cashner
. (It's worth noting that I wrote this first paragraph before they put up five runs late against the Orioles on Monday.)
Cashner picked up in 2019 right around the same spot he'd been in 2018: sucking. He got bombed by the Yankees on Opening Day and 2017 and 2018 saw him sport back-to-back 5.00+ xFIP seasons while striking out less than six batters per nine. This guy is one of the worst major league starters with a regular gig.
Sure, the Blue Jays are (by and large) struggling, but we are also buying low on a team with a Vegas implied run total north of five facing a terrible arm.
Justin Smoak
tuned up righties last season with an .867 OPS and elite 16% walk rate. Sure, he struck out a lot in that split (27%) but that's less of a concern in this matchup with Cashner's profile.
McKinney should hit lead off and the plate appearance expectation wins the day on him. He isn't a patient leadoff hitter (sub-10% walk rate) but has shown some power and had a .354 OBA against righties last season.
And finally, Grichuk won the day on Monday, hitting a home run and finishing with more than 30
FanDuel
points (all coming late in the game). He's a two-true-outcomes kind of guy (home run or strikeout) but we can live with that at his current price points.
New York Mets
Park - MIAOpposing Pitcher - MIA (Jose Urena)Vegas Implied Run Total - 3.92
Potential Players to Stack
Brandon Nimmo
(FD $3100 DK $3900)
Peter Alonso
(FD $3300 DK $4100)
Robinson Cano
(FD $4200 DK $3900)
Michael Conforto
(FD $3200 DK $4500)
The park doesn't do them any favors considering Miami plays as a pitcher's park all the way around. But the Mets are gifted with one of the better matchups on the slate against
Jose Urena
. The latter struck out less than seven batters per nine in 2018 with a 2.5:1 K:BB rate and 4.32 xFIP. He got shelled in his first game of the season and has close to 500 innings of 4.84 xFIP *stuff*. The dude just isn't very good.
The top of the Mets' order isn't coming cheap on this slate, but that should keep the ownership on the lower side considering how many ace level arms there are to pay up for.
Nimmo is coming off a fantastic (mostly) full season in 2018 with an .887 OPS thanks to an elite 15% walk rate and 17 home runs. He was better in his righty split (.946 OPS, .407 wOBA) and even showed some flashes of speed (nine stolen bases).
Cano came back from his PED suspension and finished with a mid-.800's OPS in Seattle. He's gotten off to a slow start with the Mets, but we aren't all that concerned with it this early in the season.
And finally, Conforto should the power (28 home runs) and patience (13% walk rate) we'd been waiting for in 2018. I still think there is upside on his counting stats though he, like Cano, is off to a slow start this season. It just means we are still getting these guys on the cheaper side of things in a plus matchup.
image sources
White Sox Rays Baseball: (AP Photo/Chris O'Meara)
FREE EBOOK
SECRETS TO CRUSHING DAILY FANTASY FOOTBALL!
DON'T SET ANOTHER LINEUP BEFORE YOU READ THIS BOOK.