Baseball Picks Daily Fantasy
Expert Advice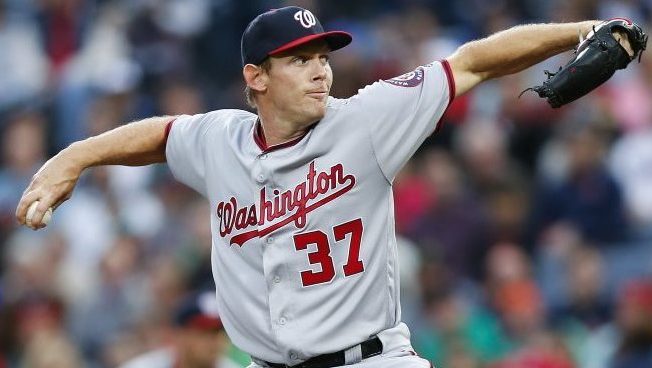 DraftKings and FanDuel MLB Picks for Thursday 4/4/19
Now's your chance to get DFSR PRO, which will give you access to our MLB and NBA optimizers and our new player lab! Get started for free by clicking the button below.
Early
Pitchers

Stephen Strasburg FD 9900 DK 10300
Opponent - NYM (Noah Syndergaard) Park - NYM
FD - 39.1 DK - 21.39
These two pitchers faced off just a few nights ago, so this encore will be a very interesting one to watch. Strasburg muffled his way through the first two innings, but was great after that. While the damage was done, he at least showed the ability to navigate his way through this Mets lineup. Strasburg has revolutionized himself as a pitcher and is now a lot more consistent than ever. He held both righties and lefties under a .311 wOBA and struck out 10.80 batters per nine innings. The match-up with the Mets was a great one last year, but they may be a lot better this year. They will still strikeout 23% of the time and the bottom of the order is still lifeless. He's the cheapest of the three expensive pitching options and the difference between the three isn't huge. Paxton is the raw favorite, but he's expensive and by no means safe. I'll stick with Strasburg 100% on such a small slate.
Team Cash Stacks
New York Yankees
Park - BAL
Opposing Pitcher - BAL (Alex Cobb)
Vegas Implied Run Total - 4.72
The Orioles are giving Alex Cobb the start after lasting through five innings of extended spring training minor league ball without injury. He'll now face the best lineup in all of baseball. The Yankees haven't hit their stride just yet, but will go crazy when they do. Even after seeing a line of below average pitchers, this may be the absolute worst one yet. In '18, Cobb allowed a .360 wOBA to righties, a .330 wOBA to lefties, and only struck out six batters per nine innings. He gave up a monstrous 1.5 HR/9 and backed it all up with an even worse 4.60 xFIP. Unless he starts throwing his splitter a ton and it's effective, Cobb isn't going to last this entire year. If the Yankees are at their norm, they'll make quick work of him and move on to an Orioles bullpen that's as weak as it gets. They're also in Camden Yards, which is one of the absolute best hitter ballparks in the entire league. The Yankees are the chalk stack of the early slate and you're going to be looking at 30-50% ownership for some of these guys.
Potential Players to Stack
Aaron Judge (FD $4900 DK $5400)
Luke Voit (FD $4500 DK $4400)
With Giancarlo Stanton and Miguel Andujar being added to the list of injured Yankees, Aaron Judge and Luke Voit will be our two top targets. With two cheaper options at first base in the lineup, I don't think Voit ends up very highly owned. He's a .370 wOBA hitter against righties and has been a premier HR hitter since he made his debut. We know the hitter Aaron Judge is and it all comes down to whether or not you can afford him. I am prioritizing Judge in every lineup of mine.

Greg Bird (FD $3000 DK $4000)
Gary Sanchez (FD $4000 DK $4500)
These are the two obvious pivots and both are going to be extremely popular. They move up in the order with Stanton and Andujar out and will now be hitting right behind Judge and Voit. The RBI opportunities will be plentiful and I'll be forcing these guys into the utility spot. It's a good idea to play two of these first baseman. There is no wrong answer. It just comes down to who you're pitching and the rest of your lineups.
Brett Gardner (FD $3300 DK $3900)
Gleyber Torres (FD $3200 DK $4500)
D.J. LeMahieu (FD $3500 DK $3800)
These middle-priced options have their place if you need some glue plays in a stack. If you're only playing one or two Yankees, I'll stick with the power bats. If you're stacking, you're going to need some of these connective pieces. Gardner is super safe in the leadoff spot and has a ton of upside in Camden. Torres and LeMahieu will be hitting with ducks on the pond, but are expensive, so you'll have to be selective.

Tyler Wade (FD $2000 DK $3800)
Mike Tauchman (FD $2000 DK $4100)
With Stanton, Andujar, and Hicks all out, I might as well just touch on this entire lineup. First things first, ignore these guys on DK. The prices are crazy. On FanDuel, they're minimum priced and you can play either as a value play. Tauchman and Wade are both .320 wOBA hitters and can take advantage if given RBI opportunities. They'll also be driven in if they find their way on base.
Kansas City Royals
Park - DET
Opposing Pitcher - Spencer Turnbull (R)
Vegas Implied Run Total - 3.95
Spencer Turnbull is a prospect for the Tigers, but that's not saying much for that organization right now. Turnbull is not a quality professional starting pitcher that is going to have much success start in and start out. The 26-year-old rookie walks 2+ batters a game and doesn't profile as a strong starter. He throws the ball hard, but struggles with command and would look better in a long relief role out of the 'pen. He's not going to get torched by any team, but he could walk a few batters and give up four or five before he knows it on just one or two homers. It would then be a bullpen game and this Tigers pen can be fun to hit against. This Royals team is one I'm going to be targeting a ton this season. They can run, hit for power, and don't have many strikeout bats. I expect this team to put up a lot of teamwork runs all year and they should be able to chip away in this one. Turnbull and company might not get shelled, but there isn't much offense on this slate and the Royals are cheap with huge upside.
Potential Players to Stack
Ryan O'Hearn (FD $4400 DK $3900)
Jorge Soler (FD $3000 DK $3900)
Adalberto Mondesi (FD $4300 DK $5100)
Alex Gordon (FD $3300 DK $3600)
This lineup is pretty straightforward. Ryan O'Hearn is my pick for a homer on this slate and is a great pivot to the Yankees. He's only provided a small sample size, but profiles with 60/60 raw power and has 13 home runs in under 200 at-bats. Mondesi is a bit too expensive, but if you can afford him then by all means. Jorge Soler and Alex Gordon are a bit cheaper and should be in the 3-4 holes. They both sported .330+ wOBA's against righties in 2018 and Soler has legitimate 30 HR power. Both are great options in all formats and shouldn't be at all highly owned.
Additional Early Slate Value Plays
Steve Pearce (FD $2800 DK $3900)
Eduardo Nunez (FD $2100 DK $3800)
The Red Sox are obviously one of the other top offenses on this earlier slate and you can target them across the board. Facing off against lefty Brett Anderson and his 5 K/9, the Sox should be able to right the ship. In terms of value, Steve Pearce and Eduardo Nunez are dirt cheap on FanDuel and should be right in the heart of the order. Both are lefty specialists (Pearce .407 wOBA, Nunez terrible '17 but .340 prior) and Pearce is a guy you want to play against flyball pitchers.
Afternoon
Pitchers
Jordan Lyles FD 7700 DK 6900
Opponent - CIN (Tyler Mahle) Park - PIT
FD - 89.93 DK - 44.39
Lyles threw 100 pitches in a simulated game, so he appears to be more than ready to go. If you look at his numbers from last year, they tell a huge lie. He allowed a .355 wOBA to righties and a .249 vs lefties. He's worse against lefties. He was BABIP'd(Batting average balls in play) to death with a .209 vs lefties and a .358 vs righties. In layman's terms, everything lefties put in play found a glove and everything righties put in play found a hole. Simple luck. It doesn't line up with any of his other seasons and will regulate back to the .300-.310 mean. Lyles struck out more batters than ever last year (8 per 9) and walked fewer batters. He faces off against a Reds team that is really just Votto and a bunch of guys. Especially against a righty. They ranked 26th with a team .300 wOBA in '18 and shouldn't be much better this year. Pitching is absolutely disgusting on this later slate and Lyles is really your safest option. He's affordable and should be able to get you five or six quality innings. The Pirates should also have a lead if things go to plan, giving Lyles an added shot at a W.
Yu Darvish FD 8400 DK 8300
Opponent - ATL (Max Fried) Park - ATL
FD - 32.1 DK - 17.31
This main/late slate is a pretty messy one. When we're recommending Yu Darvish, you know it has to be. Darvish is far from a clean play right now, but he's by far the most talented pitcher on this slate and it's going to have to mean something. He struggled against the Rangers and couldn't get out of the third inning, but supposedly feels fine and healthy. They'll give him the ball tonight in Atlanta and we know this offense is dangerous, but has upside for pitchers. They do K over 23% of the time and Darvish is the one type of pitcher that can strikeout 10 when hitting his stride. He's does have a lot of risk, but he should get enough strikeouts to at least make up for a couple runs. As long as Darvish doesn't get blown up, he's the most talented pitcher on the slate and will naturally rise to the top when healthy. I still have him ranked below Lyles, but will have a hard time going elsewhere on SP2 sites. These two guys are the only recommended plays. More like avoid the rest. Let's get to some bats.
Team Cash Stacks
Los Angeles Angels
Park - LAA
Opposing Pitcher - TEX (Edinson Volquez)
Vegas Implied Run Total - 4.37
In terms of implied run totals, the Yankees and Angels are separated from the field. Sitting at 4.83 expected runs, Vegas expects Volquez to struggle with this squad. With our exposure already covered in the morning, let's breakdown this Angels lineup. They're facing off against Edinson Volquez, who's just a shell of his former self. He made his first start just a few days ago after Tommy John Surgery in 2017, and it didn't go too well. He threw just 49 strikes out of 80 pitches and turned in seven swinging strikes. He's not fooling anyone and this Angels team is patient. It's a recipe for a short day for Volquez and a long day of runs for the Angels.
Potential Players to Stack
Mike Trout (FD $5000 DK $5800)
Justin Bour (FD $2900 DK $4100)
It all starts with Mike Trout, who's the best hitter on this slate. A .400+ wOBA doesn't do nearly enough justice for him. He's the best hitter in the game and looks like he's hunting the ball down and killing it in the zone. He's a priority. Justin Bour will hit in the three hole behind Trout and is too cheap to ignore. He's the top first baseman on the slate and I'll have 100% exposure.
Andrelton Simmons (FD $2600 DK $3900)
Zack Cozart (FD $2200 DK $3900)
Simmons and Cozart are both good against righties with over .320 wOBA's. Neither are big power hitters, but they connect the dots to Trout and have upside if you think the Angels put together a big game. The rest of the lineup is pretty pathetic, so I'd stick to your spots. This Angels Lineup doesn't have much else, but Pujols and Fletcher would be my next two if I had a choice.
Pittsburgh Pirates
Park - PIT
Opposing Pitcher - CIN (Tyler Mahle)
Vegas Implied Run Total - 3.95
Tyler Mahle is a pretty easy pitcher to figure out. First things first, not much of this matters. He's only going to last 3 or 4 innings and then we'll see the bullpen. Either way, Mahle is terrible against lefties, sporting a .415 wOBA allowed and 2.55 HR/9. He's only in there for the time being until Alex Wood comes back and takes over his starting role. The Pirates are a left-handed heavy team that is swinging the bat well and shouldn't have any problem doing damage here.
Potential Players to Stack
Corey Dickerson (FD $3800 DK $4100)
Josh Bell (FD $3400 DK $3900)
Adam Frazier (FD $3300 DK $3900)
Adam Frazier, Corey Dickerson, and Josh Bell are the three main lefties to target in this lineup. All prefer hitting against opposing righties and Dickerson and Bell bring legitimate power upside. Frazier is an XBH machine and can steal a base at any point as well. With such a weird small slate, I'll be sticking to this Pirates core and riding it to the end. If you're looking to venture a little bit, Starling Marte and Francisco Cervelli are safe and should be lesser owned as righties. Melky Cabrera and Jung-ho Kang are two others I'll mention to not ignore.
We are working with two very unique slates today. Thanks for the read and good luck to all!
GRAB A FREE TRIAL OF OUR PROJECTION SYSTEM, AND CHECK OUT DFSR PRO!
FREE EBOOK
SECRETS TO CRUSHING DAILY FANTASY FOOTBALL!
DON'T SET ANOTHER LINEUP BEFORE YOU READ THIS BOOK.