Basketball Picks Daily Fantasy
Expert Advice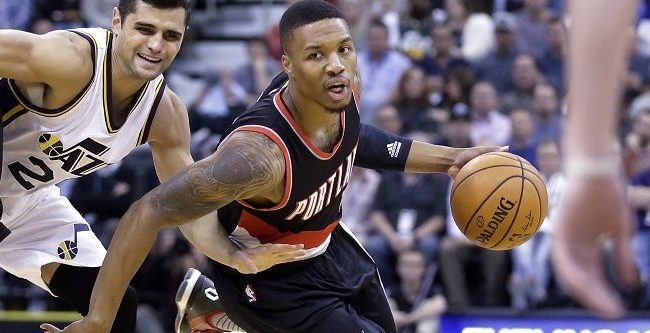 FanDuel NBA Picks and DraftKings NBA Playoff Picks - Tuesday 4/16/19
We've got a big Wednesday in NBA Playoff action. Can the Magic keep the, well, magic going against Toronto? Will we see another close one in Portland? Is Denver for real or will they cave in this series to the Spurs? Lots to look at for a three-game playoff NBA slate.
Head on over a for your chance to get DFSR PRO, which will give you access to our NBA FanDuel and DraftKings optimizer, our MLB Optimizer in time for Opening Day, and our new player lab! Get started for free by clicking the button below.
First time with NBA or NFL? Be sure to read our free NBA and NFL Ebooks on building lineups, general strategy and more. We've got you completely covered.
Magic (10) vs. Raptors (-10)

Vegas Projected Score: Toronto: 109.75 - Orlando: 100.75
Vegas Over/Under: 210.5
Series: Orlando 1-0


The Magic stole a game in a stunner with a late-game
D.J. Augustin
dagger three to all but seal the deal. They shot the lights out from three (48%) but looked tough on the defensive end against a seemingly superior Raptors' squad. It's difficult to imagine the Magic sustaining this level of basketball for an entire seven-game series, but they are clearly at worst, a very tough matchup for the Raptors. They are long around the perimeter and have the size inside with Vucevic to cause real problems on the defensive end.
Orlando Value
Jonathan Isaac
FD
- $5100
DK
- $4900
Opponent -
TOR
Proj Pts
FD
- 29.37
DK
- 28.69
If the Game 1 minutes are the new normal then Isaac is among the very best value plays on this three-game slate. He played 40 minutes and finished with 11 points, eight rebounds and three blocks. While those per minute numbers aren't all that impressive, you really have to think this is around the floor on his production if he's going to run 83% of the game.

Evan Fournier
FD
- $5600
DK
- $5500
Opponent -
TOR
Proj Pts
FD
- 28.5
DK
- 29.69
Fournier was another big minutes guy for the Magic. His length and defensive ability (like Isaac) help him stay on the court for longer stretches. Dude took the most shots on the team (18) and finished with 16 points. The other stats were lackluster leaving his overall fantasy line a little unimpressive despite the court time. I'm fine buying in the mid-tier on the minutes though and think he'll continue to see similar usage. The other stats should come around.
Toronto Value

Pascal Siakam
FD
- $7800
DK
- $7100
Opponent -
ORL
Proj Pts FD - 40.83 DK - 40.94
Siakam played nearly the entire game on Saturday, finishing at 42 minutes with a 24 point, nine rebound line and a team-high 24 shots. His price ticked up some, but not enough if this is the plan for his usage and minutes going forward in these playoffs. I do think we see something of a dip in his shot attempts for Game 2, but the other periphery stats have room for growth on these minutes.

Kawhi Leonard
FD - $9300 DK - $8100
Opponent -
ORL
Proj Pts FD - 45.84 DK - 46.07
Considering some of the other superstar pricing on this slate, I think we are getting Kawhi at an absolute bargain, especially on
DraftKings
. The price seems like something of a joke there. He finished at only 33 minutes in Game 1 which feels like the total basement on his expected run. I expect that to increase to 35+ in Game 2. He also had no steals or blocks in the first game which won't last. For the playoffs, where pricing and lineups get much tougher, this is a crazy value smash spot on Kawhi.
Spurs (7) vs. Nuggets (-7)

Vegas Projected Score: Denver: 107 - San Antonio: 101
Vegas Over/Under: 208
Series: San Antonio 1-0
The Spurs were another team that took away home court advantage in the first game. Like these other first game *upsets* a big part of the story comes down to the three-point shooting difference. The Spurs shot 47% on 7-15 shooting while the Nuggets shot 21% on 6-28 from behind the arc. That isn't the whole story of course, but it is something of a theme on the games where the underdog took the first game. The Nugget's starting five had a positive +/- with the rotations with the bench guys getting smashed. It'll be interesting to see if we see even more starters' minutes in Game 2.
San Antonio Value
Honestly, from a DFS perspective there's not a ton I love on this slate from the Spurs' side.
DeMar DeRozan
(FD $8500 DK $7300) is coming at an advantageous
DraftKings
' price, but that can be said of a lot of players on this slate. DK did smooth out some of their pricing and a lot of players are looking like values.
Rudy Gay
(FD $5400 DK $5100) is moderately interesting on
FanDuel
, but from a points per dollar perspective, I much prefer both Isaac and Kawhi.
Denver Value

Gary Harris
FD - $4600 DK - $4500
Opponent -
SA
Proj Pts FD - 26.26 DK - 26.56
We liked Harris as a value play in the first game and were confident in his minutes because of his proficiency on defense. That bore out and he played 37, the most on the team. He scored 20 points on 7-12 shooting though only collected three rebounds and an assist. Like some other value plays here, I'm happy to buy again on the minutes' upside.

Paul Millsap
FD - $5500 DK - $5700
Opponent -
SA
Proj Pts FD - 34.29 DK - 33.68 I'll go right back to the
Paul Millsap
well after a rather disappointing fantasy performance in Game 1. He ran 34 minutes but managed only a paltry 12 points and four assists. Considering he's asked to do a lot on the defensive end, we can't necessarily expect monster fantasy performances from Millsap especially with his role in the offense. But 34 minutes is going to yield you many more fantasy points than this more often than not.
Consider
Jamal Murray
(FD $7700 DK $6300) who couldn't hit anything from behind the arc (0-6) in the first game. But he took the most shots on the team and he's a heat check guy who could easily pay off here if the three is falling.
Thunder (2) vs. Trail Blazers (-2)

Vegas Projected Score: Portland: 112 - Oklahoma City: 110
Vegas Over/Under: 212
Series: Portland 1-0


Oklahoma City and Portland played something of a nail-biter on Sunday with the Trailblazers taking home the win. It was a physical game centered mostly around each team's stars. It's not a fantastic sign for Portland that they were able to only eke out a win despite the Thunder shooting a miserable 15% from three (5-33). That kind of number surely won't last and if the number regresses back the team average then this series might not be as close at it appears.
Oklahoma City Value

Dennis Schroder
FD - $5200 DK - $5300
Opponent -
POR
Proj Pts FD - 29 DK - 30.32 Schroder came off the bench but was essentially the starter, playing 36 minutes. He struggled from the field, going 5-17 and 0-7 from three. A: I don't think he sustains that kind of usage going forward. B: He clearly won't be that inefficient. You have to love the run though at these prices. Considering some of the superstars are also the best points/$ plays we are going to need to snag plenty of mid-tier value and Schroder represents that on both sites.
Portland Value
Enes Kanter
FD - $7800 DK - $7000
Opponent -
OKC
Proj Pts FD - 39.71 DK - 41.95
Kanter was the big story in Game 1 in that he was able to stay on the court for full starter's minutes. From a matchup standpoint, OKC offers him almost the best chance to do that because
Steven Adams
isn't going to challenge him (much) on the defensive end. The Thunder didn't work overly hard to get him into awkward spots. (When they did he looked, well, awkward. But it wasn't all that often.) Kanter finished with a GPP-winning 20 points and 18 rebounds in 34 minutes and played crunch time in a close game. We've long known him to be a fantasy point-per-minute superstar and he capitalized in Game 1.

Damian Lillard
FD - $9700 DK - $8700
Opponent -
OKC
Proj Pts FD - 48.13 DK - 49.6
On these playoff slates, from a cash game perspective it's worth a lot to roster the players who stand to see minutes in the 40+ minutes range if things break right. Lillard is one of those guys. He's obviously integral to the team's overall success (being their best player and all) and Portland needs him as much as any team needs a specific player in these playoffs. Dame played 39 in Game 1 finishing with 30 points, four assists and four rebounds. For this kind of run, the assist numbers are likely way low and he's one of my favorite cash game plays on this slate considering the price.
Strongly consider
Al-Farouq Aminu
(FD $5500 DK $4800) who got a lot of court time thanks to his defense on
Paul George
.
GRAB A FREE TRIAL OF OUR PROJECTION SYSTEM, AND CHECK OUT DFSR PRO!
FREE EBOOK
SECRETS TO CRUSHING DAILY FANTASY FOOTBALL!
DON'T SET ANOTHER LINEUP BEFORE YOU READ THIS BOOK.