Baseball Picks Daily Fantasy
Expert Advice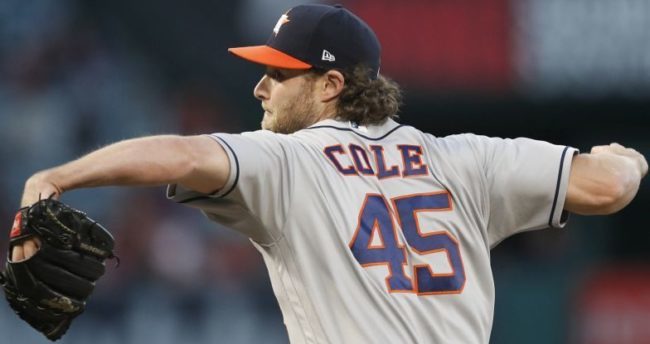 DraftKings and FanDuel MLB Picks for Saturday 4/20/19
Now's your chance to get DFSR PRO, which will give you access to our MLB and NBA optimizers and our new player lab! Get started for free by clicking the button below.
Pitchers
Masahiro Tanaka FD - P 9100 DK - SP 9200
Opponent - KC (Heath Fillmyer) Park - NYY
FD - 37.62 DK - 20.43
I can't say I'm typically excited to run Tanaka in DFS, but every time I go and look at his stats I'm reminded that he's pretty solid if not super exciting. This year he's basically doing what he did last year. The 2.01 BB/9 is elite, the 8.46 K/9 is serviceable, and the slight down-tick in strikeouts has been more than made up for by the increased ground-ball rate. Generating more ground-balls in Yankee Stadium tends to be a winning strategy, especially on days where the ball is flying out to right field. You're not getting Tanaka in an elite match-up here. The Royals are a bottom 10 team in terms of striking out against righties, and are a middle of the pack team in terms of wOBA. If you don't play him, though, you're very quickly going to land in frog-kissing territory, choosing between has-beens like Greinke, Santana or Darvish, never-will-bes like Fillmyer or Daniel Norris, and whatever Miles Mikolas is. Me? I'd like to prioritize Tanaka, I think.
For DraftKings, I don't mind Daniel Norris in the pitcher two slot. He's young, actually has some pedigree, and he'll be up against the free swinging White Sox. You also have to think a win is more likely than usual given that he's going up against one of the very worst pitchers in the majors in Ervin Santana.

Team Cash Stacks
New York Yankees
Park - NYY
Opposing Pitcher - KC (Heath Fillmyer)
Vegas Implied Run Total - 5.17
Hey, we're back at it again with another Yankees stack. It's funny, the Yankees haven't quite been the prolific offense that many predicted at the beginning of the season. They've gotten next to nothing from Stanton, Andujar, and Aaron Hicks, and have relied upon plucky contributions from guys like Luke Voit and Greg Bird to plug the gaps in the meantime. And you know what? They've still been pretty serviceable. It seems like we've recommended them a ton this season largely on the basis of the pitchers they've gone up against, and in that area Heath Fillmyer is a welcome sight.
Fillmyer was never much of a prospect to begin with, and last year's 4.60 xFIP in his major league debut didn't change matters for the better. He's picked up right where he left off last season, striking out four and walking three en route to eight earned runs over his first eight innings pitched of the season. This one should be something of a bloodbath.
Potential Players to Stack
Aaron Judge (FD $4500 DK $5100)
Brett Gardner (FD $3600 DK $4400)
Luke Voit (FD $4000 DK $4700)

No surprises in this one. Grabbing the top three in the Yankees' order against a guy who can't strike anyone out means we mitigate the biggest weaknesses of guys like Judge and Voit, so we don't have to worry too much about the platoon disadvantage here. You can honestly sprinkle in whoever bats clean-up as well, though Gleyber Torres might be just a little expensive in a spot like this.
Detroit Tigers
Park - DETOpposing Pitcher - CHW (Ervin Santana)Vegas Implied Run Total - 4.73
Relish this one, my friends, because we might not get to enjoy stacking against
Ervin Santana
for long. After seeing Santana put together one of the worst 24 inning stretches of pitching possible for the Twins last season, the White Sox decided that they simply had to see what Santana would be capable of if he rolled it back for another year. Santana's 3.28 HR/9, 8.03, and 6.68 xFIP are essentially the worst I've seen over a 20+ inning sample, but this year,
he's somehow been even worse
. Through 8.2 innings Santana has allowed 5.19 HR/9, 6.23 BB/9, 10.38 ERA, and a 8.13 xFIP. I'm speechless. Theoretically you should probably just stack any major league hitters against Santana at this point. While this level of ineffectiveness almost seems impossible, it's clear that Santana is still likely the league capable pitcher in the entire majors, and I'll be ready with a fork and knife.
Potential Players to Stack
Nicholas Castellanos (FD $3300 DK $4100)
Miguel Cabrera (FD $3400 DK $3600)
Niko Goodrum (FD $3400 DK $3900)
As with the Yankees, it's pretty much impossible to go too terribly wrong stacking Tigers against Ervin Santana, but the Tigers are actually a tricky team to stack thanks to the general lack of power upside. Instead I'm going with an OBP centered stack with guys who at least have the potential to go yard. Most of Castellanos' upside comes against lefties, but again, given that Santana is essentially throwing batting practice I don't want to be too picky here.
Additional value plays
Welington Castillo FD - C 2600 DK - C 3400
Opponent - DET (Daniel Norris) Park - DET
FD - 9.31 DK - 7.14
I kind of like Norris on DraftKings, but he's by no means an elite pitcher here. The young Tiger has flashed decent K upside, but his control issues will continue to plague him. Castillo is just a good way to get away from catcher cheaply, as he should bat toward the middle of the order in the positive platoon spot, and he's been .117 OPS points better against lefties for his career.

Matt Carpenter FD - 3B 3100 DK - 3B 3800
Opponent - NYM (Undecided) Park - STL
FD - 9.86 DK - 7.35
It's been a rough start to the season for Carpenter, but the underlying numbers still look sound to me. He's still walking 12.5% of the time, and it's really just a .229 BABIP that's making his season-long line look so bad. With deGrom scratched from this start, Carpenter should get to feast against whatever back-up option is thrown his way. He's too cheap for the underlying talent, and he's a great steady cash game option here.

Robinson Cano FD - 2B 2900 DK - 2B 3600
Opponent - STL (Miles Mikolas) Park - STL
FD - 9.72 DK - 7.44
Cano is basically the Matt Carpenter at second base in terms of how bad he's run so far. After a hot start, Cano has been BABIP'd right to death. His .226 figure is more than .100 points off last year's numbers in spite of a similar batted ball profile. I've besmirched Mikolas enough times, but the man really was the luckiest pitcher in baseball last year. He's squarely back on planet Earth now, with a sub 5 K/9 and and xFIP over 5. Cano is cheap since he's been bad, but he has to be able to hit what Mikolas is dealing right now.
Cash game round-up
Pitcher: Masahiro Tanaka, Daniel Norris.
First Base & Catcher: Miguel Cabrera, Wellington Castillo.
Second Base: Robinson Cano.
Shortstop: Gleyber Torres.
Third Base: Matt Carpenter.
Outfield: Aaron Judge, Brett Gardner, Nick Castellanos, Niko Goodrum.
Night time slate
Pitchers

Luis Castillo FD - P 9800 DK - 9600
Opponent - SD (Eric Lauer) Park - SD
FD - 35.49 DK - 18.86
In his 283 major league innings, the 26 year old Castillo has just been downright good. With a 9.36 K/9, a walkrate under 3, a 50.5% groundball rate, and a 3.57 xFIP, Castillo is rock solid. While you can't trust his sub-2 ERA this season, I actually think there is a chance that some increase in strike-outs could be legit. What you really like here, though, is the park and the match-up. The Padres are finally out of "historically bad" territory, but they still present a very favorable spot - ranking in the bottom 10 in wOBA against righties while boasting the 5th highest K%. I'm pretty bullish on this young lineup going forward, but for all of their talent guys like Tatis, Reyes, and Myers still have plenty of swing and miss in their game, to say nothing of the guys at the bottom of the line-up. I'd be happy to play Castillo in any format tonight.

Gerrit Cole FD - P 11100 DK - SP 10700
Opponent - TEX (Adrian Sampson) Park - TEX
FD - 38.79 DK - 21.54
Cole is obviously the bigger talent between him and Castillo, but I'm not sure that he's necessarily the guy you have to prioritize. Texas is very much a feast-or-famine place to pitch right now. It's notoriously the "Coors of the American League," and while that's a bit hyperbolic, it's not too far off. This time of year cold weather tends to favor the pitchers, and since it never really gets cold in Texas, hitters tend to enjoy an early season advantage there. And then you have the enigmatic Rangers. Their profile is actually quite similar to the Cardinals, as they have the exact same 25.2% K rate and a wOBA just .03 points lower. Some of that is run-hot from guys like Shin-Soo Choo and his 1k+ OPS, but nonetheless the Rangers have had good results against right-handers. Cole is obviously a hell of a pitcher in his own right, improving on last year's already absurd peripherals - pushing his K/9 to almost 13 while shaving .7 BB/9. You know what? Maybe I should be prioritizing Cole after all.

Team Cash Stacks
Minnesota Twins
Park - BAL
Opposing Pitcher - BAL (Dan Straily)
Vegas Implied Run Total - 5.42
Straily is another one of those pitchers who year to date season line just makes you do a commercial-style double take. "A 1.86 K/9? A 10.24 ERA? Did I misread something?" No, my friend, you didn't. The once promising right hander is a half a decade away from even flashing the promise that got him into the majors, and the 5+ combined xFIP over the last two seasons just looks like a cry for help. Minnesota isn't the flashiest of stacks, but like we've seen many times this season you can absolutely find some cheaper value, especially if you're playing platoon splits. All in all this can be a stack for big tourneys or cash games alike.
Potential Players to Stack
C.J. Cron
(FD $2600 DK $)
Max Kepler (FD $3200 DK $)
Nelson Cruz (FD $3400 DK $)
Eddie Rosario (FD $4200 DK $)
We actually have a lot of nice high ceiling options on the Twins here. Cruz's power is well documented, and mitigating the strikeout risk against such a bad pitcher is a coup here. Getting Kepler and Rosario on the positive side of their platoon is a plus, and Rosario in particular has shown more than his usual power early this season (including a 2 homer game this week). I also like Cron as a cheap option on FanDuel.
Houston Astros
Park - TEX
Opposing Pitcher - TEX (Adrian Sampson)
Vegas Implied Run Total - 5.8
Yikes, there is no shortage of under-qualified pitchers going today, huh? I am sure making the major leagues is incredible, but I still wouldn't trade places with Adrian Sampson today. He's pitching in the aforementioned Coors of the AL, and he'll be doing so against one of the league's best offenses. That might be tolerable if, you know, you were actually good at pitching, but alas, Mr. Sampson just isn't. Again, he's quite a bit better at pitching than I am, but by major league standards he's severely lacking. This year he's brought last year's underwhelming sub 6 K/9 but managed to double his walk-rate up to nearly 4 per 9 innings, and the already bad xFIP has ballooned to 5.64. Vegas doesn't see this one as being particularly pretty, and neither do I.
Potential Players to Stack
Alex Bregman (FD $4100 DK $4900)
Carlos Correa (FD $3700 DK $4800)
Michael Brantley (FD $3900 DK $4600)
Grabbing the heart of the order against Sampson is looking terrific here. I feel like I've written this for every single stack, but Sampson really is bad enough that we don't have to sweat platoon splits too much here. For his part, Brantley has been .110 OPS points better against right handed pitching for his career, so grabbing him here is a no-brainer.
Additional value plays

Jose Peraza FD - 2B 2200 DK - 2B/SS 3100
Opponent - SD (Eric Lauer) Park - SD
FD - 8.59 DK - 6.8
It ain't pretty, but then again, 2nd base is just not very pretty on this slate. I wouldn't recommend running Peraza against right handed pitchers, but if he sneaks toward the middle of the lineup against the left handed Lauer he looks pretty playable. Peraza has been .064 OPS points better against the better half of his platoon, and Lauer is basically the definition of below average. His 4.4 combined xFIP over the last two years is just lousy, and he really doesn't generate swings and misses. Peraza has a truly terrible approach, but you're playing him to escape a bad position cheaply.
Cash game round-up
Pitcher: Gerrit Cole, Luis Castillo.
First Base: CJ Cron, Yuli Gurriel.
Second Base: Jose Altuve, Jose Peraza.
Shortstop: Carlos Correa.
Third Base: Alex Bregman.
Outfield: Max Kepler, Eddie Rosario, Michael Brantley.
GRAB A FREE TRIAL OF OUR PROJECTION SYSTEM, AND CHECK OUT DFSR PRO!
FREE EBOOK
SECRETS TO CRUSHING DAILY FANTASY FOOTBALL!
DON'T SET ANOTHER LINEUP BEFORE YOU READ THIS BOOK.