Baseball Picks Daily Fantasy
Expert Advice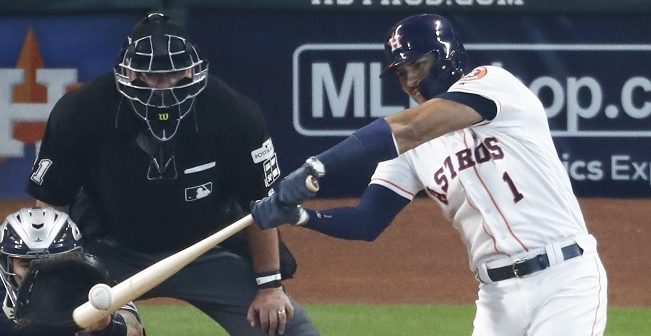 DraftKings and FanDuel MLB Picks for Saturday 4/21/19
Now's your chance to get DFSR PRO, which will give you access to our MLB and NBA optimizers and our new player lab! Get started for free by clicking the button below.
Pitchers
James Paxton FD - P 9600 DK - SP 9400
Opponent - KC (Jorge Lopez) Park - NYY
FD - 40.35 DK - 22.3
Paxton is the biggest projected favorite on this slate and it's easy to see why. After struggling the first three games, Paxton threw an absolute gem against the Boston Red Sox in his most recent outing. Paxton pitched eight-shutout innings, allowing just three baserunners while striking out 12 batters. That's the Paxton that we've become accustomed to, as he's posted a 2.90 FIP and 30.3 percent K-rate in his last two years with the Mariners. Facing Kansas City is a treat too, as they currently rank 25th in wOBA.
Joey Lucchesi FD - P 8300 DK - SP 9400
Opponent - CIN (Tyler Mahle) Park - SD
FD - 31.25 DK - 16.52
Luchessi's 5.06 ERA is far from pretty but his underlying statistics tell a different story. In fact, Luchessi owns a 3.30 FIP this season and 26 percent career K-rate. Those are the numbers of an elite pitcher and he should have success in a pitcher's park like Petco. What really makes him an intriguing option here is his matchup, as he faces a Reds team who ranks dead-last in both OBP and batting average. That's why Cincinnati's projected run total is barely above three and Luchessi should have no problem shutting down one of the weakest lineups in baseball in such a friendly park.

Stephen Strasburg FD - P 10500 DK - SP 10700
Opponent - MIA (Trevor Richards) Park - MIA
FD - 39.26 DK - 21.36
Strasburg has traditionally struggled against the Marlins but it's a tough matchup to fade. In fact, the Marlins currently rank last in both wOBA and xwOBA so far this season. That's really no surprise when you consider the fact that Starlin Castro is probably their best hitter. Pitching in Miami is fantastic too, as that currently ranks as the best pitching park in the majors based on park factors. In addition, Strasburg's has some special peripherals, owning a 2.92 xFIP and a 29 percent K-rate for his career.

Catcher/First Base
Wellington Castillo FD - C 2600 DK - C 3400
Opponent - DET (Daniel Norris) Park - DET
FD - 9.77 DK - 7.5
Picking catchers is like pulling teeth but Castillo has some serious home run upside in this matchup. Over the last five years, Castillo has posted an ISO over .200 in three of those seasons. That has led to 61 homers in about 1,300 at-bats, which is actually a pretty good rate for a catcher. What really makes him attractive here is the matchup though, as Castillo has the platoon advantage against Daniel Norris, who owns a 1.68 WHIP and terrible 4:3 K:BB-rate.

Jose Abreu FD - 1B 2900 DK - 1B 3800
Opponent - DET (Daniel Norris) Park - DET
FD - 11.01 DK - 8.42
Abreu makes for a nice stack with Castillo, as we really want to exploit Norris with these powerful righties. So far this season. Norris has allowed a .412 xwOBA to opposing hitters. That makes Abreu hard to overlook, as he has an OPS approaching .900 against southpaws throughout his career. All that makes him a good bet to succeed but these prices are just ridiculous. Specifically, the $2,900 on FanDuel makes him one of the best bets on the board to reach value.

C.J. Cron FD - 1B 3100 DK - 1B 4100
Opponent - BAL (Dylan Bundy) Park - BAL
FD - 12.69 DK - 9.64
This is a recipe for a homer, as we get a home run hitter facing a dinger-prone pitcher. In fact, Cron surprised everyone last season with .240 ISO en route to 30 home runs. That ISO number is simply ridiculous and it becomes particularly enticing in this matchup. Not only was Dylan Bundy one of the league leaders by allowing 2.15 HR/9 last season, he's also posting a nightmarish 3.63 HR/9 rate this season. That's obviously dreadful and it puts all Twins power bats in play.
Second Base

Robinson Cano FD - 2B 3400 DK - 2B 3600
Opponent - STL (Dakota Hudson) Park - STL
FD - 10.43 DK - 7.98
Cano is simply too cheap right now and five doubles over his last seven games has to make one believe that he's finding his form. His .351 xwOBA shows just how unlucky he's been this season, as it's a full 70 points above his wOBA. That means a hot streak is right around the corner and facing Dakota Hudson could light the flame. In fact, Hudson has allowed a .417 xwOBA to opposing hitters this season and has been even worse against lefties.

Wilmer Flores FD - 2B 2400 DK - 1B/2B 3900
Opponent - CHC (Jose Quintana) Park - CHC
FD - 10.45 DK - 8.03
Flores is traditionally an underrated bat and he's always worth a look against southpaws. In his career, Flores owns a .776 OPS against left-handers and should crack the heart of the order here against Jose Quintana. While Quintana has been solid recently, his 3.43 ERA and 1.43 WHIP is nothing to write home about. The reason we really want to use Flores is his price though, as this $2,400 price tag on FanDuel allows you to get pretty much anyone else into your build.
Shortstop

Carlos Correa FD - SS 3800 DK - SS 4600
Opponent - TEX (Shelby Miller) Park - TEX
FD - 13.91 DK - 10.48
Shelby Miller has never lived up to expectations and stacking against him in Globe Life Park is always a good idea. So far this season, Miller has allowed a disastrous .427 xwOBA to opposing hitters. That should be huge for a guy like Correa, who owns a .200 career ISO. Correa has always had success in Texas too, posting an .888 OPS in Glode Life Park for his career. Everyone struggles in Texas and with Houston projected to score more than five runs, Correa should be a huge part of that lofty run total in the heart of the order.
Corey Seager FD - SS 3400 DK - SS 4300
Opponent - MIL (Brandon Woodruff) Park - MIL
FD - 12.31 DK - 9.38
While Seager hasn't been his usual self this season, he's too good of a player to be priced this cheaply. It's the hitting profile that's really impressive with Seager, as he owns a 9.2 percent K-rate while posting an ISO of .190. Those sort of numbers should be particularly beneficial in this matchup, with Woodruff posting a 5.23 ERA and 1.40 WHIP this season. He's been terrible against lefties throughout his career too, allowing left-handed batters to post a .287 AVG and .763 OPS against him.
Third Base

Alex Bregman FD - 3B 4000 DK - 3B 4900
Opponent - TEX (Shelby Miller) Park - TEX
FD - 15.54 DK - 11.71
Bregman is the biggest part of our Houston stack, as he too should succeed against a gas can like Shelby Miller. Bregman's peripherals are way more impressive than Correa though, with Bregman posting a .363 xwOBA this season. That xwOBA should really be no surprise when you consider the fact that Bregman owns a .217 ISO for his career. He's got some of his best career numbers in Globe Life Park too, posting an .894 OPS in 119 at-bats there.

Nolan Arenado FD - 3B 4600 DK - 3B 5400
Opponent - PHI (Jerad Eickhoff) Park - COL
FD - 15.27 DK - 11.49
Using Arenado in Coors Field is always a good idea, as he has an OPS approaching 1.000 at home throughout his career. That alone makes him worth a shot but facing Jared Eickhoff only adds to his intrigue. In fact, Eickhoff led the Phillies with a .439 wOBA allowed to opposing hitters last season and this is actually his first start of the year after spending the opening month in Triple-A. That's a nightmare situation and he could struggle in the toughest hitter's park in the majors.
Outfield
Jay Bruce FD - OF 3000 DK - 1B/OF 4800
Opponent - LAA (Jaime Barria) Park - LAA
FD - 10.34 DK - 7.79
Bruce's Mendoza Line average is definitely nothing to be proud of but his power prowess is. Not only does he lead the Mariners with nine dingers, he's also posting an absurd .417 ISO. That makes this $3,000 price tag downright shocking on FanDuel, as he's playing at a $4,000 level. Facing a right-hander is the icing on the cake, as Bruce owns a .487 SLG against right-handed pitchers for his career.

Michael Brantley FD - OF 3900 DK - OF 4600
Opponent - TEX (Shelby Miller) Park - TEX
FD - 13.42 DK - 10.33
Brantley is the final piece of our Houston stack but he's the only guys that has the platoon advantage. Miller's 9.00 ERA and 2.70 WHIP is obviously a reason we want to stack against him but he's been even worse against lefties. In fact, Miller has allowed a .343 OBP and .776 OPS to lefties throughout his career and those numbers will likely only go up in the best hitting park in the AL.
FREE EBOOK
SECRETS TO CRUSHING DAILY FANTASY FOOTBALL!
DON'T SET ANOTHER LINEUP BEFORE YOU READ THIS BOOK.