Basketball Lineups Daily Fantasy
Expert Advice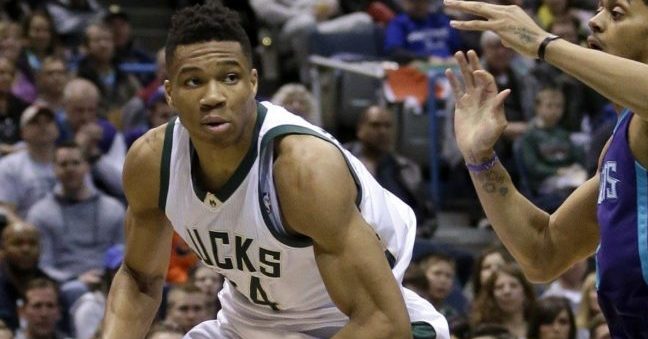 FanDuel NBA Picks and DraftKings NBA Playoff Picks - Round Two Tuesday Preview
The playoffs are really heating up now. Philly pulls off an ugly win (but a win nonetheless) over Toronto on the road. The Nuggets looked no worse for wear after their seven games against the Spurs. And now we get Game 2's for Celtics/ Bucks and Rockets/ Warriors. It's an awesome time of year and we've got you covered for Tuesday's NBA action.
Head on over a for your chance to get DFSR PRO, which will give you access to our NBA FanDuel and DraftKings optimizer, our MLB Optimizer our player lab! Get started for free by clicking the button below.
First time with NBA or MLB? Be sure to read our free NBA and MLB Ebooks on building lineups, general strategy and more. We've got you completely covered.
Celtics (7.5) vs. Bucks (-7.5)

Vegas Implied Score: Milwaukee - 113.5 Boston - 106
Over/Under: 219.5
Series: Boston 1-0
The Celtics came out and trashed the Bucks in Game 1, eventually winning by 22 thanks to a 36-21 3rd quarter that all but put the game out of reach. Boston had a plan with Giannis early and often, getting in front of him early in possessions and slowing his downhill momentum to the basket. It threw the Bucks' offense totally out of sync and forced them into many, many bad looks.
Giannis's 33% shooting from the field (7-21) represented his second-worst shooting performance from the field this season and the Bucks will for sure have to adjust in order to prevent this kind of inefficiency again. I wouldn't be surprised if we saw a starting lineup change out of Milwaukee for Game 2 to space the floor a little better.
Milwaukee Value

Giannis Antetokounmpo
FD
- $11300
DK
- $10000
Opponent -
BOS
Proj Pts
FD
- 60.98
DK
- 62.78
Giannis *only* played 34 minutes in Game 1 thanks to the blowout and a couple of odd rotations by Coach Bud. I'd be shocked (assuming the game stays close) if he played less than 38-40 minutes in this one. For as rough a performance as he had in Game 1, the Bucks just need every single minute out of the their superstar. On a night filled with stars, I think it's perfectly reasonable to continue paying up for Giannis here and on
DraftKings
it seems like almost a no-brainer.

Eric Bledsoe
FD
- $7400
DK
- $5800
Opponent -
BOS
Proj Pts
FD
- 34.32
DK
- 34.93
An even bigger surprise on the minutes' front was Bledsoe only playing 25 in Game 1. He wasn't a heavy run dude during the season, but this seems insanely low for a guy who played such good defense this season. He struggled on the offensive end for sure, but if the Bucks want to stay competitive in this series, splitting minutes between Bledsoe and
George Hill
just doesn't seem like any kind of option. Expect more minutes out of Bledsoe and he makes for a value on both sites.
I wouldn't be surprised if we saw a slight uptick in minutes out of
Nikola Mirotic
(
FD
3900
DK
3500) off the bench and he makes for an interesting punt play.
Boston Value
Al Horford
FD - $7000 DK - $6800
Opponent -
MIL
Proj Pts FD - 38.84 DK - 38.53
Horford was excellent in Game 1, stymying Giannis on defense as well as crushing the Bucks on the offensive end through the pick and pop. The Celtics ran this set over and over with Horford at the nail (and extended) and it resulted in an 8-16 shooting performance (3-5 from three). I'm bullish on Big Al going into Game 2 still because I think the minutes' floor is so high because of how much Boston relies on him on the defensive end.
Marcus Morris
FD - $5600 DK - $4200
Opponent -
MIL
Proj Pts FD - 28.03 DK - 29.08
The Celtics started Morris in Game 1 over
Aron Baynes
to give them a bit more versatility on defense with Morris able to A: handle Giannis for stretches and B: because he can switch a bit easier on to the Bucks' larger wings. It worked. Morris went for nine points and seven rebounds in 30 minutes. He's coming reasonably cheap on both sites and makes the two PF
FanDuel
situation a little more palatable where you can pay a mid tier price for a rather safe floor.
We didn't see much out of
Jayson Tatum
(FD 6400 DK 5500) in Game 1, but I love that his price remains firmly in the middle tier. I'm happy to run him back in cash games.

Rockets (5.5) vs. Warriors (-5.5)
Vegas Implied Score: Golden State - 113 Houston - 107.5
Over/Under: 220.5
Series: Golden State 1-0
Game 1 of this series was a slugfest replete with enough bitching and moaning at the referees to have you never tune into another game. In a lot of way, it represented the worst aspects of what the NBA (kind of) has become: a league in which the players think they never do anything wrong and the refs (sometimes) struggle with how to enforce somewhat nebulous rules. It wasn't pretty.
Golden State pulled off a win in what ultimately was a pretty evenly matched game. Some late close calls and technicals ultimately swung the tide in a game that could have gone either way.
Houston Value
Eric Gordon
FD - $5500 DK - $5300
Opponent -
GS
Proj Pts FD - 27.45 DK - 29.5
Gordon played very well in Game 1, knocking down 10-19 from the field (4-13 from three). He's not a liability on defense which means he has a higher minutes floor in Game 2 and his ability to get to the hoop some and create his own shot (at times) off the dribble still has me bullish on him as a cash play. From a fantasy perspective, he's very scoring dependent so you are going to have to live with a higher standard deviation around the production. But that's built into these prices.

Clint Capela
FD - $7500 DK - $6000
Opponent -
GS
Proj Pts FD - 37.7 DK - 38.8
Well, he was terrible in Game 1 and basically couldn't even stay on the court with the way Golden State was attacking switches. I get being gun shy on thinking about running him out there in Game 2 considering just how bad he was on Sunday. But, in my opinion, this is just the time to go back to the well. In the past, he's been able to stay on the court against the Warriors even when the latter isn't running out traditional center lineups. Go back to the January 3rd game (pre-Boogie) when Capela played 46 minutes (41 in regulation) and finished with 29 points and 21 rebounds. Sure, it's one game and Houston was playing ultra-thin, but I'd be floored if Capela wasn't out there for close to max minutes in Game 2. He makes for a great
DraftKings
' play.
Golden State Value

Stephen Curry
FD - $9000 DK - $7900
Opponent -
HOU
Proj Pts FD - 50.29 DK - 53.43
Speaking of guys who had rough Game 1's, Curry struggled basically everywhere. Sure, he hit the dagger three to seal the game, but everything before that was kind of a mess. He got into foul trouble that cut his minutes some (compared to the other starters who basically all ran 40+ - except Iggy) and also *only* got up 12 shots and finished with 18 points total. It sure seems like the Rockets' plan on defense was to funnel Durant into looks and not let the rest of the perimeter beat them. They almost pulled it off, but I don't see Curry settling for this few shots again.

Klay Thompson
FD - $6100 DK - $5900
Opponent -
HOU
Proj Pts FD - 34.23 DK - 35.02
Much was made of Thompson coming into Game 1 with an ankle issue but it didn't slow him down all that much on the offensive end. He's clearly playing at least somewhat hurt so your confidence in him as a cash play is likely influence by what percentage you think he's playing at right now. He took 13 shots and finished with only 13 points. Again, this could have been a byproduct too of the Warriors' overall defensive strategy. But man, it's so hard to pass up these prices if he's going to play 40+ minutes again.
Strongly consider
Andre Iguodala
(FD 5700 DK 4700) who will start again.
A note about
Kevin Durant
(FD 11400 DK 9100): I think he's a solid
DraftKings
' play at sub $10K though I think I want to trust Giannis for just a bit more. The same goes for
FanDuel
where if I'm paying up I think Giannis or Harden are the way to go.
FREE EBOOK
SECRETS TO CRUSHING DAILY FANTASY FOOTBALL!
DON'T SET ANOTHER LINEUP BEFORE YOU READ THIS BOOK.