Basketball Picks Daily Fantasy
Expert Advice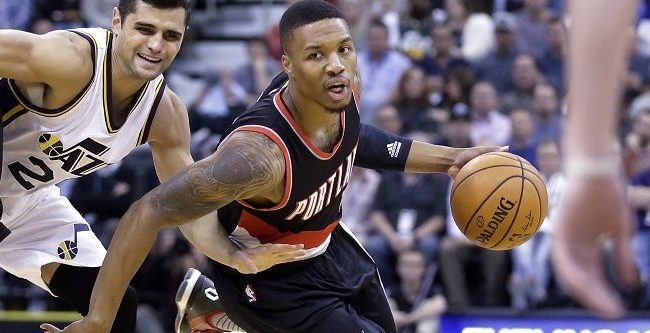 FanDuel NBA Picks and DraftKings NBA Playoff Picks - Thursday Preview
We're heading into a day with two series that were looking really close a couple of days ago, but a lot less so these days. Still, a 3-2 lead is totally surmountable, and both the Trail Blazers and Sixers have shown plenty of life in their respective series. Let's break it all down.
Head on over a for your chance to get DFSR PRO, which will give you access to our NBA FanDuel and DraftKings optimizer, our MLB Optimizer our player lab! Get started for free by clicking the button below.
First time with NBA or MLB? Be sure to read our free NBA and MLB Ebooks on building lineups, general strategy and more. We've got you completely covered.
76ers (2) vs. Raptors (-2)

Vegas Projected Score: Toronto: 107.75 Philadelphia: 105.75
Over/Under: 213.5
Series: Toronto 3-2
All of a sudden it feels like an eternity ago that the Sixers were up 2-1 after two decisive wins on the back of
Jimmy Butler
. Two games ago it looked like Brett Brown was a genius, and that the Raptors were quite simply short on talent. Two games later, and it's starting to look a bit more like having a few great pieces that fit might be better than having several great pieces that don't fit so well.
It's exceedingly difficult to learn much from a 36 point blowout, other than that such blowouts are possible. The Raptors just kept doing what they do, and doing it even better than usual. We did see that it looks the injury issues that plagued Siakam in game 4 look to be past him, so there's that, but other than that I'm not sure what else we can really say about this one. Let's look at the individual teams.
Philadelphia
It's honestly getting tough to recommend anyone on Philly right now.
Joel Embiid
has more ailments than he had made shots in game 5.
Ben Simmons
shot five times. Together these two had 15 shots and 13 turnovers. All of this to say, things aren't looking amazing. I wouldn't touch of either of the big two in cash games. But I don't think you can fade the team entirely, so here's where I'm looking.

J.J. Redick
FD
- $4300
DK
- $4600
Opponent -
TOR
Proj Pts
FD
- 27.99
DK
- 29.98

Tobias Harris FD - $7600 DK - $6400
Opponent - TOR
Proj Pts FD - 37.3 DK - 38.65
Yep, I'm going to start with the peripheral pieces. Like I said, it's tough to learn much about Philly's plan for game 5 given how badly they got blown out, but if we turn to game 4 we can see that the plan very much involved Harris and Redick. Harris led the team in minutes and shots in game 4, and while he didn't do amazingly in that role he's just too cheap if that type of game is even a possibility. Redick, on the other hand, is just too cheap if he's going to play 35 minutes and shoot 10 times a game. I'd say that's something like the floor for him here, and I'd be more than happy to run him at a weak shooting guard position.
Toronto
If our system is having trouble finding value on Philadelphia, it's having no such issue with the Raptors. It basically thinks every single Raptor, to a man, is under-priced in this match-up. Hell, it thinks you can even play Serge Ibaka on his back-up minutes! It's not all sun and roses, though. Kawhi is now officially expensive, and we also know that when games play out like game four did that we can just lose basically every other Raptor in the process.



Marc Gasol FD - $5500 DK - $5100
Opponent - PHI
Proj Pts FD - 36.39 DK - 35.88
I think these projections are slightly aggressive, actually, but it doesn't stop Gasol from being an excellent play. We saw the Raptors finally go all in on Gasol in game 4, playing him 39 minutes as an attempt to just neutralized the hobbled Embiid. And if you haven't been following closely, it's pretty much been working. At any rate, it's very hard to imagine the Raptors going away from Gasol in this game, so I think he's safe to deploy in basically any format, especially if you averse to paying up for Jokic or Embiid.
A quick note on Pascal Siakam. After watching him shoot 19 times, get to the line for 10 free throws, and grab 8 boards, I'm not worried about the calf. He's a full green light for any format unless you hear otherwise.
Trail Blazers (-4) vs. Nuggets (4)

Vegas Projected Score: Denver: 109 Portland: 104.5
Over/Under: 215.5
Series: Denver leads 3-2

Well these two teams followed up a four overtime game with essentially the exact opposite of a four overtime game. Denver had the game fully in hand with an 18 point lead at halftime, and that was that. Nobody surprising played more minutes than we expected (Duh, it was a blowout afterall), and there just wasn't a lot to take away from this one. I'm tempted to just copy/paste Doug's write-up from game 4 and leave it here, but I think we learned just a little bit from this one, so let's get to it quickly.




Portland
Portland attempted to all in on the Enes Kanter plan, trying to leave him out there to force the issue against Jokic on the defensive end to try and wear him out by the time he had the ball offensively. Well, Denver played a card I didn't expect that they would last game, letting Jokic cover Aminu and putting Millsap on Kanter duties. Millsap seemed invigorated by the responsibility, and I imagine Denver will go back to that well here.

Hey, I'm already writing about Denver! That's because there are basically no good Portland plays unless we get some significant news about injury or playing time prior to game time. A case can be made to play Kanter again, but I think I'd rather just go cheap with Gasol and not worry about getting game 4 or game 5 Kanter.
Denver
I nodded to Millsap's increased opportunity above, and I think he'll get put into the same spot in game 6. The only issue is that he's now really expensive on FanDuel. There's a great case for playing him at $6,000 on DraftKings, but I don't know if I'm prepared to spend almost $8k on FanDuel based on one good game.
After Millsap, things are pretty dicey. Nikola Jokic is very obviously the focal point here, but he's also really expensive, and I'm not sure we have the punts to support rolling him out there at peak prices.
I expect most of our Denver plays will come from the pieces around the edge. Gary Harris will almost definitely be in our cash game lineups now that Denver has officially named him their cooler. He's playing so well defensively, and the fact that he can take out either Lillard or McCollum as necessary makes him indispensable here. He's still too cheap, and just an excellent cash game play.
I can also see getting frisky with Will Barton, as his natural talent seems to be winning out over Torrey Craig's hustle. he's been closing out games, and while the minutes weren't there in the blowout, they could very well return if we see another close contest.
FREE EBOOK
SECRETS TO CRUSHING DAILY FANTASY FOOTBALL!
DON'T SET ANOTHER LINEUP BEFORE YOU READ THIS BOOK.