Basketball Picks Daily Fantasy
Expert Advice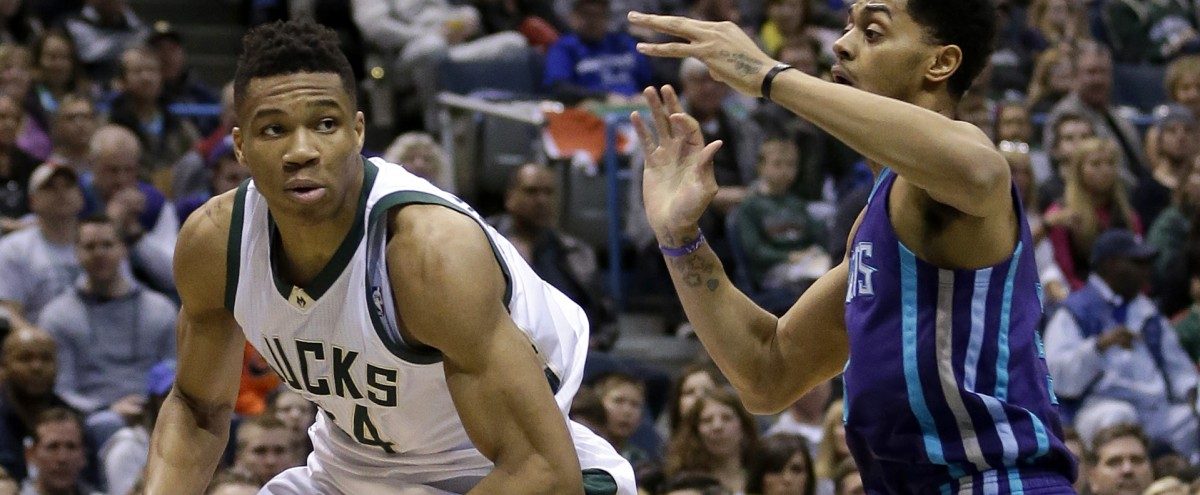 FanDuel NBA Picks and DraftKings NBA Playoff Picks - Wednesday Preview
On Wednesday we have two series looking quite different from each other. In the first game, we have a possible elimination scenario with the Bucks up 3-1 on the Celtics and playing at home. Meanwhile, the Rockets forced the series to 2-2 and now must withstand a game in the Bay Area.
Head on over a for your chance to get DFSR PRO, which will give you access to our NBA FanDuel and DraftKings optimizer, our MLB Optimizer our player lab! Get started for free by clicking the button below.
First time with NBA or MLB? Be sure to read our free NBA and MLB Ebooks on building lineups, general strategy and more. We've got you completely covered.
Celtics (9) vs. Bucks (-9)

Vegas Projected Score: Milwaukee - 118.5 Boston - 109.5
Over/Under: 218
Series: Milwaukee 3-1
After dropping Game 1 to Boston, Milwaukee has stormed back in the series to take the next three, including the last two in Boston. It now shifts back home for the Bucks with a chance to cement this thing and move on the Eastern Conference Finals.
Milwaukee took back control of the series doing what they do best: handing the ball the Giannis and daring anyone to stop him. That's simplifying things, but it's basically worked. We'll get into his fantasy stats in a moment, but Milwaukee attacked with him over and over, working to get him into mismatches as much as possible (which is basically every matchup he gets). Those mismatches on switches, or by spreading the rest of the offense with shooters allows Giannis to work his way into the paint.
This is just one example (there are many of course). Giannis has Horford on him at the top of the key. They get the switch on to Tatum, spread the floor and that's the end of things for the Celtics on defense.
Giannis is attempting
12.5 shots per game in the paint
against the Celtics and shooting 73% from less than 10 feet from the series. While Boston is trying their hardest to keep Horford on Giannis (and vice versa) it's been a struggle over the short term. One can only imagine things keep going like this.
Boston Value

Jayson Tatum
FD
- $7600
DK
- $5800
Opponent -
MIL
Proj Pts
FD
- 34.93
DK
- 34.84
After looking non-existent for the first two games, Tatum asserted himself for Games 3 and 4 with an average of 18 points and 11 rebounds on 14 shots per game. That he's still struggled from three (1-10 over those two) is indicative of the Celtics' woes, though a sign that there's still some life in this series if they can knock down a bunch of shots from beyond the arc. I'm looking for Tatum to play major minutes in this possible elimination game.
A note on
Kyrie Irving
(
FD
9800
DK
8200): Dude has been a wreck this series, no doubt about it. He's taking 21 shots per game (and claiming he should shoot more!!) and knocking them down at only 37% and 25% from three. After Giannis, you could make the strong case that the Celtics are trailing 3-1 because Irving's been bad and doubled down on it by being bad at volume. But if he's going to take all of the shots, then there is of course upside on these prices.
Milwaukee Value

Giannis Antetokounmpo
FD
- $12500
DK
- $10300
Opponent -
BOS
Proj Pts
FD
- 64.28
DK
- 66.09
After struggling in Game 1, Giannis has laid waste to Boston over the last three games. He's averaging 33 points, 13 rebounds and five assists per game while only having to play 34 minutes a game because the Bucks have had things relatively in hand in two of those affairs. Even as the most expensive player on the board, he's such a tough fade because of all the ways he can get things done from a fantasy perspective.

Eric Bledsoe
FD - $6200 DK - $4900
Opponent -
BOS
Proj Pts FD - 31.2 DK - 31.76
He's struggled in this series on both ends of the court and it's led to something of a reduction in expected court time for the Bucks' point guard. After signing a big contract extension, I'm sure this isn't the way Milwaukee wanted to go with Bledsoe, but 30 minutes per game has been something of a big ask in this series. But it's also led to a price drop on both sites and I think for a two-game slate we can take our chances with these salaries. He still got up 12 shots last game, finishing with 13 points (though he did go 0-4 from three). The play of
George Hill
has cut into Bledsoe's time, but it's worth noting that they have played the two together.

Brook Lopez
FD - $4700 DK - $4300
Opponent -
BOS
Proj Pts FD - 29.34 DK - 29
He's basically here our of necessity. The Warriors don't even play a center so that leaves us with only three *real* options on the slate. Both Horford and Capela are getting expensive so we probably need to take Bro-Lo's 30 or so minutes and hope he knocks down some threes. He's only averaging seven points and five rebounds for the series, but last game was his best on the boards with eight. Again, this is something of a punt play for this short slate.
Rockets (6) vs. Warriors (-6)

Vegas Projected Score: Golden State - 112.75 Houston - 106.75
Over/Under: 219.5
Series: 2-2
The Rockets got the series to 2-2 thanks to a couple of gutty performances in Houston. They survived a Harden poke to the eye in Game 3 and a Harden knock to the noggin in Game 4 and are now poised to really cause Golden State problems for the rest of this series.
The Rockets have really shifted some of their rotations over the last couple of games, getting way more minutes out of
Austin Rivers
(28 and 33) and to a lesser degree
Iman Shumpert
(18 and 21) than I ever thought would happen in this series. But it's because they've gone super small with
P.J. Tucker
way more at the five because
Clint Capela
, at times, is getting played off the court.
This isn't to say Houston's rotations are set in stone by any means. There are of course times when Capela is incredibly valuable to their plan on defense. But it does make it a bit tough to project from game to game.
Meanwhile, the Warriors have really shortened things up around their core starting unit and I don't expect anything to shift there.
Andre Iguodala
looked a bit hobbled at the end of Game 4, but he's probable to play in Game 5.
Houston Value

James Harden
FD - $11800 DK - $10200
Opponent -
GS
Proj Pts FD - 63.85 DK - 66.58
You may have to end up choosing between Harden or Giannis as the big-money payoff on Wednesday's slate and that's a pretty close one. Harden has been unbelievable this series, averaging 36 points, seven rebounds and five assists in 42 minutes (one OT game) per game. He's even lost a couple of minutes because of the aforementioned knocks he's taken that have sent him to the locker room in each of the last two games. He's getting to the line 10 times per game and averaging 27 shots (13 threes) per. The usage rate continues to be just insane no matter what Golden State throws at him.
If you think
Clint Capela
(FD 7000 DK 5600) gets back to playing minutes in the mid-30's then he's an absolute steal on
DraftKings
and would even make for an interesting consideration in that lone center spot on
FanDuel
. I'm just not totally trusting the Rockets' rotations at this point. But there's no doubt Capela is coming very cheap.
Additionally, if
Austin Rivers
(FD 4400 DK 3500) is just guy who's going to close games for the Rockets then he's a solid punt play on both sites. He's not going to get much usage when sharing the court with Harden/ Paul/ Gordon but he's picked and chosen his spots well in this series.
Golden State Value

Stephen Curry
FD - $8700 DK - $7900
Opponent -
HOU
Proj Pts FD - 55.58 DK - 59.06
Curry finally bounced back with his shooting in Game 4, though he did miss a great look that would have tied the game late on their final possession. But all in all, he was excellent from the field, going 12-25 (though *only* 4-14 from three) to finish with 30 points and eight assists in 43 minutes. Because of some of his struggles in this series he does represent one of the better *value* plays in this price range especially if the three really starts falling in volume which we know it can for this guy.

Klay Thompson
FD - $7000 DK - $5900
Opponent -
HOU
Proj Pts FD - 35.94 DK - 36.77
I'm of something of the same mind about Klay who's coming off a 5-15 (1-6 from three Game 4) and is shooting *only* 30% from three for the series. He's still getting up about seven threes per game and 15 shots per game overall. The rebounding has been able to sustain just a little bit of his floor when the shot isn't dropping and he's playing enough minutes (41 per game for the series) that there could easily be a big upside game in him before it's all said and done.
If
Andre Iguodala
(FD 6200 DK 4800) gets back to max minutes then he's a good
DraftKings
' salary relief guy.
FREE EBOOK
SECRETS TO CRUSHING DAILY FANTASY FOOTBALL!
DON'T SET ANOTHER LINEUP BEFORE YOU READ THIS BOOK.