Baseball Picks Daily Fantasy
Expert Advice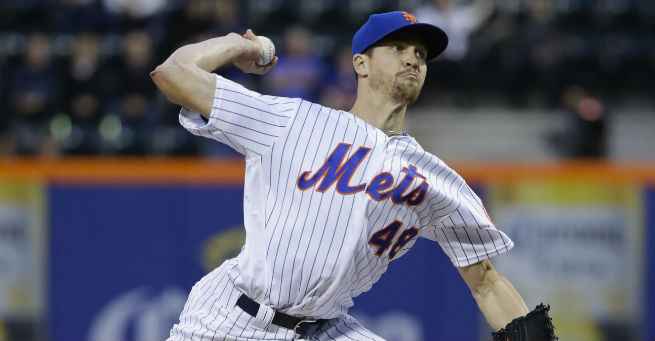 DraftKings and FanDuel MLB Picks for Friday 5/17/19
Friday's MLB action brings us plenty of options for FanDuel and DraftKings lineups. We've got some aces taking the mound in deGrom and Scherzer. But there's also plenty of ways to stack big bats if you aren't going to pay up for pitching. Let's take a look at what Friday's baseball DFS options have to offer.

Now's your chance to get DFSR PRO, which will give you access to our MLB and NBA optimizers and our new player lab! Get started for free by clicking the button below.
This season has been crazy in terms of weather and this forecast is no different. The cities/states that we need to focus on are Washington, Atlanta, Cleveland, Chicago and Seattle. The good news is that none of them look too serious at this point but it will be critical to monitor these developing forecasts over the next 24 hours.
Pitchers

Jacob deGrom FD - P 12000 DK - SP 11400
Opponent - MIA (Trevor Richards) Park - MIA
FD - 46.02 DK - 25.73
deGrom is easily the best pitching option on the board. Not only is he one of the best pitchers in the majors right now, he also has the best matchup possible. In fact, the Marlins currently rank dead-last in runs scored, OPS and xwOBA. That's really no surprise when you consider the fact that Starlin Castro is their best hitter. Pitching at Marlins Park should only help, as that currently ranks as the best pitcher's park in the league based on park factors. Vegas loves deGrom too, making him a -260 favorite in a game with a 6.5-total.
Joey Lucchesi FD - P 6200 DK - SP 8200
Opponent - PIT (Jordan Lyles) Park - SD
FD - 32.93 DK - 17.51
Lucchesi is my favorite value play of the day and this $6,300 price tag on FanDuel is nearly impossible to fade. While his 4.57 ERA and 1.35 WHIP is nothing to write home about, he's a much better pitcher than those numbers would indicate. His 3.37 FIP this season is a much better indicator of how good he's been and it's hard to argue with his 25.4 percent career K rate. That FIP and K rate are way too good for a pitcher below $7,000, especially a guy who gets to pitch at Petco Park against a bad offense. Not only is Petco one of the best pitcher's parks in the majors, the Pirates also rank 25th in wOBA and 28th in runs scored.
Also Consider: Max Scherzer (FD $10800 DK $11100) is arguably the best pitcher in the league and is always worth considering, even against the Cubs. Listen to "Friday's Best DFS Plays for FanDuel and DraftKings - 5/17/19" on Spreaker.



Catcher/First Base

Max Muncy FD - 1B 2800 DK - 1B/2B 5000
Opponent - CIN (Anthony DeSclafani) Park - CIN
FD - 12.46 DK - 9.28
While the $5,000 price tag on DraftKings makes Muncy tough to use, it's nearly impossible to fade him at $2,800 on FanDuel. This is a guy who's one of the league leaders with an ISO just below .300 since the beginning of last season and he's clearly one of the best power bats in the game. Using Muncy against a righty is something we want to exploit too, with the lefty bat posting a .946 OPS against righties since the beginning of last season. He comes into this matchup rolling too, collecting three homers, two steals, nine runs scored and 10 RBI over his last 11 games.

Mark Canha FD - 1B 2300 DK - 1B/OF 3600
Opponent - DET (Daniel Norris) Park - DET
FD - 8.96 DK - 6.78
Canha has been struggling so far this season but two homers in his last three games it's hopefully a sign of things to come. What we like about him here is the fact that he gets to face a lefty, with Canha posting an .815 OPS against southpaws since the beginning of 2017. That's all you can ask for from a player priced so cheaply and Daniel Norris' 4.82 xFIP and 1.42 WHIP makes him a guy we want to stack against.
If you're in need of a catcher on DraftKings, Danny Jansen and Wellington Castillo pop up highly in our projections in that Chicago-Toronto game.
Second Base
Jason Kipnis FD - 2B 2800 DK - 2B 3300
Opponent - BAL (Dylan Bundy) Park - CLE
FD - 9.76 DK - 7.43
Kipnis just had his best game of the year on Thursday, as he knocked his first two dingers of the season while providing six RBI. Going on a home run surge is huge in a matchup like this, with Bundy posting the worst home run rate in the league among all pitchers since the beginning of last season. That's why Cleveland is projected for over five runs here and Kipnis should be a huge part of that, batting second in the order. Facing a righty with a terrible home run-rate is huge for a lefty like Kipnis too, with the second basemen posting a .788 career OPS against right-handed pitching.
Rougned Odor FD - 2B 2500 DK - 2B 3500
Opponent - STL (Miles Mikolas) Park - TEX
FD - 8.81 DK - 6.74
Odor is actually one of my favorite players in the league and it's tough to recommend him with his average well below the Mendoza Line. The simple fact is, this is a guy who's averaging close to 27 homers and 14 steals over his last three seasons. That's way too good of production from someone priced so cheaply and recent results would indicate that he's starting to find his bat. Over his last three games, Odor has two homers, two doubles, four RBI and four runs scored. The thing that worries us about Odor is his propensity to strikeout but that really shouldn't be an issue against a contact pitcher who has a K rate below 20 percent.
Shortstop
Nicky Lopez FD - SS 2600 DK - 2B 3300
Opponent - Matt Harvey (LAA) Park - LAA
FD - 10.51 DK - 8.05
I'd be lying to you if I told you I knew much about this kid but it's hard to argue with his minor league numbers. In fact, Lopez posted a .422 wOBA at the Triple-A level this season, which isn't far behind his .370 wOBA the year before. That means he's hitting the crap out of the ball and it's definitely not indicative in this dirt-cheap price tag, considering he hit two doubles on Thursday. Getting to face Matt Harvey is a treat for any hitter right now too, with the former Met posting a 6.69 ERA and 1.41 WHIP so far this season. That puts all of the Royals in play and they might be the best, cheap stack on the board.
Corey Seager FD - SS 2900 DK - SS 4100
Opponent - CIN (Anthony DeSclafani) Park - CIN
FD - 12.35 DK - 9.41
Seager is a regular in these articles and we simply believe he's too good to be priced this cheaply. We're talking about a guy who had an ISO north of .200 before an injury-shortened 2018 and an OPS approaching .900. That's the sort of prospects this kid had coming out of the minors and he simply has some of the best hitting tools in the league. Considering we love the Dodgers here, that puts Seager squarely in play right in the heart of the order. The lefty shortstop appears to be finding some rhythm too, picking up multiple hits in back-to-back games while scoring at least one run in three-straight outings.
Francisco Lindor remains super cheap and has a fantastic matchup against homer-prone Dylan Bundy.
Third Base

Vladimir Guerrero Jr. FD - 3B 3100 DK - 3B 4100
Opponent - CHW (Ivan Nova) Park - CHW
FD - 11.98 DK - 9.18
Guerrero is pretty much in the exact same boat as Seager, as we believe he has too much potential to be priced this cheaply. Vlad Jr. is probably the best prospect since Bryce Harper and Mike Trout and many experts have him pegged as a .300-hitter with 30-homer potential. While he's struggled in his first few weeks. six hits and two dingers over his last four games is hopefully a sign of things to come. Facing Ivan Nova is a good way to extend that hot streak, with the Chicago righty posting a 6.29 ERA, 1.65 WHIP and .380 wOBA so far this season.

Josh Donaldson FD - 3B 3300 DK - 3B 4300
Opponent - MIL (Jhoulys Chacin) Park - ATL
FD - 12.56 DK - 9.39
Donaldson got off to a terrible start this season but it's hard to argue with recent results. Since April 9, Donaldson has a .395 OBP while collecting six homers, 11 doubles, 16 runs scored and 19 RBI over his last 30 games. That's the MVP Donaldson that we've become accustomed to and his price remains too low for someone so productive. Hitting in SunTrust Park is beneficial for any hitter too, as that ballpark ranks top-five in park factor since it was founded. That spells disaster for Chacin, who's sporting a 5.42 xFIP so far this season.
Outfield

Joc Pederson FD - OF 3100 DK - OF 5000
Opponent - CIN (Anthony DeSclafani) Park - CIN
FD - 13.36 DK - 10
Cody Bellinger FD - OF 4500 DK - 1B/OF 5500
Opponent - CIN (Anthony DeSclafani) Park - CIN
FD - 13.44 DK - 10.12
These are the final two pieces to our Dodgers stack but probably the most valuable pieces of it. Bellinger has just been absolutely absurd, as he's the leading player in fantasy, ranking top-two in batting average, home runs, runs scored and RBI. That puts him in play for a triple crown and he's traditionally been better against right-handers throughout his career. Joc Pederson has definitely been better against righties, as he typically bats lead-off in these circumstances. So far this season, Pederson has a 1.032 OPS against right-handers and an OPS just shy of .900 since the beginning of 2017. With the Dodgers projected for more than five runs, they're definitely one of the best stacks on the board.
Stephen Piscotty FD - OF 2900 DK - OF 3600
Opponent - DET (Daniel Norris) Park - DET
FD - 11.42 DK - 8.67
Piscotty is another regular in these articles and he's priced way too cheaply in a matchup like this. The days we really like to use Piscotty are when he faces a lefty, with Piscotty having the platoon advantage from the right side. While it's only 47 at-bats, Piscotty has a .357 average and 1.071 OPS against right-handed pitching this season. He also usually bats in the heart of the order, as he makes for a beautiful three-man stack with Khris Davis and Mark Canha. Piscotty definitely has some positive regression headed his way too, with the right-handed bat posting a .200 ISO and .340 wOBA since the beginning of last season.
Shohei Ohtani FD - OF 3600 DK - OF 4700
Opponent - KC (Brad Keller) Park - LAA
FD - 13.78 DK - 10.4
Ohtani is one of the best pitcher's in the game but don't forget about his special skills at the plate. This is a guy who ranked top-three in OPS last season and has the ability to provide double-digit steals. He's shown some of that ability this season, posting a .409 xwOBA after recording a .390 wOBA last season. That tells you everything you need to know and Ohtani is traditionally better against right-handed pitching. Since being signed, Ohtani has an OPS north of 1.000 against righties while Keller has posted a 4.47 ERA and 1.43 WHIP so far this season.
GRAB A FREE TRIAL OF OUR PROJECTION SYSTEM, AND CHECK OUT DFSR PRO!
FREE EBOOK
SECRETS TO CRUSHING DAILY FANTASY FOOTBALL!
DON'T SET ANOTHER LINEUP BEFORE YOU READ THIS BOOK.