Baseball Picks Daily Fantasy
Expert Advice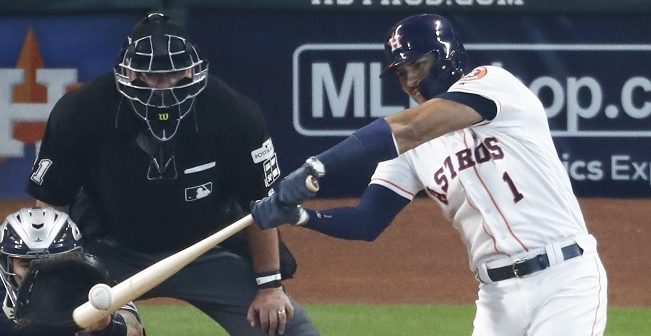 DraftKings and FanDuel MLB Picks for Tuesday 5/21/19
Tuesday's MLB action brings us a mostly-full slate of baseball action for FanDuel and DraftKings. There are some ace arms, some hitters' parks and much more to break down. Let's take a look at the slate.

Now's your chance to get DFSR PRO, which will give you access to our MLB and NBA optimizers and our new player lab! Get started for free by clicking the button below.

While writing this, the only background noise I can hear is the rain hitting the roof. That reminds me that we need to discuss the weather for this slate but there luckily won't be a game played here in Denver. There's actually only one worrisome forecast on this slate, as St. Louis has some nasty rain headed their way. That means you must monitor that forecast before submitting lineups, as we do have one recommendation from that fixture.
Pitchers

Justin Verlander FD - P 12000 DK - SP 11300
Opponent - CHW (Dylan Covey) Park - HOU
FD - 45.42 DK - 25.58
Verlander is the highest priced pitcher on the board and it's easy to understand why. We're talking about a hall-of-fame pitcher in the midst of another magical year, with Verlander posting a 7-0 record, 2.38 ERA and 0.79 WHIP so far this season. That doesn't even consider his ridiculous 77:16 K:BB rate, as he's easily the most dangerous pitcher in the league right now. Getting to face Chicago should only help these stout numbers, with the White Sox ranking 21st in K rate, 18th in wOBA and 19th in runs scored. That's why Verlander enters this matchup as a -350 favorite, which is one of the largest spreads of the season.

German Marquez FD - P 8200 DK - SP 9200
Opponent - PIT (Chris Archer) Park - PIT
FD - 33.42 DK - 17.66
I rarely use Marquez because I simply don't use Rockies pitchers but it's a different story on the road. Dating back to last season, Marquez owns a 2.80 ERA and 0.91 WHIP on the road while striking out more than a batter per inning. Those are simply elite numbers and it's really no surprise when you consider the fact that he has to pitch half of his games in Coors Field. Getting to throw at PNC Park here should only help, as that ranks as one of the best pitching parks in the majors. Pittsburgh is not a lineup we need to fear either, with the Pirates ranking 23rd in both wOBA and OBP while sitting 28th in runs scored.

Julio Teheran (FD $8400 DK $8500) is very inconsistent but facing the Giants in Oracle Park should be beneficial for a guy who's striking out more than a batter per inning.

Catcher/First Base

Kendrys Morales FD - 1B 2500 DK - 1B 3600
Opponent - BAL (David Hess) Park - BAL
FD - 9.61 DK - 7.28

Luke Voit FD - 1B 4000 DK - 1B 5300
Opponent - BAL (David Hess) Park - BAL
FD - 13.02 DK - 9.86
Let's put both of these Yankee bats in the same write-up, as we love the Bronx Bombers on this slate. Morales may end up being the best value on the board and he's found himself hitting fifth in four of his first five games since joining the Yanks. Not only did he get on base in all four of those games, Morales also provided one homer, two runs scored and three RBI in that span. That alone makes him worth considering at this price but we're talking about a guy who has a career ISO just shy of .190. He was better from the left side last season too, posting an .860 OPS against right-handed pitching. Luke Voit's power presence speaks for itself, with Voit posting a .403 xwOBA and .236 ISO so far this season. That simply means he's one of the best power bats in the game and stacking against David Hess isn't a bad idea either. The Orioles righty currently sits with a 5.58 ERA and .390 xwOBA, with New York projected for five runs.

If you're in need of a catcher, Wilson Ramos (FD $2600 DK $3700) remains super cheap on both sites.
Second Base

DJ LeMahieu FD - 2B 3200 DK - 2B/3B 4600
Opponent - BAL (David Hess) Park - BAL
FD - 12.22 DK - 9.49
Let's keep the Yankees bats rolling, as LeMahieu will likely bat lead-off yet again, The former Rockie is having a heck of a year for New York, leading the team with a .312 average while providing 26 runs and 22 RBI. That's pretty much the LeMahieu that Colorado fans have become accustomed to and surely New York fans are following suit. What we really like is this FanDuel price, as we have LeMahieu projected to be closer to $4,000 in such a tasty matchup and situation.

Jonathan Schoop FD - 2B 3300 DK - 2B 4100
Opponent - LAA (Trevor Cahill) Park - LAA
FD - 9.42 DK - 7.22
The Twins have truly developed into one of the best offenses in the Majors and Schoop's addition is a major reason why. It's Schoop's recent production that really makes him a solid option, picking up four homers, nine runs scored and 14 RBI over his last 17 games. That's the guy that broke out for the Orioles a couple of years back and it's hard to fade him against a guy who has a 6.95 ERA and 1.39 WHIP so far this season.
Shortstop

Gleyber Torres FD - SS 3600 DK - 2B/SS 5100
Opponent - BAL (David Hess) Park - BAL
FD - 12.15 DK - 9.26
Torres just hit two homers on Monday night and he very well might be the best hitter in this beat-up Yankees lineup. The slugging shortstop is arguably the hottest hitter in the league right now, as he's collected seven doubles, six homers, 14 RBI, 13 runs scored and two steals over his last 22 games en route to a .350 average. That makes him one of the best fantasy producers in the league in that span and he should be right in the heart of the order against gas can, David Hess. Torres peripherals are impressive too, posting a .230 ISO and .360 wOBA so far this season.

Carlos Correa FD - SS 4100 DK - SS 5300
Opponent - CHW (Dylan Covey) Park - HOU
FD - 13.81 DK - 10.41
The shortstop selection on this slate is pretty ugly, so we're going to go with two studs here. Correa very well may be the best option at SS, as he's simply one of the hottest hitters in the league. Coming into Monday. Correa had an OPS north of 1.000 over his previous 25 games, hitting in the highest-scoring lineup in baseball. Stacking against Dylan Covey is a great idea too, as his .472 xwOBA is easily one of the worst marks in baseball.
Third Base

Matt Carpenter FD - 3B 3700 DK - 1B/3B 4200
Opponent - KC (Homer Bailey) Park - STL
FD - 13.01 DK - 9.7
Carpenter is a regular in these articles and we simply believe that he's too good to be priced this cheaply. We're talking about a guy who hit 36 dingers last season and was one of the league leaders with a .266 ISO and .375 wOBA. That power profile hasn't been around his whole career but Carpenter is typically a .400-OBP sort of guy. He always abuses right-handed pitching too, posting an OPS near .900 and an OBP just shy of .400 against them over the last three years. Homer Bailey's 5.36 ERA and 1.46 WHIP make him a great player to stack against too.
Tommy La Stella FD - 3B 3200 DK - 2B/3B 4400
Opponent - MIN (Michael Pineda) Park - LAA
FD - 11.88 DK - 9.15
This might be the most surprising player in the league, as he's nearly matched his career home run total this season. In fact, La Stelle is hitting .296 while collecting 11 homers, 24 runs scored and 26 RBI. Those are simply elite statistics, and these prices haven't quite risen up to the point where they should be. He's done the majority of his damage against righties too, posting a 1.021 OPS and .637 SLG against them so far this year.
Outfield
Aaron Hicks FD - OF 3500 DK - OF 4700
Opponent - BAL (David Hess) Park - BAL
FD - 13.94 DK - 10.48
This is the final piece to our Yankees stack and it should be crystal clear that we're all in on the Pin Stripes here. The main reason for that is because of David Hess. His 5.58 ERA and .390 wOBA speaks loudly but his 6.14 career FIP indicates that he should be even worse. That puts every Yankee bat in play, especially a talented lefty like Hicks. Since the beginning of 2017, Hicks is posting a .367 OBP and .835 OPS. Those are impressive numbers and he's been even better against righties. In fact, Hicks owns a .374 OBP and .840 OPS against righties in that span.

Kyle Schwarber FD - OF 2700 DK - OF 3600
Opponent - PHI (Zach Eflin) Park - CHC
FD - 10.91 DK - 8.11
It's strange that Schwarber has been moved to the lead-off spot with his struggles but it's actually worked wonders so far. In fact, the lefty smasher has a .423 OBP over his last 12 games while hitting two dingers in that span. The average is lacking but it's clear that he's found some consistency at the plate with that absurd OBP. He actually only bats lead-off against righties and that's no surprise when you consider the fact that he has an .820 OPS against right-handers since 2017.
Josh Reddick FD - OF 3100 DK - OF 4400
Opponent - CHW (Dylan Covey) Park - HOU
FD - 11.17 DK - 8.55
Reddick actually batted lead-off in the absence of George Springer on Monday and we're going to bet on him taking over that role again here too. We absolutely love the Astros on this slate and getting their lead-off hitter at this sort of price is an absolute treat. We're talking about one of the worst righties in the league facing the best lineup in the baseball and Reddick is easily one of their best lefties.
GRAB A FREE TRIAL OF OUR PROJECTION SYSTEM, AND CHECK OUT DFSR PRO!
FREE EBOOK
SECRETS TO CRUSHING DAILY FANTASY FOOTBALL!
DON'T SET ANOTHER LINEUP BEFORE YOU READ THIS BOOK.