Baseball Picks Daily Fantasy
Expert Advice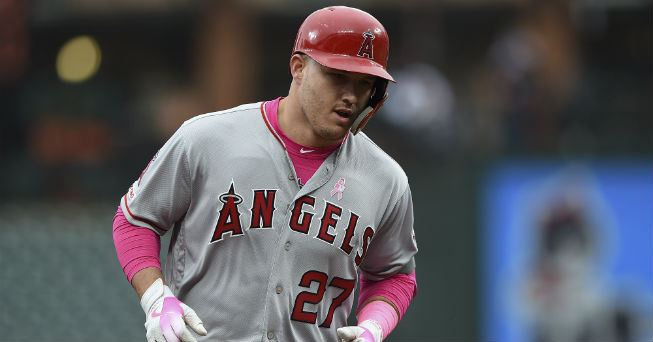 DraftKings and FanDuel MLB Picks for Friday 5/24/19
Friday in baseball brings us a nearly-full slate of evening games for FanDuel and DraftKings. Let's go position by position and look at the cash game DFS plays.

Now's your chance to get DFSR PRO, which will give you access to our MLB and NBA optimizers and our new player lab! Get started for free by clicking the button below.

After some nightmare weather throughout the week, let's take a quick look at the forecast here. The good news is that we only have two games with questionable forecasts. Those are the MIL-PHI and NYY-KC matchups. That's all we can ask for from a DFS perspective and the MIL game is the only worrisome one out there. With that in mind, we'll fade that Milwaukee game and focus on the other 13 fixtures.
Pitchers

Robbie Ray FD - P 8700 DK - SP 10900
Opponent - SF (Drew Pomeranz) Park - SF
FD - 37.07 DK - 20.09
While this DraftKings price is a bit much, it's hard to overlook Ray on FanDuel in a matchup like this. While his 1.35 WHIP is a bit ugly, that's something we don't really need to worry about here. The reason for that is because he gets to face the Giants in the best pitching park in the Majors. In fact, San Francisco currently ranks 28th in runs scored and 29th in wOBA. They also sit 16th in K rate, which is huge for a strikeout machine like Ray. Not only does he own a 29.5 percent K rate this season, Ray actually has a 28 percent K rate for his career. That's simply one of the best marks in the majors and he should absolutely cruise through a weak lineup like this with the Giants projected for fewer than four runs.

Jose Berrios FD - P 9900 DK - SP 10200
Opponent - CHW (Reynaldo Lopez) Park - MIN
FD - 37.11 DK - 20.09
Berrios has developed into one of the best pitchers in the majors and he should succeed in a matchup like this. So far this season, Berrios is sitting with a 3.39 ERA and 1.13 WHIP while posting a 60:11 K:BB rate. Those are simply some of the best numbers in the league and it's why Berrios enters this game as a -225 favorite. Getting to face the White Sox should only boost those numbers, with Chicago sitting 20th in wOBA, 21st in runs scored and 25th in K rate.
Noah Syndergaard (FD $10600 DK $10100)makes for an interesting cash game consideration as well against a righty-heavy and light-hitting Tigers' team.



Catcher/First Base
Steve Pearce FD - 1B 2300 DK - 1B/OF 3000
Opponent - HOU (Wade Miley) Park - HOU
FD - 8.96 DK - 6.76
Pearce is someone always worth considering against left-handed pitching and it's hard to understand why his price is so low. For his career, Pearce owns a .488 SLG and .835 OPS against southpaws. That becomes particularly intriguing against a guy like Wade Miley, who has a K rate below 20 percent and an xFIP of 4.45. That's why the Red Sox are projected for more than five runs and Pearce is one of the only cheap guys you can get in this stack.

Dominic Smith FD - 1B 2200 DK - 1B 3800
Opponent - DET (Gregory Soto) Park - NYM
FD - 8.33 DK - 6.38
Smith has played backup duties to Pete Alonso for most of the season but there's reason to believe that he could start here. The reason for that is because they've decided to move him to the outfield, as they want to get his .429 OBP and .854 OPS into the lineup. The simple fact is, this guy has too much potential to be sitting on the bench and they're going to need to play someone with Robinson Cano, Brandon Nimmo and Yoesnis Cespedes all on the IL. Gregory Soto is a good guy to get him going too, with the Tigers lefty posting a 10.80 ERA and 2.20 WHIP in three starts this season.
If you're in need of a catcher, Wilson Ramos is way too cheap on both sites and gets the platoon advantage against Soto.
Second Base

Jonathan Schoop FD - 2B 3300 DK - 2B 4300
Opponent - CHW (Reynaldo Lopez) Park - MIN
FD - 10.54 DK - 8.08
The Twins offense is really tough to fade right now, as they lead the majors in nearly every offensive category. Schoop has been a major part of that, as his two homers on Thursday led to another 16-run outburst. That two-dinger game extends an already impressive stretch from Schoop, who now has eight homers and 10 doubles over his last 29 games while hitting four of those round-trippers over the last four fixtures. Reynaldo Lopez is not a pitcher to fear either, as his 5.14 ERA and 1.50 WHIP has become commonplace for the struggling righty.
Michael Chavis FD - 2B 3900 DK - 2B/3B 5000
Opponent - HOU (Wade Miley) Park - HOU
FD - 10.71 DK - 8.2
Picking second basemen on this slate is a tough task but Chavis makes for a nice buy against a lefty. Not only does he lead AL rookies in nearly every offensive statistic, he's also found himself in the heart of the Red Sox order. That alone makes him attractive, as his .408 xwOBA and .967 OPS shows just how good he's been. Chavis' numbers against lefties are absolutely absurd, with the righty bat posting a 1.091 OPS against southpaws so far this season.
Shortstop

Marcus Semien FD - SS 3500 DK - SS 4000
Opponent - SEA (Wade LeBlanc) Park - OAK
FD - 11.57 DK - 8.88
This is the start of our Oakland stack and anytime you stack, it's imperative to get the leadoff hitter into your build. That's just what Semien has become, as it's done wonders for his fantasy value. While Semien has been slumping recently, it's hard to argue with his counting statistics. So far this season, the shortstop has collected 31 runs and 22 RBI while providing five homers and four steals. That may not sound like anything special but it's quite the production from someone priced so cheaply. The reason we like him here is because he gets the platoon advantage against Wade LeBlanc, with Semien posting an OPS above .750 against southpaws over the last two years.
Greg Garcia FD - SS 2400 DK - 2B/3B 3600
Opponent - TOR (Trent Thornton) Park - TOR
FD - 8.63 DK - 6.68
Garcia has been betting leadoff occasionally for the Padres and if he finds himself there again, he's tough to fade in this price range. In 45 games as the leadoff hitter in his career, Garcia has provided a .279 average, .363 OBP and 115 OPS+. That's about all you can ask for from someone priced this cheaply and it's a huge benefit with the Padres projected for five runs in an AL park. Getting to face a righty will only help, with Garcia's .728 career OPS against righties nearly 200 points higher than his OPS against lefites.
If you are spending up on bats instead of pitching, Trevor Story (FD $4600 DK $5600) against the lefty in Coors is a near must.


Third Base

Manny Machado FD - 3B 3300 DK - 3B/SS 4300
Opponent - TOR (Trent Thornton) Park - TOR
FD - 11.58 DK - 8.81
Stacking Padres is a sneaky idea on this slate and Machado would be the heart of that stack. Not only is he the best hitter on this club, he appears to be finding his form at the plate. Not only does he have a hit in 18 of his last 20 games, Machado is also hitting .311 in that span while providing an OPS just shy of 1.000. That's the Machado of old and we're going to bet on him continuing that form against Trent Thornton. The Toronto righty is posting a 4.41 ERA and 1.29 WHIP this season, with San Diego projected for nearly five runs, adding a DH to an already potent lineup.

David Fletcher FD - 3B 2800 DK - 3B/OF 3600
Opponent - TEX (Drew Smyly) Park - LAA
FD - 10.5 DK - 8.26
Using bats against Drew Smyly is always a good idea and that puts their leadoff hitter squarely in play. In the last two games against lefties, Fletcher hit leadoff in both outings. That's huge from someone in the $3,000-range, especially considering the fact that Fletcher hit a dinger on Thursday. The utility man is in the midst of his best stretch of the season too, as he's got eight multi-hit games in May while hitting .328 over his last 15 fixtures. Facing Smyly is a treat too and we'll go more in-depth on that in our next write up.

And of course, Nolan Arenado (FD $4700 DK $5600)facing a lefty in Coors is always a good place to be.


Outfield

Mike Trout FD - OF 4800 DK - OF 5800
Opponent - TEX (Drew Smyly) Park - LAA
FD - 16.86 DK - 12.59
Trout is easily the best option on the board and he's tough to fade against Smyly. Let's go over the southpaw's numbers, with Smyly posting a 6.51 ERA and 1.73 WHIP so far this season. His .367 wOBA backs up those ugly statistics and it's no doubt that Smyly is one of the worst starters in the league right now. That looks like a disaster against the best hitter in the Majors and that doesn't even consider the fact that Trout has the platoon advantage in his favor.
Stephen Piscotty FD - OF 3100 DK - OF 3700
Opponent - SEA (Wade LeBlanc) Park - OAK
FD - 12 DK - 9.12

Chad Pinder FD - OF 2600 DK - 2B/OF 3800
Opponent - SEA (Wade LeBlanc) Park - OAK
FD - 9.93 DK - 7.62
Let's continue our A's stack with a couple of potent righty outfielders. With Khris Davis on the IL, Pinder and Piscotty should be right in the heart of the order and that's huge for a club who's projected for five runs. Let's start with Piscotty, as the slugging outfielder has posted a 1.038 OPS against southpaws so far this season. He comes into this matchup rolling too, collecting hits in 14 of his last 16 games while posting a .370 OBP over his last 12 fixtures.
Pinder is in the same boat, as he too has made minced meat of lefties throughout his career. In fact, Pinder has an OPS north of .850 against southpaws over the last two seasons. That puts both of these guys in play, as they remain way too cheap on both sites. Not to mention, LeBlanc has a 4.54 career xFIP and has posted a 7.36 ERA and 1.91 WHIP in his first four starts this season.
While it's expensive, using righty bats like J.D. Martinez and Mookie Betts in a Red Sox stack could be an optimal strategy against lefty, Wade Miley.
GRAB A FREE TRIAL OF OUR PROJECTION SYSTEM, AND CHECK OUT DFSR PRO!
image sources
AP_19132837167109 Trout: AP Images
FREE EBOOK
SECRETS TO CRUSHING DAILY FANTASY FOOTBALL!
DON'T SET ANOTHER LINEUP BEFORE YOU READ THIS BOOK.