Baseball Picks Daily Fantasy
Expert Advice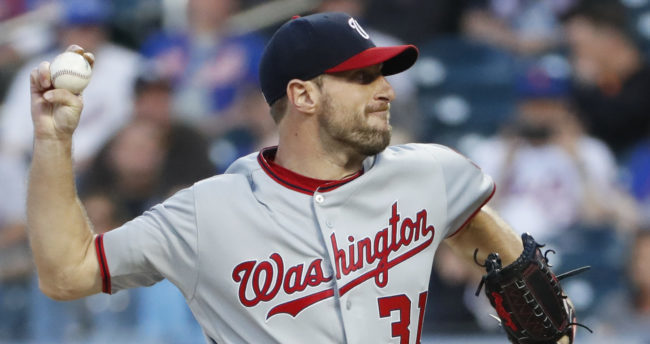 DraftKings and FanDuel MLB Picks for Monday, Memorial Day 5/27/19
It's Memorial Day and that means afternoon baseball on the schedule. We got a full slate of games for
FanDuel
and
DraftKings
with some big arms plus bats primed for some runs.
Now's your chance to get DFSR PRO, which will give you access to our MLB and NBA optimizers and our new player lab! Get started for free by clicking the button below.
Pitchers

Max Scherzer FD - P 11800 DK - SP 11100
Opponent -
MIA (Jose Urena)
Park -
WSH
FD
- 48.3
DK
- 27.34
Max Scherzer
continues his dominant ways on the mound, striking out more than 12 batters per nine this season, his third straight year around that number and limiting the walks with a 6:1 K:BB ratio. Simply put, he's among the very best pitchers in the game and priced accordingly. On Monday, paying top dollar is the way to go. He's facing a Marlins' team that easily ranks dead last in wOBA against righties this season (.270) and strikes out 26% of the time in that split. They are are the worst offense in the league and that isn't likely to turn around any time soon. Scherzer opens as a -280 favorites, the best money line win odds on the day, and it's for good reason. Pay up for Max here and find the savings somewhere else in your lineup.

Luis Castillo FD - P 9600 DK - SP 10700
Opponent -
PIT (Nick Kingham)
Park -
CIN
FD
- 39.49
DK
- 21.71
Castillo is making something of a leap this season, taking his K% from 23% in 2018 to over 30% this season. It's come at the expense of him walking a few more batters, but overall he's putting up ace-level numbers for Cincinnati. The 3.21 xFIP is about a run higher than the 2.38 ERA but it's not anything close to a concern here. He'll face a rather light-hitting Pirates order that sits in the bottom third against righties this season. You do have to get through Polanco and Bell around the top of the order, but their talent falls precipitously as you work your way down the lineup. Castillo is the second-highest win odds on the day as a -205 home favorite.
Main slate consideration
For the evening slate,
Clayton Kershaw
(
FD
$10000
DK
$10200) is looking like the play against a completely compromised Mets' team.

Catcher/First Base

Joey Votto FD - 1B 2900 DK - 1B 3700
Opponent -
PIT (Nick Kingham)
Park -
CIN
FD - 13.95 DK - 10.45
I think it's pretty safe to say the power is all but a blip for Votto at this point. He has only 16 home runs over his last 828 plate appearances despite playing half his games in one of the league's best hitters' parks. But that doesn't mean he's totally without fantasy value. He still walks 12% of the time, hits at or near the top of the order and on Monday faces
Nick Kingham
who really struggles with control. The latter is walking batters close to 12% of the time despite a lot of his innings coming out of the bullpen. Votto is coming cheap for a reason considering the results haven't totally been there, but even at his current hitter profile this is a good value on the slate.
Ryan O'Hearn FD - 1B 2400 DK - 1B 3200
Opponent -
CHW (Ivan Nova)
Park -
CHW
FD - 9.28 DK - 7.01

Kendrys Morales FD - 1B 2500 DK - 1B 2800
Opponent -
SD (Matt Strahm)
Park -
NYY
FD - 9.59 DK - 7.27
These guys are very, very similar. Both are coming very cheap, in the low-2K range on
FanDuel
and and hovering around $3K on
DraftKings
. Both walk 12-13% of the time, are running low bad on BABIP (.206 for O'Hearn, .223 for Morales) hit around the 5th-6th slot in the order and can run their bat into a home run from time to time. Morales is in the better offense on the Yankees, but O'Hearn has the better matchup in
Ivan Nova
. I like them both as cheaper options for the early slate if you are working to fit Scherzer's salary into lineups.
Main slate consideration
If he's in the lineup, then
Eric Thames
(FD $2500 DK $4000) makes for a good, middle of the order, play against
Michael Pineda
.
Second Base
Nicky Lopez FD - 2B 3000 DK - 2B 3600
Opponent -
CHW (Ivan Nova)
Park -
CHW
FD - 12.16 DK - 9.31
Nova isn't as bad as the 6.96 ERA would suggest, but he's also not good either. The 4.81 xFIP points to a well-below average arm and though he will induce ground balls, the K rate is still sitting around 14%. Since getting called up, Lopez has exhibited a great approach, walking 10% of the time and striking out only 13%. He doesn't profile to hit for much power, but the
contact
plus the speed line up will for this matchup against Nova. Lopez moved up to the leadoff spot over the weekend and should stick there for the Royals.
Derek Dietrich FD - 2B 2700 DK - 2B/OF 4700
Opponent -
PIT (Nick Kingham)
Park -
CIN
FD - 10.87 DK - 8.31
Dietrich is having a hell of a season, already closing in on his career-best in home runs despite only 128 total plate appearances so far. His career mark is 16 set last season and he already has 13 along with a 1.014 OPS, crazy .402 ISO and 10% walk rate. He's been fantastic and is coming all together too cheap on
FanDuel
at only $2700. The 30% home run to flyball rate isn't going to sustain, but it doesn't really have to for him to still be a borderline elite fantasy option.
Shortstop

Trea Turner FD - SS 4000 DK - SS 4800
Opponent -
MIA (Jose Urena)
Park -
WSH
FD - 12.97 DK - 10.1
With Turner, you are hoping he gets on base and then gets on his freaking horse in the steals department. Sure, the dude has some pop (19 home runs last season), but the 95 SBs over the last 2+ season are really where his bread is buttered. He's struggling a bit to get on base since coming off the DL, walking only 5% of the time, but
Jose Urena
allows a lot of
contact
, striking out less than six batters per nine on the season. This is something of a smash spot for Turner who should be in the leadoff slot for the Nats on Monday.
After Turner, shortstop is a problematic position for the early slate of games. If
Tim Anderson
(FD $3300 DK $5000) is back in the lineup then I think you can consider him against
Homer Bailey
. But the latter has been scratched two days in a row after a wrist injury on Friday. That is a pretty bad sign so we'll have to keep an eye out for the White Sox lineup.
Main slate consideration
Logan Forsythe
(FD $2800 DK $4400) has been an absolute stud this season and is facing a lefty in
Tommy Milone
.
Third Base
Dawel Lugo FD - 3B 2500 DK - 3B 3600
Opponent -
BAL (Gabriel Ynoa)
Park -
BAL
FD - 9.17 DK - 7.24
The bad news first:
Dawel Lugo
isn't very good. Let's get that out of the way first. While somewhat serviceable in the minors, he's struggled to translate that to major league success with a sub-.600 OPS over his first 131 major league plate appearances. Now the good news: he's taken over the second slot for the Tigers in the batting order and is coming near minimum prices. Sometimes the latter piece is good enough on a given slate. The plate appearance expectation is *enough* to consider him against Ynoa (not a terrible arm) if Lugo sticks in the second slot.

Alex Bregman FD - 3B 4100 DK - 3B 4500
Opponent -
CHC (Cole Hamels)
Park -
HOU
FD - 14.12 DK - 10.64
I'm putting Bregman second here on the list because the price is up there and this isn't exactly the easiest matchup in the world against
Cole Hamels
. But Bregman is walking (17%) more than he's striking out (15%) and for his career has crushed lefties to the tune of a .911 OPS, .234 ISO and 148 wRC+. These are, of course, elite numbers in this platoon and he isn't prohibitively expensive against Hamels in this matchup.
Main slate consideration
Asdrubal Cabrera
(FD $2700 DK $3600)
is coming on the cheaper side against Milone, though the former will be hitting lower in the order.
Outfield
Nick Senzel FD - OF 3500 DK - OF 4400
Opponent -
PIT (Nick Kingham)
Park -
CIN
FD - 12.84 DK - 9.85

Jesse Winker FD - OF 2500 DK - OF 4000
Opponent -
PIT (Nick Kingham)
Park -
CIN
FD - 12.1 DK - 9.2
Yasiel Puig FD - OF 3000 DK - OF 4300
Opponent -
PIT (Nick Kingham)
Park -
CIN
FD - 13.11 DK - 9.96
With an implied run line hovering around 5.5 at open, it's tough to avoid playing Reds on this early slate against Kingham. If the lineup plays out similarly to what they've been running of late, then these guys should go 1, 3, and 5 in the order against the righty.
Senzel's still working to adjust to the major league game with the strikeout rate a bit high (28%) and the walk rate a bit low (9%) for a leadoff hitter. but he still has three home runs and five stolen bases in about his first 100 plate appearances.
Winker has 10 home runs on the season and is tough(ish) to K (17%) but the shift keeps the BABIP on the low side and his OPS is *only* in the mid-700's. But he's still coming darn cheap on this slate and these Cincy guys across the board make it real easy to fit Scherzer in lineups.
And finally, Puig. Oh Yasiel. The power and speed have been there with nine home runs and seven stolen bases, but outside of those it's been something of a struggle. He can't get the OPS over .700 and will crush your hopes and dreams on a lot of nights. I get why the system loves him, when he's good he's real good. But you need to also live with the downsides.
Main slate considerations
It will be expensive, but stacking
Christian Yelich
(FD $4700 DK $5800),
Lorenzo Cain
(FD $3300 DK $4100) and
Ryan Braun
(FD $3000 DK $4500) against Pineda could be the play. Yelich continues to murder the ball and is, of course, very expensive. The other two come at something of a bargain all things considered.
GRAB A FREE TRIAL OF OUR PROJECTION SYSTEM, AND CHECK OUT DFSR PRO!
FREE EBOOK
SECRETS TO CRUSHING DAILY FANTASY FOOTBALL!
DON'T SET ANOTHER LINEUP BEFORE YOU READ THIS BOOK.