Basketball Picks Daily Fantasy
Expert Advice
NBA Finals Preview - 6 Questions for Warriors-Raptors
Well, here we are. After roughly seven months of basketball (and a whole lot of drama) we've reached the NBA Finals.

One of the more interesting basketball seasons in memory reaches a culmination that still holds so many teams in the balance. Will Durant be back with the Warriors? Probably not. Will he even play in this series? Spoiler alert: It's not looking good.

Is making the Finals (or winning the Finals) enough to keep Kawhi in Toronto? He's had such a crazy run so far, hitting the shot that had him eaten by zombies, coming back from down two games to the seemingly unstoppable Bucks and now he's in the Finals. But this dude also just sat out of a playoff run for the Spurs and doesn't come from any kind of superstar mold we are used to. Offshore books still have the Clippers as the favorite to land him and this series could be the difference in a franchise whether he stays or leaves. 

So much hangs in the balance here. The Warriors opened at -300 to win, but it was quickly bet down to -285. It's hovering around there right now with the speculation that Durant misses at least the first two games. I wouldn't be shocked if it dropped a little bit more in the short term. 
Regardless, there's a ton to dissect going into the first Lebron-less Finals of the last eight years. Let's get into some of the key questions leading into this series. 


Will Kevin Durant play? Will it matter?
The official injury report coming out of Golden State heading into the Finals is that Kevin Durant has yet to resume basketball activities, and could, at best, come back *later* in the series (whatever that means). Meanwhile, DeMarcus Cousins looks much closer to returning after sitting out the better part of the last six weeks with a quad injury.

Let's start (and mostly finish) with Durant, considering this will be the focal point of discussion leading up to Game 1 (and beyond) of the Finals. Are the Warriors better without Durant? This question is ludicrous. No team gets better after losing a top 4 (maybe as high as top 1) player in basketball. To suggest otherwise is to completely miss the boat on who he is as a player.

Now that being said, the Warriors are coming off a stretch of 5-0 (full games) without Durant in which they looked pretty damn good. They were a throwback to the *old* Warriors. In fact, for the playoffs, below are the two most-used five-man rotations for Golden State. Net rating for the second lineup without Durant far exceeds the one with him.


I suppose this is something of an indictment, though it should be noted that a majority of the non-Durant lineup minutes came against an exhausted and undermanned Blazers team. We can split this a few different ways, but this much is near certain: for these Finals replacing Durant's 40+ minutes a game with slight increases to the other starters along with guys like Alfonso McKinnie, Jonas Jerebko and Shaun Livingston is not where the Warriors want to be.
He'll be sorely missed on defense where he provides length to cover Kawhi over stretches and of course on offense as well. The Warriors are one of the very few teams in the league with requisite firepower to withstand this kind of loss, which is really saying something about the rest of the core. But make no mistake, the Warriors would much rather have Durant on the court. 
Who will Kawhi Leonard guard?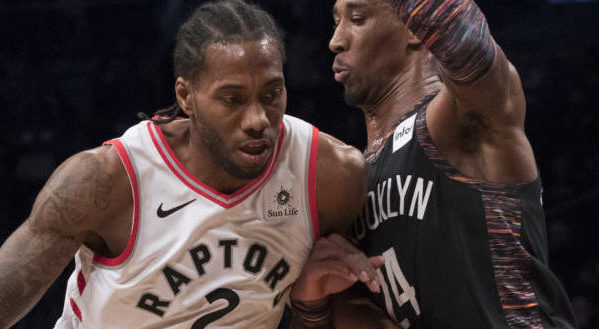 In Game 3 of the Eastern Conference Finals, the Raptors made a defensive adjustment by moving Kawhi Leonard on to Giannis Antetokounmpo. The Raptors won the next four games straight. Not to say this one single adjustment was the sole reason Toronto wrestled back a series after looking thoroughly dominated in the first two games. But it was a big one. Kawhi is just that good on defense; his assignment well worth talking about. Hell, in the second round he took Ben Simmons, who'd averaged 17 points and 7.7 assists during the regular season, and reduced the dude to 11.6 points and 4.9 assists (in more average minutes per game) for that series.

Without Durant, Kawhi doesn't necessarily have a logical defensive assignment. This can be viewed in one of two ways:

A: It's a good thing, leaving Kawhi to play more centerfield against a motion-heavy Warriors teams, letting him make decisions in the moment about where to best switch/ trap, etc.

B: It leaves the Warriors with more ways to *avoid* him on defense.

For the first two series, Kawhi's defensive impact was palpable simply because he took away the opposing team's best (or second best) offensive option. The Warriors' point of attack comes from their guard play (or with Draymond as a point forward) and it's not clear (or even correct) that Kawhi would draw one of those assignments.

For now, I think we see him start the series on Iguodala in principle with the understanding that he's going to be a big part of trapping the Warriors in order to prevent the offense from facilitating out of the high motion. This is also something that will likely be a fluid venture as the series moves forward. We've seen the Raptors able to (mostly) adjust when things aren't working and it won't be any different this series. Kawhi is at the center of those adjustments and it will be fascinating to see the plan early on in Game 1.


Can the Raptors speed bump the Warriors?
The Warriors are coming off a series sweep of Portland that saw them return to an *older* version of Dubs basketball by utilizing Curry and Klay's three-point shooting and opening up a more spread offense. They played quickly, decisively and worked to run the defense ragged. It was fun to watch, but won't be as easy to replicate against the Raptors.

The Warriors, without Durant, run a ton of motion. Unlike what the Raptors saw against Philly and Milwaukee, whose offenses could really stagnate late in possessions, the Warriors won't have such problems. Curry (who we'll get to more in a moment) and Draymond will initiate action early with the former often *disappearing* behind a whole array of screens, only to see what that opens up for him or others later. 

They also push opponents' made baskets in transition as much as you'll ever see. And so much of this starts with Draymond. With Durant off the court these last five games, Green has seen his time of possession shoot up to 3.6 minutes per game (2.8 in the playoffs with Durant playing).

In fact, during the playoffs, the Warriors most-used lineup has been the original starters Curry, Klay, Durant, Iggy, Draymond playing a 101 PACE. Their second-most used lineup, effectively replacing Durant with Looney runs a 109 PACE. That's what we've seen from them in the short term. Hell, look at these two possessions, both off Portland made baskets where Draymond still catches them in transition.



But this Toronto team is a much different animal on defense, coming off holding the Bucks to 100 points or fewer (in regulation) in three of the last four games. They'll want to slow the game down, get into half court, excel in transition defense (which they do) and work to mitigate this aspect of the Warriors' game. If the whole thing is a damn chess match, seeing how Toronto maintains defensive focus against this onslaught is critical.


How does Steph hold up in a physical series?
Much will be made of Curry's *resurgence* to peak-Steph once Durant went down, and there's some validity to that claim. Dude shot 43% from three in the sweep over Portland, averaging 37 points, eight rebounds and seven assists in the series while playing about 40 minutes per game.

Portland often sold out to in high traps to get Steph uncomfortable around the perimeter. It was essentially the correct idea, but they didn't always have the personnel to pull it off. Asking Meyers Leonard to sit on an island like this one below is death:
Leonard gets way too high and considering Looney's speed bump on CJ was enough to warrant the switch, Curry might as well be one on zero. But Toronto, with Lowry especially, will have a much more physical style than what Curry got against Portland. I suspect they'll sell out with doubles quite a bit that won't be overexposed to Curry splitting the screen or worse, getting him into 1v1s with below average defenders. Toronto is longer, bigger and stronger just about everywhere on the court.
And Durant's absence does create other issues. Namely, Curry is asked to exert a lot more on the offensive end. According to NBA.com's tracking data, during the early rounds of the playoffs, Curry played 35 minutes per game and ran an average of 1.4 miles. Over the last five games, that number ticked up to over 40 minutes and 1.6 miles or a roughly 15% increase just in distance. This shouldn't be taken lightly. Curry is going to have to work his ass off at least in the opening games of this series.
4. Which Toronto bench unit shows up?
During the Philadelphia series, the Toronto bench was a complete and utter mess. Fred VanVleet and Norman Powell couldn't hit shots to save their lives and were essentially worked off the court due to various defensive and offensive mismatches that had them looking overwhelmed. But what a difference a series makes. These two were key cogs in A: making it so Kawhi could get even moderate breathers and B: closing games out. Toronto closed games 4 and 5 with VanVleet and game 3 with Powell.
VanVleet shot 62% from three for the series and an absurd 82% (14-17) over the last three games. That, obviously, can't continue but this is a series he can at least stay on the court for (unlike Philly where he shot 7%, 1-15). That Toronto has shown faith in their bench guys including Ibaka (who could play a lot more in this series than he did against the Bucks) could be a key difference against the Warriors. These role players need to have an impact against the Warriors.
This also leads me to Danny Green who was completely marginalized in the Bucks' series playing only 14 and 16 minutes respectively over the last two games and struggled all series long to find any kind of shot. He finished 6-32 (19%) from three. The Raptors will need his transition defense in a big way this series and his ability to fight over screens, defend multiple positions and also presumably, hit threes, will be necessary.
And most importantly, who wins this series?
Ah, the final verdict. Who takes the series? Like I said, the Warriors are currently -285 favorites and that's with the status of Durant completely up in the air. I think the reality is much closer. Toronto has shown the ability to adjust to different schemes, have gotten scoring from more than just Kawhi in the short term, have the best two-way player in the series and have home court advantage. That's a lot going for them as the proposed underdogs. I like getting a +250 number on the Raptors for sure. And I think this series goes six or seven games.
FREE EBOOK
SECRETS TO CRUSHING DAILY FANTASY FOOTBALL!
DON'T SET ANOTHER LINEUP BEFORE YOU READ THIS BOOK.