Baseball Picks Daily Fantasy
Expert Advice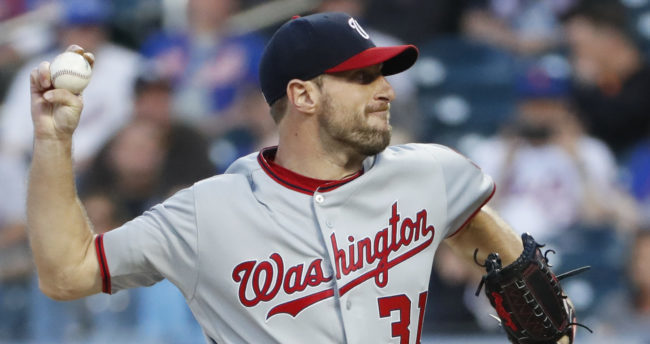 DraftKings and FanDuel MLB Picks for Saturday 6/8/19
Now's your chance to get DFSR PRO, which will give you access to our MLB and NBA optimizers and our new player lab! Get started for free by clicking the button below.
Pitchers
Early

Zack Greinke FD - P 9600 DK - SP 10100
Opponent - TOR (Aaron Sanchez) Park - TOR
FD - 36.74 DK - 20.09
Greinke is coming off one of his worst starts of the season(4 IP, 4 ER, 2 K) against the Mets but I have no issue going back to the well as he has been one of the more consistent arms in all of baseball. He has held opponents to three or fewer earned runs in 11 of his last 13 starts for an impressive 3.09 ERA which is backed up an above average 3.47 xFIP. He has given up a home run in three straight and has a 15% HR/FB rate on the season but that doesn't seem sustainable moving forward seeing as he is giving up a very low 86 mph average exit velo(26th among starters) combined with a low 32% hard contact rate. What stands out more than anything here is the matchup against the Jays who have been a bottom-feeding offense all season and have bottom three wOBA(.287), wRC+(78), and K rate(25%) against right-handed pitching. All things considered, Greinke is my top cash game pitcher on this slate.

Lucas Giolito FD - P 11400 DK - SP 11200
Opponent - KC (Brad Keller) Park - KC
FD - 38.11 DK - 19.49
Giolito is one of my favorite pitchers to write about this season as he has gone from a gas can in 2018 that we targeted against on the regular to a near elite ace we target almost every start in 2019. What changed? A lot actually and it starts with him ditching the sinker that he threw 19% of the time a year ago while opponents crushed it to the tune of a .339 wOBA/125 wRC+/19.4% HR/FB. He has replaced it with a four-seam fastball that opponents are hitting just .238 off with a .287 wOBA/89 wRC+ while it also generates over a 9% swinging strike rate. He is also throwing a changeup almost 10% more and that pitch is generating a crazy 19% swinging strike rate. The other change, and while it may seem small, has been his setup position on the first base side of the rubber vs. the middle.
I am back on him today as he gets a plus matchup against a Royals team that has really struggled lately with a .290 wOBA, 78 wRC+, and 27% K rate over the last 14 days. Giolito is a great play in all formats.
Main


Max Scherzer FD - P 11000 DK - SP 12000
Opponent - SD (Eric Lauer) Park - SD
FD - 42.92 DK - 24.3


Rich Hill FD - P 8900 DK - SP 11000
Opponent - SF (Jeff Samardzija) Park - SF
FD - 36.63 DK - 20.09
Max is the clear ace on this slate tonight and is coming off his best start of the season against the Reds striking out 15 over eight innings while allowing just three hits and one earned run. That pushes his ERA to 3.06 for the season with a very impressive 2.91 xFIP and National League-leading 33.4% K rate(4th overall). On top of that, he gets an elite matchup against a Padres team that is striking out 27% of the time vs. right-handed pitching. It is a smaller slate so if not enough value plays arise, we will likely default to my next option, at least in cash games.
Rich Hill gives us a $1,000 discount on DraftKings and $1,700 discount on FanDuel and is an excellent pivot off Max if you need the savings. He has been a workhorse for the Dodgers this season going at least six innings in five of his seven starts(5.7 IP per start) and has posted a very impressive 2.25 ERA that is backed up by a 3.26 xFIP. Like Max, he also gets an elite matchup tonight against a Giants team that ranks dead last in wOBA(.268), wRC+(66), and SLG%(.336) against left-handed pitching with a 24% K rate. From a PTS/$ perspective, Hil is my top pitcher on FanDuel tonight and it is very close on DraftKings as well.

Catcher/First Base
Early

Josh Phegley FD - C 2300 DK - C 4100
Opponent - TEX (Joe Palumbo) Park - TEX
FD - 6.2 DK - 4.72


Mark Canha FD - 1B 2500 DK - 1B/OF 4600
Opponent - TEX (Joe Palumbo) Park - TEX
FD - 7.9 DK - 5.98
The Rangers will give the ball to rookie left-hander, Joe Palumbo and while he was impressive at AA, this is the majors and the A's are a Top 5 team against southpaws. If building a stack for either cash or GPP, I will likely be starting with Chapman at third but for value, I love these two who both have strong splits against lefties.
Phegley - .376 wOBA, 140 wRC+, .212 ISO
Canha - .372 wOBA, 137 wRC+, .278 ISO
They are a lot more expensive on DraftKings today but Phegley is my top catcher on DraftKings from a PTS/$ perspective and a great punt play on FanDuel. Canha can be used in GPP stacks on DraftKings at his price and is a terrific value on FanDuel and in play in all formats.
Also Consider: Rhys Hoskins(PHI)
Main

Howie Kendrick FD - 1B 3100 DK - 1B/3B 5200
Opponent - SD (Eric Lauer) Park - SD
FD - 8.76 DK - 6.81
This isn't a popular pick in our system and I suspect it has to do with the low 7.5 total in this game. It is clearly a GPP-only play on DraftKings in the $5K range but he is vastly underpriced on FanDuel considering his strong start to the season(.320/.356/.585 slash line) and splits against lefties(.427 wOBA, 165 wRC+, .245 ISO).
Also Consider: Max Muncy(LAD)
Second Base
Early


Cesar Hernandez FD - 2B 2800 DK - 2B 3700
Opponent - CIN (Tanner Roark) Park - PHI
FD - 10.71 DK - 8.28
With Andrew McCutchen gone for the season, Hernandez has taken over as the leadoff hitter in front of Harper, Hoskins, Realmuto, and newly acquired and red-hot, Jay Bruce. That isn't the only thing to like here as he is a switch hitter who has been much better from the left side with a .365 wOBA, 127 wRC+, and .867 OPS and is facing Tanner Roark who has really struggled against lefties with a .404 wOBA and .525 SLG against with a 6.72 xFIP as well. The price has yet to adjust to his new role and until then, he can be used in all formats.
Also Consider: D.J. LeMahieu(NYY)
Main


Brian Dozier FD - 2B 2700 DK - 2B 3700
Opponent - SD (Eric Lauer) Park - SD
FD - 9.29 DK - 7
Second base is a landmine tonight so I was kind of surprised with Dozier's price considering the elite splits against lefties(.472 wOBA, 195 wRC+, .326 ISO). While he struggled in this area last year this is nothing new as he posted strong splits against lefties throughout his career. Unless more value pops up when lineups are confirmed, I will be running Dozier in all formats.
Also Consider: Robinson Cano(NYM) if you want to completely punt the position
Shortstop
Early


Gleyber Torres FD - SS 3700 DK - SS 4700
Opponent - CLE (Adam Plutko) Park - CLE
FD - 11.86 DK - 9.04


Didi Gregorius FD - SS 3000 DK - SS 4800
Opponent - CLE (Adam Plutko) Park - CLE
FD - 11.68 DK - 8.94
Gregorius made is return to the lineup Friday night and is currently 2 for 3 while Torres missed his second straight game with a sore shoulder. Manager, Aaron Boone, said he would likely rest Didi one game each series and it is unclear which game that will be this weekend but whoever gets the start is in play today.  They go up against Adam Plutko who looked good against the Orioles(6 IP, 1 hit, 1 ER) then got thumped by the Rays(5.1 IP, 12 hits, 7 ER) and also posted a 7.47 ERA across four starts at AAA in 2019.
Also Consider: Marcus Semien(OAK)
Main

Corey Seager FD - SS 3800 DK - SS 4300
Opponent - SF (Jeff Samardzija) Park - SF
FD - 10.98 DK - 8.37
After a terribly slow start to the season, Corey Seager has really heated up posting a .303/.376/.605 slash line since the middle of May with five home runs, 17 RBI, and 16 runs scored. He and the Dodgers get a matchup against Samardzija who is having a roller coaster season with a 3.61 ERA but a 5.07 xFIP with an unsustainable .244 BABIP(career .293). Seager gives is a little salary relief from the top two at the position and is in play in all formats tonight.
Also Consider: David Fletcher(LAA) if back in the leadoff spot vs. a lefty
Third Base
Early

Yoan Moncada FD - 3B 4000 DK - 3B 4900
Opponent - KC (Brad Keller) Park - KC
FD - 10.53 DK - 8.04
From a cash game perspective, I love the White Sox top of the order on this early slate. The reason I say cash games is that Keller has done well in limiting power(3 HR against, 5.2% HR/FB) but still hasn't been good with a 4.50 ERA and even worse 5.08 xFIP.
Moncada went into Friday night's game with hits in seven straight and 12 of his last 13 games pushing his slash line up to .282/.340/.504 for the season. He contributes in almost every area for fantasy and is a high floor player in this matchup.
Also Consider: Gio Urshela(NYY), Matt Chapman(OAK)
Main


David Freese FD - 3B 2800 DK - 1B 4200
Opponent - SF (Jeff Samardzija) Park - SF
FD - 8.58 DK - 6.55
Another tough position if you aren't spending up for Rendon or Arenado. One direction I will go, if he is in the starting lineup again, is David Freese who has had a solid start to the season with a .298/.421/585 slash line. While he has been known for his splits against lefties for his career, he has been terrific against righties this season with a .438 wOBA, .179 wRC+, and 38% hard contact rate. If he is in the starting lineup, he is my top PTS/$ third basemen.
Also Consider: Matt Carpenter(STL) as a GPP play with nice splits vs. lefties
Outfield
Early
Leury Garcia FD - OF 2900 DK - OF 4100
Opponent - KC (Brad Keller) Park - KC
FD - 9.55 DK - 7.55
I mentioned the White Sox top of the order in cash games above with Moncada and hitting right in front of him in the leadoff spot is Leury Garcia. He is a switch hitter and better against lefties but as long he continues to hit leadoff he will be in play for me as a value outfielder, at least on FanDuel. He went into Friday night with hits in nine of his last 11 games and pushing his average up to .293 on the season. He doesn't walk much(3.6%) but should get two to three at-bats against Keller who has been worse against lefties for his career.
Also Consider: Bryce Harper/Jay Bruce(PHI) vs. Roark or Stephen Piscotty/Khris Davis/Chad Pinder(OAK) vs. Palumbo
Main

Jeff McNeil FD 3000 DK 3700
Opponent - COL (Jon Gray) Park - COL
FD - 9.77 DK - 7.63


Michael Conforto FD 3500 DK 4200
Opponent - COL (Jon Gray) Park - COL
FD - 9.78 DK - 7.34
There are some excellent choices at the top of the salary(Trout, Bellinger) who are both front runners for their respective leagues MVP but on a smaller slate, I will be going more balanced, at least for cash games. The Mets have been trending offensively the last couple weeks and face a pitcher in Jon Gray who has struggled more against lefties giving up a.349 wOBA and 40% hard contact rate in the split since the start of 2018. Both are affordable on both sites and should be hitting at or near the top of the lineup.
Also Consider: Victor Robles(WSH) who is another Nats bat with strong splits against lefties(.405 wOBA, 151 wRC+, .277 ISO)
GRAB A FREE TRIAL OF OUR PROJECTION SYSTEM, AND CHECK OUT DFSR PRO!
FREE EBOOK
SECRETS TO CRUSHING DAILY FANTASY FOOTBALL!
DON'T SET ANOTHER LINEUP BEFORE YOU READ THIS BOOK.