featured Daily Fantasy
Expert Advice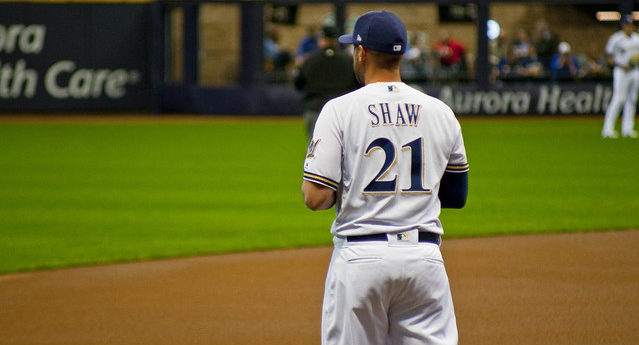 Fantasy Baseball Waiver Wire Report - 6/10/19
Hello baseball fans and welcome to my new article series covering season-long baseball. To start, I will be looking at players who are widely available across fantasy leagues(60% or less owned). While the draft process is very important at the start of the season, being active on the waiver wire is the key to the six-month grind that is fantasy baseball.
Now's your chance to get DFSR PRO, which will give you access to our MLB and NBA optimizers and our new player lab! Get started for free by clicking the button below.
Starting Pitchers
Cal Quantrill
(SP-SDP)
2% owned

The Padres have the 11th best rotation ERA(4.08) in baseball and what makes that even more impressive is that the average age under 25. Looking at average ownerships(yahoo), Joey Lucchesi is still available in about 30-35% of leagues and even Eric Lauer who has pitched well as of late is available in about 70-75% of leagues. Chances are Lucchesi is already gone if you are playing at least a 10-man competitive league so let's go another direction and concentrate on deeper leagues.
Cal Quantrill was the Padres first-round pick(8th overall) in 2016 and he has flown through the minors despite average stats. He has split time between AAA and San Diego this season and with the injury to Matt Strahm, he is getting more opportunity. Outside of one bad start vs. the Pirates, he has held opponents to three or fewer earned runs in four of his five starts and has an xFIP(4.01) close to a run lower than his ERA(4.85). That isn't the only regression number that pops either as he has an xwOBA(.326) lower than his wOBA(.356) and xSLG(.438) lower than his SLG(.515). He has also provided some upside lately with 16 strikeouts in his last two starts and is backed up by a 13.7% swinging strike rate.
He will likely get sent back down at some point when Strahm returns but for now makes an excellent streamer, especially considering his next matchup could be against the Giants early next week.
Pick up if: You need a streamer in your rotation or you playing in a dynasty/keeper league
John Means
(SP-BAL)
41% owned
If you have followed my DFS writings here at DFSR or spent time in chat, you have likely heard me talk about regression a ton with John Means. Well, I am giving in(somewhat). Since getting the full-time gig in the rotation at the end of April, he has gone at least five innings in all eight starts while holding opponents to one or fewer earned runs in five of them. The issue that pops up immediately is the 3.00 ERA looks much better than the 5.19 xFIP and he also sits with a very low .240 BABIP. But how unsustainable are these numbers? I dug in a little deeper and had a look at the Baseball Savant data via MLB.com and it helps paint the picture a bit better as he is only giving up an average exit velocity of 87 mph and a low 33% hard contact rate. The expected stats(xwOBA, SLG) also show some regression but very little and one of the smallest margins out there. He is pretty much a two-pitch pitcher and while the fastball is in the low 90's his near-elite changeup(27% usage) more than makes up for it with a 12 mph difference in velocity and elite 17% swinging strike rate. Whether you completely believe in him(I am not quite there yet) or not he makes a great pickup right now as his next start is projected to be against the Jays on Tuesday(6/11).
Pick up if: You need a streamer in a nice matchup in a daily transactions league or as a two starts(TOR, BOS) option in weekly leagues
Relief Pitchers
Pedro Strop (Closer-CHC) - 53% owned
Jump on Strop fast as the ownership is going up by the hour. He just returned after missing nearly a month with a hamstring strain and if there was a question he would immediately get his role back, it has been answered. He stepped right in on Tuesday against Colorado getting the Rockies 1, 2, 3 all on groundballs picking up his 5th save of the season.
Pick up if: You need saves
**Update - Since writing this the Cubs have signed Craig Kimbrel. He is now in extended Spring Training and is expected to join the club by the end of June. This still gives you some save opportunities for Strop in the meantime.**
Brandon Workman (RP-BOS) - 22% owned
Workman is far too low owned, in my opinion, for a player that can help you in almost every category as a pitcher. If you are in a league with holds, he has 11 on the season for the Red Sox while posting a tidy 1.98 ERA. The Red Sox have employed a closer by committee approach and that includes Workman who picked up his second save of the season on Tuesday. The biggest boost to your pitching staff, however, is the strikeout category as he goes into Friday with 37% K rate with three above-average pitches(four-seam fastball, cutter, changeup) that create an overall 13.3% swinging strike rate.
Pick up if: He is available in Roto leagues and if you count holds in your head to head league and looking for a bonus save here and there

Catcher
Robinson Chirinos
(C-TEX)
64% owned
He is likely only owned in smaller 8-10 man leagues but if he is out there, scoop him up. Looking at the rankings among catchers with at least 100 plate appearances, he ranks 6th in home runs(9), 8th in RBI(26), 5th in OBP(.369), and 7th in wRC+(136).
Pick up if: He is available!
Also Consider: Jason Castro-MIN (8% owned) as a streamer against right-handed pitching or Roberto Perez-CLE (2%) when facing mid to low tier left-handed pitching
Infield
Daniel Vogelbach
(1B-SEA)
51% owned
If you are one of the 80%+ with Daniel Murphy(.250/.316/.442) or Joey Votto(.251/.343/.369) you are likely tired of waiting and looking to make a change. Vogelbach is the Mariners primary DH but is first base eligible with his nine starts at first and offers a ton of power. His value to you is mostly dependant on what kind of league you are in as his average(.246) can hurt but if you are in a league that counts on-base percentage instead, he sits with an elite .372 OBP thanks to a 16.4% walk rate. The only issue here is that he does ride the pine a ton against lefties(.232 wOBA, 45 wRC+, .194 ISO, 21% hard contact) but it is worth the risk for the power upside against righties(..425 wOBA, 176 wRC+, .341 ISO, 43% hard contact).
Pick up if : You need power and can deal with a low average or play in a league that replaces average with on-base percentage(OBP) or OPS(on-base + slugging) in which case he is a Top 50 overall player

Travis Shaw
(1B-MIL)
33% owned
It is understandable why Travis Shaw is lower owned and I am actually shocked he is even over 30% owned. He started the year struggling big time with an average(.163) below the Mendosa Line and then he hit the Injured List with a strained wrist. He made his return on Tuesday and promptly picked up two hits and walk. I see the regression to the mean continuing going forward as he has a line drive rate(21.8%) and flyball rate(46%) higher than his previous two season when he had back to back 30 home run campaigns and the hard contact rate(39.8%) is right on par with those seasons. It says a lot about what the Brewers think about Shaw seeing as they sent their top prospect Keston Hiura back down to the minors after he was impressing early on.
Pick up if : You are behind in home runs and handle a high K rate

Colin Moran
(3B-PIT)
9% owned
Moran showed his consistency in a near full-time role last season hitting .277 with a .340 on-base percentage across 144 games. Through 57 games this season, he has almost mirrored those numbers(.278/.339) while adding a bit more pop(.407 SLG to .462) with seven home runs(11 all last season). Whether it was minor mechanical changes or just better studying, he has increased his hard contact rate by about 7% to back up the increased HR/FB rate. He continues to struggle against lefties so consider benching him in those matchups but overall, he can bring a lot to your team if you are struggling at the position.
Pick up if: You need HR, RBI, AVG, OBP
Also Consider: Jurickson Profar-OAK(45% owned) who is eligible at every infield position but should only be platooned against left-handed pitching or Marwin Gonzalez-MIN(38% owned) who is also eligible at every infield position plus outfield on Yahoo and has posted a .909 OPS over the last 30 days with five home runs and 12 RBI
Outfield
Hunter Renfroe
(OF-SDP)
56% owned
Power is the name of the game this season and if you have a nice lead in average, OBP, or OPS(whichever your league uses) go out and get some Hunter Renfroe on your teams. He is going to strike out a ton(27%) but is easily on a pace to set a career high in home runs as he now has 17 on the season(26 in 2018 & 2017). The HR/FB rate(32%) is not sustainable but even his career average(22%) is the near-elite territory. Checking in on the advanced stats, he sits with a 91.2 average exit velocity(54th among all hitters) and 42.3% hard contact rate.
Pick up if: You are behind in home runs and handle a high K rate
Jeff McNeil
(2B, 3B, OF-NYM)
42% owned
McNeil missed two weeks with a hamstring injury and it appears some people lost patience or didn't have the roster space to hold him. That is great news for a couple of reasons with the first of which being that McNeil has multi-position eligibility boosting his value. He was a second-half call-up for the Mets last year and he impressed with a .329 average and .381 on-base percentage over 63 games. He has picked up right where he left off in 2019 as he enters Friday with a .337 average and .417 on-base percentage. If you are in a league that counts K's against you, more good news as he only strikes out 11% of the time. While he doesn't provide much power(2 HR) or speed(0 SB), he does help you in every other area.
Pick up if: You need AVG, OBP, OPS

Jordan Luplow
(OF-CLE)
2% owned
While I would consider the two choices above as full-time replacements, Luplow hasn't quite reached the "trust circle" quite yet. That doesn't mean we can't consider him on our rosters. No matter what type of league I am in(head to head or roto) I always leave one or two bench spots for streaming options and that doesn't just apply to pitchers. On offense, I look for players with strong splits and Luplow is one of them. He really struggles against righties but has crushed lefties to the tune of a .315 average, .467 wOBA, 195 wRC+, and .974 OPS. IF you are in a week-long league and see the Indians facing three or more lefties, he makes a ton of sense but is best used as a streamer in leagues with daily transactions.
GRAB A FREE TRIAL OF OUR PROJECTION SYSTEM, AND CHECK OUT DFSR PRO!
FREE EBOOK
SECRETS TO CRUSHING DAILY FANTASY FOOTBALL!
DON'T SET ANOTHER LINEUP BEFORE YOU READ THIS BOOK.